Thinking through card staking strategies for Land...
i've been thinking through my card accumulation strategies for land staking, working on the principle that the higher the collection power one can stake to each plot, the higher the revenue one is going to get!
Working with just the Chaos and related reward cards which have the same collection power per card type (leg/ epic/ rare/ common) here are the totals that you could stake to each plot for five cards of each type staked to one plot with a regular rare Chaos summoner...

The most effective way to cram CP into one plot is to stake five GFLs to one plot, and 5 GFLs would give you a collection power of around 265K per plot.
That is more than double a full rack of Epic gold foils and ten times as much as a rack of gold commons.
Interestingly it's only around four times as much as a stack of regular legendaries, but 20 times as much as a stack of common cards.
All of the above are for MAXED cards, which I think is going to be the way to go because every little slot is precious and a maxed card gives you twice as much CP as the next level down.
So GLFs compared to regular commons = 20 times the difference!
I'm thinking it's not all about cost per CP...
An obvious strategy for Land would be to just buy the cheapest CP cards, and you can rank by this on Peakmonsters, and there are a range of regular and gold and common and legendary cards that are the cheapest, basically all the most useless cards for playing ATM...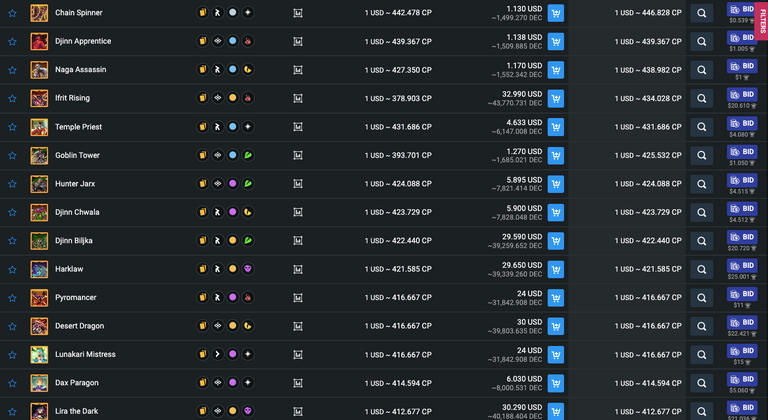 However I don't want to buy the cheapest commons because all I can do with 5 cheap commons is have a plot that's 20 times less powerful than a full stack GFL plot.
Compare that to a full stack regular legendary plot or full stack Rare GFL plot which are only 4 times and 6 times less powerful, they are much better degrees of lesser magnitude.
So what I'm going to be aiming for is the cheapest 'higher order' cards on the above list....
regular rare and regular commons I'm just NOT buying for land.
regular epics and common gold foils I may buy to stack my lesser plots... I've heard there are going to be naff plots!
What I want is GFLs, Gold Epics, Gold rares and also regular legendaries.
And from the above list I've got plenty to choose from!
This is based on 100 plots that I'm looking to fill!
If I had a region, I may well be looking to cram with anything, but with only 100 plots to fill I can manage to buy enough of these decent cards I think to make MOST of them work, I may sell up to 40 of them to fund getting them working.
NB OBVS the CP is better for older cards....
If you've got gold Alphas you are LAUGHING....
Even a common gold Alpha has a CP of almost 50K, as much as a CHAOS GFL!
Yowser!
---
---