Enjoy what we have - Chaos Legion Airdrops
The market is down and moving sideways. There's bloodbath and crypto twitter is all about why this is the right time to accumulate and buy the dip. Buying the dip is never a sound strategy if you do not have spare money to buy the falling coins. At these times, it is best to coil up and not listen to the noise out there. Thank yourself you are on Hive. I thank myself that I got to share this platform where we have users who are the original OGs and they know how to stay calm.
The one thing that I do these days is to engage on Hive more. I made a post how I would like to engage more to not get bogged down by the bearish sentiment. The other panacea to remain cheerful from the not so cheerful market is to learn more about splinterlands.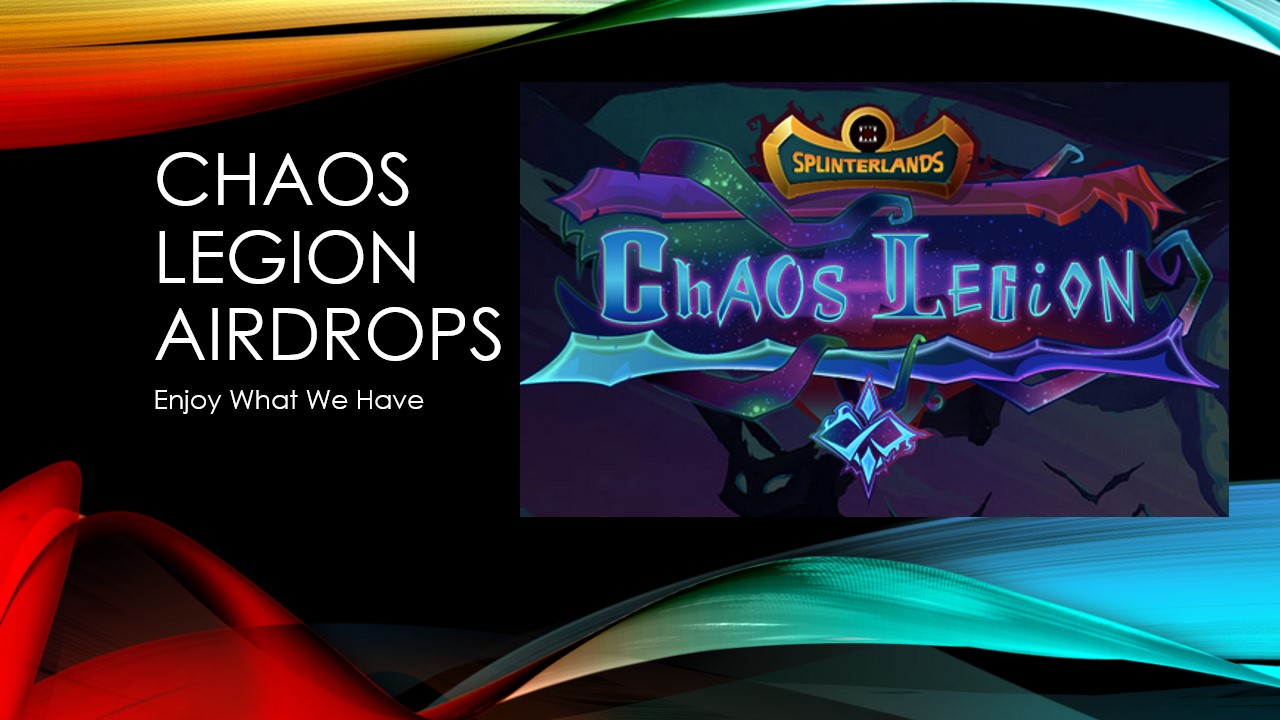 I am new to the game. Well, not so new as I bought my way into this new game a couple of months ago. I was one of the old users who finally spend those ten dollars to buy summoners spell. It took me two years to finally put into some money to buy SPS and SPT when the prices were rocketing at all-time highs. Like any other investments, I got into ATHs and when the price dropped, I stayed invested.
Well, Hive is not like other projects where you stay idle. On splinterlands, I bought 42 Chaos Legion Packs presale. The packs were expensive when the first round of sales happened. As I was new to the game, I did not have DEC, no airdrops of SPS.
The more I got into the game, it became more interesting. I got the hang of SPS airdrops when I first pooled my DEC and SPS on @beeswap. My card power increased with each battle wins and subsequent airdrops. I got to enjoy the airdrops for my initial 42 card packs.
Financially, I received 50% of the money on airdrops as I am sitting on good chunk of DEC as a reward. The DEC is giving me SPS every day. The only other thing I want to do is to battle and earn more DEC.
I was not lucky with Spirit Hoarder
42 cards are not that many when compared to 100s and 1000s of card packs bought by others. Even with that tiny amount, I managed to receive two gold foil cards as airdrop. However, I did not receive the airdrop for Spirit Hoarder. The probability was too low this time around. I still don't know how I got lucky the second and fourth time.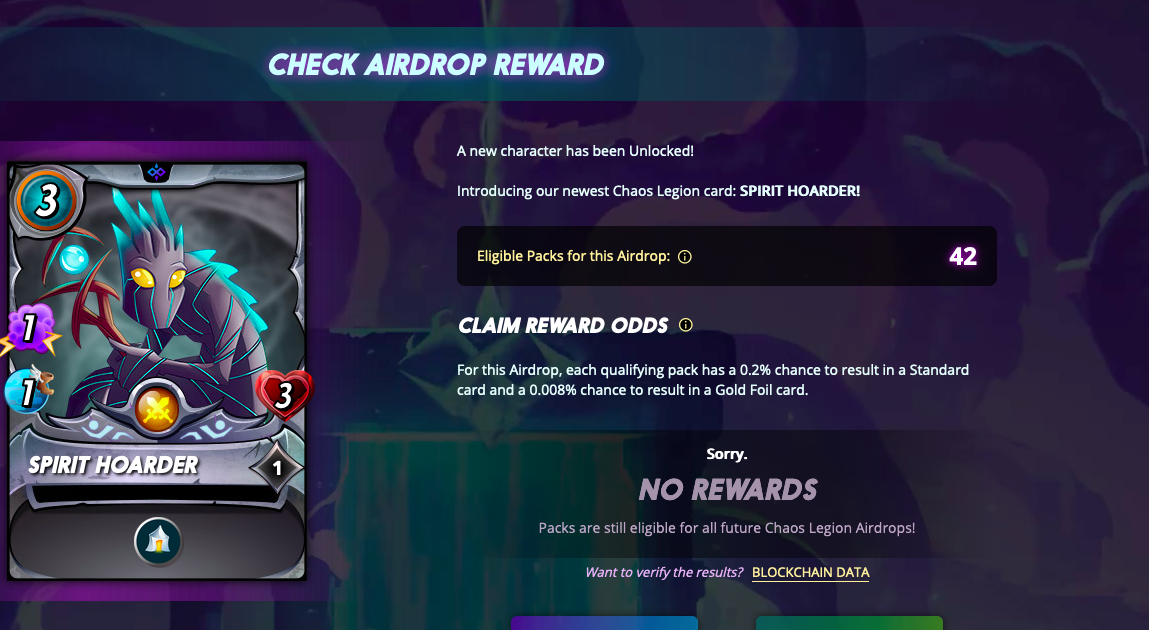 We still have 7 more airdrops to claim. Hope I will get lucky twice or thrice with gold foil cards. That way, I would have all my initial investment back in dollar terms.
It is taking time to get to know the rules
I have been trying to learn tips and tricks of the game but I have not been paying attention. There are millions of other things to do. As few other users always mentioned on the platform, Splinterlands and Leofinance engagement are the best source of passive income you can get in bull or bear markets. I am trying to do the same with my portfolio where I could at least earn 10% of the traditional income with my Hive investments.
I will not regret about the airdrops I did not get but I will enjoy the one that I have received so far.
Posted Using LeoFinance Beta
---
---