Rising Star Game - A new addition to my Hive engagement
It is absolutely true that there are many applications on Hive engaging community members. I missed @splinterlands boom and I was neglecting so many other Hive games. I was aware of many games including @risingstargames but did not try early enough.
Well, I broke the trend and started playing both - #splinterlands and #risingstargame a couple of months ago.
Splinterlands is complex but, relatively speaking, rising start games is pretty straightforward. As a player, if you are starting out with the game you are still pretty early. Well, that's how I felt when I started the games. There are less complexities around understanding rules.
I knew about the game for almost a year but the game is still in Beta. That means you should not be expecting the game to be bug free. The nature of the game is very different to other Play to Earn games out there as this does not have competitive battles or interaction with other players. Well, that's the case so far as I am pretty early in the game. May be there are other complex competitive interactions as part of the game that I am not aware of.
My achievements
It took me more than a month of consistent playing to earn 10K Starbits. That amount allowed me to buy a pack of game cards which consisted of three cards. One of them was rare and other two were common cards. I did not have patience to spend another month to collect 10K starbits. That's when I spent 2 Hive to buy another card pack. Another set of common cards and a rare card.
So, these were the cards that I received from my last purchase. It is always nice to have more fans as that would unlock the possibility to perform gigs that pay you more tokens.
I still don't know if I am missing anything in the game. I had to spent a month just to buy three random cards. That means, after spending a month long missions and 2 Hive, I now have 312 fans, 15 luck, 309 skills and 7 income modifier. The stats show how early I am in the game. I do not own any energy booster card and that limits my ability perform musical missions.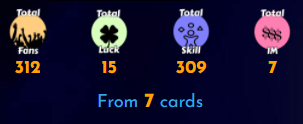 Next steps
I am planning to buy pizza slice card to keep my energy level high so that I consistently perform missions. I may have to read more risingstars related post to understand what other players do to manage energy crunch.
After a point, it gets boring as you cannot do much until you are recharge to go for another gig. The game seems to by okay. It seems there are many ongoing developments and the foray into music NFTs is happening by the team. I will add this game to my portfolio and will continue on my own journey of play to earn on Hive blockchain.
Until next update.
Posted Using LeoFinance Beta
---
---