Basic Tips and Tricks for Splinterlands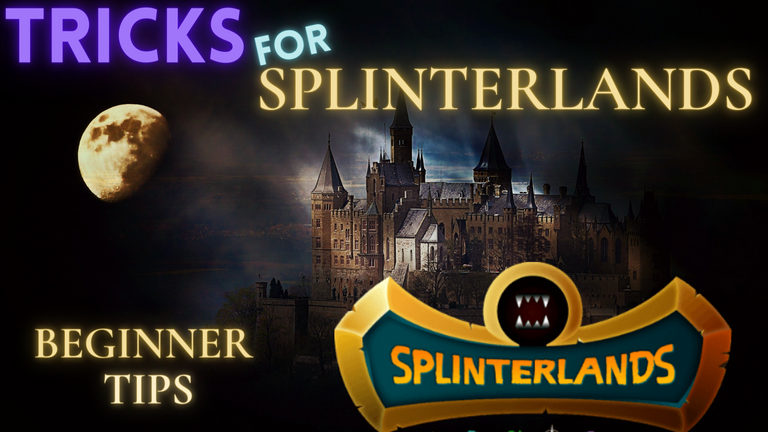 This post is full of tricks for Splinterlands, and I compare it to the upcoming celebration Halloween (or All Hallows Eve, Day of the Dead, All Souls Day, etc.). You see the connections as I move through, but if you're not interested in the history, please skip to the parts that suit you!
History of Halloween
Halloween is often a misunderstood holiday. The history is mixed with so much culture, so many countries celebrate it in different ways. Back in the day, children would knock on the door and sing songs asking for prayers, and the person would hand out soul cakes and say they would pray for them! In fact, here's the traditional song sung by Sting! Why don't you listen to it while you read the tricks for Splinterlands!? It's quite a fun one (and he included lyrics to tie to Christmas).
You also have the Day of the Dead, which connects to the Feast day for ALL SOULS, including you and me! The main focus though for Day of the Dead is to celebrate your ancestors with a table full of pictures, favorite items, memories and moments honoring them.
Choose how to Play Splinterlands, like Choosing Holiday Traditions!
Just like with Splinterlands, you have to choose what you can and cannot accomplish though with these celebrations. For example, you have the less religious aspect now of "trick or treat" versus having prayers and soul cakes. Some religious people might find that offensive, but again, before Christianity, Halloween was not Christian based but more on superstitions in understanding the changing seasons. (Perhaps they ran into some of those Splinterlands Splinters on Praetoria! HA HA!) Anyway, my personal feeling is, do what you wish, or do it all! HAHA In my family, I bring in all the celebrations so as you can imagine we are quite active with songs, soul cakes, and celebrations!
As for Splinterlands, you may find it is all often misunderstood, and you need to know some tricks for how to play the game to earn! I recently had a new player comment on a blog asking for help on what a beginning should do. She was daunted by the posts of "daily battles" and the specifics. It can become too much if you try to bring everything into the game (much like if I decide we're going to make soul cakes, then I'm going to have to manage my time on making costumes. And yes, we wear the regular good ole Halloween costumes on Halloween then we have saints costumes the next day for All SAINTS Day! It can be a bit much, so we pick and choose what to do).
Tricks for Splinterlands (Great Tips Indeed!)
I think the BEST TRICK to remember as a new player is YOU CANNOT DO IT ALL. Even the whales don't do it all. The whales (the high players) aren't going to play the game AND RENT the cards because they need the cards to play the game. See my point?
I was asked recently by a commenter what exactly a new player should do.
My advice (not financial advice though, please remember) to a new player is to choose one or two sets of cards (example the Light Cards or Death Cards) over and over. See what card combinations work for you. Usually you want the Melee, then magic if possible and end with the ranged (archers) at the back (because imagine it as bows reaching from the back side of the battle over the rest so they can be cards played at the back).
Tips for Buying Cards
As for buying cards: Just build your confidence with the cards you have at first. Play every day to win the daily quest rewards. Do not stress about getting up high into silver league. You can win in the lower leagues. Remember to use Monster Market or Peak Monsters for your purchases! You can click their names to go to their sites.
Tricks for Renting Cards
The saying goes, sometimes you need to spend a LITTLE money to MAKE some money. Don't be afraid to rent cards! You will need a level 3 or level 4 summoner card first to rent in order to get your other monsters' levels high enough. Just pick one or two splinters to rent and focus on that. You can check to see what your daily quest is and chose that splinter, or choose the splinters you have been practicing with to continue improving your game.
You can rent at Peak Monsters! Click the link here
HIVE Engine
As for the market: Well, my only advice here (and remember, it's just a suggestion, not financial advice) is to stay in the game. Don't sell out, because Splinterlands continues to grow. The market though is another great way to "play" Splinterlands, just by watching their token values of DEC, SPS, other areas like PLOTs and eventually vouchers! I'm very new to HIVE, so I can't say much more than that except to watch the trends and see where it's going. It's definitely another way to play the game.
Don't Let it Overwhelm You
Don't let the game play overwhelm you. The design of the game is that there are MANY ways to play it, and we as a society have been raised to go one way usually. There aren't really wrong answers here. You just want to find what you're comfortable with and THAT is the way to play Splinterlands. I hope these tips and "tricks" help you! They have certainly helped me to keep perspective and to control the FOMO (fear of missing out). :)
Thank you to the person who asked for general advice on Splinterlands. I hope this blog helps others as well that are new to the game. Have a wonderful day and again thank you for reading my post and commenting!!
If you enjoyed my post and want to try Splinterlands, please use my referral link: https://splinterlands.com?ref=rosiew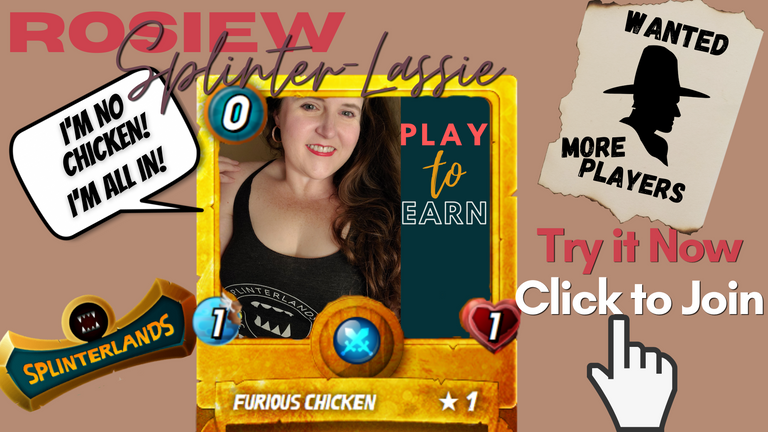 Please remember my post is not meant to be financial advice and is just my opinion.
Follow These Folks:
Splinterlands: https://peakd.com/@splinterlands/
Monster-Curator: https://peakd.com/@monster-curator/
1Up (#OneUp): https://www.1up.zone/
Here are some great links to join as well!
Splinterlands Discord: https://discord.gg/Tw7KjNsQGs
Monster Market Discord (Monster Curator): https://discord.gg/DR3J9rfRFV
PeakD Discord (PeakMonsters as well): https://discord.gg/7mQmzZeugE
NFT Studios Discord (aka 1UP Discord #OneUp): https://discord.gg/4VYBcNuVQd
---
---