Choose Your Own Splinterlands Adventure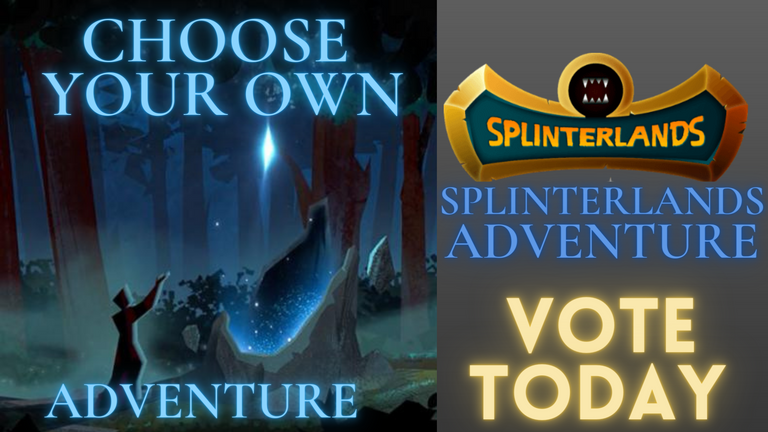 (source: picture from Splinterlands)
Let's Take a Journey to Splinterlands: You Choose!
This post is the beginning of a series I will write if you all enjoy the content! It's a "Choose Your Own Splinterlands' Adventure" story. The voters decide what happens next in the story of Splinterlands. The idea was inspired by @just2random who knew I was writing a fictional series about Splinterlands and suggested a "choose your own adventure" storyline. I got the courage to share what I've been writing with you all after reading @aussieninja's wonderful fictional post! I thought I should share what I've been writing, and I hope you all like it.
Please vote and follow my blog so that you don't miss the story's outcome and the next adventure! I have included a poll link below where you can vote.
I believe this blog series is a fun way for the Splinterlands' community to interact, and hopefully you'll enjoy the storyline and characters as well! Yippee... and (takes a deep breath and dives in...) Here goes nothing.... Hope you enjoy!
Splinterlands awaits! What are YOU waiting for?
The Myst Hides the Chaos
The sun kissed his face as if to break a spell that had been cast upon the young boy. Had he been travelling for years? Days? He examined his arms, legs and touched his face for any signs of time. Aside from the sun's burn marked upon him, like a relative that gives a smothering hug that won't let go, he was still just a boy, none the worse for wear. Sitting up to look at his surroundings, he noticed the calm waves lapping against the boat like a siren's song. The sun had scared the fog away now. It felt like forever since he had seen land, heard a bird or any indication of life above these waters. And now, the water seemed too tranquil; the day seemed too peaceful. No doubt it was the calm before the storm.
Theo brushed aside his dirty-blonde hair and peered through the mist. Was this an illusion? Was that land? Could he have finally reached it? He gathered his things, a knapsack with a few provisions, his weapon and moved the boat over to a shaded area where he could conceal it for later- a potential sail around the island or perhaps a quick get away. He wasn't sure what he would find. He only knew he must find her. Once he found her, all the answers he was seeking would come. Then he would decide what to do with her.
He heard the stories of course. This land was special, magical, possessed perhaps? He couldn't be certain. He put on his knapsack once he was certain the boat was well-hidden and walked onto the beach, keeping close to the brush and trees to remain unseen.
"I've been waiting for you."
Theo stopped. He'd been noticed. His heart began to race as he spun around, clutching his weapon--a simple knife passed down from his grandfather. There stood a little woman hunched over, plump and sunkissed with gray braids framing her face. She half-smiled, half glared upon him.
"Who are you?" Theo asked in an authoritative voice as if he was ruler of some make-believe world. It seemed to humor her he thought, because her lips twitched as if she was hiding a smirk.
"Oh Theodoric, I know you well. The question you should ask is 'Who am I?'"
Theo's face turned ghost white. How did she know his name? He had never been to this land. It meant she must be here, somewhere in this magical world. His weapon hand seemed to weaken a bit, feeling the desire to withdraw his knife as curiosity set in, but quickly he renewed its position and put on his brave face once more.
"I go by Theo, but how do you know me? Who are you?"
"Come with me, Theo. Praetoria needs you. The Chaos is about to begin. I can help you. Come." She reached out her wrinkled hand and gestured for him. She continued to glare as if she distrusted him or perhaps she was hiding secrets behind those eyes.
Time to Vote: What Should Theo do next?
If you want your vote to count, please use this poll link to vote: https://www.polldeep.com/rU9K9 or if you prefer, you can click on the picture below: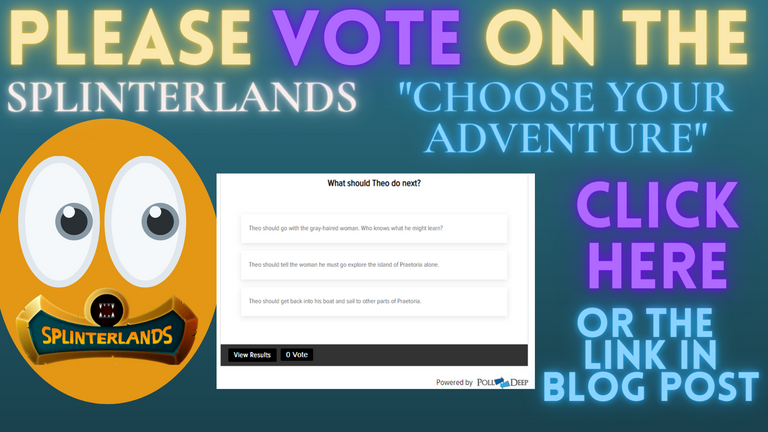 In case you can't get the link above to work, here are the options:
What Should Theo Do Next?
Theo should go with the gray-haired woman. Who knows what he might learn?
Theo should tell the woman he must go explore the island of Praetoria alone.
Theo should get back into his boat and sail to other parts of Praetoria.
If you want to know the outcome of your vote, be sure you're following me, and I will continue the story based upon the votes!
If you enjoyed my post and want to try Splinterlands, please use my referral link: https://splinterlands.com?ref=rosiew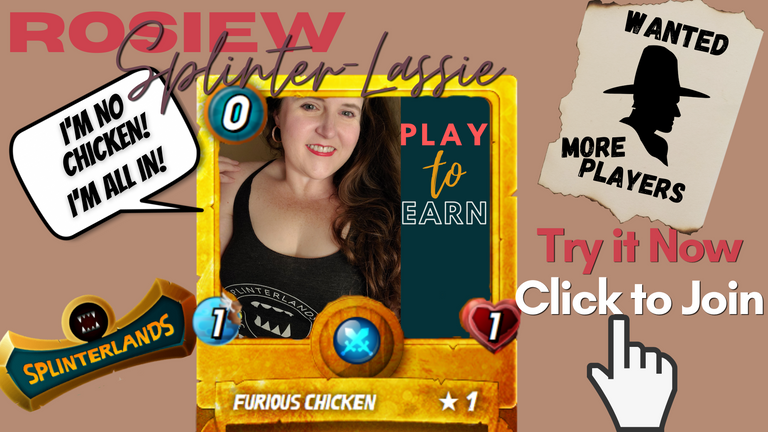 Please remember my post is not meant to be financial advice and is just my opinion.
Follow These Folks:
Splinterlands: https://peakd.com/@splinterlands/
Monster-Curator: https://peakd.com/@monster-curator/
1Up (#OneUp): https://www.1up.zone/
Here are some great links to join as well!
Splinterlands Discord: https://discord.gg/Tw7KjNsQGs
Monster Market Discord (Monster Curator): https://discord.gg/DR3J9rfRFV
PeakD Discord (PeakMonsters as well): https://discord.gg/7mQmzZeugE
NFT Studios Discord (aka 1UP Discord #OneUp): https://discord.gg/4VYBcNuVQd
---
---