Common Mistakes When Making a Crypto Game and What Makes Splinterlands Different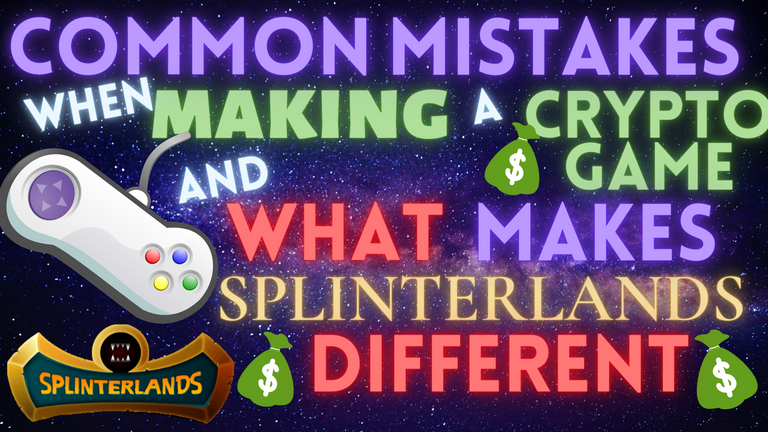 Common Misconceptions for New People who want to Invest in Crypto Gaming
If you're new to Crypto and you're a gamer like me, you may wonder if all these new crypto games will reach success. Let's think about what the "average" player might have as criteria for crypto success:
Crypto gaming is new, so no matter what the game, as long as they aren't scamming you, you have an opportunity to win at crypto.
The general gaming industry has exploded since the beginning days of the boxy "Apple Computer" in the 80s, taking us on the Oregon Trail. (Oh, and just a side note--yes, I got dysentery WAYYYY too many times with that game, but personally my favorite part was when we got to go hunting! I hated it when my wagon broke down, pretty much like my real life today.... HAHA time for a new one I fear!) Then from the Oregon Trail you had the explosion of Atari, Commodore, Nintendo, Sega, (What am I missing? I KNOW I'm missing one here.) and so many others. You don't really hear of a failed gaming system, so, based upon that information, the new emergence of crypto gaming should make you SOMETHING!
Gaming continues today to make BILLIONS of dollars in revenue, so it would come to the conclusion that your risk is low when investing in Crypto games.


Reality Check for Investments in Crypto Games
Aggroed disagrees. He posted a comment today on his Twitter. (Yes, I stalk him, ok!? You have a problem with that? HA!) I found his comments fascinating, and it's what inspired me to write this post.
https://twitter.com/Aggroed001/status/1466033884060127232
Now, I'm going to definitely read the analysis of Jon Jordan as he provides it, because I'm curious his take on these games. However, look at Aggroed's thoughts on crypto gaming and let's break it down into some points.
You raise millions on art and hype and produce nothing.
Distant second: Make something but the economy explodes
Least likely: you make something fun, functional and has an economy that lasts years.


Ideas Don't Always Promise Money, Even Good Ones
What's Aggroed's point here? Well, I think his point is he's about to burst the new crypto gamers' bubble. A lot of people have amazing ideas, but ideas don't always translate. Therefore, Aggroed's first point is, "an idea doesn't necessarily mean success." If you're a new crypto gamer, consider the VALUE before you put money behind a great idea. If you're new, you really should consider finding an established game. Splinterlands is a very wise choice for this because even though the value has certainly increased over these last months, there's plenty of movement still and room for some great investments. Another game might be Rising Star. You actually can play that game for quite awhile without any investment, which means your risk is lower and you'll find that more people will be drawn to low-risk games where a person can have a bit of fun while feeling like they aren't just wasting their time all day. Remember, most of us were kids way back when our parents were saying "Stop wasting time on those games and get to work!" If you're now making millions playing crypto games or even if you're just making pennies, it sure beats the old days of making nothing and wasting time, right? HA!


Make a Game without Good Implementation
Aggroed's next point was, perhaps you make a game, but the economy is a mess! Maybe everyone hyped the game up so highly and invested so much without really understanding how the tokenomics should work for the game. Listen, this can happen with ANY game, but the difference between playing Donkey Kong all day and playing a crypto came that crashes can cost you thousands of dollars. So please, if you're out there investing in crypto games then you need to make a decision right now as to the kind of crypto player you are. We can use the example of a Casino as many people can relate to what it is to be a casino player.
Happy-Go-Lucky Player: I can go to the casinos and throw away several hundreds of dollars in one night, have a good time and live with no regrets about the experience.
Strategic Player: I can go to the casinos and spend a few dollars but I'm very conservative about my game play, because I don't believe in throwing money around.
Listen, if you're the "Happy-Go-Lucky Player" then sure, please go throw some crypto around and test all the games. I mean why not, right? You have no problem losing some money at the casino tables, so lay it down on some crypto and one night you just might get lucky. But IF you decide this is the kind of player you are, please don't complain, whine or bellow out that crypto games are lousy when you are the one that decided to just sit down and play at the table without really doing any research.
Now, if you're a strategic player, then welcome to my club! HA! I'm not going to throw money around. I take $60 and that's pretty much it, and I usually have the time of my life if I'm honest about it, because why? Well, because I research the game before I just go sit down at a table and start playing. I know the odds, I know enough to know if I have a chance at winning, and I learn to be conservative.... and basically, my theme song is Kenny Roger's "Know when to hold them, Know when to fold them!" YESSS!
So, if you're this strategic player at a casino, why in the world are you jumping into crypto without doing any research? Go ahead and do some research in the same manner you would any other game. Go meet some people who have played the game before. Join the Discord server. You can learn SO MUCH by chatting with people. If those people have little to nothing to gain by your decision, then usually most people can be trusted. Always go with your instinct though.


What Makes Splinterlands Different
Presumably, since Aggroed is one of the founders of Splinterlands, he's saying that these mistakes haven't happened in the making of his game, so let's (1) see if he's right and (2) what makes Splinterlands different if he is right.
Splinterlands isn't just an idea; the game has been around many years with actual experience. This game isn't just hype (although I will say, whenever they HAVE brought HYPE in their words, they have MORE than delivered in their actions, which speaks VOLUMES. Remember the old saying: Actions Speak Louder than Words. Just read up on their story and you can see the hype is real and not just ideas.)
Economy explodes: Nope, quite the opposite. Splinterlands not only made a game that is playable but their tokenonics is one of the best in the crypto gaming business. They have brought so many ways to play, to invest, to succeed, which is why you won't see the death of Splinterlands any time soon. Quite the opposite, I'd say.
While the least likely, Splinterlands HAS in fact made something fun, functional and a GREAT ECONOMY. So, make no mistake about it, Splinterlands has achieved what many crypto games will fail to do. Now, that's not to say there won't be other successful crypto games, because there will be, but just be aware that only a few will hit it big.


Part II: Response to Aggroed
Ok wow. This post has become so lengthy, because Aggroed's points are worth considering. Now when he made that Twitter comment, he was talking about building a crypto game, and I'm talking about how to know what crypto game to play; however, you can use the same points to understand the bigger picture either to build a game or to play/invest in one.
You can't just slap a game together on an NFT project without having VALUE. I hate to point it out now, especially the gamer in me, but scroll back to all those names of game consoles I mentioned at the beginning and most of them have vanished. So, sure, they hit it big for a time, but if you think about it, most games come and go and this is where I'll need to discuss part II of this concept another day and Aggroed may be surprised by what I have to say (or maybe not, and heck, I doubt he has time to read it to be honest, which is understandable of course!) You see, there are some lessons here for everyone, and I hope my next post will cover some of those important points to never forget when making a crypto game, and while I've never made a crypto game, I'm quite involved with another gaming platform, and I think some of you may find it VERY interesting to hear what happened to a top-game when they lost sight on things.
Happily, Splinterlands doesn't need to worry about it just yet, but I would be remiss if I didn't share the story as a helpful reminder to keep focused so stay tuned for PART II of these "common mistakes made while making a crypto game."
In the meantime, I hope this post has been helpful to those players who want to consider investing in other games. What Aggroed has said about Crypto games is quite right! There are many games that will come and go, so you choose your path and the amount of investment you want, but look out for those signs that might indicate the game doesn't have playability or a good economy to last the test of time.
If you enjoyed my post and want to try Splinterlands, please use my referral link: https://splinterlands.com?ref=rosiew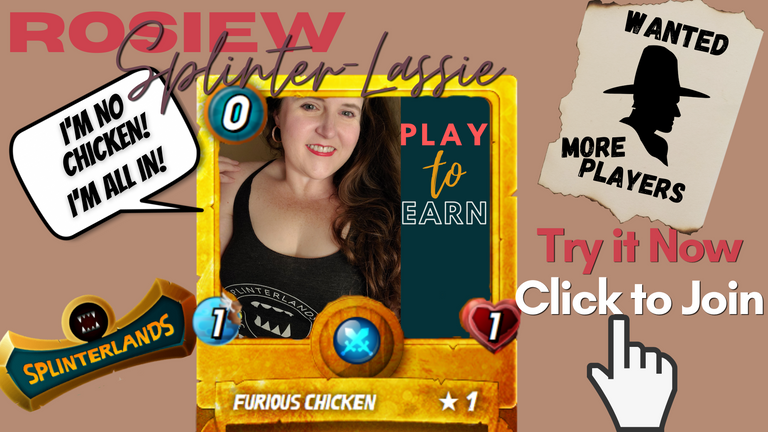 Please remember my post is not meant to be financial advice and is just my opinion.
Follow These Folks:
Splinterlands: https://peakd.com/@splinterlands/
Monster-Curator: https://peakd.com/@monster-curator/
1Up (#OneUp): https://www.1up.zone/
Here are some great links to join as well!
Splinterlands Discord: https://discord.gg/Tw7KjNsQGs
Monster Market Discord (Monster Curator): https://discord.gg/DR3J9rfRFV
PeakD Discord (PeakMonsters as well): https://discord.gg/7mQmzZeugE
NFT Studios Discord (aka 1UP Discord #OneUp): https://discord.gg/4VYBcNuVQd
---
---