Hive's Value Increasing: What Can You Do?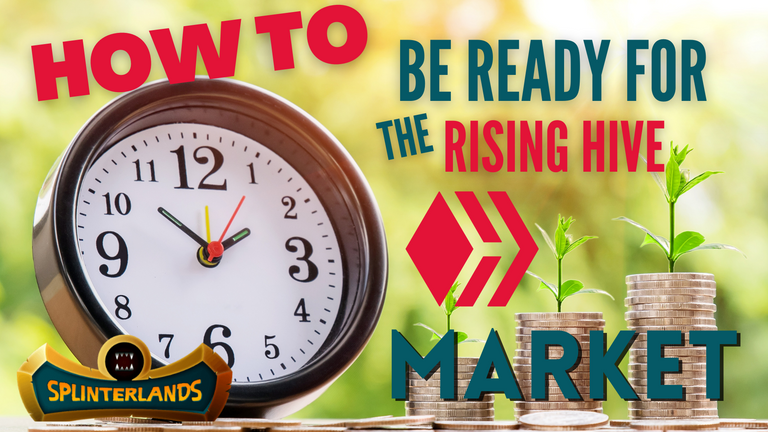 I've been a bit shy to share (well, and super busy!)
So, I've been incredibly busy with the whole Thanksgiving holidays, but I hope to write a bit more consistently. I came to my desk and wasn't sure what to share. So much has happened and yet I'm feeling a bit shy about telling everyone. Then I read @rentmoney 's post about the HIVE increase (you can read the post HERE ) and what he did with it, and I had to grin. Perhaps I'm not the only one trying to sneak around without too many people noticing! HAHA! I guess "great minds think alike," so this post is most certainly inspired by rentmoney, because he's giving me the courage to share what I did with this Hive boost.
No One Could Predict Hive: What I Did
Hive token prices have been carrying on like a wild turkey!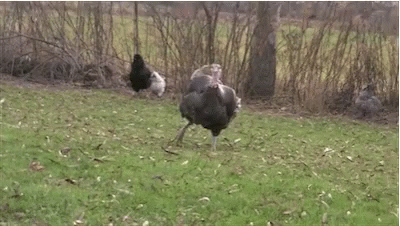 No one could predict where it was going, what it was doing, and right at the end of the whole Chaos Legion Pre-sale did put me into a tailspin. Suddenly, all I could see.... far and wide.... were possibilities. I could hear "Tara's Theme" from Gone with the Wind and see Scarlett O'Hara pouting as her father pulls her aside, draws his arm out across the rolling hills and says... "You mean to tell me... that land doesn't mean anything to you? Why, land is the only thing in the world worth working for, worth fighting for, worth dying for...!" And then the great theme song plays and the sun sets. If you're not sure about what I'm referring to, you can watch the movie clip here
So, in my last moments, I abandoned all logic and raced for land! I couldn't believe how much further my hive would go for a land plot! All I could see were wide open spaces with endless possibilities for Splinterlands so I had to seize the moment and get a plot.
It seems others are as well! I saw @rentmoney also bought some plots when Hive increased, and he like me and probably many others assumed that the Hive value would decrease, but it hasn't! I mean, yes, it's down from hitting a high of $3.50 but it's still holding around $3.00 at the time of this post! It's pretty incredible to think about the increase in value, and I don't believe Hive is through. Sure, it may dip again, but I don't feel it's going down to a dollar any time soon.
What to Do to be Ready When Hive Increases Again
When these sorts of dips and increases in Hive happen, what should I person do to be ready? You don't want to have tokens sitting around doing nothing, but it would be important to have access to Hive quickly when needed. I recommend getting into pools so that you can earn money but also get out when you need to. You can quickly jump in and out to buy this or that token whereas if you've staked all your money, you can't access it quickly. It's just like the good ole swimming pool. I can stay in the pool until I get sunburned and then I better get out quickly! HA! :)
Quick side point: Honestly, this is the unfortunate part about staking that I don't quite think is great at the moment and perhaps you amazing crypto geniuses out there that I HOPE are reading this can help me to understand. I completely get that you STAKE to keep the value strong in that token; however, if we're suppose to stake our money, shouldn't we receive more rewards for those stakes? As it is now, you can actually ear more money by jumping into pools. I'm referring of course to SPS. We're often encouraged to "stake! stake stake!" but if you stake, you're not in the pool and honestly, the POOLS right now are quite a great investment!
On another side point, I highly recommend the #ONEUP pools. They won't be going forever so please do put your ONEUP into a pool if you have some, and if you don't have some, why not? If you're not sure how to do that, CLICK HERE where you can read my post explaining how to earn and win ONEUP.
Other Ways to Be Ready for Hive
Watch the news and react as you can. For example, Taraz ( @tarazkp ) wrote how the resignation of the CEO of Twitter, Jack Dorsey, is a sign of things to come for crypto and decentralization. The read is FASCINATING so please give considering reading it HERE . If you see in the news or you know Splinterlands is about to have a big change in the game (like the pre-sale of Chaos Legions or next on Dec 8th the next sale of the packs begins), watch the markets closely and be ready. THAT would be a good time to have some hive tokens in your wallet so that you can adjust and go where you need to go with your investments.
Dreams Coming True
For me, I have many dreams and many hopes, but it always comes back to the land. I had been saving for so many wonderful packs and so many wishes for some good cards, but when I saw Hive prices soar, I couldn't resist. I suppose Scarlett's father would say it's the Irish/Scottish in me! :) HA! I just had to get more land. I hope I've made the right choice, but I saw it as an opportunity that works for me and I know I cannot owe the entirety of Splinterlands, even if a girl can dream. :) It's most important that I stick to my passion: land, and I will work hard to have Hive ready when another opportunity arises. What is your dream in Splinterlands? I'd really love to hear about it. For me, a country girl who can see for miles and miles on the Kansas roads, it will always be land; I was raised to see the value of a Kansas farmer, and I long for the day I can "farm" the Splinterlands' plots.
Please forgive the lack of pictures today. It is harder for me to get posts out to you, but I wanted to much to write to you all and say hello! I hope you're doing well! Thank you SO MUCH for reading and commenting! I love to read your comments.
If you enjoyed my post and want to try Splinterlands, please use my referral link: https://splinterlands.com?ref=rosiew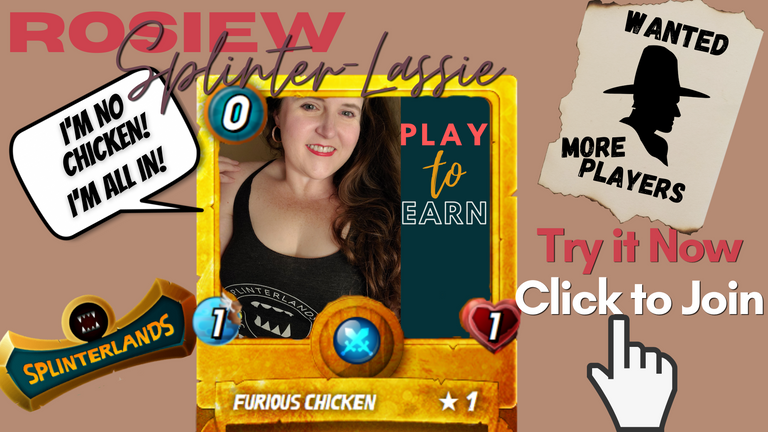 Please remember my post is not meant to be financial advice and is just my opinion.
Follow These Folks:
Splinterlands: https://peakd.com/@splinterlands/
Monster-Curator: https://peakd.com/@monster-curator/
1Up (#OneUp): https://www.1up.zone/
Here are some great links to join as well!
Splinterlands Discord: https://discord.gg/Tw7KjNsQGs
Monster Market Discord (Monster Curator): https://discord.gg/DR3J9rfRFV
PeakD Discord (PeakMonsters as well): https://discord.gg/7mQmzZeugE
NFT Studios Discord (aka 1UP Discord #OneUp): https://discord.gg/4VYBcNuVQd
---
---