How to Stay Informed about Splinterlands when Platforms are Temporarily Offline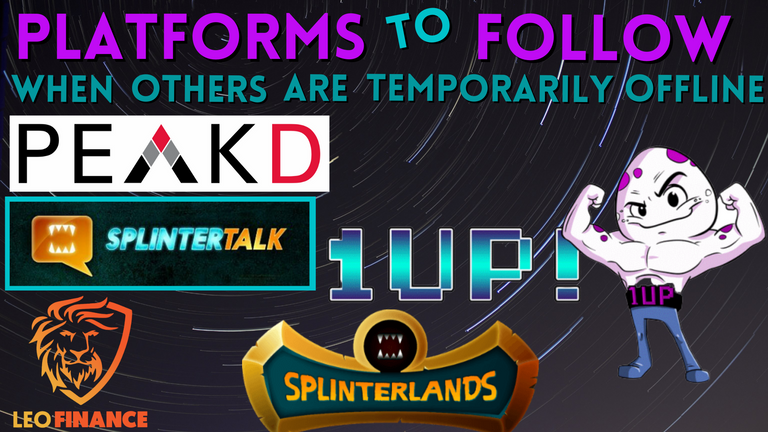 What to do when Platforms aren't working properly
Life happens right when we least expect it. Everything's rolling along smoothly then something breaks down, and it's usually at the most inconvenient time, right? Well, Splintertalk.io is down at this time. Other platforms, like the new 1UP which reaches across multiple crypto games,that use the same Hive-Engine outpost are also temporarily down. No worries, though. They will be up and running soon. (By the way, 1UP is an excellent NEW community; if you haven't heard about the new 1UP, please read my post here )
As Splintertalk was down yesterday (having something to do with nodes, by the way), the weekly AMA (Ask Me Anything) about Splinterlands occurred with Aggroed, Matt, Nate and Cryptomancer. It seems like all is lost for those who wrote up the summary (including myself), but not at all! If you want the summary, I was able to publish it here. You just need to know where to go to find the goodies.
And again, the Hive-Engine outpost that runs Splintertalk.io and 1UP (and other platforms) is working on fixing the problem as we speak! In fact, who knows? Maybe this post will be outdated before I even get it published, but that would be a good thing, right? We LOVE to chat chat chat!!) I decided, however, this post would NOT be outdated, because we all should know how to ACCESS the good "gossip" even when our favorite platforms like Splintertalk and 1UP aren't available due to no one's fault but just life!
Try Other Platforms for a Bit
I have found currently, PEAKD is working just fine. You can use that platform to read up on Splinterlands! Just click on Communities and be sure to follow Splinterlands. Then your feed will be full of all great news about the upcoming Chaos Legions and the Land expansion! If you want the link to PeakD click here

LeoFinance is another amazing community where you can look up Splinterlands specifically and find out what's being said about the upcoming presale. If you want the link to LeoFinance.io click here

And now's your chance! What are some other big platforms we can use to read about Splinterlands? Please share in the comments as I'd love to hear about them!
I'm Not Seeing All the Comments on my Posts!
For those who are using other platforms to write up your posts, what I have noticed with Splintertalk down is that I can't read all my comments for some reason (or better said, the notifications aren't appearing in my current outpost of choice). This notification problem is most likely due to the down platforms so the notifications aren't coming through from those sites and yet if you scroll down to your comments you'll see you have WAY more people chatting to you and you didn't even realize! So be sure to check your actual post when odd things are happening like an outpost being down. You don't want to miss all that interaction with your readers.
One place you can go to see what's happening on your post is Hive.Blocks. It records all the interactions occurring and you can see exactly what's going on behind the scenes. If you want to check that out click here
Do Hashtags Still Work? You Betcha!
Don't forget to add those hashtags guys! Just because things aren't working perfectly now, they will be soon (and as I said, maybe they are already by the time I get this thing published! HA HA!) So please use #ONEUP in your posts, #SPT and any other hashtag you are wanting to use for the platform you wish!
Return to your Favorite Outpost As Soon as You Can
Of course, don't forget to check back and see if Splintertalk.io or 1Up are working. When one works the other will as well. These communities are an INCREDIBLE resource for you so you don't want to miss out on the buzz. In the meantime, I hope that these other communities will be helpful to you!
Thank you so much for reading! I really appreciate it! Have a fantastic, battling day! :)
If you enjoyed my post and want to try Splinterlands, please use my referral link: https://splinterlands.com?ref=rosiew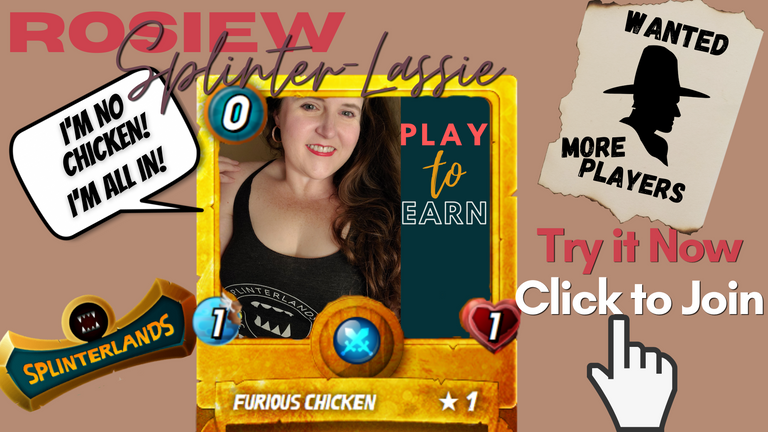 Please remember my post is not meant to be financial advice and is just my opinion.
Follow These Folks:
Splinterlands: https://peakd.com/@splinterlands/
Monster-Curator: https://peakd.com/@monster-curator/
1Up (#OneUp): https://www.1up.zone/
Here are some great links to join as well!
Splinterlands Discord: https://discord.gg/Tw7KjNsQGs
Monster Market Discord (Monster Curator): https://discord.gg/DR3J9rfRFV
PeakD Discord (PeakMonsters as well): https://discord.gg/7mQmzZeugE
NFT Studios Discord (aka 1UP Discord #OneUp): https://discord.gg/4VYBcNuVQd
---
---