Splinterlands Land Series: Let's Dream Splinter-LANDs!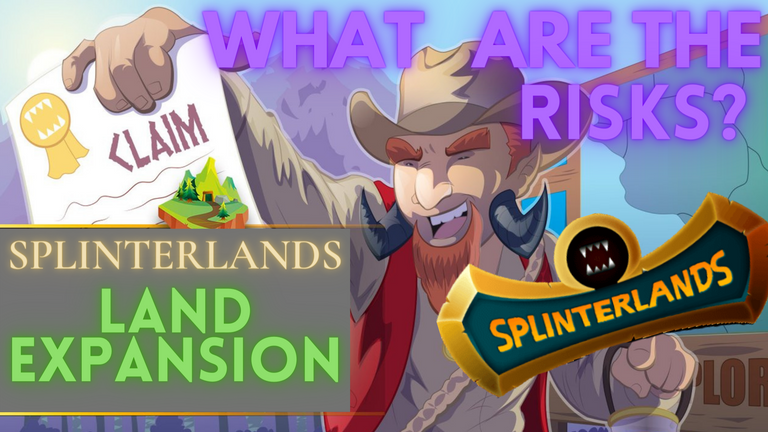 What's Awaiting Land Expansion in Splinterlands?
Today let's assess the investment risks regarding LAND in Splinterlands! I hope you'll join in the comments area with a discussion about what you feel the land expansion will be or what you HOPE it will be, and if you plan to purchase land or own it already. Let's dig in first with some history since I do have such a passion for history!
The History of Land in America Provides Insight on Plots for Splinterlands
Land expansion occurred in America, because the colonies were becoming crowded with new arrivals to the United States along the east coast. The pioneers needed more room, especially those farmers who made their income off the land. Now, the terrain of the country kept settlers from moving out west until they just were bursting with too many people. Once great explorers like Daniel Boone (my relative!! YIPPPEE!!) surveyed the land, the expansion began towards the west. Fun fact: Did you know Daniel Boone walked all the way to Yellowstone National park in his 70s to see the great natural springs there and Old Faithful? Imagine walking back then across America when you're in your 70s! Quite amazing, isn't it?
Anyways, the government incentivized people to move out west, and so America expanded, just like Splinterlands has incentivized people to buy the land plots. Those pioneers had never seen the land, only heard about its potential, and they took a risk trusting the government (GOSH that's a huge risk these days, isn't it?!), and they went to see what other possibilities might exist. They didn't know if the land would be better for them, but they were willing to leave everything behind to go claim it.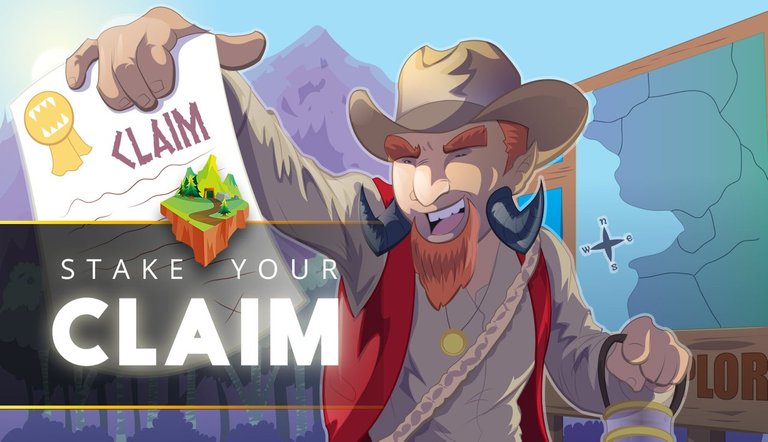 (Source: Splinterlands)
Likewise, the founders, @aggroed and @yabapmatt have asked us to trust them on the land expansion. They've told us of the many resources and great wealth we will gain from purchasing land. What's the DIFFERENCE here from those early pioneers? Well, let's look:
What You Get with the Splinterlands Plots is Minimal Risk with Great Rewards!
Splinterlands isn't asking you to turn in all your cards, money and wealth in exchange for land like you would have done as a pioneer heading west. Perhaps as a pioneer in America you didn't have much to begin with, so your risk was minimal, but it was still a risk AND your LIFE was in danger at the potential perils you might face. Happily, no one is risking their lives to own land in Splinterlands, at least my goodness let's hope not! I mean, there is a bit of FOMO going on, so sometimes it is quite the stampede to get to those quick deals that have occurred!

The mechanics of land is still being determined in Splinterlands, so you actually get to voice your opinion now about how land should function in the game, and if it's a good enough idea, maybe the founders and Splinterlands' team will jump on it! If you're worried no one will hear you, well, if you buy enough packs during this pre-sale they will! You can be a Maverick in the Discord chat and have DIRECT ACCESS to the developers there where they would certainly hear your voice about the land expansion.
Again, no one is risking their lives as I mentioned in point one to own Splinterlands' plots, tracts, regions or otherwise, so your risk is much less than that of the early pioneers.
You get actual value immediately in SPS Airdrop Points for each land plot you own. The pioneers had to wait months, sometimes years, to see ANY return on investment, because they needed to cultivate the land. You could own land right now and be making a ROI from it! Pretty incredible!
Why Compare the Two? For Risk Assessment
As you can see above, you may feel the risk is too great to move money into buying land plots in Splinterlands; however, is it as great a risk as the American Pioneers faced? Doesn't seem like it after we've compared the two, and yet, they weren't called foolish for taking the risk. They did everything they could to get that land and head out west!
I will continue this land series, but for now I'll end here: your risk is minimal, and your rewards could be INCREDIBLE. That being said, you still need to find ways to get the money to buy the land, so we'll talk about how to buy land, and we will spend time speculating on what the land will give us for the game in future posts at some time. If you've decided to buy some land, go head on over to the markets and give it a whirl! :)
Questions for You
Do you own land?
Let us know in the comments below (if you feel comfortable) whether or not you own some land in Splinterlands and where you bought it (at the pre-sale of land or on the market).
Do you think owning Splinterlands' land is worth the risk?
What's your opinion on the land plots for the Splinterlands expansion?
Do you think land will improve Splinterlands game-play?
Give us your thoughts on whether or not you're excited to add this element of game play into Splinterlands!
Thanks so much for engaging with me as that makes the post so much better and I can continue to provide you with content that YOU WANT! I truly appreciate that you've read this far and if you've enjoyed it, I hope you will consider upvoting me! :)
Please be sure to check out most on @early-bird curation if you haven't seen it already! You can click the link here
If you enjoyed my post and want to try Splinterlands, please use my referral link: https://splinterlands.com?ref=rosiew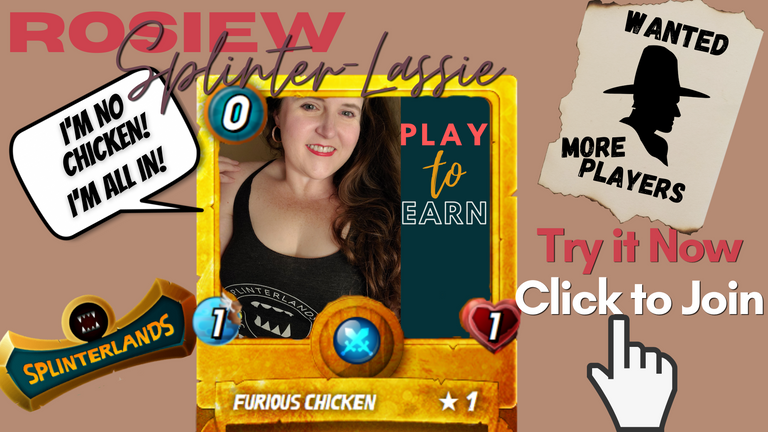 Please remember my post is not meant to be financial advice and is just my opinion.
Follow These Folks:
Early-Bird Curation Service: https://peakd.com/@early-bird/
Splinterlands: https://peakd.com/@splinterlands/
Monster-Curator: https://peakd.com/@monster-curator/
1Up (#OneUp): https://www.1up.zone/
Here are some great links to join as well!
Splinterlands Discord: https://discord.gg/Tw7KjNsQGs
Monster Market Discord (Monster Curator): https://discord.gg/DR3J9rfRFV
PeakD Discord (PeakMonsters as well): https://discord.gg/7mQmzZeugE
NFT Studios Discord (aka 1UP Discord #OneUp): https://discord.gg/4VYBcNuVQd
(NOTE: I created the thumbnail, but I used Splinterlands' pictures to make it)
---
---