Splinterlands Town Hall October 3, 2022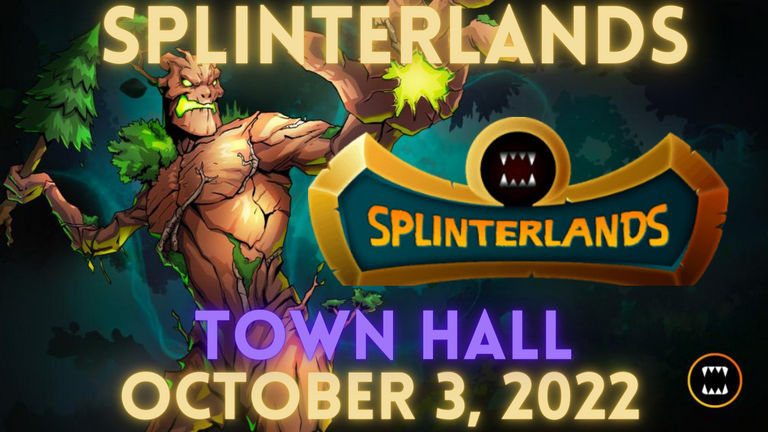 Splinterlands Town Hall (AMA) Summary for October 3, 2022
*Please note: I cover as much as I can of the summary as a record of the conversation. I do not provide my opinion but actual conversation that occurs during the Town Hall/AMA. This summary will have questions provided from the Discord and the answers given by the various Splinterlands' team will be typed by me. Please forgive any typos or errors; some may be from Discord or some may be my own.
If you wish to contact the team, here's some of the personnel:
Aggroed @aggroed Founder and (C.E.O)
Matt @yabapmatt Founder and (C.P.O.)
Hardpoint @hardpoint (C.T.O.) (Chief Technical Officer)
Nate @nateaguila (Creative Director)
Cryptomancer @cryptomancer (Splinterlands Developer)
Chatter (Director of Marketing)
Homestead @homesteadhacker (Business Analyst)


Introduction from Aggroed
Splinterfest is coming this weekend! We're navigating releases and coordinating travel to Splinterfest. Some are already in Vegas.
Everyone will be talking about Splinterfest today.


Special Guest: Baron's Toolbox Axlertwinblade
Thanks for helping make the streaming experience better.
Axlertwinblade is excited about Splinterfest coming!
Baron's Toolbox started as just a set of tools for when I started the game I just wanted some better gameplay tools for myself and then people I was working with really enjoyed the tools as well so I just made it public. So what I'm focused on is to help with more tools for how to play the game. There's lots of stuff out there for the financial side but what can help us to play the game/enjoy the gameplay aspect.
Aggroed: Yes I've had people say they want more information on gameplay. What does that tell you?
Well, from what I'm finding, the Guild Tool I have is more to help manage the guild itself so the endgame guild. Simple things there are ways to see what the guild members are doing. It's tools to help them manage their guild gaming.
Aggroed: I would love every Guild to be a DAO but I don't want to force that but a Guild Treasury would be amazing for each guild. It's not exactly the same as what you're saying but it's that similar idea.
Yes, they are looking a lot of those types of tools. Definitely Guild Treasury is what people are looking for. When I started streaming, I made the border for the streaming and that makes me happy to see them now on the Town Halls. There's a lot of ideas come to me but it's just a matter of time which ones I can work on and which has to wait. I just do this as a side hobby because I really enjoy the game.
Aggroed: Yes I can see you're always adding something.
The spinner tool was also to help with the live streams and card management to grab that card faster as we're growing with more cards.
One of the next tools I'm almost done with, so I'm working on the ability for people to enter their IGN directly into Baron's Toolbox so the spinner tool will pick the person and the card together to make the process smoother. The message I'd like to get out is that a lot of us are here to just enjoy and play the game. I know the conversation is often about the investment side but a huge amount of people are just here to play the game and so I hope I'm helpful and people are enjoying it.


Marketing Update with Chatter
Splinterfest still has tickets available HyperX Area. VIP tickets are fully sold out now but general tickets still available.
What is Splinterfest, why should I go and highlights?

It's a meeting of the minds, to celebrate everything Splinterfest and you get a $300 discount of a limited promo card. We'll also be giving out 100 land plots through the event. And lastly you'll get to meet us.

Topics: Please fill out the questionnaire here

We will be leaking GLS information and TDS play
You'll be the first to hear it there. We'll do streams for some events but not the entire event.
The tournaments will be livestreamed

Can't announce it yet, but we're working on some huge projects/partnerships with the launch of Runi and some great exposure to the ETH community and partnering with one of the biggest Media conglomerates for Splinterlands and then a potential art gallery in New York. We will let you know when we've officially signed the partnerships yet but that's coming in a few weeks.
Personal fun contest we'll be running. There's a guy who wants to wrap his car in design the hood of his car. Winner will win packs and SPS! So contact Chatter for more information on that.
Aggroed: There's a couple big waves we get to ride here if these come to fruition.
Chatter: GLS whitepaper will be dropped October 13th. (was moved from the 11th to 13th due to the travelling back from Splinterfest
Aggroed: What are you most excited about at Splinterfest: -Chatter "Meeting the people. It's gonna be awesome to catch up with everyone!"
Aggroed: Will there be some cool swag there? - Yes, the Resellers will be there, the Chipmunks made some cool mech as well. You'll have a swag bag for everyone who comes, a Splinterfest shirt and more things we're giving out for those who are there.
Aggroed: I'm looking forward to it
Chatter: Just stay on the lookout for major partner announcement in the next couple of weeks. I'll post about RogLibran NFA's carhood as well in the Discord soon.


Brawl Hall with Weird Beard
More than anything I want to talk Coliseum of Chaos

Shares the animation intro to the Tournament the Coliseum of Chaos. Make sure you're watching this Sunday noon on west Coast, 3pm East Coast. It's the very first ghost card tournament. You get put on even playing field with every other player. You get access to every card. The value of the cards overall:

We're giving away so much! If you were to play the gold league tournament it's $12,000. The Champion Wild cards is $12.4 million dollars. It's going to be skilled base but it's going to be overwhelming too because it's every single card out there. You can watch Twitch and YT channels. We'll have a side both for the play by play chat with multiple streamers.
When you first get there it's pool play but when you get to that top level then it's bracketed out. It's going to be so much fun. Full broadcast. It's going to look like ESPN with the production there.
Aggroed: Do you have a favorite? - No! We had an internal test and Homestead won but he knows the cards so it's going to be so amazing to see how the players go.


Creative Brief with Nate
What are the priorities? What's burring a hole in your objective? How's Florida?

Yeah Florida got hit by a hurricane and affected most of the state. I was very fortunate that we survived just fine with no power and internet and the hotel room has sketchy internet so that's why you can't see me. So far from what we understand everyone survived. In terms of making sure that none of that effects Splinterfest, that's been our focus. Forces of nature are speed bumps for us but we're going forward full throttle! Creative will have several panels at Splinterfest. Everyone in the room will be an honorary Creative team member for the day. So you will be able to vote all those ideas and those who attend will be able to make their voices heard right then and there. There's not many companies out there like Splinterlands that holds these Town Halls, that pivots to what's going on out there, we hear you guys and listen to all that stuff. It's gonna be cool. Splinterfest is gonna be so cool because we can link up with the community and to have your voices heard and contribute to what's going on.

I was happy to see Reseller's cards that will only be available to those who show up in cosplay. Here's a sample of these very exclusive, extremely limited cards.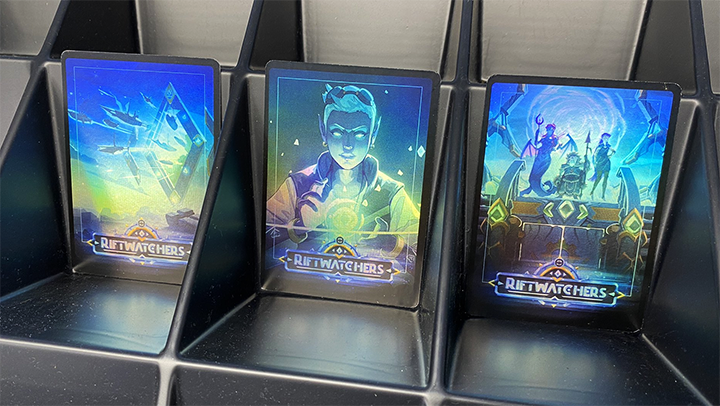 So if you're thinking of showing up in an outfit, DO IT!


Meeting Gautham
Gautham has added some cool graphics for Town Hall and is working with the movement and sound

I started six years back and became a graphic animator and graphic artist.

Aggroed: What are you loving about Splinterlands

The artwork I get to animate is out of this world; it's on a different level. I love the lore behind them. That gets me exited.

Aggroed: How did you get connected with Splinterlands

I wanted to be part of a gaming firm so I was looking out for positions. It's been almost 2 years now.

Aggroed: Are you from Oklahoma?
Aggroed: How did you land in this?

I'm a computer coder but I got bored of writing it so I went towards animation.

Aggroed: Is there some kind of animation you'd like to do (if you had unlimited budget) for Splinterlands?

Two things: The lore and animation and upload on YT.

Aggroed: Yes I'm not a huge fan of regular ads. I want content marketing and telling our story and the story of our characters and our community I think that's how we're gonna set ourselves apart.

Second one: Modeling and animations, physic animations like electricity and I want to simulate it for you.

Gauthum Magic with Splinterfest



Product Team: Sean Robinette
I'm the graphic designer for the product team. I do business cards and the road maps I've created.
Aggroed: This employee handbook with Ava the Crusher and you added her into the handbook. And that's how you take our lore and build it into these horrible corporate documents. It's the only time in my 20 year career that I chuckled reading the corporate HR handbook.
What's your next biggest project:

The roadmaps are a constant. I'm working on 6 or 7 roadmaps. Some are internal. Some will be public. I'm working on logos for Genesis League but I can't take sole ownership of that.

Aggroed: Sounds like you're brought in for all these projects that we need.
What's your background?

I've always been into drawing and creating so I went to college art and design in Georgia. I moved into making decals then worked for a company making custom arcade cabinets and then I started my business. Alicia, the VP of product designs reached out to me on social media and I took a look at the job and I've always loved games and it's been a dream of mine to work for games, I looked at Splinterlands and loved it.

Anything you want to share?

The perk of my job is the upcoming info and I'm really excited with the direction for where the company is growing and I think they should stay tuned for what's coming.
Aggroed: I'm coming after you Sean if there's a leak. We gotta be careful about that because all the information has to be given out at the sme time. There's a lot of cool partnerships being built. There's 4 or 5 (partnerships) coming, there's almost an embarrassment of riches and how can we execute this.
Thank you for everything; the roadmaps are a hit! I'd like to get a section of the show to be about the roadmap so that will be a central focus.


NEW SEGMENT: Support Tutorial Gandalf
-Today's tutorial is about Securely Backup and Store your Hive Keys Offline.
- The support team thought it would be fun to use the Town Hall to give a tip every Town Hall to help people with it and help to answer questions or to answer questions you didn't even know you had until you heard it.
Tech Tip: There's a phrase "Not your Keys, Not your Wallet" If someone owns your keys, they can get your assets. Luckily this doesn't happen very often but when it happens we are hurt that it does so we thought this would be the most important thing to share with the people.
Read the article here
What I personally do is I have two external hard drives and I save them digitally and the hard ddrive is never connected until I need those keys and I have two so that if my computer breaks down I have another one on another hard drive. I also have it encrypted by bitlocker which is very secure but this is a risk because it's possible you forget your password to your bitlocker so don't over secure things. Make sure you don't share your keys with anyone but make sure you have them with anyone.


Gandalf Story as Support Team
Are you from Oklahoma

I'm from the Netherlands.

What do you do for Splinterlands?

Zendesk development team. We're part of support and we try to develop Zendesk when you provide better support.

What is Zendesk?

It's a ticketing system so when you go to our website you can create tickets and there we see all the tickets and sort them out and guided to the correct department. Another part of what Zendesk also provides is a guide and that enables you to have these articles that we're providing and that's what I do I review them and manage the process. And I think I was one of the main people that created this process. The support agents suggest articles and they just provide a link now (instead of a complete answer which takes longer). So we find out if this is covered already with new questions or do we need to write a new article. And after the writers have written it we check it and publish it and hopefully people can use it to help you.

I've worked over a year at Splinterlands. Thanks for the opportunity to be here.


Splinterlands TV
Shout outs and clip of the week
I released some software for the streamers to have a smoother process for the streamer (the audience won't notice that). A lot of magic has to happen in the background when everything works.
Metrics for September:

2.03 Million minutes watched.

We have 2122 followers, 177 subscribers
We have another big announcement but we can't share it yet.
RonDon: What would you need to have to shave Aggroed?

There's a partnership for a game. There's a partnership for sharing social media. There's a financial partnership. There's a few things coming that maybe I'd shave for. Maybe if SPS hit a dollar I'd shave


Battle Rewards
Can we get an update on the ECR issue in Champion league where ECR has no/diminished impact?

We're constantly watching over this stuff but I don't have the devs today to answer this.
Why did we not see big day 2 rewards this season?

We're trying to smooth this out by taking averages and so I think that's where that game from.
Would the game consider limiting the number of battles per day? Leaderboard should be the best performance on a certain number of battles. It's shouldn't be unlimited battles to reach the top.

I don't think we want to limit the number of battles per day.


Riftwatchers
When can we get the RW promo airdrop (Oshuur)? When can we get the 1st normal RW airdrop card (Usut)? When can we see the stats for the next airdrop?

We're waiting for some of the proposal stuff to wind its way through. IDK about stats with Splinterfest right around the corner.

Is there any plan to increase mana cap of battles in higher leagues now that we have higher mana cards from RW?

I believe it's already happened. I've always been an advocate for the high mana battles. We'll see. If that's something the community wants then that's something we can explore. I'm sure we'll get feedback at Splinterfest.


Misc
It's becoming more and more clear that quality bots are more skilled than 95+% of the players and these bots continue to become more skilled and more accessible as we move forward. How is Splinterlands going to maintain a true game and not just turn into a defi project operated by bots?

Well this is part of why we want the land expansion. We think land is a way to get items and specials and multiple ways that will deal with the bots. Ultimately it's up to the players. If we've eliminated the desire for bots, then it's up to the players.
The team has made multiple great adjustments for the upcoming games that should improve the gaming experience/economy such as market fees to the DAO, card based ECR, and account bound progression. Will some of these changes make their way over to Splinterlands or is it too late for that?

I think we want to do a lot of that but the difficulty level is harder. Changing something that's already operating we're preparing a battleship while it's on the ocean, like fixing a plane while it's midflight. Starting up a project makes it a whole lot easier. I think what we get a little further on and can free up some devs from things we're really trying to get out the door to answer some of those pieces to improve quality of life in general. Some of what we're focused on now is new aspects of the game.
When will the sale for the Splinterfest promo card occur?

Sometime after Splinterfest and you're gonna want this neutral summoner.
I play and rent out cards on the same account. There used to be a cooldown feature that allowed us to sort cards so we could easily figure out which cards were rentable and which ones were not. This API is no longer available. Is the team working on something that will allow 3rd parties to know that information to make renting and playing on the same account easier? And what would that time frame look like if so?

I think we already had it then took it out for a variety of reasons but there was a cooldown problem. Weirdbeard: You could see what cards were on cooldown and it's been removed and won't be coming back in because people used it to exploit.


Rapid Fire Questions
QUESTION: Is there a possibility for a partnership consisting of a MMA based GLS game with an organization who's name rhymes with KFC?

There's certainly a possibility with MMA games whether it's the one that rhymes with KFC, we don't know but we would love it.
QUESTION: Given how well SPL TV works, can you give us some more options for our Channel points, some of us are not that interested in shoutouts and I have points to challenge for days? If those points can buy useful stuff, we could have even higher numbers. @r0nd0n you know what I'm referring to.

Yeah maybe there's something we can do. Rondon: We're looking into what we can do. It's stuff on the plans.
QUESTION: Bear markets often provide the best opportunities to find and recruit talent. Is Splinterlands Corp still aggressively hiring, or has hiring slowed down? What is the current employee count, and what is the goal for the next 6 to 12 months?

We've slowed down a lot. The Bear market is a challenge and we're doing pretty well and I'm proud of how I've helped steer this ship through a bear market. It's been annoying for us but not dire. Currently employee count is 150 to 170 includes contractors but not streamers. The goal is to get out of this bear market.
QUESTION: In 2023 is it a feasible request for a virtual Splinterfest for those that cannot make it to the physical location? Not a cam at the show, but something like Digicon for just for the Splinterlands community.

I'm working on something or working with Gamer Jive to work with the metaverse with us so that there can be trading and my hope is like a virtual Splinterfest, I don't know that it's exactly like that because nothing can replace actually being there but something like that.
QUESTION: What do you think of either A) overriding the downvote to extend the presale window of the RW sale, or B) a re-vote due to 'misvote'.
I think it's very, very, very important to set a precedent about deciding what issues the DAO even has authority to vote on or not. It is also apparent that lumping two issues together in prop 4 caused at least 1 respected and well loved community member with 1M SPS voting weight to downvote solely on the refund issue (McSpreadsheets, this is confirmed). So a vital issue (the window extension) got lumped in with something not truly related (the refund source) and caused people to vote on one issue or the other.

ANSWER: People get to vote with their stake so they definitely get to vote. A misvote? I don't think there's a misvote. There's ways to bring other proposals and interact with the community and what the DAO's gonna do but I don't wanna like, if the proposal doesn't go the way I want or the way the community wants it's not to just vote on it over and over again.
(cont. question) At this point in time it is VITAL to draw the line in the sand between the company responsibility and where the DAO has jurisdiction. Neal made an excellent point that the DAO should vote on SPS changing matters… and I agree. Anything else should be a company decision. The RW presale mess was a result of buggy UI (hey, we all make mistakes) and should be resolved decisively by the company, not the DAO. There is a huge divide in the community over both the presale resolution and DAO authority.
This involved tens of thousands of dollars for some people, and to add insult to injury, if they missed the presale window because there was no cutoff (UI bug), they then missed the chance to divert those funds into the NODE LICENSES that sold out of tranche 1 that same day.

Answer You're right and there's nothing I can do retroactively. There's a huge divide and that came out. Some of these things are split.
Cont. Question: Matt has said the proposal votes are not set in stone. This is an incredibly important precedent setting situation that deserves a lot more attention than it is getting.
I implore you to do what you guys always have and do the right thing. Extend the presale window. Or at the very least, give the community a chance to vote on this issue alone.

Well, I don't think many people had a problem.... I hear what you're saying and I respect your opinion. Part of what I was doing ... I spent days on this and read all the comments on the posts. And the note was not Splinterlands should offer a refund but the 3 minutes was too long. I thought 3 minutes would pass but it didn't. It have very little to do with should Splinterlands refund packs.
Do the small guy who fetch my SPS have a name? -If not can I name him?

You can name him. He doesn't have one.
Question . When will land rewards start?
Question: Any updates on Warner Music Group project?

We just keep working with them. I met with them last week and we're continuing to scope design and we have a neat project and we're waiting for feedback from them now.
Question: How many total splinterfest tickets have been sold so far?
Question:
When does the team think of inputting the staking requirements for earning in the game?

We gotta get the nodes operating. Nodes will work in Q4 in parallel and once we're confident that works we'll open it up for everyone. Part of that's staking and once we work on that there will be. If I say everyone needs 10K SPS staked everyone yells at me.
QUESTION: What is the current "pipeline" for getting a proposal to be voted on by the DAO? Specifically, I am interested in putting removing DEC LP rewards to a vote after talking about it with other Mavs to see if the community is interested in that

I don't think we'll have anything for 2 weeks. Let's get Splinterfest behind us. I know folks want that but there's nothing that can happen while Splinterfest is going. October is looking pretty rough.
question: is it possible that we could see our own card cooldowns well logged in? this would hide it from other users but still allow players to track if they have or have not played with their own cards recently

I don't know. Weirdbeard, what do you think? It's blockchain so if you turn it on, people will find it.
QUESTION: When will it be possible for 3rd party programs/tools to apply for higher API limits?
I've released a discord bot that gives guilds info on brawl results and progress as each brawl progresses, but I've been reluctant to advertise it more since I am already starting to hit API limits with only 30 discord servers using it with 40 guilds.

I don't have a good answer for that. Maybe that's more a bull market thing and when we have the nodes live. We're still looking to not have server costs through the roof. It's something we talk about but haven't been able to vote a lot of time to.
Q: When techmodernization?

Break fix. We launched it, we're working on it and we're gonna try and get it out. At this point are probably pushed to the 18th.
Wen land?

Every time you ask land, a minnow dies. Don't you know that?
QUESTION: When gladius cards tournaments?

Sometime when Cryptomancer gets home.
QUESTION: Will Binance ever list SPS? Wen!

I don't know you should ask that question to Binance.
QUESTION: Can we have a UI enhancement on the tournaments tab to show the required staked sps and maybe even the required power

Send that to Splinterlands feedback. Good question.
Q : What are the things that we can expect after tech modernization gets implemented? What are stuff under it

Well Tech modernization is the base layer of everything under the game. And right now we're coding things 2 or 3 times because tech modernization doesn't jive.
Question : Those who is not attending the splinterfest is there any way they can get the Neutral promo card

Yes everyone will just have access to that all at once. (Those who attend are promised a card spot if they so choose. Those who do not attend will have to push and shove.)
QUESTION: Does Splinterlands have a connection with PC Gaming accessories providers / distributors? I'm looking for a new gaming chair and it'd be cool to have a Splinterlands themed and embroidered one

We don't currently. Maybe that's something Chatter in his spare time can figure out at some point.
Question: Instead of having presales that last 30-90 seconds, can we develop systems that work over a 24 hour period, so that everyone all over the world can participate and no one feels the need to rush and make mistakes.

You know i hear that and I also think the players don't want that. Honestly, we inherently want it so we can get access but then you guys will be why do I want that (when everyone can get it).

We tend to be on the scale than any of these other crypto projects. Especially with something like Runi. You don't need that Runi to function here. When we get to Chaos Legion I feel like yes, people need to have access, but when we get to Runi, I say screw your access you don't need to have it to play. Limited edition you have to push and shove.
question: Do you prefer users to run node on their own computers,or are you afraid everyone puts the software running on amazon,which would make it kinda centralized

I think everybody should do what they wanna do and I hope if there's enough people doing different things we're covered.
Question: when a player has multiples of the same card and level, can the game prioritize the use of the same exact card instead of eventually putting all of them on cooldown after a few matches?

Yes I think that's something we'll eventually get to but make a second account and put those cards over there.
Regarding API: would be great if node owners would get payed the fee for using it. I use a bunch of the apis and would be fine paying an fee

Yes you should be running your own. It's not cheap Splinterlands plays 30K a week so when we start thinking about server requests in addition we have to make smart choices so until we have a plan in place, it's hard to just run out there and offer it.
Question: The exact 24hour time for quests is very annoying for humans with daily rutines. You talked about changing it (in the first townhall after it was introduced) to something else like 23h, but you wanted a few seasons to evaluate. Seasons have passed so.... Is that change or something about the quest timer coming soon?

Yeah I think that's still the plan. It's just a matter of when we can get it done.
Question: relevant to the questions about DAO proposals and separate discord channels, would it be reasonable to consider allowing the community to vote on committee members to narrow down public proposals to concise terms that would be reasonable for the Splinterlands team to implement. We could potentially have committee members with different levels of SPS staked to make sure that all levels are player/investors are represented. This would also be a small group of players (per issue) the team could interact with more closely to make sure all players feel they have a voice

That's a great idea! I wouldn't want just voted members but open it up to people that are just interested. You guys can go into the proposal channel and if you have some strong suggestions after Splinterfest we can start working on that.
Question : if people who missed entering vouchers were allowed to go back and correct that error would it not be fair to consider how long it would take to enter the information and extend it by 10-20 seconds not 3 minutes , given they had entered the vouchers would they have been in the presale in the first place , I understand where 3 minutes comes from but not everyone should be lumped into that category.

Ya know, why don't you get with Gene and see if there's strong support with that. I made my best guess of what would pass (3 mins) and it didn't. Get other people involved with that.

NOTE: Reseller made a limited post card for all attendees who come! Here's a picture of it: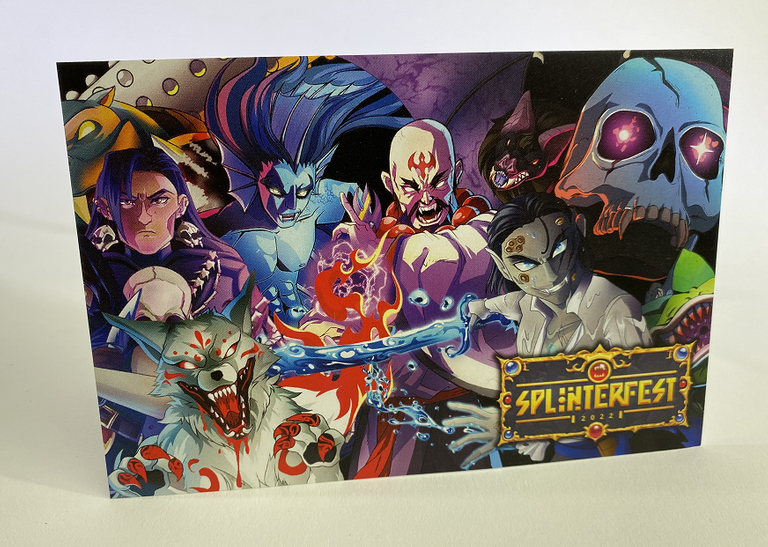 QUESTION: When will snapshot for GLS nodes occur?

I don't know. We have to get GLS out and live. That's still a ways off. At least November and probably later.
QUESTION: when do we get OSHUUR CONSTANTIA?
Aggroed:

Gene, see about getting people on the books for a new proposal since the 3 minutes didn't pass and see if you can get enough interest.
I do want a committee conversation time. Maybe WeirdBeard to lead it. I think we should have some timeframes where we help the community organize but leave it up to the community to do. None of that is gonna happen before Splinterfest.
What about a Dutch auction?

We're not entirely in favor of that because it will cost the players more money. What we're trying to do is to make this so it's not just Splinterlands benefits but that YOU GUYS get the bulk of the value. That's our company's stance. My number one goal is to make sure the company has enough money but I don't need to suck every minnow dry to make that happen. SO I hope you guys will get psyched and share what YOU did well and how you flip it. I see those stories on Crypto Punks and Bored Yacht Club. That's a story I hope happens for you guys.
Luke's video: Yes he kept going back and forth. I could see he was frustrated but he.. to me, I thought he brought up some points but I didn't leave with my feelings changed so that I think we need to change things.

Question: are there more VOUCHER sinks on the way?
Avoid low vouchers at your own risk. Everything's gonna need vouchers!!!!


---
Here's the Link to the YouTube video from Splinterlands' Official YouTube Channel if you want to see the Town Hall as well for a reference.
If you enjoyed my post and want to try Splinterlands, please use my referral link: https://splinterlands.com?ref=rosiew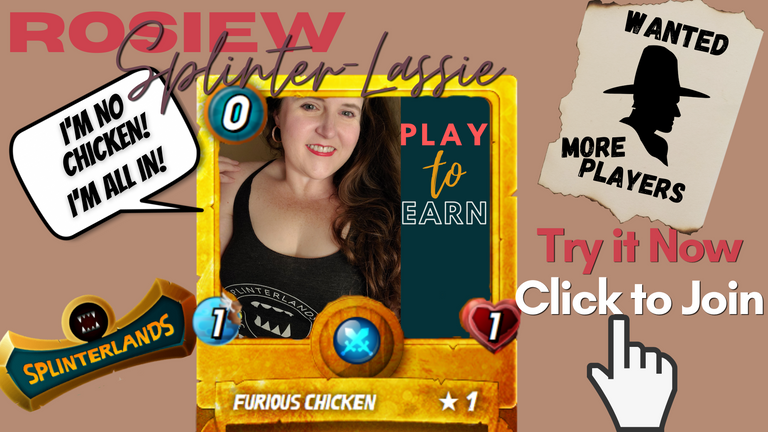 Please remember my post is not meant to be financial advice and is just my opinion.
Follow These Folks:
Splinterlands: https://peakd.com/@splinterlands/
PeakMonsters: https://peakd.com/@peakmonsters/
Monster-Curator: https://peakd.com/@monster-curator/
1Up (#OneUp): https://www.1up.zone/
Here are some great links to join as well!
Splinterlands Discord: https://discord.gg/Tw7KjNsQGs
Monster Market Discord (Monster Curator): https://discord.gg/DR3J9rfRFV
PeakD Discord (PeakMonsters as well): https://discord.gg/7mQmzZeugE
NFT Studios Discord (aka 1UP Discord #OneUp): https://discord.gg/4VYBcNuVQd
---
---