Splinterlands TRANSFORMATION with Surprise NFT Drop!!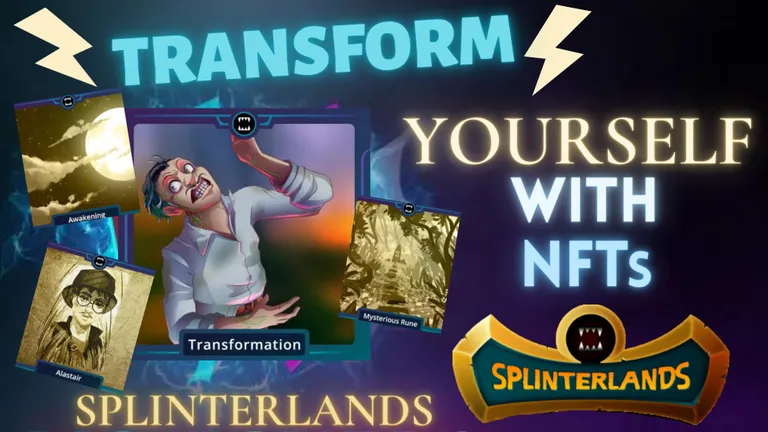 Hot Drop with 'Transformation' NFT AND MORE!!
Did you catch today's surprise NFT drop from Splinterlands?!? Ohhhhh! I've got to say folks, it's my new favorite! First of all, if you read about the quite dashing Dr. Alastair Lexington from Splinterlands (by the way, click here for that full story from Splinterlands), you learned his heart was good and well-intentioned, but the VOICE who wished to be called "Silas," lured him to ancient runes where Alastair's innocent hands touched the glowing ancient runes, and instantly he transformed from what once was a just a nice, friendly, neighborhood botanist to the an evil, Dr. BLIGHT!!! Anything Dr. Blight encounters faces instant death (anyone encounter one of these types of people? HA HA! Gosh I hope not! Maybe they were cursed by Silas as well! HAHA!)
Well, Splinterlands has done it again! They captured the moment when Alastair becomes the evil Dr. Blight! My heart breaks and is yet mesmerized as I watch the transformation (also aptly named) in this new surprise NFT! It's FANTASTICALLY DONE!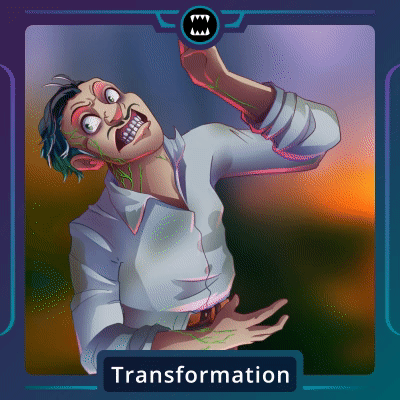 You can find SEVERAL other NFT drops as well!! My next favorite is the "awakening" The moon, the clouds, it's perfect! Splinterlands, @nateaguila and the whole team did a PHENOMENAL job! WOW!
And look at the Mysterious Rune and poor Alastair!! I had a whole other blog post planned for today, but I wanted to make sure you all knew about the NFT drop (although I will be honest with you, I made my purchase first THEN I came to tell you... HAHA... sorry.. full disclosure!)
Where to get your Priceless NFT
You can head over to splintertalk for the NFT marketplace where you'll see the latest minted NFTS plus previous NFTs that people are selling! Heck, you can buy the NFT and then put it right back on the marketplace if you wished! You will need the SPT token to make the purchase! If you have any questions, don't hesitate to ask me and I'm happy to help you with how to buy your own NFT there.
Here's the link: https://www.splintertalk.io/nfts/
I got Edition #31 of Transformation as seen below! I'm sooo happy about it!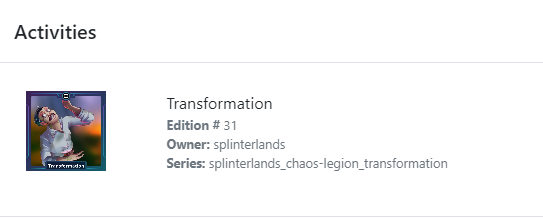 You can be an NFT owner as well, and have a piece of Splinterlands' history!! I guess I feel like if I can't get the Dr. Blight Promo card, maybe I can make a little by having his NFT! Yipppee!!
Let me know your thoughts about the new NFT surprise drop! Remember, Splinterlands will drop more NFTS every Friday and then surprise special-edition drops sometime during the week! Be sure you're following Splinterlands either on Twitter or here on the blog or in Discord! You don't want to miss out on all the good surprises!!
Thank you SO MUCH for reading my post! Please share comments about your opinion on the new NFTS!
If you enjoyed my post and want to try Splinterlands, please use my referral link: https://splinterlands.com?ref=rosiew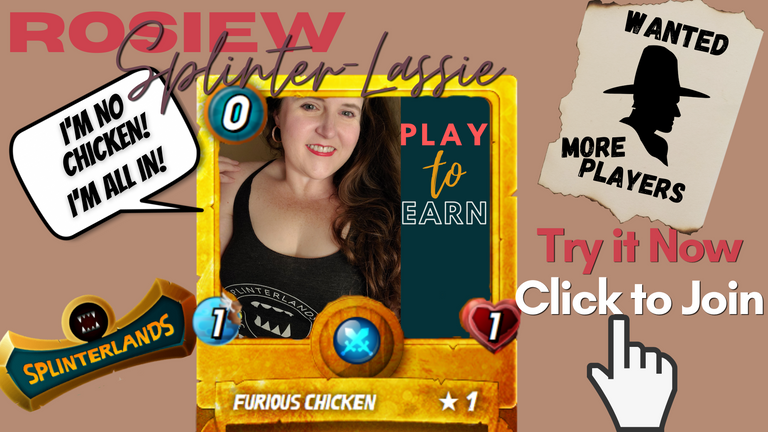 Please remember my post is not meant to be financial advice and is just my opinion.
Follow These Folks:
Splinterlands: https://peakd.com/@splinterlands/
Monster-Curator: https://peakd.com/@monster-curator/
1Up (#OneUp): https://www.1up.zone/
Here are some great links to join as well!
Splinterlands Discord: https://discord.gg/Tw7KjNsQGs
Monster Market Discord (Monster Curator): https://discord.gg/DR3J9rfRFV
PeakD Discord (PeakMonsters as well): https://discord.gg/7mQmzZeugE
NFT Studios Discord (aka 1UP Discord #OneUp): https://discord.gg/4VYBcNuVQd
---
---