The Post I've Hoped to Write Since Day 1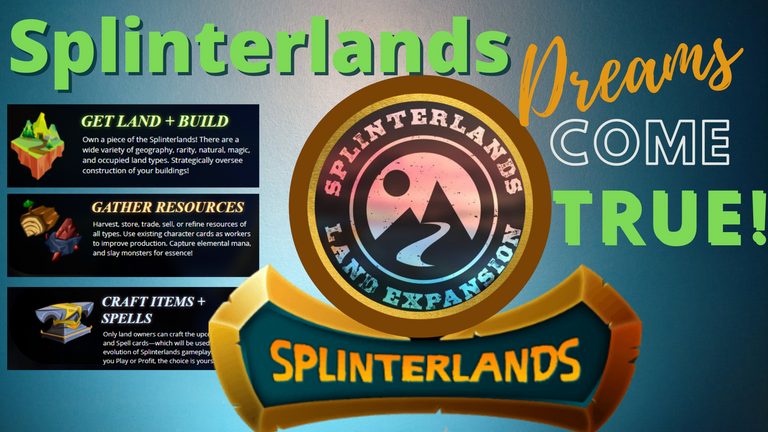 A Dream Come True in Splinterlands
Lately I've been a bit bummed, and perhaps if you've followed my blog posts you might know what I'm about to say. You see, my dream has been to own a bit of property along the Santa Fe trail in Kansas. I made an offer on the most wonderful run-down 1860 farmhouse, and my plans to bring it to life had me feeling excited and proud to be restoring a bit of history. Sadly, the inspection report came back and the foundation is a disaster. There's no hope for me on my limited income and inability to fix a house foundation which is quite a daunting task in Kansas due to our soil movement issues. I had to walk away from the house, and with that, a bit of a dream for me was lost, I've often connected my dream of owning REAL land to my dream of owning a plot of land in Splinterlands as well, so I suppose I stopped hoping I'd have a chance at a Splinterlands' plot, too since to me, they have always gone hand in hand. I should know better than to give up on dreams!
Hive Goes Up!
So last night, as I was winding down my day and scrolling through real estate properties for the 1000th time, I suddenly received PING, PING, PINGGGGGGG on my phone as if an emergency had occurred. I grabbed it to check my notifs and discovered @just2random had written basically saying "You want land, right? Now's your chance."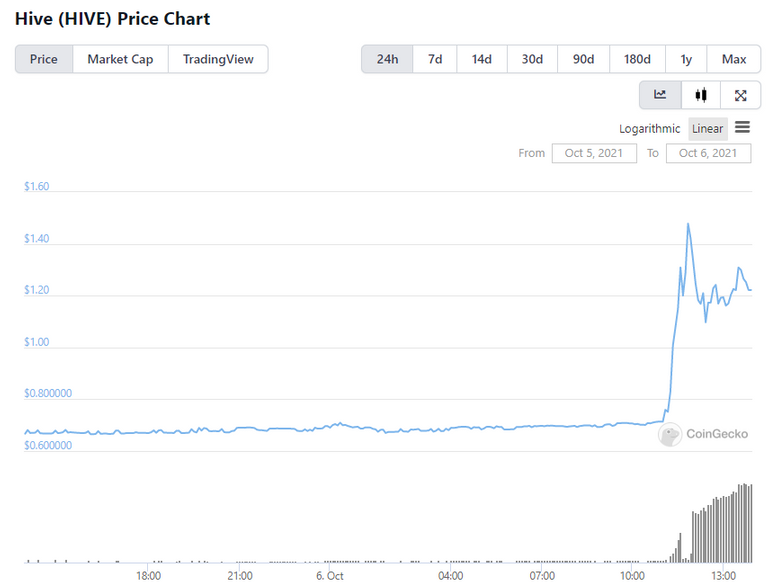 I raced to the computer to see what he meant: HIVE was pumping! WOW! If you don't understand exactly how this works, well, I didn't really either at first. Just2Random (or Random as I call him) explained to me that while HIVE is going up, your dollar will stretch further.
In fact, he wrote a post explaining what's a good buy during a HIVE Pump, probably to help folks like me that are new to HIVE and the crypto markets. In case you'd be interested in his perspective, I'll post his link here:
https://peakd.com/spt/@just2random/what-should-you-do-in-splinterlands-when-everything-in-the-market-turns-red
He mentions SPS, Credits, and LAND! Yes, it was a FANTASTIC time to buy a Splinterlands' plot. I screamed. I couldn't believe it! My waiting had paid off, but first, I had to get my hands on some HIVE.
Could I actually own my Splinterlands' Dream?
I was close to what I needed with only about 75 HIVE away from my goal. I needed, therefore, to sell my SPT which is the token earned from writing blogs! I couldn't believe that my writing blog posts about Splinterlands - particularly writing about my DREAM of owning a plot of land in the game - would be the final win to me getting that plot! It was all coming full circle for me.
I raced to sell a little SPT and GRRRRRR someone was overshooting my bid every time! I had to cancel and re-post again to be at the top of the sell list, then they would cancel and post over me! I was getting SO FRUSTRATED. Meanwhile Random was writing, "How's it going? You want to get the land as quickly as you can."
So, after a battle with someone else, I probably undersold my SPT a bit, but since I wasn't selling much I didn't care at this point. The land was so worth it; I had dreamed of this day. I got the HIVE I needed! Yippeee!
So I gathered all the rest of my HIVE, headed over to PLOT on the market and saw that someone was asking to buy a plot for 400 HIVE. I quickly posted 405, and then I realized I might wait for ages. The SELL Plot was at 600 HIVE. How was I going to get someone to sell me a plot for so little? I felt like I needed a miracle at this point.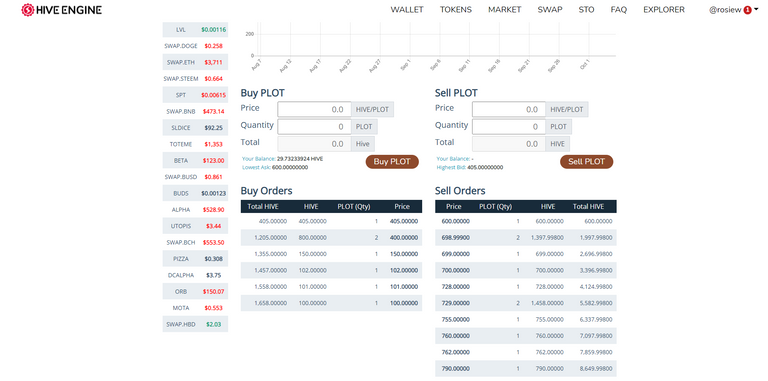 MIRACLES HAPPEN! I may not have my plot of Kansas property yet, but I have something even MORE PRECIOUS to me: A SPLINTERLANDS' PLOT! It happened SO QUICKLY I had to refresh the page at least a dozen times and check that I truly did own a PLOT OF LAND in Splinterlands!!! I quickly wrote to Random and told him the great news!
I can't thank Random enough for letting me know about the HIVE pump, and I seriously didn't sleep last night.. I just kept dreaming about the land and what I hoped I could do with it in the game. It's been a long while since I've wanted something so badly, and all my hard work and patience has paid off within just a matter of months playing this game.
SO PLEASE, don't give up on your dreams! I know that my dreams of owning some Kansas history will come now all in good time. Dreams include patience and believing in miracles so I know that will come in good time, but right now I'm so overjoyed about my virtual plot of land in Splinterlands that I can't stop smiling!
Please believe everyone has an opportunity to get what they want in Splinterlands if you just make some hard choices. I know that perhaps I won't have has much now for the Chaos Legions packs, but I WILL get SPS airdrops from my plot of land, and I REALLY wanted that land more than anything else. I'm so new to the game, I wouldn't be able to get much with the Chaos Legions presale anyways, so I still feel like a winner here.
Your Thoughts?
Let me know your thoughts. Do you think I was a winner? Did you take advantage of the HIVE pump yesterday? Do you have suggestions for what you do when the markets take such a change like that? Thank you so much for reading this post and sharing in my excitement! I really appreciate it.
If you enjoyed my post and want to try Splinterlands, please use my referral link: https://splinterlands.com?ref=rosiew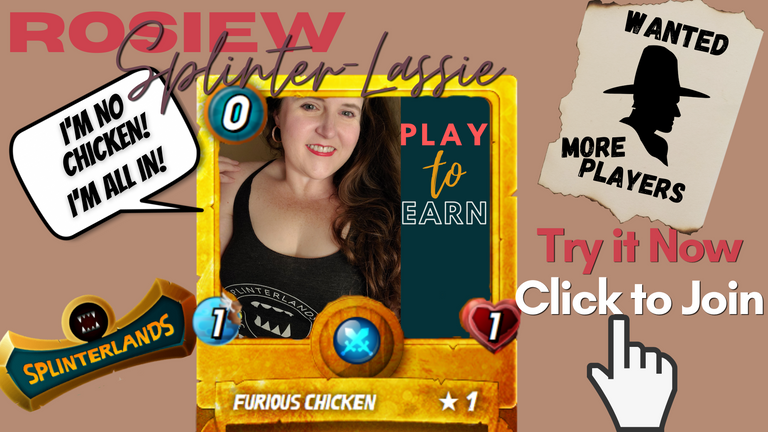 Please remember my post is not meant to be financial advice and is just my opinion.
Follow These Folks:
Splinterlands: https://peakd.com/@splinterlands/
Monster-Curator: https://peakd.com/@monster-curator/
1Up (#OneUp): https://www.1up.zone/
Here are some great links to join as well!
Splinterlands Discord: https://discord.gg/Tw7KjNsQGs
Monster Market Discord (Monster Curator): https://discord.gg/DR3J9rfRFV
PeakD Discord (PeakMonsters as well): https://discord.gg/7mQmzZeugE
NFT Studios Discord (aka 1UP Discord #OneUp): https://discord.gg/4VYBcNuVQd
---
---