Value of DEC Rises as Splinterlands Re-evaluates the Game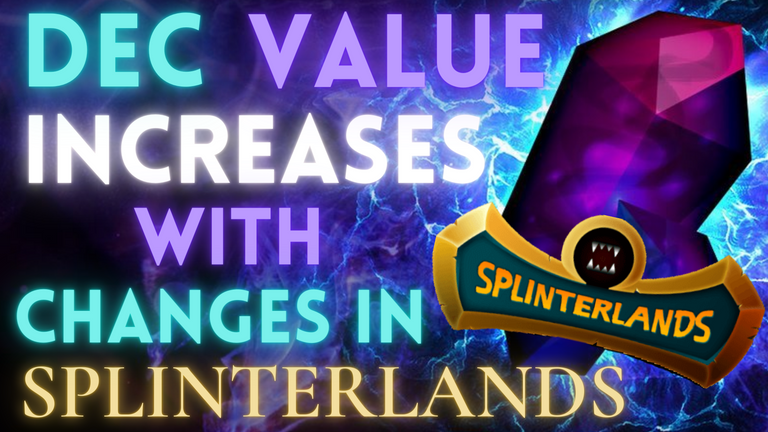 Changes Have Arrived to Ranked Battles
In a previous AMA, Splinterlands informed us they were making changes to the DEC situation in connection with the ranked battles in the game.
"In this case, within the next few days we will be removing DEC rewards from ranked battles for players in Bronze III and Novice league, and changing the reward shares calculation which determines the portion of the reward pool allocated for each win to use the cube of the player's rating instead of the square as it was previously."
According to Splinterlands,
"This means that in order to start earning DEC battle rewards (and in the near future SPS rewards) players will need to get enough rating and collection power in their account to at least get into Bronze II league, and that the rewards will be skewed more towards higher rated players in order to provide additional incentive to players to increase their rating." (Source: https://peakd.com/splinterlands/@splinterlands/splinterlands-updates-october-2021 )
You can read the rest of this article explaining the details here. The Novice and Bronze III leagues have not been receiving wins since the beginning of this season: however, the DEC adjustments had not been made.
Update Underway: What Are Others Seeing in the Game?
Today, @yabapmatt added the update in the @splinterlands discord server:

Now we can see exactly how these changes affect the players. I first heard about the changes actually from the Mavericks chat in Discord when they began posting their wins in ranked battles. For example, here's ONE ranked battle win from a Mav:

Not a mistake, guys! This player won over 435 DEC for ONE GAME. Now, that's almost $5 PER WIN; however, these numbers are for those higher players. What about the small guy, like perhaps you and definitely me?
What's Your Opinion of the Change?
I raced to play and see my results. I have to say, the wins in DEC are quite small now. You have to decide then, is it worth pushing yourself to that next level with better cards, or do you want to hang back and just hope for some nice season wins?
I'd love your opinion on the matter. Please share your comments on what you think you may do in this situation and what league you're in so those reading your comments can get an understanding of what's happening. For me, I'm not sure really. I have slowly been trying to grow my card collection, so maybe it will solve itself over time. Obviously I want to win more DEC with each battle, but it's all about where you want to invest your money.
I really hope you can see the positive here though: the more you invest, the greater your return. It just becomes a choice for you as to whether or not you are going to invest in PLAYING THE GAME or if you're going to invest in the Splinterlands market, buying and selling tokens rather than playing the cards. Personally, I'm a gamer; I always have been, so I feel like I will just need to try and catch up as quickly as I can. I will say though, it does feel like the moment I catch up, something changes and I'm now back with the little guys again. I'm a person who radiates positivity, so I will definitely remain positive and see that in the long run, I want my investment to grow so I want Splinterlands to hold that value, but I hope that new players can see this as well and remember there are SO MANY ways to make money in this game as I posted a few days ago!
The Market Talks: DEC Increasing
Please remember: the markets do the talking. DEC is on the rise, so that indicates the value of DEC is increasing and perhaps is telling us the story here: more investment, the better the rewards!! Now, DEC could also be holding with the fluctuation of HIVE prices so we'll need to keep our eye on the market, and see what it tells us about these changes. I also would love your thoughts! Please comment on the post so we can hear what you all have to say about it, and give it some time to see exactly what these changes will mean for the game.
I can't wait to hear what you all have to say about this, and I'm sure we'll learn more as we go! Thank you so much for reading!!
Please be sure to check out most on @early-bird curation if you haven't seen it already! You can click the link here
If you enjoyed my post and want to try Splinterlands, please use my referral link: https://splinterlands.com?ref=rosiew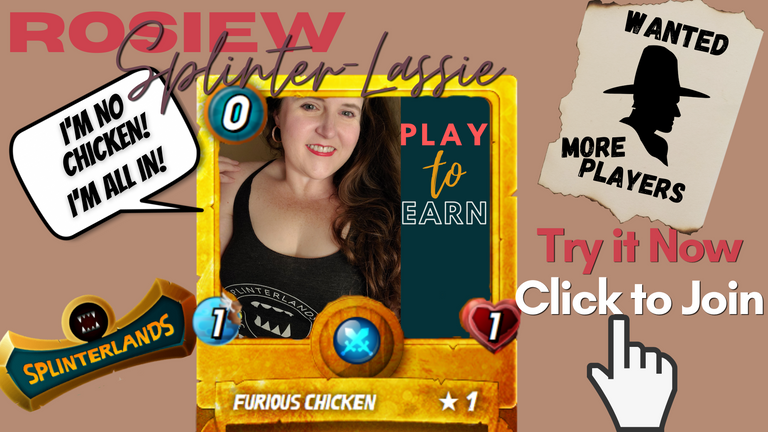 Please remember my post is not meant to be financial advice and is just my opinion.
Follow These Folks:
Early-Bird Curation Service: https://peakd.com/@early-bird/
Splinterlands: https://peakd.com/@splinterlands/
Monster-Curator: https://peakd.com/@monster-curator/
1Up (#OneUp): https://www.1up.zone/
Here are some great links to join as well!
Splinterlands Discord: https://discord.gg/Tw7KjNsQGs
Monster Market Discord (Monster Curator): https://discord.gg/DR3J9rfRFV
PeakD Discord (PeakMonsters as well): https://discord.gg/7mQmzZeugE
NFT Studios Discord (aka 1UP Discord #OneUp): https://discord.gg/4VYBcNuVQd
---
---