What Chaos are you Creating in Splinterlands?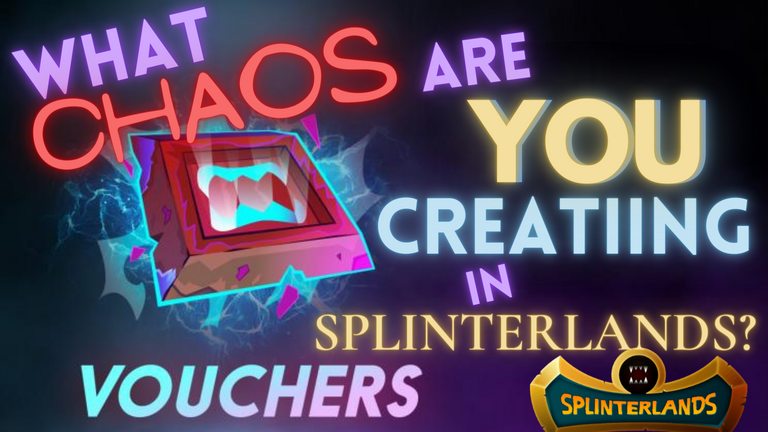 Hope in Chaos Legions - The Next Frontier
Hope. It's a powerful virtue. You find yourself pushing harder to reach the goal when you have hope in your back pocket. I've said it so often that the early pioneers packed up their entire lives on hope; they risked so much, and I'm in such marvel of their courage, particularly the women who would have had limitations to say the least. This hope kept them going, and was it false? Well, some of them didn't make it, but would you rather die trying than live with regret your whole life? I think the same goes for the new frontier of Splinterlands. Let's die trying rather than have regrets, right?
The Key To Success: Don't Look Back
We have less than a week now for the big Chaos Legions presale in Splinterlands and all the hope we can muster to get as many vouchers as possible. The opportunities are endless. Of course @aggroed has reminded us to be thankful for what we can get, and he's right. We should be thankful for all the investment possibilities. The cards are not the only answer; they are just one answer. Pull up a chair and let's chat.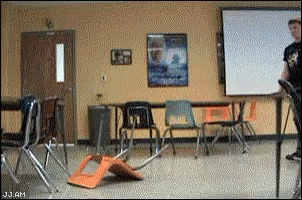 Join me for a drink too? Tonight let's have some nice warm apple cider with the cinnamon stick; we've had rain here all day and apple cider warms the heart. In fact, it's going to be a long night of very bad weather, potential tornadoes even in my neck of the woods which is quite rare for this time of year, but nothing in life is predictable, and so we can't look back. The early pioneers did NOT look back, so let's not look back either as the Chaos begins and YOU can choose how you participate in that chaos.
That's right. You choose. You still have time to decide what exactly you want to do with the Chaos Legions. It is the next frontier, and what we really should think about is that we are a part of it and we WILL have a good investment in it, one way or another. We shouldn't have panic of FOMO (fear of missing out). We shouldn't pine away that we don't have more than we have. No, really, we should drink a sip of our cider and take in this very exciting moment in Splinterlands' history. We get to be a part of the Chaos. It's about to unleash. Like a tornado in the night; it will unleash, and we can do so many things in the chaos. Let's talk about the options. Share with me if you have more!
Buy Presale Packs
Ok, so this is the obvious choice it seems, but is it? Are you playing the game? Will you USE those cards? What are the odds you will get that special card you're after based upon how many packs of cards you can afford? It's like the witch that tempted Hansel and Gretel to come inside for some nice drinks and candy! (oops... let's hope I didn't poison your cider as well! EEEK! MUHAHAHA)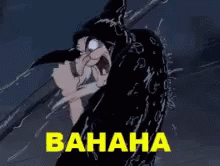 We can't all have the packs, and if you don't even play the game, maybe it's not the investment you should be stressing about but instead maybe you should capitalize on the FOMO...
Collect the Vouchers
Ohhh... maybe you are the ultimate hoarder. Keep all those vouchers for yourself and build up the desire in the market. Flaunt them in the Splinterlands' Discord and blog posts and Twitter and YouTube. Any social media outlet that will listen to you (and they all will, honey), go flaunt what you've got! Build up that FOMO, and then keep it all for yourself! HA HA! That's another way to create Chaos in Splinterlands... the GOOD kind of chaos that is!
Sell the Vouchers!
SELL SELL SELL! So, do what I mentioned above, flaunt your goods everywhere then go SELL THEM! Build up the hype! I mean it's not that hard right now, really? Everyone is wanting those vouchers! Are you still hiding behind that cup of cider? Are you watching the smoke rise in the air and vanish? Then you're watching your opportunities go as well. You can tell people to join the game using your referral, and YOU JUST HAPPEN TO HAVE SOME VOUCHERS they will be needing! It's a brilliant strategy, isn't it? Chaos should bring Creativity. Be creative in how you can re-invest, and don't look at the Chaos Legion packs and have regrets. Instead, tell everyone how much money you just made on free voucher drops! Who's the winner now?
Create Your Chaos
Whatever you do, be like the early pioneers who had a vague idea of their plan but were flexible at a moment's notice. That's what Chaos does. Imagine being one of those early pioneers and you're stuck in a tornado, heading your way and you're in a covered wagon with everything you own. What are you going to do? If you lose things but you make it through the chaos of it, you're not go to regret the journey, but instead you move forward. Successful people look ahead and let the past be a lesson but not a loss, not a regret and certainly not the end. In this case, you're not going to lose, you're only going to gain. You really can't go wrong with your decision on how you want to invest in the chaos; just be sure you do!
What Kind of Chaos are you Making?
Let me know in the comments what your plans are for the Splinterlands' Chaos Legions! What kind of Chaos will you be making, and how much return on investment are you hoping for? Remember, there are SO many opportunities, so don't lose hope, just find your vision or as a friend recently said, "don't lose your passion".
If you enjoyed my post and want to try Splinterlands, please use my referral link: https://splinterlands.com?ref=rosiew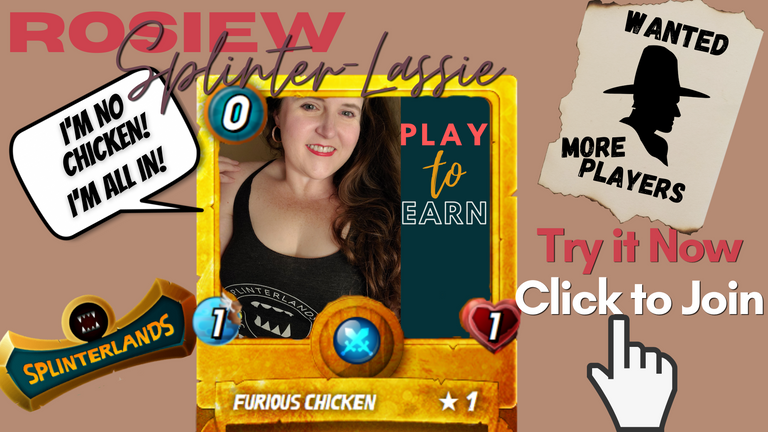 Please remember my post is not meant to be financial advice and is just my opinion.
Follow These Folks:
Splinterlands: https://peakd.com/@splinterlands/
Monster-Curator: https://peakd.com/@monster-curator/
1Up (#OneUp): https://www.1up.zone/
Here are some great links to join as well!
Splinterlands Discord: https://discord.gg/Tw7KjNsQGs
Monster Market Discord (Monster Curator): https://discord.gg/DR3J9rfRFV
PeakD Discord (PeakMonsters as well): https://discord.gg/7mQmzZeugE
NFT Studios Discord (aka 1UP Discord #OneUp): https://discord.gg/4VYBcNuVQd
Posted Using LeoFinance Beta
---
---