What's Your Splinterlands' Story?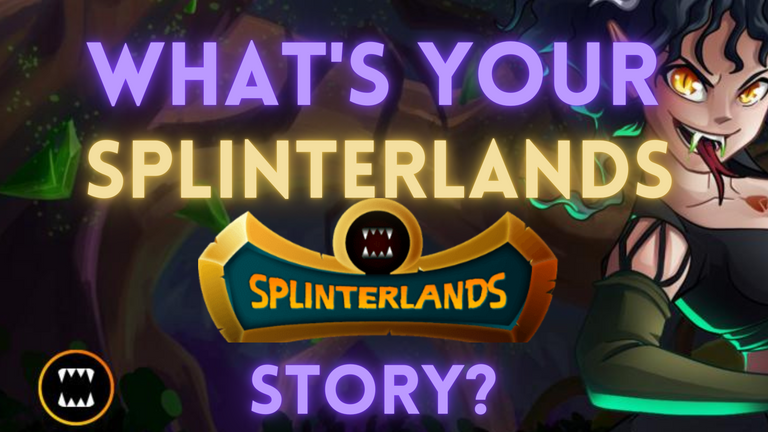 I've Got Some Questions for You, if You Don't Mind
Well, it's the weekend, and I thought as we're heading into the chaos (ha ha PUN INTENDED) of the new school year, maybe it's time to ask "What Do you Want to Be When You Grow Up in Splinterlands?" If I lay out all my cards (HA! PUN INTENDED) and tell you my thoughts, I can say I never imagined I'd would have invested my savings in a crypto game. I also never imagined I would invest right before the market really tanked and yet I'm still basically coming out even! Which is INSANE.
But first, let's talk about you in case you don't have time to hear my Splinterlands' Story. It's much more important to me that I get to hear your story (if you're willing to share it). So imagine...If we were sitting at a coffee shop or a bar or a club (you name it, we can be there.. it's our imagination, right?) I would ask you a few questions. It's who I am. I love to get to know people, not for nosey sake but, because I genuinely believe that YOUR story is important. And if we listened to everyone's story about HOW they found out about Splinterlands, WHAT brought them here WHY they joined and WHAT made them stay, I think we could really find a way to reach other people who want that same amazing story, right? I mean we all want success! We all have dreams and plans and hopes! You aren't here reading this post if you don't have hope that Splinterlands will bring you (or is bringing you) value (be it value from the people here or the financial reward)!
So please, tell me
How did you find out about Splinterlands?

What brought you here?

Why did you join? (How long did it take you to join? That would tell you something about your D.I.S.C. personality. If you don't know what I'm talking about, check out my post here.

What made you stay?

My Splinterlands' Story
If I was with you, I would probably then share my story. Not because I thought it was better, but because I would have connected with you on some level and would hope you would connect with me too! In sharing my story, maybe you would find some way that you were touched, just like I'm certain I'd be touched by your story. This is good connection and it builds up community to know why we are all here fighting for Splinterlands to be a success!
So here's my story. I came to Splinterlands because a friend at the time recommended I give it a whirl when crypto was going crazy! I cashed out at the end of the year, because I had no idea how to do my taxes properly and I started a company so that I could keep things separate. I already made money in just a few short months and couldn't believe it! It was a dream! I didn't make much because I didn't have much at that time, and I really still don't, but I was so proud of making money that I knew when I did get some money, I was going to move it into Splinterlands.
I decided I wasn't going to play much (honestly, again because the taxes would be and will be (sigh) a nightmare), but then someone had the bright idea for daily ranked rewards and it got me curious and I've pretty much played every day since (unless I get a lousy focus! HA!)

One Final Question for You: What's your Hopes and Dreams with Splinterlands?
After I tell my story, I'd ask you this: What are you hoping and dreaming will happen for your personally when Splinterlands takes off like it will? I will be most touched by this answer probably, and I hope you all will share your hopes and dreams!
For me, I hope to show people that do not believe in me that I am really able to be successful. I've always chosen the poor route because I like to be a person of service to others which never pays much but the joy in my life has been wonderful as long as I can financially survive it. When Splinterlands takes off, I can have more time to serve others and less time worrying if I will make it and my children will be ok. I will be able to spend more time with the people I love, and that's what I want most of all!

What's YOUR Splinterlands' Story?
So please tell me.... even if I've heard it before I would love to hear it again if you've got the time... What is your Splinterlands' Story and what are your hopes and dreams with it all?
Have a wonderful weekend! Thank you so much for reading this. You really don't know how much it means to me, but I will always try to show my appreciation when I can so that you know.

If you enjoyed my post and want to try Splinterlands, please use my referral link: https://splinterlands.com?ref=rosiew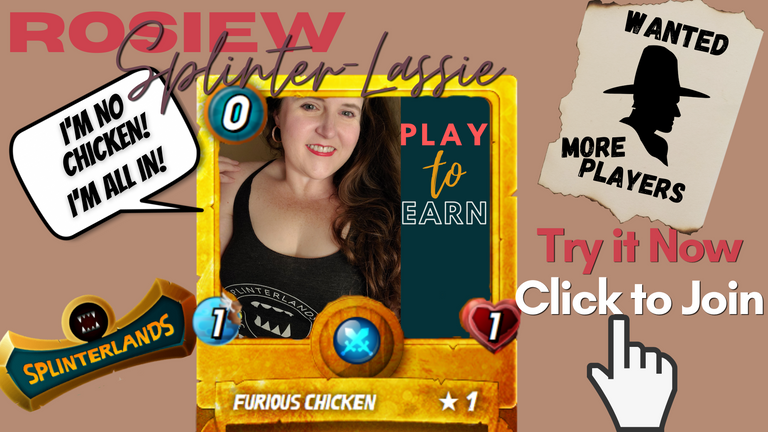 Please remember my post is not meant to be financial advice and is just my opinion.
Follow These Folks:
Splinterlands: https://peakd.com/@splinterlands/
PeakMonsters: https://peakd.com/@peakmonsters/
Monster-Curator: https://peakd.com/@monster-curator/
1Up (#OneUp): https://www.1up.zone/
Here are some great links to join as well!
Splinterlands Discord: https://discord.gg/Tw7KjNsQGs
PeakD Discord (PeakMonsters as well): https://discord.gg/7mQmzZeugE
Monster Market Discord (Monster Curator): https://discord.gg/DR3J9rfRFV
NFT Studios Discord (aka 1UP Discord #OneUp): https://discord.gg/4VYBcNuVQd
---
---