Who Wins in Splinterlands: Predictions for Top Chaos Legion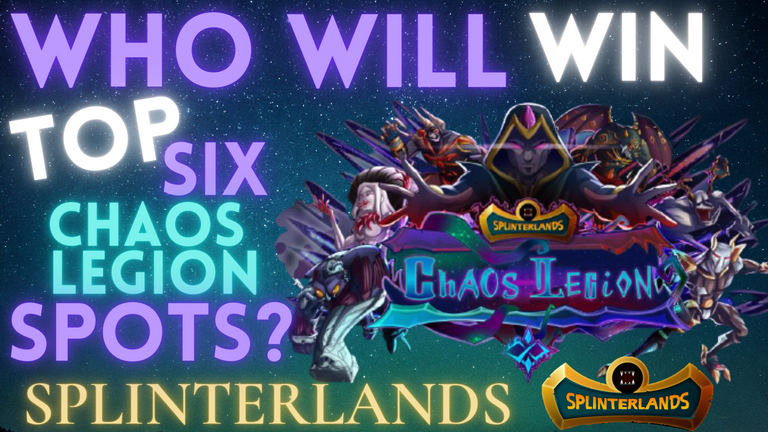 Who will Win the Great Top Six?
I've been watching the top players duke it out in Splinterlands since the pre-sale began, and we're over half way there now, so I thought it would be fun for us to "place our bets" (NOT REALLY mind you.. no betting here, just a bit of fun!) on who you think will win the top six! You can pick one name or all six names, whatever you prefer, but how fun will it be to come back to this post when the pre-sale is over and see who got the predictions correct? Will there be a dark horse that is waiting to jump across the finish line?
The Past is a Predictor of the Future, or is it?
I took a screenshot of the Splinterlands Pre-Sale Chaos Legion Leaderboard nearly 2 weeks ago, and here is the list with the top six back on October 25th.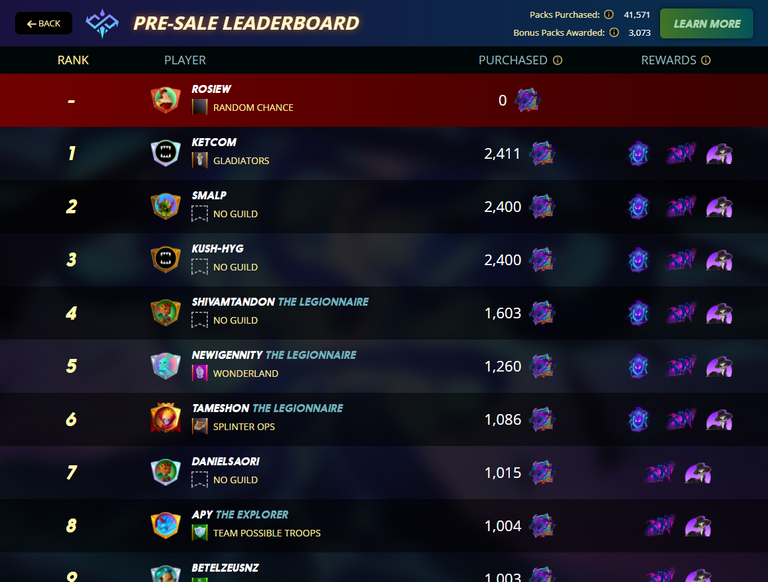 KETCOM (Guild: Gladiators)
SMALP (No Guild)
KUSH-HYG (No Guild)
SHIVAMTANDON (No Guild)
NEWIGENNITY (Guild: Wonderland)
TAMESHON (Guild: Splinter Ops)
The top purchaser had 2,411 packs purchased. The total amount of packs were just over 41,000 at that time.
Now, let's look at what it is today.... WOW! We've had over 205,000 packs purchased in total now, and as you can see, the top player, KUSH-HYG has purchased 7,200. Here's the top six list as of today:
KUSH-HYG (No Guild)
BK300BNB (Guild: ALPHA)
QUEENOFMONSTERS (No Guild)
SHIVAMTANDON (No Guild)
JESTERAGO (Guild: Immortal Gods 2)
MICHAELB (Guild: Roaring Twenties)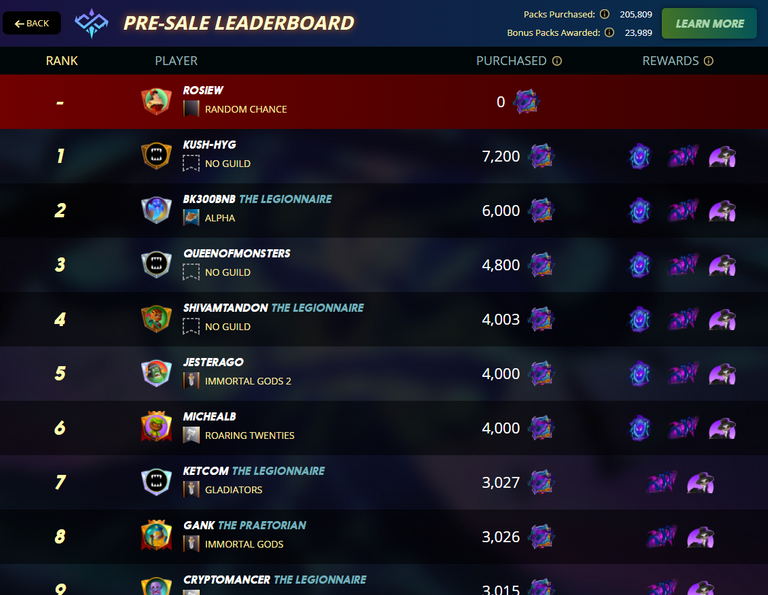 Hmm... looks like KISH-HYG really wants this since the player is on both lists. Will he hold the title? I made sure to add the guilds, because some of these top players very well could be making the purchase on behalf of the guild. We haven't even seen the big players yet, and there's no telling what guild holder YGG (Yield Guild Games) will do in purchasing the packs.
What does the Future Hold for Chaos Legion?
Who is going to win at the end of this race? It's exciting to know because they will be the creators of the GREAT Summoners of Chaos Legion! What an honor to have your card be part of the set forever! I can't imagine how amazing that would be, but it's fun to think about and wonder what kind of summoner I would make if I could be the top player.
Thanks so much for reading this post! I look forward to seeing your predictions in the comments! YIPPPEE!!
Please be sure to check out most on @early-bird curation if you haven't seen it already! You can click the link here
If you enjoyed my post and want to try Splinterlands, please use my referral link: https://splinterlands.com?ref=rosiew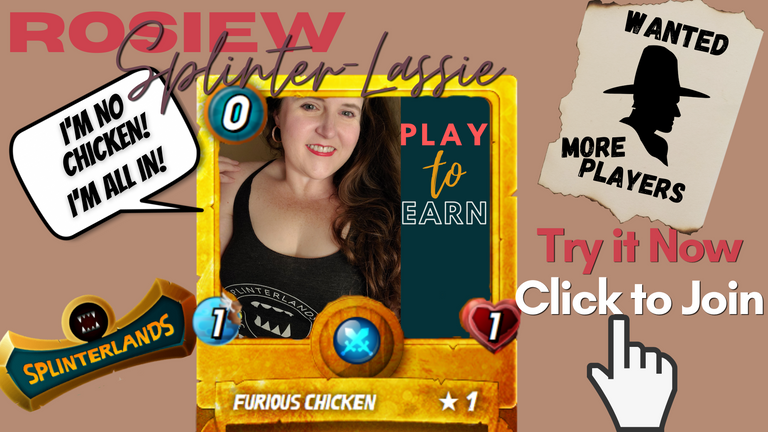 Please remember my post is not meant to be financial advice and is just my opinion.
Follow These Folks:
Early-Bird Curation Service: https://peakd.com/@early-bird/
Splinterlands: https://peakd.com/@splinterlands/
Monster-Curator: https://peakd.com/@monster-curator/
1Up (#OneUp): https://www.1up.zone/
Here are some great links to join as well!
Splinterlands Discord: https://discord.gg/Tw7KjNsQGs
Monster Market Discord (Monster Curator): https://discord.gg/DR3J9rfRFV
PeakD Discord (PeakMonsters as well): https://discord.gg/7mQmzZeugE
NFT Studios Discord (aka 1UP Discord #OneUp): https://discord.gg/4VYBcNuVQd
---
---