✨🐲 My weekly challenge post: SHARE YOUR BATTLE / Battle with DJINN CHWALA 🐲 ✨ [ENG-ESP]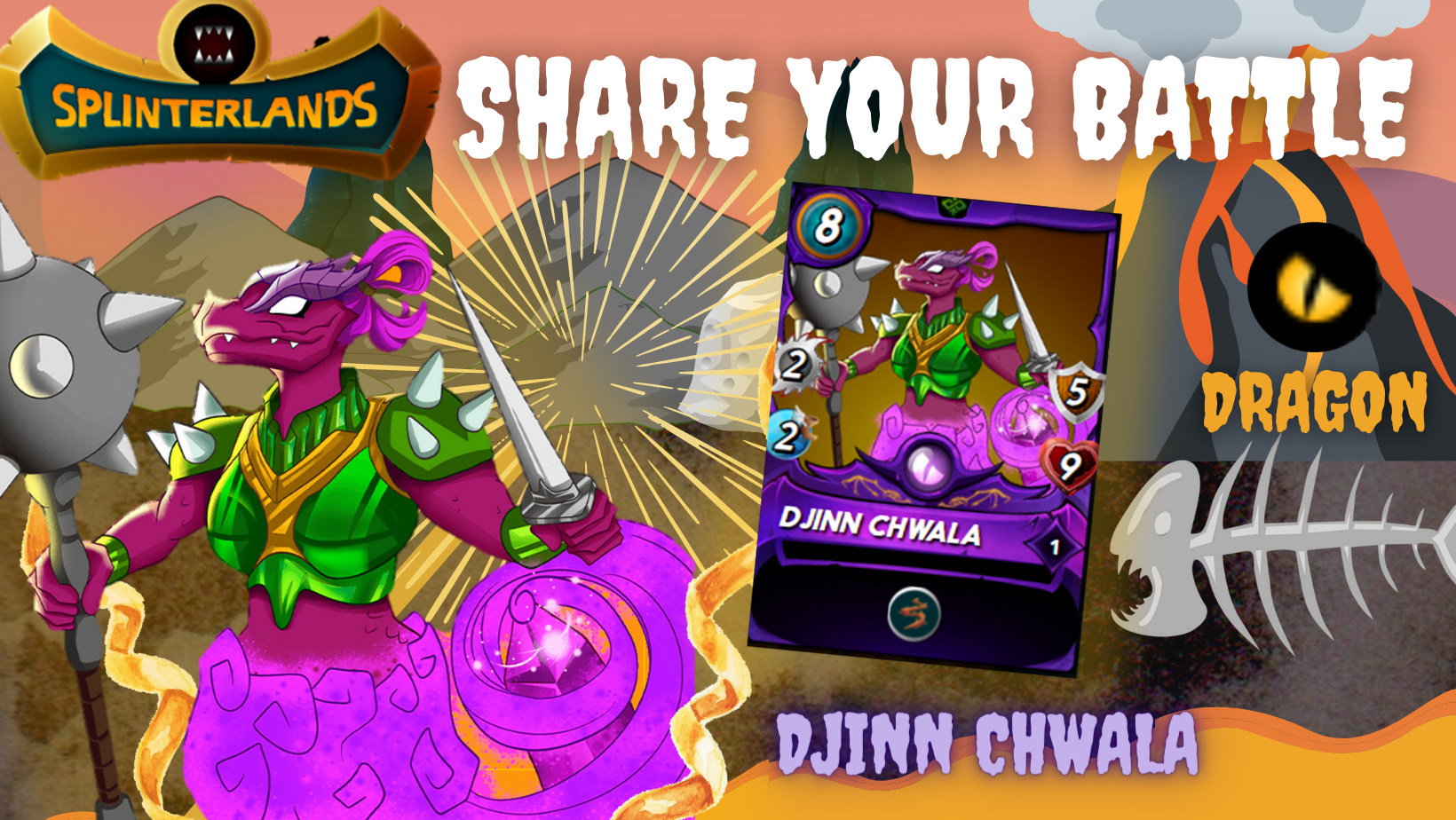 Hello to all the hivers ☺️ and other 🌎 readers, I'm back again with the Splinterlands weekly community challenge, which is to show up in a battle with a DRAGON element card. Which is why I chose to talk about DJINN CHWALA.
If you want to know and participate in the Splinterlands weekly challenge I leave you the following link
Holaaa a todos los hivers ☺️ y demás leyentes del 🌎, nuevamente vuelvo con el reto semanal de comunidad de Splinterlands, el cual es mostrar en una batalla con una carta del elemento DRAGON. Por lo cual elegí hablar de DJINN CHWALA.
Si quiere conocer y participar del reto semanal de Splinterlands les dejo el siguiente link

Let's talk about DJINN CHWALA / Hablemos de DJINN CHWALA
As I said before, this challenge is from the DRAGON element and I can choose any monster from it, so this time I decided to talk about DJINN CHWALA. This is a card which has an Epic rarity and its attack is BODY TO BODY or MELE.
It has 6 levels, in which the abilities are acquired as follows
*1-3 THORNS
*4-5 ENRAGE
6 TRUE STRIKES
It is a card that although it has a high mana of 8 points, it has a high health and protection even in its first levels, not only that, you can also observe that its speed and attack are good. It is good to use as a Tank in a team because as I mentioned it has high health and protection, but not only that, but the Thorns ability (which we will talk about next) gives it an extra advantage on the battlefield.
Como dije anteriormente, en este reto es del elemento DRAGON y puedo elegir cualquier monstruo de este, por ello esta vez me decidí hablar de DJINN CHWALA. Esta es una carta la cual tiene una rareza de tipo Épica y su ataque es CUERPO A CUERPO o MELE.
Tiene 6 niveles, en los cuales las habilidades se adquieren de la siguiente manera
1-3 THORNS
4-5 ENRAGE
6 TRUE STRIKE
Es una carta que aunque tiene un mana alto de 8 puntos , tiene una salud y protección alta aun en sus primeros niveles , no solo eso , también se puede observar que su velocidad y ataque son buenos. Es buena para usar como Tank en un equipo ya que como mencione tiene protección y salud alta, pero no solo eso, sino que la habilidad Thorns (de la cual hablaremos a continuación) le otorga una ventaja extra en el campo de batalla.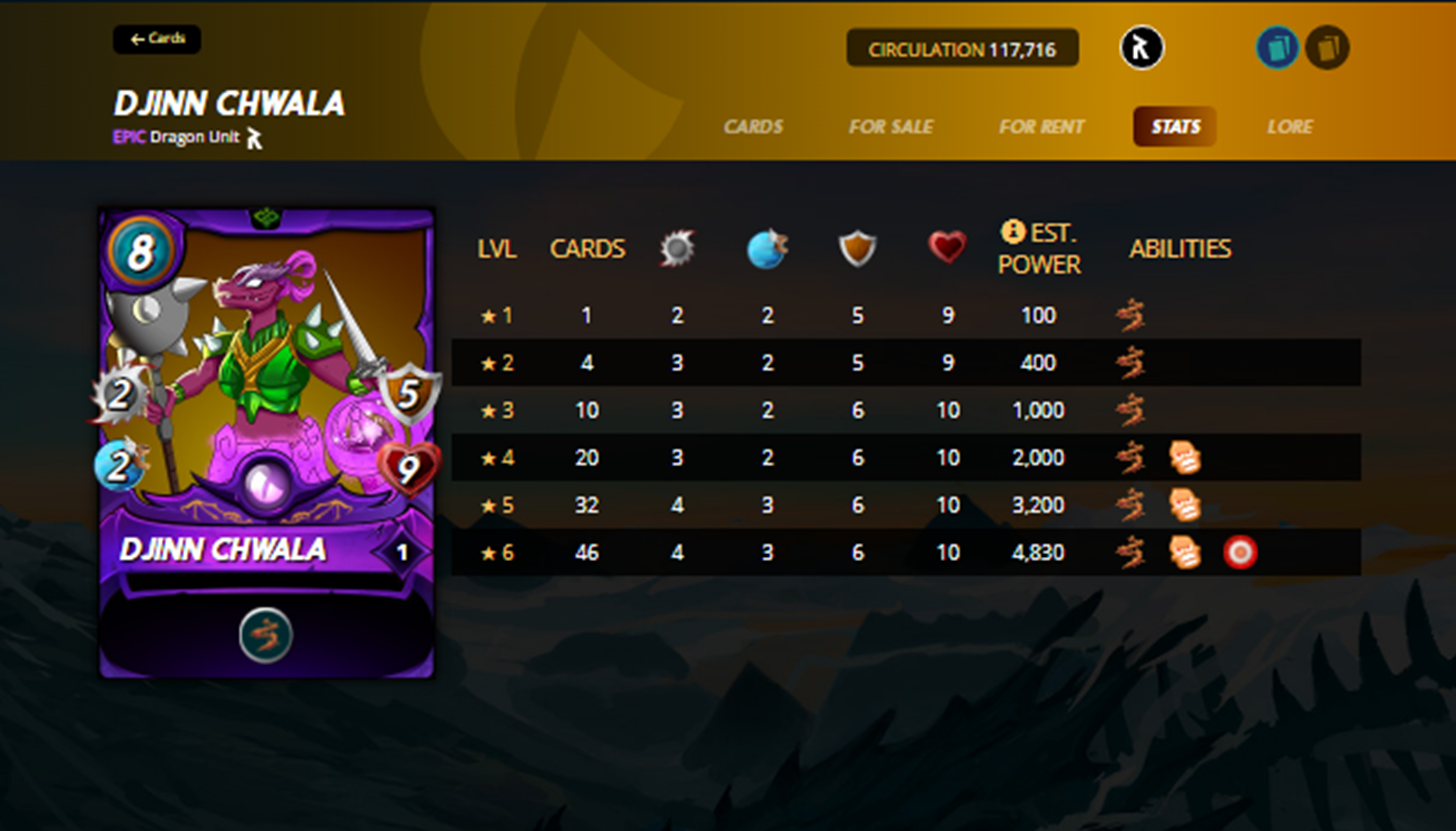 Skill / Habilidad
THORNS
This is honestly one of my favourite abilities in the game, as it consists of attacking back at the attacker, when you are hit in melee or melee. This means that every round you have the chance to attack twice as much as the enemy that is hitting you directly.
Don't you just love this ability? I like to team up with a tank that has THORNS when possible, as it helps to finish off the opposing team faster sometimes. It's good to combine them with abilities that give protection and life, so that the tank can hold out as long as possible. It can certainly have its disadvantages, for example, at times when your immediate enemy doesn't hit melee, resulting in this ability not activating.
Sinceramente esta es una de mis habilidades favorita en el juego, ya que consiste en devolver el ataque al atacante , cuando te golpean cuerpo a cuerpo o mele. Esto quiere decir que en cada ronda tienes la posibilidad de atacar el doble, al enemigo que te está golpeando directamente.
¿No les parece de maravilla esta habilidad?. A mí me gusta armar un equipo con un tank que tenga THORNS cuando me es posible, Ya que ayuda a terminar con el equipo contrario más rápidamente en algunas ocasiones. Es bueno combinarlos con habilidades que den protección y vida, para que el tank pueda resistir el mayor tiempo posible. Ciertamente puede tener sus desventajas, por ejemplo, en momentos en que tu enemigo inmediato no golpee cuerpo a cuerpo, trayendo como consecuencia que esta habilidad no se active.

ENRAGE
This ability is also very good indeed, as, when hit by the enemy, it can increase your speed and melee attack levels. In my opinion it offers a great advantage on the battlefield in most cases, as at a certain point it adds an extra boost to attack with greater speed and efficiency.
Esta habilidad también está muy buena de verdad, ya que, al ser golpeado por el enemigo, pueden aumentar tus niveles de velocidad y ataque cuerpo a cuerpo. A mi parecer ofrece una gran ventaja en el campo de batalla en la mayoría de los casos, ya que en determinado momento agrega un extra para atacar con mayor velocidad y eficacia.

TRUE STRIKE
And last but not least is this ability, which means that all the hits you can perform with this monster can't miss. An incredible ability to be able to nullify some in which they deflect the blow. Allows 100% effectiveness on all attacks.
Y por último y no menos importante es esta habilidad, la cual permite que todos los golpes que puedas realizar con este monstruo, no pueden fallar. Una increíble habilidad para poder anular algunas en las cuales desvían el golpe. Permite un 100% de efectividad en todos los ataques.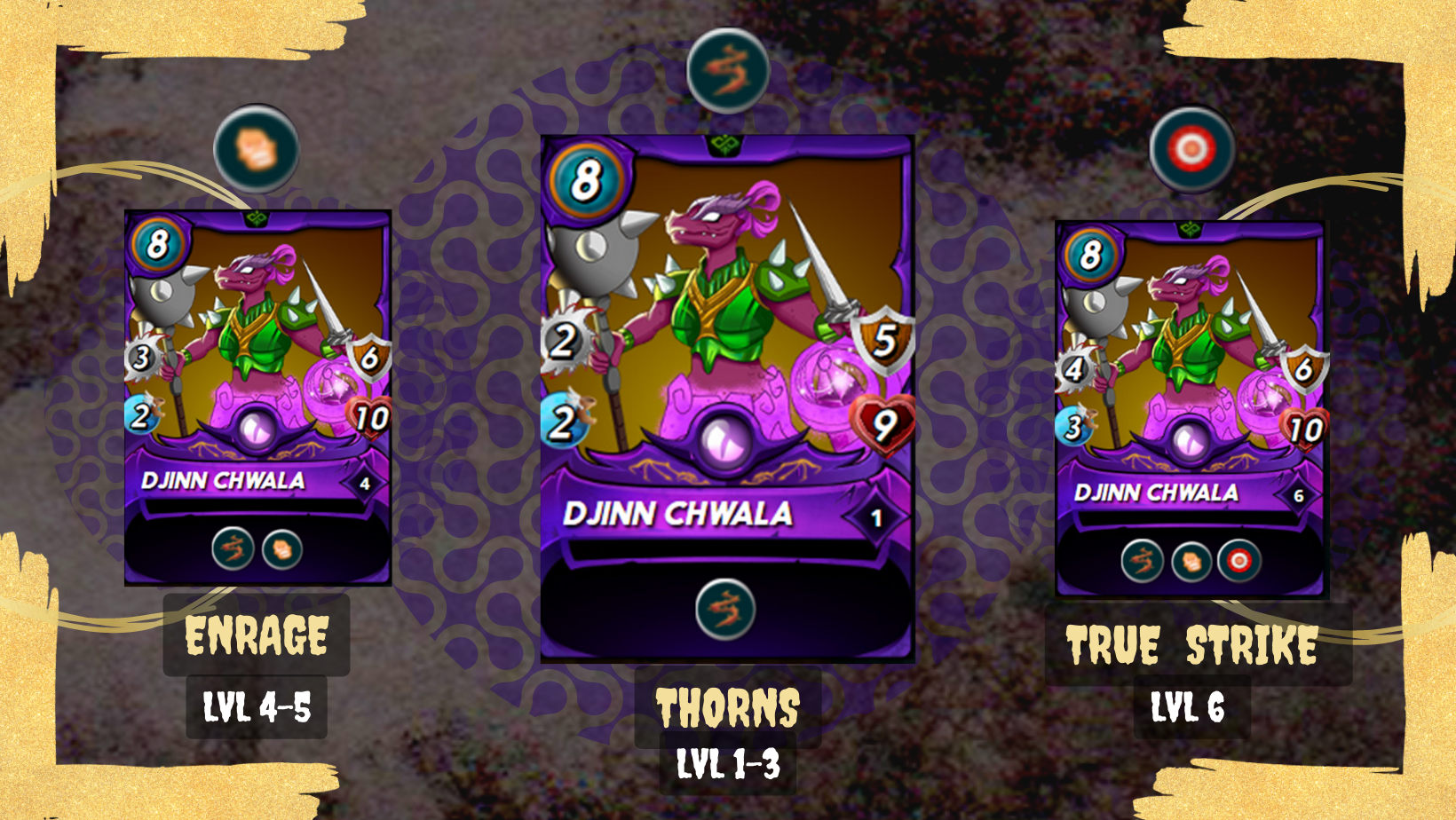 Market price / Precio en el Mercado
Currently on the Splinterlands Internal Market, the prices for this specific card vary. For example, a level 1 card of DJINN CHWALA is costing approximately 0.57 to 0.072 $. Higher level cards will cost a higher value, for example, a level 3 card is roughly between 6.15 to 8.90 $, as I also found a level 6 card, and it was worth 35.60 $. Prices in the market are often not very objective, as it can be observed that many sellers overprice a specific type of card, so the best strategy is to look carefully for cards with realistic values in the market.
Actualmente en el Mercado interno de Splinterlands , los precias de esta carta en específico varían. Por ejemplo, una carta de nivel 1 de DJINN CHWALA está costando aproximadamente entre 0.57 a 0.072 $. Cartas de mayor nivel, costaran un mayor valor, por ejemplo, una carta de nivel 3 está en más o menos entre 6.15 a 8,90 $, como también encontré una nivel 6, y tenía un valor de 35.60 $. Los precios muchas veces en el mercado no son muy objetivos, ya que se puede observar que muchos vendedores sobrevaloran un tipo de carta en específico, por eso la mejor estrategia es buscar cuidadosamente cartas con valores realista dentro del mercado.

What to use for the challenge of the week? / ¿Qué utilice para el desafío de la semana?
For the challenge of the week, I used a DJINN CHWALA level 1 card, which I rented on the Spilnterlands internal market, as I didn't own it, nor does it belong to the Spellbook of the game.
This monster has the following characteristics:
*Speed: 2
Melee or Melee Attack: 2.
*Health: 9
*Protection: 5
*Mana Points: 8
I rented this card because I really like to use it as a Tank, because even though it's at level 1, it has high health and protection, plus it has good attack and speed. On top of that it has the added bonus of having the THORNS ability, which we explained earlier provides almost double attack every round when attacked in melee. Its biggest disadvantage is the high mana of 8 points, which doesn't help much in low mana battles, but I think that despite this, it can be used in those situations as it has good attack and defence on its own, so it would be wise to think about the best companion for this one.
Para el del desafío de la semana, utilicé una carta DJINN CHWALA nivel 1, la cual rente en el mercado interno de Spilnterlands , ya que no la poseía , como tampoco pertenece al Spellbook del juego.
Este monstruo tiene las siguientes características:
Velocidad: 2
Ataque cuerpo a cuerpo o Mele: 2
Salud: 9
Protección: 5
Puntos de Mana: 8
Rente esta carta porque realmente me gusta para usarla como Tank, ya que a pesar que está en niveles 1, tiene alta salud y protección, además de tener buen ataque y velocidad. Además de eso tiene el agregado de tener la habilidad THORNS , la cual explicamos anteriormente proporciona prácticamente doble ataque en cada ronda cuando e atacado cuerpo a cuerpo. Su mayor desventaja es el mana alta de 8 puntos , que no ayuda mucho en batallas de mana bajo , pero creo que a pesar de ello, puede usarse en esas situaciones ya que por sí sola tiene buen ataque y defensa , por lo que sería conveniente es en pensar en el mejor acompañante para esta.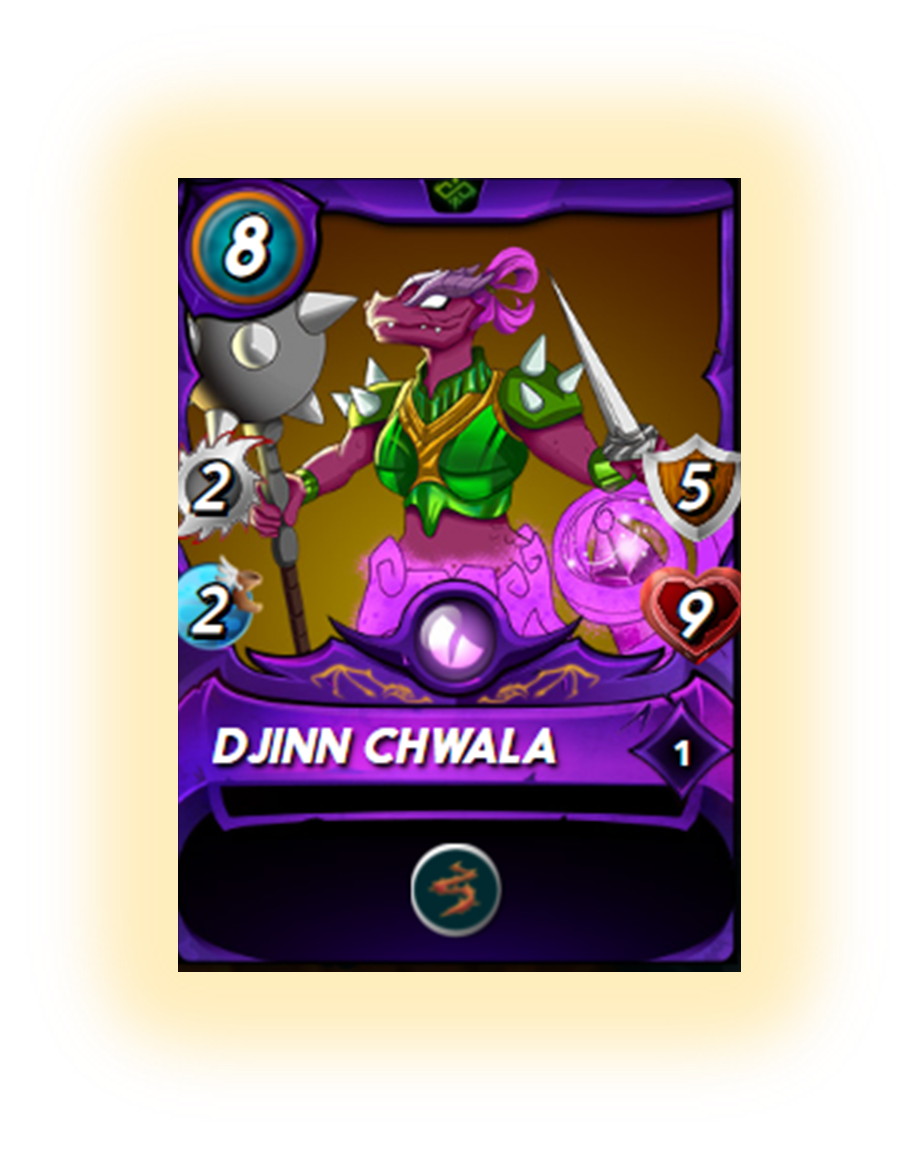 Cards used for battle / Cartas usadas para la batalla
The cards used for this week's battle are as follows:
For my team I used the DRAGON element, and I used the Summoner from Splinterlands called: DRAKE OF ARNAK. This has the ability to give + 1 PROTECTION to all the monsters in my team.
I also used other cards such as:
🐲DJINN CHWALA.
🐲VENARI CRISTALSMITH
🐲CREEPING 00ZE
My opponent used the element DEATH, and as Summoner a: THADDIUS BROOD. Which removes -1 point of HEALTH and MAGIC , to the cards belonging to the opposing team , as I also use to:
☠️CURSED SUMEBALL.
☠️CURSED WINDEKU.
☠️DEATH ELEMENTAL
☠️LIFE SAPPER
Las cartas utilizadas para la batalla de esta semana son las siguientes:
Para mi equipo utilice el elemento DRAGON, y use al Summoner de Splinterlands llamado: DRAKE OF ARNAK. Este tiene la habilidad de dar + 1 de PROTECCION a todos los monstruos de mi equipo.
También utilice otras cartas como son:
🐲DJINN CHWALA
🐲VENARI CRISTALSMITH
🐲CREEPING 00ZE
Mi oponente utilizo el elemento MUERTE, y como Summoner a: THADDIUS BROOD. El cual quita -1 punto de SALUD y MAGIA , a las cartas pertenecientes al equipo contrario , como también uso a:
☠️CURSED SUMEBALL
☠️CURSED WINDEKU
☠️DEATH ELEMENTAL
☠️LIFE SAPPER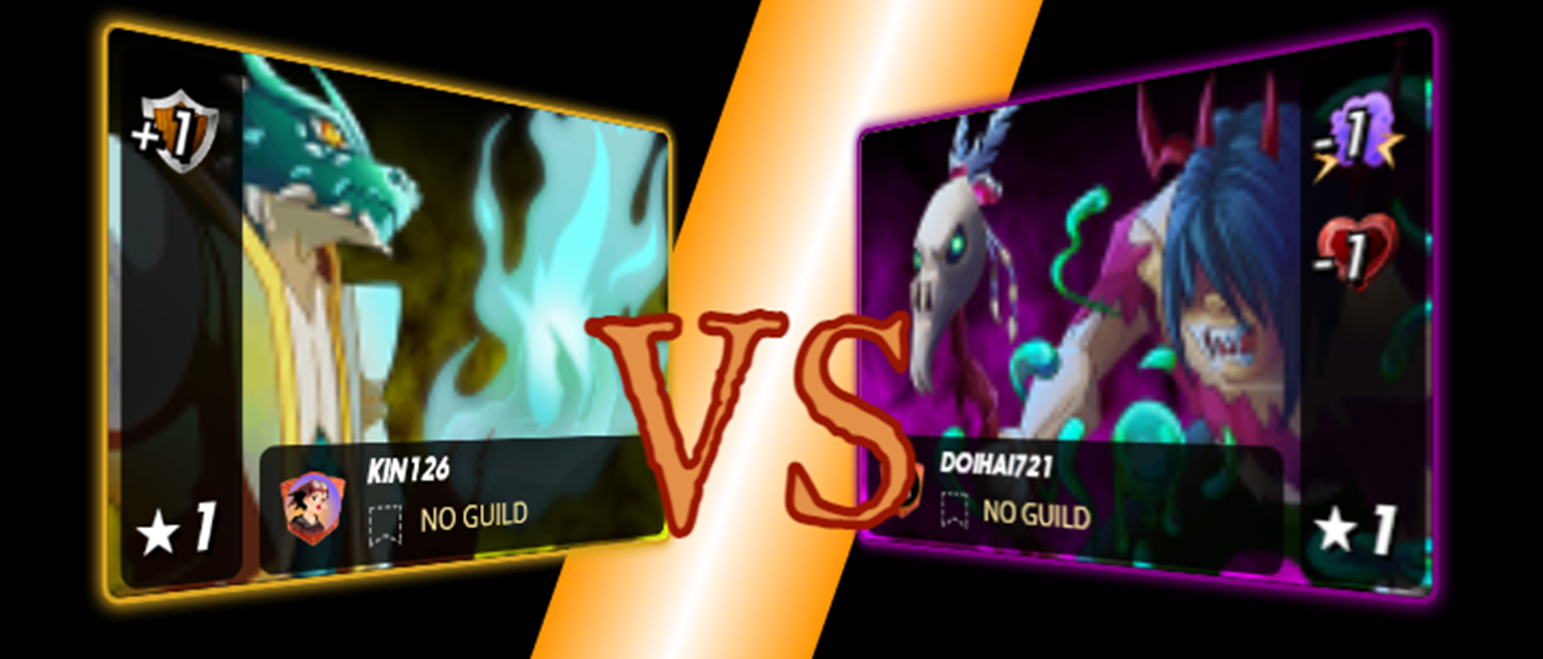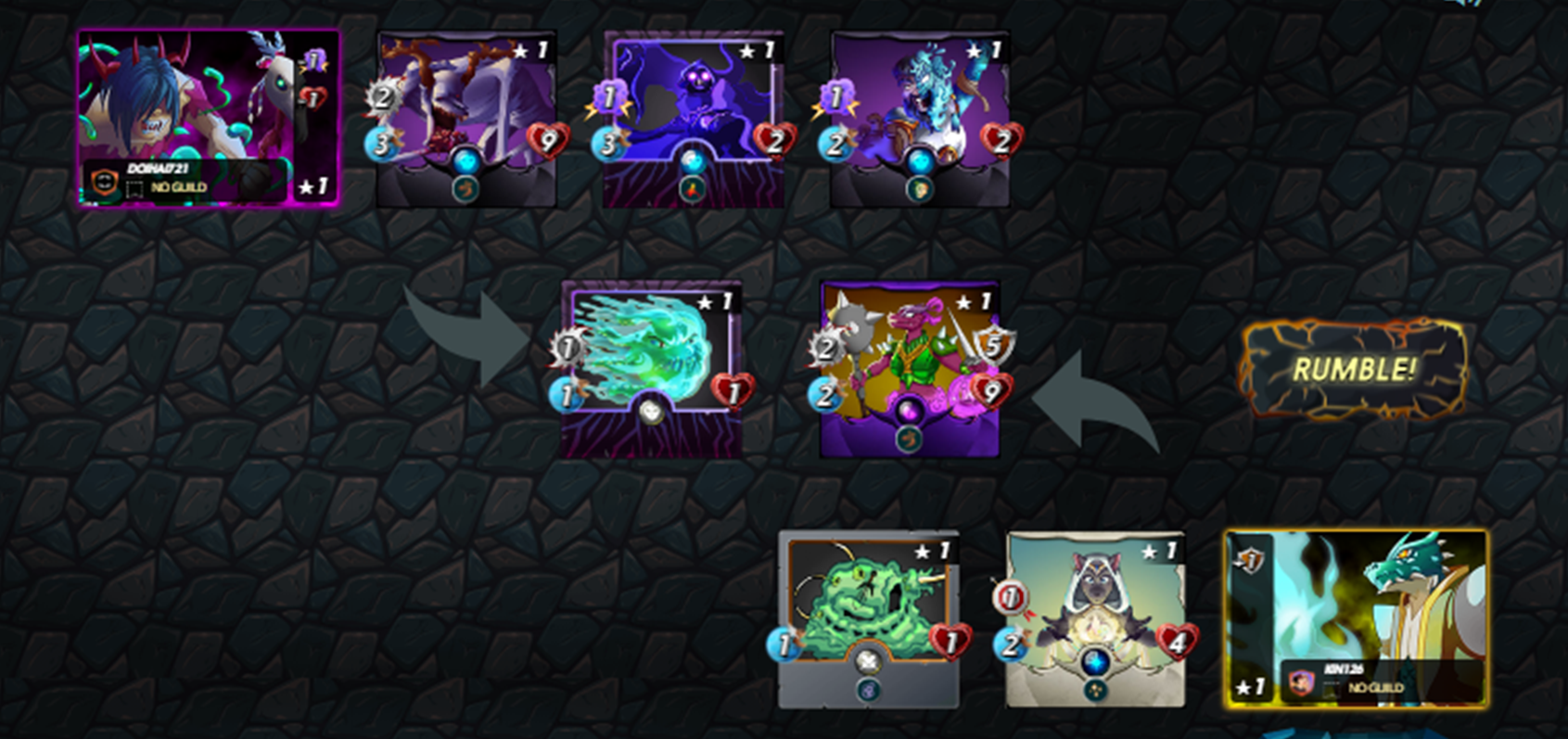 The Battle / La Batalla
It was a 5 Round battle in which I show below:
Fue una batalla de 5 Rondas, la cual muestro a continuación: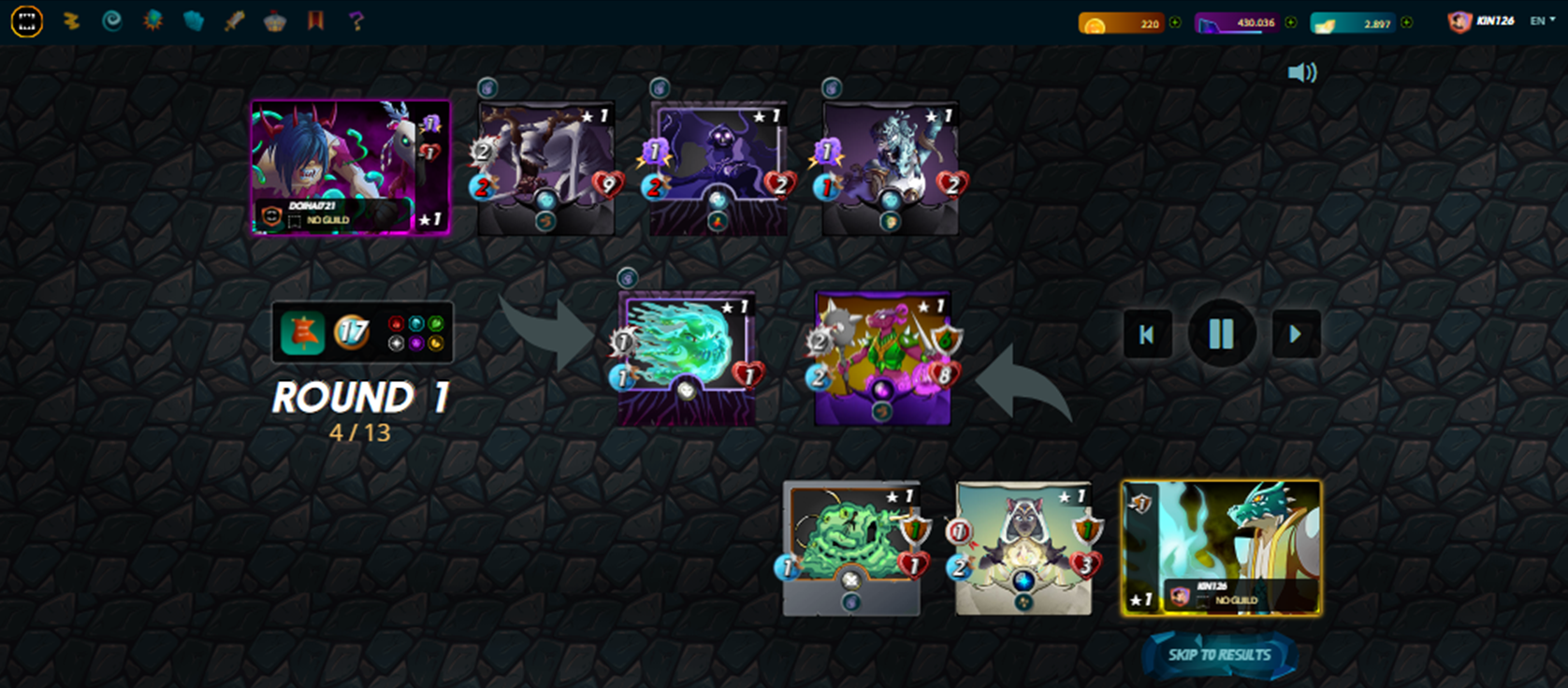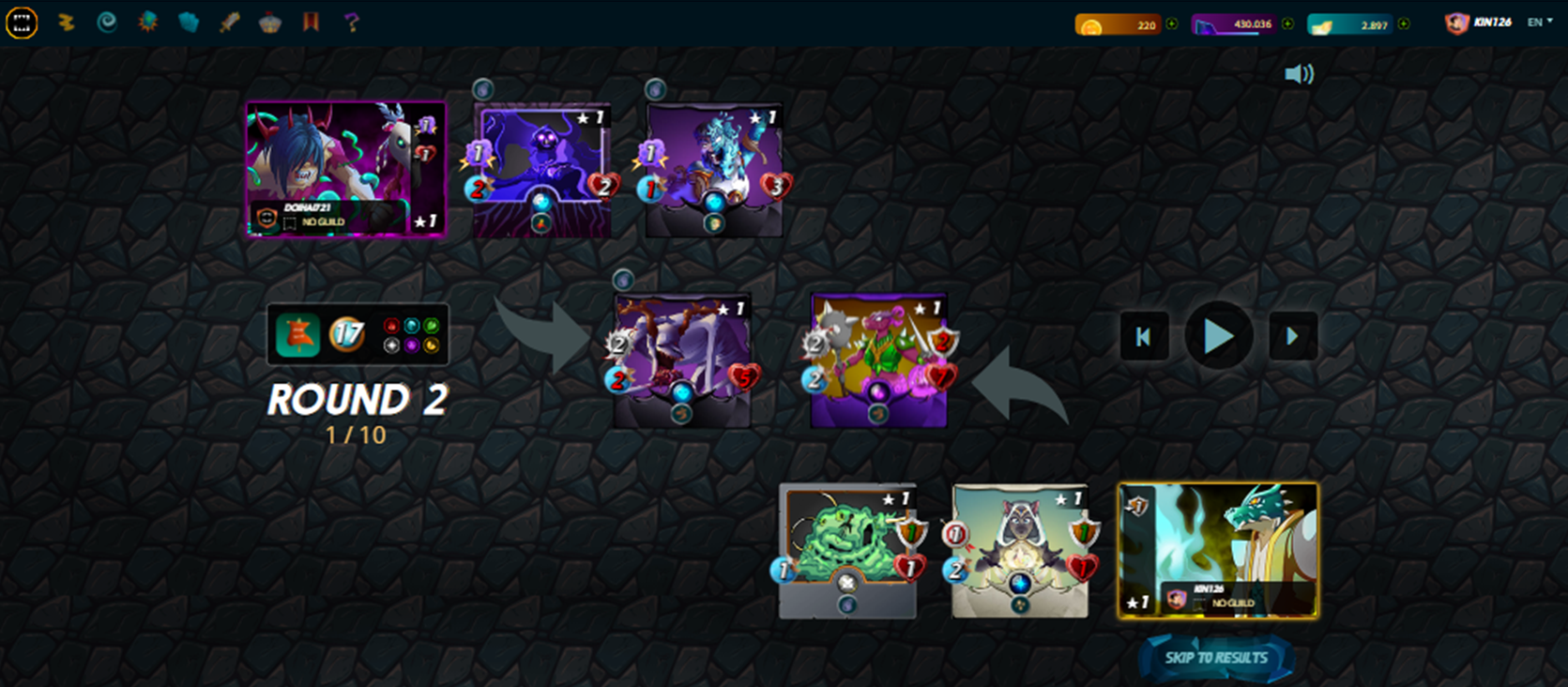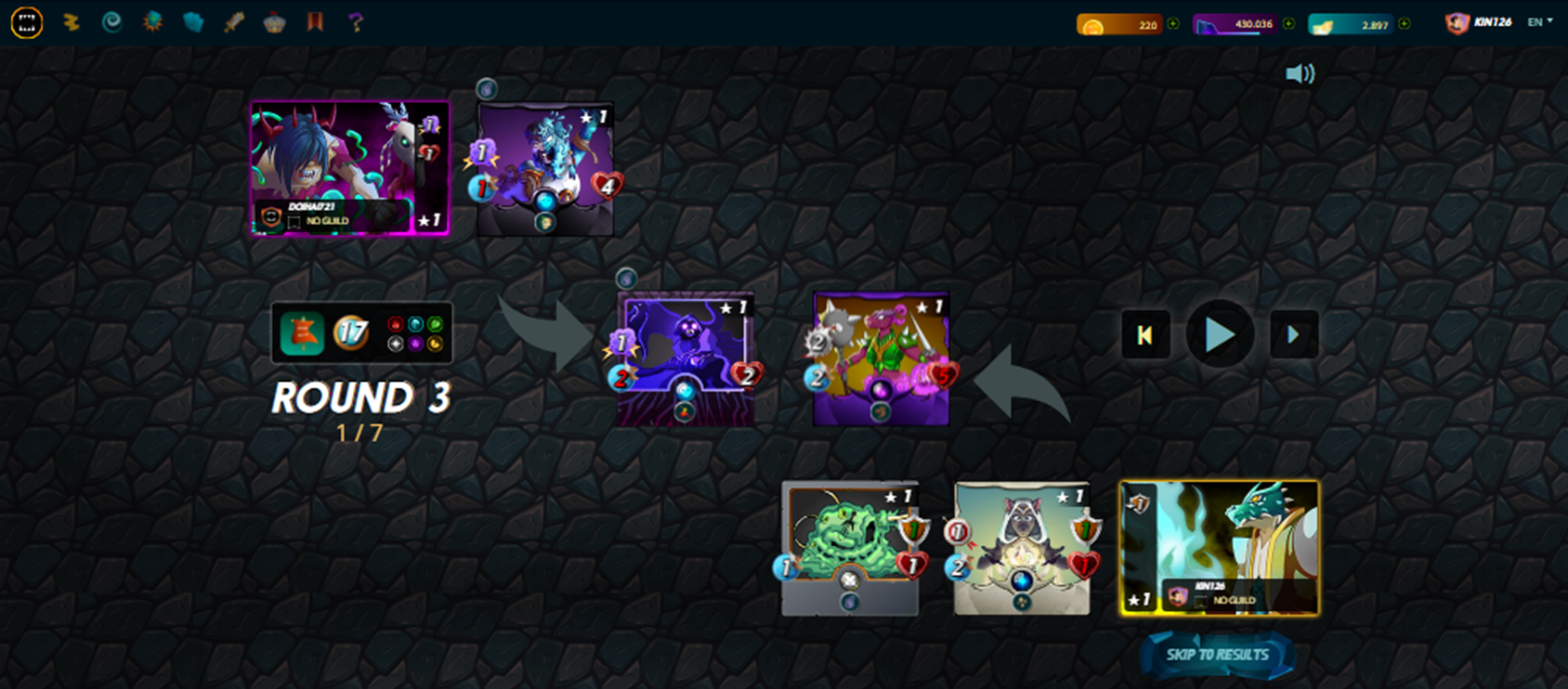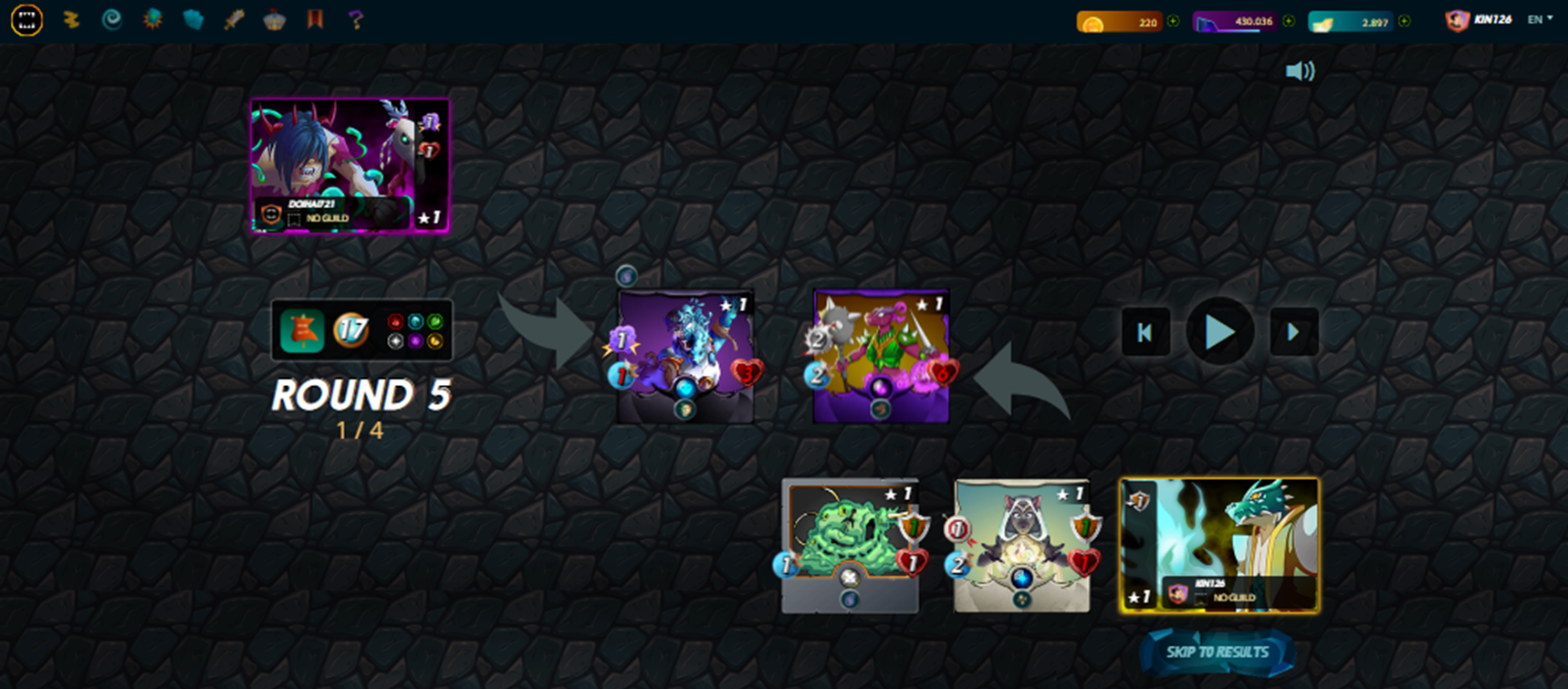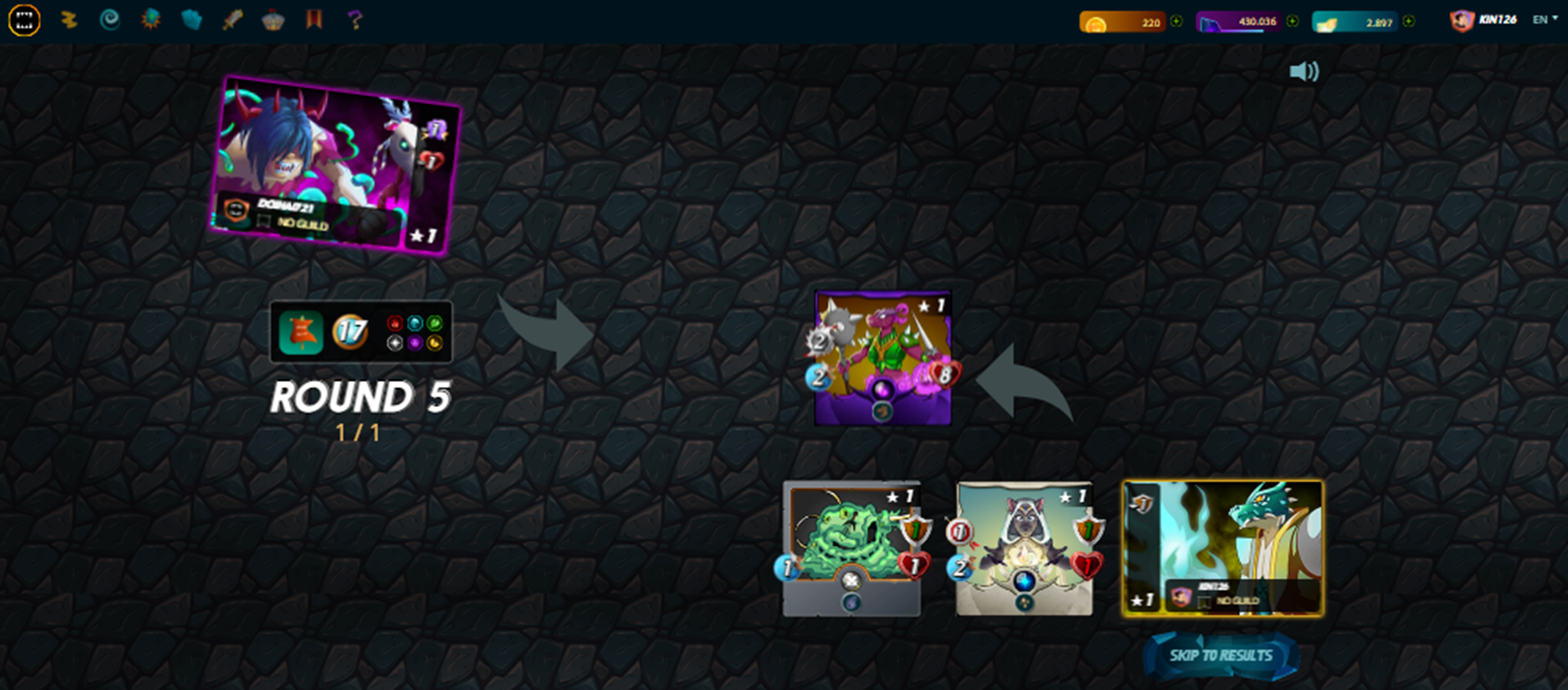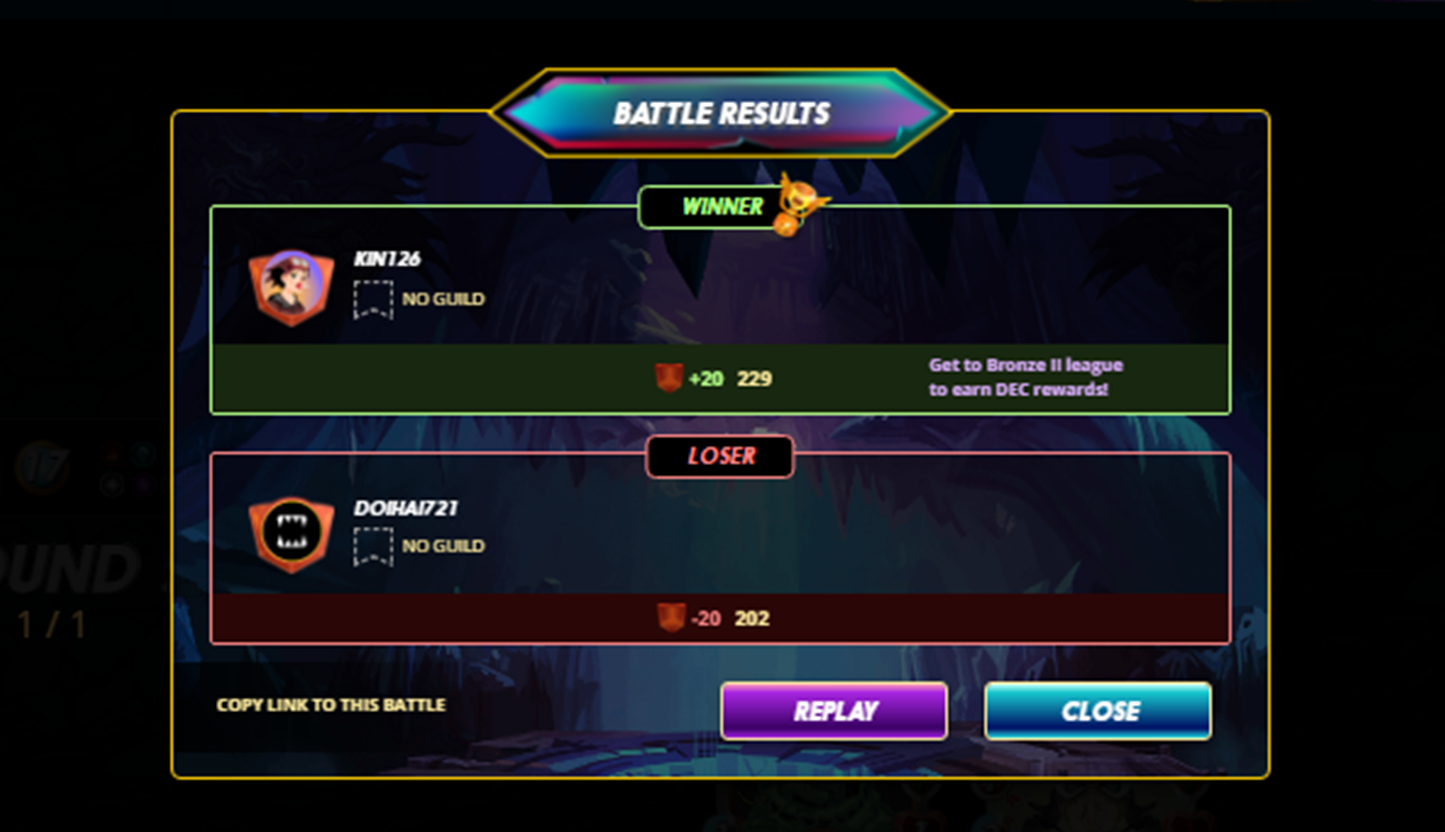 This was a 17 mana battle, still in the low mana range. Although I mentioned before a card with a high mana like this one is not usually used in this kind of opportunities, but when analyzing the abilities of this monster I decided to use it in this opportunity too, along with others that would add some advantage. I used VENARI CRISTALSMITH for his Tank Heal ability, to regenerate the life of DJINN CHWALA and CREEPING 00ZE, to subtract the speed of my enemies.
As you can see I was able to effectively attack my enemy, winning this battle with 3/3 of the monsters I chose for the battle.
The battle can be seen through the following link
Esta fue una batalla de 17 de mana, quedando todavía en un rango de mana bajo. Aunque les mencione anteriormente una carta con un mana alto como esta , no se suelen usar en este tipo de oportunidades , pero al analizar las habilidades de este monstruos decidí también utilizarla en esta oportunidad , junto a otras que le agregaran algo de ventaja. Use a VENARI CRISTALSMITH por su habilidad Tank Heal , para poder regenerar la vida de DJINN CHWALA y a CREEPING 00ZE, para restar la velocidad de mi enemigos
Como pudieron observar pude atacar efectivamente a mi enemigo, ganando eta batalla con 3/3 de los monstruos que elegí para la batalla.
La batalla se puede observar a través del siguiente link

*Friends now I bid you farewell ☺️, see you next time. Byeeeeeeeeee 👋.
Amigos ahora me despido de ustedes ☺️, nos vemos en una próxima ocasión. Byeeeeeeee 👋.

Author of Images and Separators: @ross92/ Autor de Imágenes y separadores : @ross92
Resources used / Recursos utilizados
Microsof Power Point
Canva app
Images from Splinterlands / Imágenes de Splinterlands


---
---