My battle against RUNI Cards. Unique cards with interesting abilities and features.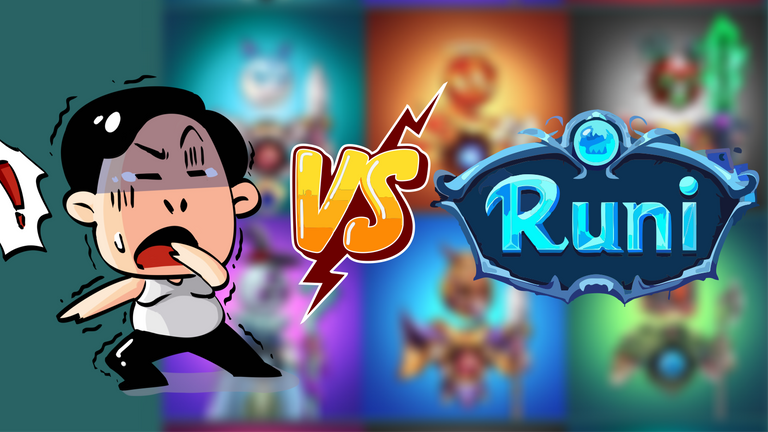 In the current splinterlands, there's something new on the battle map. Which is RUNI's existence. I got to experience what it was like to fight the RUNI monster . In this article, I'll talk about it.
---
Extraordinarily Unique
Owners of RUNI can claim this card after Splinterlands released information about RUNI more than a month ago. Since I haven't had RUNI, I can't explain how to use this NFT card to access the HIVE network. But as far as I'm aware, this is a feature of SPlinterlands that can also be utilized on the ETH network.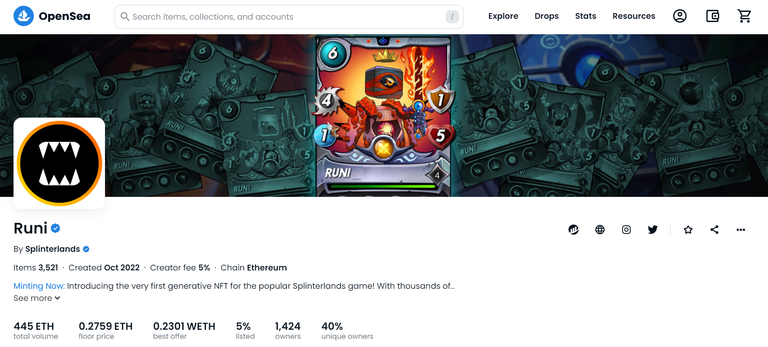 RUNI is an NFT on the Ethereum blockchain network that aims to bring Splinterlands to blockchains other than HIVE. With this bridge, it is hoped that Splinterlands NFT can be promoted to communities outside of Hive.
Of course, what distinguishes RUNI is that it is not like other NFTs on the ETH blockchain. Because RUNI is capable of being used in battle. Because the supply is limited, the price will almost certainly rise. Especially if your RUNI is unique in the Head, Body, and Power-core Parts.
---
Utilizing the RUNI
As I mentioned earlier, RUNI is a one-of-a-kind NFT card with applications. Scarcity has taken effect because it is no longer in print at this time. Unlike other NFTs that are solely based on hype, RUNI will continue to be sought after and used as a terrifying monster in splinterlands battles.
It's a sad thought if you don't activate it or use it in battle if you already have it. With rebirth abilities and great skills, you will undoubtedly find it easier to win battles.
---
Experience with the RUNI
This is my experience fighting the RUNI card owned by @Croak. When each player's combat personnel have been displayed. I noticed another card on the opponent's side that piqued my interest. Because this card differs from the one before it. A card with the following information: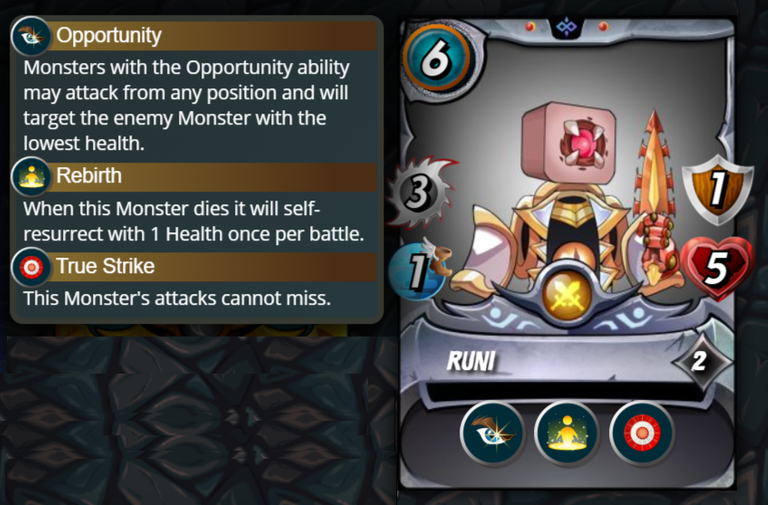 The melee attack power is three points.
The ability to rebirth is the ability to resurrect with one health point.
1 Shield bonus point increases its strength, as do opportunity capabilities and the ability to true strike, which ensures that the attack will not miss.
👉 BATTLE LINK 👈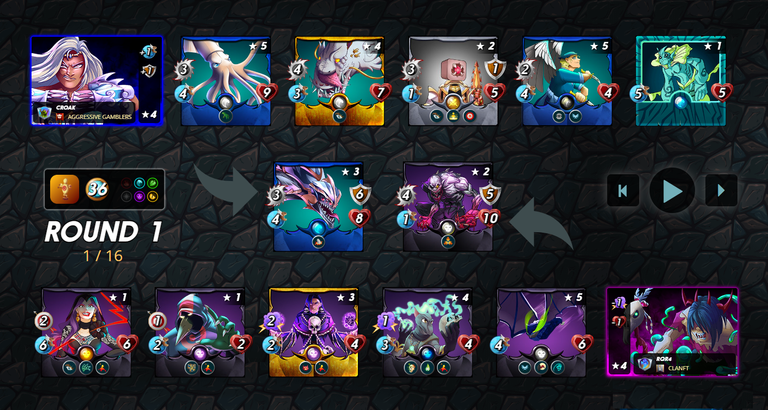 | Ruleset | Mana Cap | Element |
| --- | --- | --- |
| Target Practice | 36 | Water, Earth, Death, Dragon |
In the image above, I use the death squad against the water troop. The enemy's Kelp Initiate directed all of my ranged attacks at him. While my night ghoul is an easy target for the enemy. Two opposing monsters with opportunity abilities annihilated my troops one by one. Runi's card, along with the deeplurker, demonstrates her abilities.
Due to my troops' inability to attack the runi card in this battle, I was unable to see the runi card's rebirth ability. However, this battle has shown me the capabilities of The Runi cards. Maybe my troop formation wasn't optimal in this battle, but the next time I'll prepare for other runi cards on the battlefield.
---
That is the experience I can share in this article. Regarding runi, aside from the greatness of the cards that I have felt in battle, splinterlands will bring up many other features to support Runi owners. For example, when the LAND feature becomes available, RUNI owners will receive certain benefits. Perhaps it won't be long before it becomes a reality in the coming year. Hopefully, this has piqued your interest in completing the Splinterlands card collection.
Until next time thanks for reading!!!

Talk about Splinterlands,
If you haven't tried out this fantastic game called Splinterlands yet, I invite you to join
It's free, but you'll need to invest in a beginning deck or buy gaming cards to gain real assets like cards and tokens.

If you already joined the splinterlands, and are looking for a place to grow. We need YOU. We are a chill, social guild looking for a few more active members! If you think you might be a fit, join us in our Discord
---
---