Ruleset And How To Use It In Our Battles: EQUAL OPPORTUNITY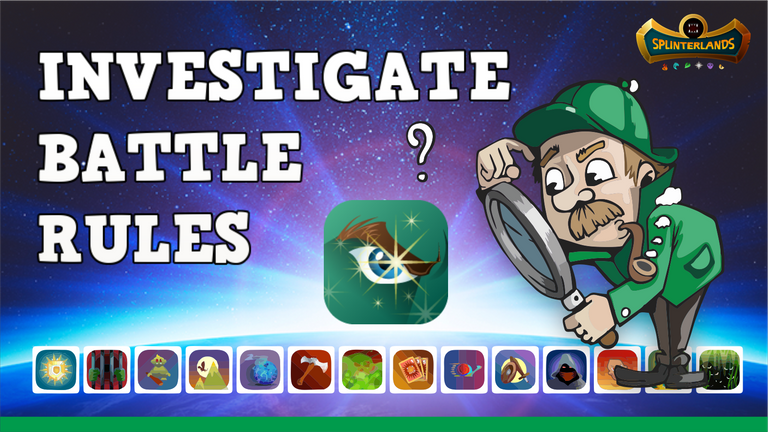 It is critical to understand how each battle rule works. Because taking advantage of the battle rules allows us to easily win the battle. Even making common cards can beat rare cards.
In this post, we will go over the fighting rules and how to apply them in battle so that we can win. In this post, we will talk about Equal opportunity.

EQUAL OPPORTUNITY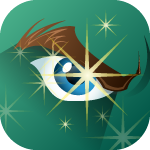 All units gain the Opportunity ability which allows them to attack the unit with the lowest health on the enemy team.
If you get the rules of this battle, there are several procedures that you should pay attention to:
Because this rule applies to all monsters, melee types will be able to attack even if they are placed in the back. Ranged and magical types, can attack from any position.
Monsters with the opportunity ability will seek out and attack opposing monsters with low health points. As a result, you already know who the opportunity monsters are after.
The following factors can influence the outcome of the fight: speed, shield, and large health points. As a result, that must be considered. Choose a monster with a high health point total for the enemy's final attack.
Use monsters with multiple attack abilities or dual attacks in each round.
Use monsters with martyr abilities to your advantage in battle. Of course, by installing a monster martyr with low health points.
---
RULES AND TACTICS

The rules that apply in this fight are up close and personal, as well as equal opportunity. The combination of these two rules necessitates the use of melee-type monsters with mana points limited to 36 points. There are only three element options: fire, earth, and dragon.
Because I only deploy melee monsters, I chose the earth element because it contains melee monsters with magical attacks. This gives me an advantage because the equal opportunity rule allows these monsters to attack from any position.
Then here is the line of monsters I dispatched to the battlefield.
I chose GRUND because of its ability to attack twice in one round. With great attack power and large health points, GRUND will avoid being the first target of enemy attacks. I will send a DISINTEGRATOR with medium type health points to reduce opponent's attack power. MYCELIC MORPHOID and BATTERING RAM are team fillers that will outwit the opponent's monster attacks aimed at these two monsters. Next, as the team's mainstay, is QUORA TOWERSHEAD, who is a melee monster with magical attacks as well as the bloodlust ability.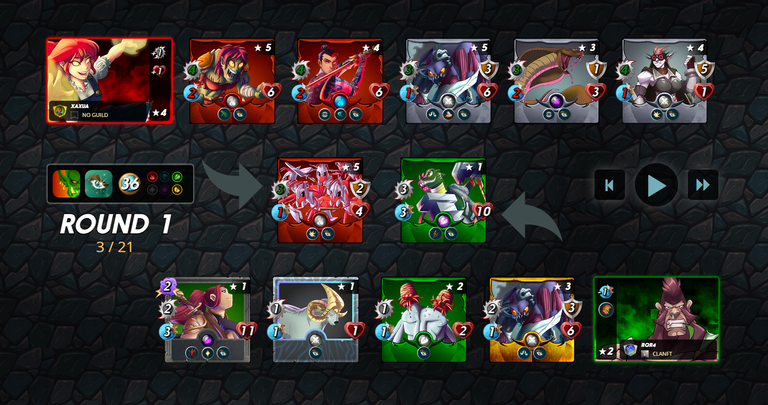 The first round begins with the enemy summoning a fire elemental summoner. The enemy's health points are evenly distributed at number six, and the smallest is DUMACKE ORC. Of course, because it has the fewest health points, it will be the target of my monsters. That is an opportunity ability, which attacks the monsters with the fewest health points first. Because of the DISINTEGRATOR ability, all monsters weaken each other's melee attacks. DUMACKE ORC was an easy target for QUORA right away. This also activates the bloodlust skill and increases QUORA's attack power. My monsters that were eliminated early on were BATTERING RAM and MYCELIC MORPHOID.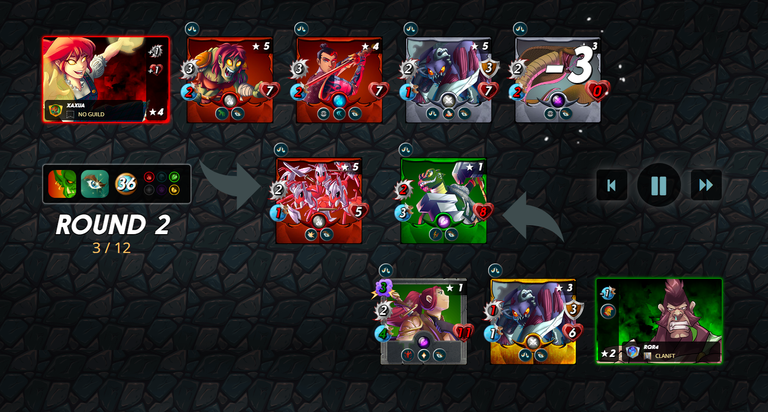 After defeating URAEUS in the second round, QUORA was able to reactivate the bloodlust effect. No more monsters are eliminated in this round. However, attacking each other caused both sides' monster health points to plummet dramatically.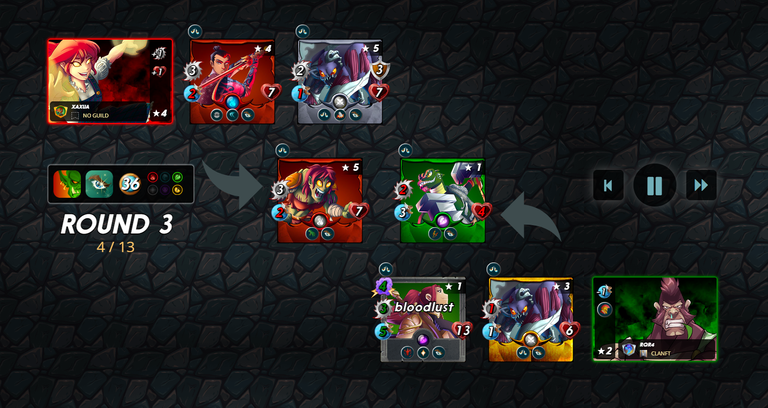 QUORA attacks faster in the third round after activating bloodlust twice. The first attack is launched right away by eliminating ANTOID PLATOON, which has critical health points. A double attack from GRUND also killed the RADIATED BRUTE. However, because GRUND's health points are also critical, the enemy's DISINTEGRATOR successfully removes GRUND from the battlefield.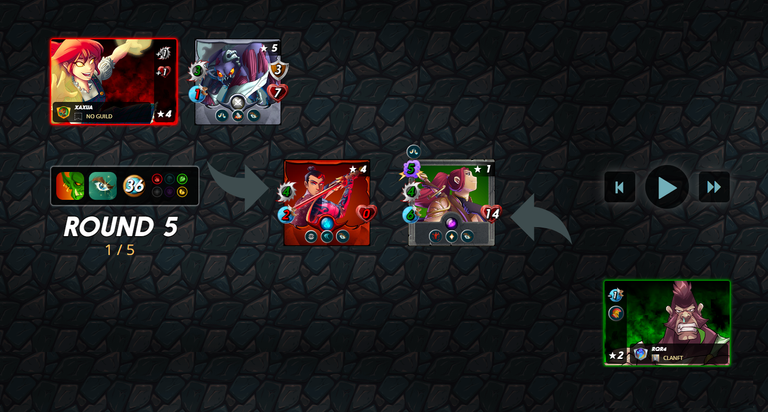 The enemy managed to take out my DISINTEGRATOR in the fourth round. As a result, only QUORA TOWERSHEAD remains. and in the fifth round, because the bloodlust effect, which is always active, renders QUORA's attack power, speed, and health points unstoppable by enemy monsters. So the victory is mine, with QUORA standing tall at the end.
👉 LINK BATTLE 👈
---
FINAL THOUGHTS
The battle depicted above is an example of how to use the Equal Opportunity ruleset. We can predict which monsters will attack first by knowing the opportunity rules that will attack opponents with low health points first.
At the start, I installed MYCELIC MORPHOID and BATTERING RAM as a sacrifice to be attacked by the enemy. whereas other monsters with high health points will be last to opponent attacks. As a result, it aids in time collection while also activating the bloodlust skill effect.
It is also demonstrated that selecting a monster with multiple attacks in each round gives us the impression that we have an extra monster in comparison to the enemy. GRUND and QUORA capabilities, for example.
We did not use the strategy of placing the monster martyr as a distraction as well as an attack booster for nearby monsters in this battle. It can, however, be used in combat with the Equal Opportunity ruleset.

As a result, I've written a post about the equal Opportunity rule. The combination of these rules with other rules has a significant impact on the outcome of the battle. As a result, keep attempting to combine the earthquake ruleset with other rules to gain fighting experience.

Talk about Splinterlands,
If you haven't tried out this fantastic game called Splinterlands yet, I invite you to Join.
It's free, but you'll need to invest in a beginning deck or buy gaming cards to gain real assets like cards and tokens.
---
If you already joined the splinterlands, and are looking for a place to grow. We need YOU. We are a chill, social guild looking for a few more active members! If you think you might be a fit, join us in our Discord

---
---