Splinterlands BATTLE Weekly Challenge | ANIMATED CORPSE The Magic Blocker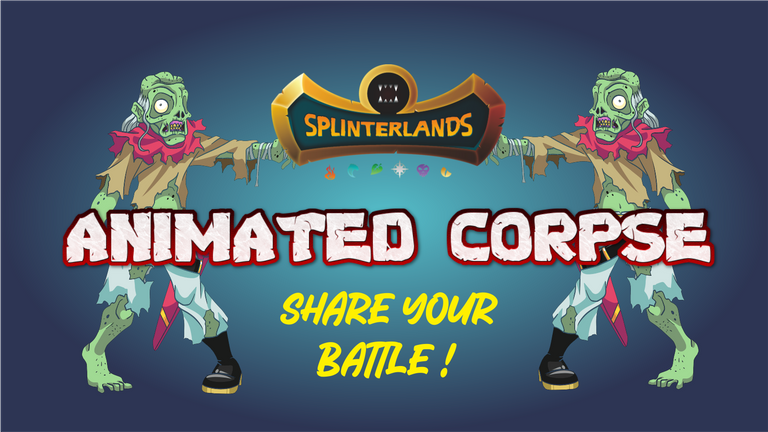 Hi all, welcome to my post about the Splinterlands card battle.Today I will share the fight I had with Animated Corpse. This is the theme for this week's Battle Challenge of Splinterlands.You can also take part in this weekly challenge at this link:

SHARE YOUR BATTLE Weekly Challenge!

Animated Corpse is a death-type monster card with a common rarity. This card becomes part of the starter card that can be played even if you don't have it.
This card has a maximum level of 10, combining 505 cards. Animated corpse's ability is Void(Reduced damaged from magic attacks) but it is obtained when you upgrade it to level 4. Equipped with melee attack power and no shield ability.
Oh yeah, the design of this card reminds me of zombies in the Plant VS Zombies game.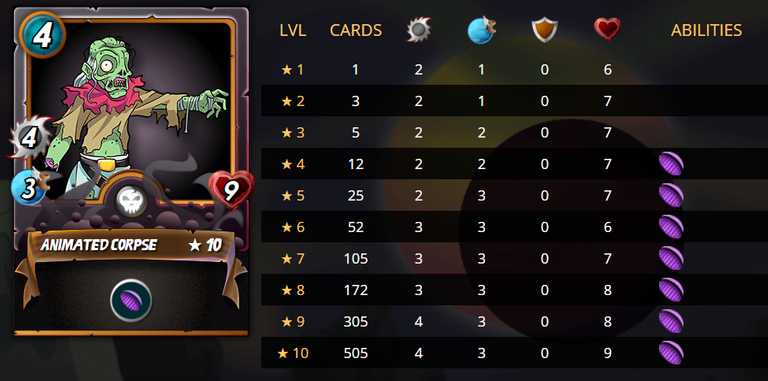 | | |
| --- | --- |
| | FURIOUS CHICKEN Level 1 Ability : None |
| | SPARK PIXIES Level 1 Ability : Flying |
| | KOBOLD MINER Level 1 Ability : Sneak |
| | MANTOID Level 1 Ability : Snipe |
| | PIT OGRE Level 1 Ability : Stun |
| | CERBERUS Level 1 Ability : Heal |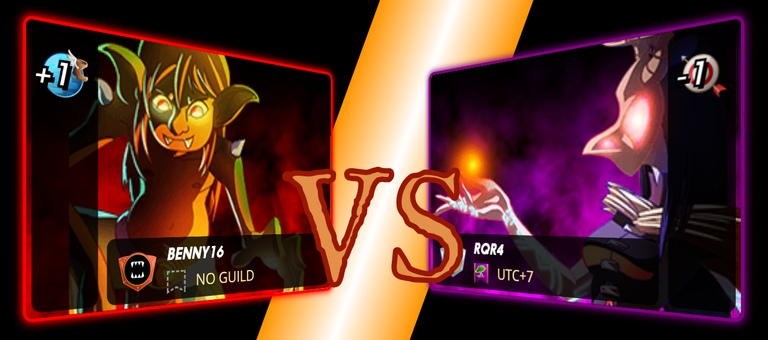 | | |
| --- | --- |
| | ANIMATED CORPSE Level 4 Ability : Void |
| | HARKLAW Level 1 Ability : Shiled |
| | VENARI BONESMITH Level 4 Ability : Life leech, Poison |
| | BOOGEYMAN Level 1 Ability : Slow |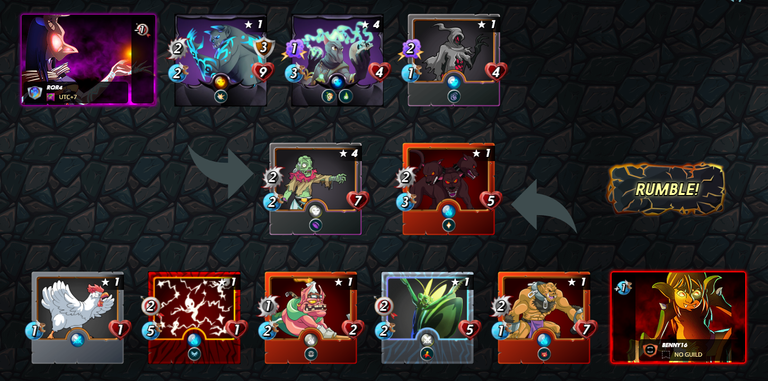 LINK BATTLE
Several special regulations apply in this duel. Stampede and Even Stevens, to be specific. Because I didn't have a monster with thorn powers, I decided on a death-type monster. I made that decision based on my opponent's history of fighting that always uses the water type.

Mana points are used to restrict the combat to a maximum of 26 points. Except for the life type, everyone can utilize a variety of monster types.
My prediction turned out to be incorrect. Enemies utilize fire-type monsters rather than water-type ones. But that doesn't matter; the battle goes on.
In the first round, I gave the opponent a negative impact, reducing his arrow attack point by one and slowing him down. My opponent, on the other hand, gains an extra point of speed. The animated corpse is attacked by spark pixies in this round. Attacks come from all directions, yet no creatures have been destroyed in round one.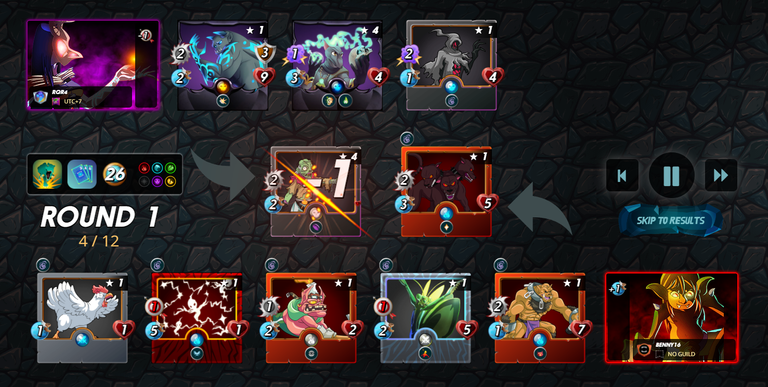 In the second round, Cerebrus was eliminated after receiving a poison attack from Venari Bonesmith. Attacks continued to be launched on the animated corpse. But at the end of this round, no monsters have been eliminated from my side yet.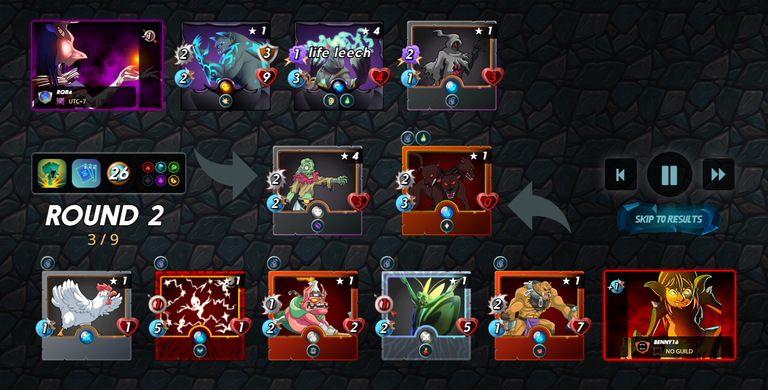 In the third round. The animated corpse reached its limit. And must be eliminated due to the opponent's attack. The animated corpse is not equipped with a bonus shield. But if this is dealing with magic, then the animated corpse can reduce the magic effect of the opponent.
In the fourth round, one by one the opposing monsters received poison from the Venari bonesmith's attack. Boogeyman in the back row is also increasingly critical due to the easy attack from the kobold miner.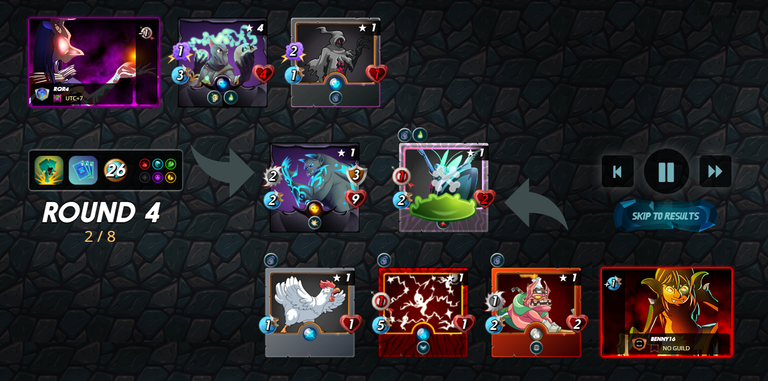 In the fifth round, the enemy's attacks are getting weaker. The last position is filled by furious chicken just waiting to be pounced on by harklaw. And victory is on my side.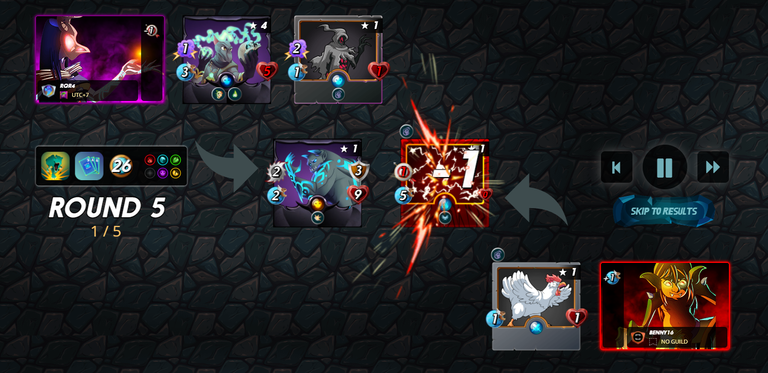 LINK BATTLE

In this fight, I predict the enemy will use a water-type deck. Water-type decks rely on magic attacks. And I used the animated corpse as a magic attack barrier. The animated corpse do have an advantage in fighting monsters with magic attacks. My guess was wrong. The enemy changes his habits. And wear a fire-type deck.
The animated corpse is weak in dealing with melee and ranged attacks. Because it is not equipped with a shield. In the middle of the fight, the animated corpse was knocked out. But I have prepared a backup in case the melee attack penetrates the defense of the animated corpse. Namely Harklaw. With the support of the Venari bonesmith and his poison ability. I managed to get rid of the opponent in just five rounds.
Why do I like The animated corpse?
I often use animated corpses in battles against magic attacks. Only by increasing the level to level 4. I already got the voidability.
But there is also a lack of animated corpses. Namely, its speed which is only worth 2 points at level 4. Also, there is no shield so it is weak against melee attacks. But indeed not all can be obtained. Strong in magic attacks, but weak in melee and ranged attacks.
You can also use animated corpses in battles against magic attack-type monsters. But don't forget to provide backup shields and speed boosters so that their abilities are maximized.

Okay all, that's all I can share about the fight I played using DEFENDER OF TRUTH. Thanks for your support. See you in the next post. I hope I can contribute a lot to this community.
🍃 Much appreciated. Terima kasih banyak. Muchas gracias. 🍃
---
All of the Screenshoot and some text about Splinterlands in this post come from Splinterlands.com.

Talk about Splinterlands,
If you haven't tried out this fantastic game called Splinterlands yet, I invite you to Join.
It's free, but you'll need to invest in a beginning deck or buy gaming cards to gain real assets like cards and tokens.
---
🙏 I invite everyone to join Splinterlands. 🙏
If you use my referral link, feel free to let me know.
And I will delegate you a card so you can play in bronze league II.
---
---