Rental Income optimisation, with #PeakMonsters!!
Rental Income optimisation:
Recently Peakmonsters did some upgrades to improve monster rentals. I don't rent cards, but do rent out a number of my own monsters. Yesterday, I mentioned that I wanted to optimise my rental income. This post is about some of the features of #peakmonsters and what I did to improve my rental income.
Below is a photo of the #peakmonsters screen taken yesterday and today to show the difference in income. I also added some numbers, in bubbles, on which I will write a few words describing them.
To get to this screen you need to go to My Cards, filter on For Rent and then click on Compare your Rentals.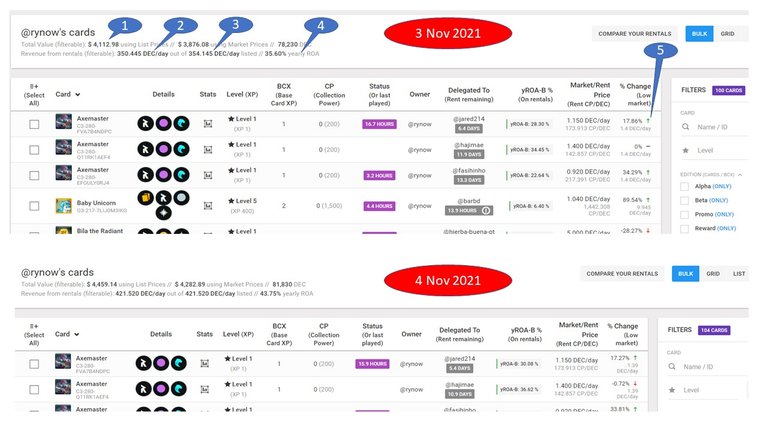 The bubbles numbers indicates the following:
Total value of cards for rent. (The entire row shows different values in $ and DEC)
The revenue you are receiving from rentals.
Listed revenue for your cards, that you have listed for rent.
ROA
Indicates if you are receiving above or below the going rate.
When there is a difference between number 2 and 3 it means you have listed some cards for rent, but nobody is renting your cards, most probably because your rental ask is to high!!
You will note that number 5 shows a % with a green or red arrow. If the arrow is green, you are below market price and when the arrow is red you are above market price. It also indicates the market price in DEC.
You will note on the top part of the slide that yesterday, my rental income was 350 DEC per day out of a possible 354 DEC per day. I had a number of rentals that was far below the market rate. (On the slide there is one showing 89% below market price!!)
I went through all my cards and stopped all rentals that was more than 25% below the going rate. I then rented it out again for the just below going rate.
Today my rental income increased to 421 DEC per day , a nice 71 DEC improvement from yesterday!! All my cards are also now rented out. My ROA increased from 35.6% to 43.75%, an 8% increase!! I love these percentages, at what other place can one receive this kind of returns on your investment???
I love the #peakmonsters site and it really helps with seeing what is going on with your rentals. Go visit the site and just see all the nice features they have.
I hope you liked the post as much as I liked writing it.
I hope you have a wonderful day!!
---
---