5th Update in My 2022 Crypto Goals
It is interesting how my crypto goals evolved since the first day I published them last 16 November 2021. Today will be the fifth time that I will be updating them.
Forgetfulness is human frailty not only common among the aging. Looking back and checking past records is a good practice to be reminded whether we are on track in our goal setting or not.
Looking Back
The first time I wrote my crypto goals was seven months ago, last 16 November 2021.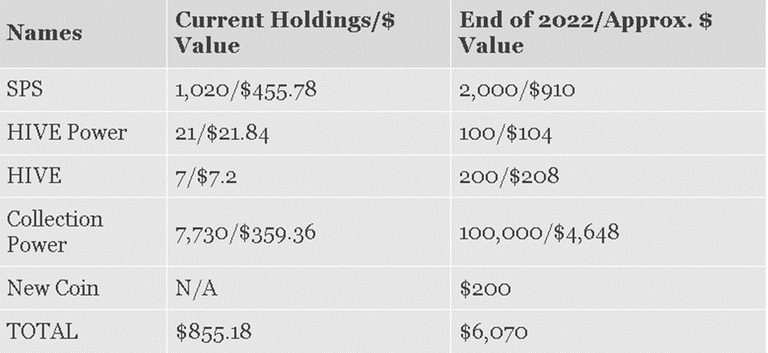 As you can see, my goal was so simple. It only has SPS and HIVE, and another new coin that I still didn't know at that time.
After two months, a new coin was added. This time, it was LEO. I made this update on 23 January 2022.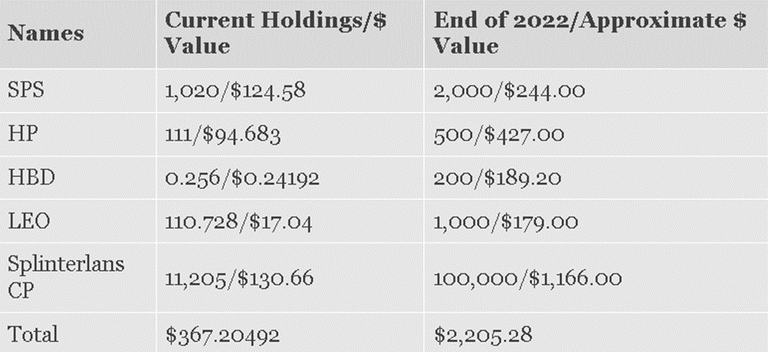 The 3rd and 4th Updates
The third update was prompted by my discovery of an important website created by @penguinpablo. I am referring to Hive Now. On this website, you will see an app calculator that shows one's vote value depending on the quantity of your HIVE power. This is the reason why I revised my HP goal from 500 to 2,225. With such a discovery, I reflected on the process of how I can transform from a Red Fish to a Minnow within a year. I published this update last 03 February 2022.
Another influence that caused me to change my crypto goal is @jongolson's podcast uploaded last 03 May 2022. This is the fourth time that I made an update on my crypto goals published on the same date. That podcast appears like a challenge to all Red Fish and Minnow to make 5,000 HIVE power (HP) as our goal.
When I responded to that challenge, my HP was 376. I made it my immediate goal to reach 500 on or before June this year.
My Updated Goals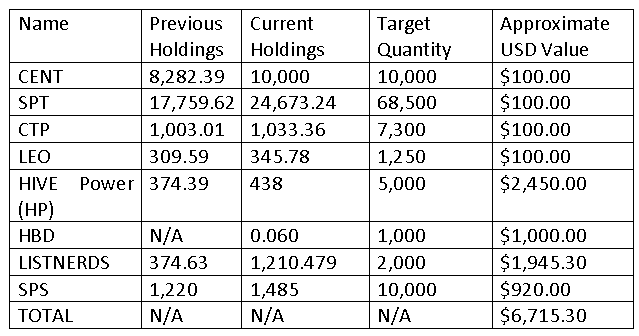 Today, I already have 438 HP. I think I can achieve the remaining 62 HP by the 2nd week of June. The 5,000 HP will be my mid-term goal within a year or two. I am hopeful that other layer two tokens will help me achieve this. I am looking forward most especially to LISTNERDS.
Among the tokens on my watch list, I achieved my CENT goal twelve days ago.
SPT is my next target. I only need around 43, 800 plus to achieve that $100.00 goal.
As for CTP, it will take a long time to accumulate that 6,266.64. My priority now is to reach 5,000 staked CTPs on listnerds.com. So far, I only have 3,207.63.
In the case of LEO and HBD, I will start accumulating them once I achieve my goal both with SPT and CTP.
As the record shows, LISTNERDS growth is most impressive. With just two months and two weeks, its growth is remarkable.
In the case of SPS, I managed to add 265 in less than a month. I expect that by end of the current season, I will hit 1,500 plus.
Grace and peace!
---
---