Sabsel reports about the last Splinterlands session - Sabsel berichtet über die letzte Splinterlands Session [ENG/GER]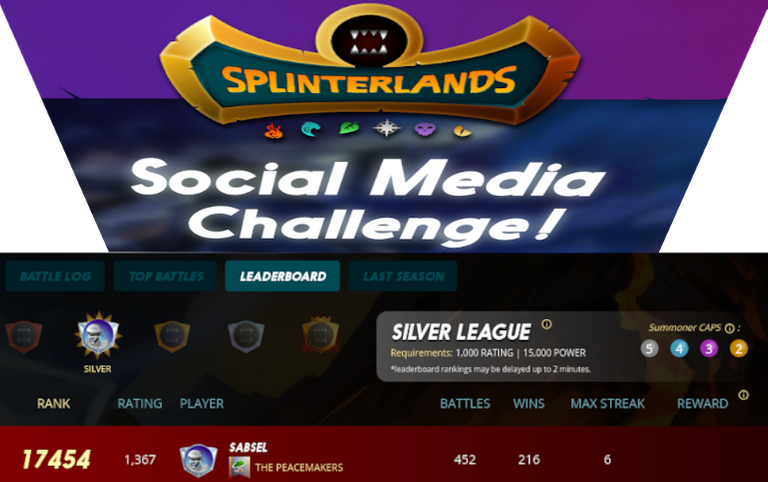 my recommendation
End of the first session with the new reward system and I was there ;) A very emotional up and down in the last weeks. Now I was already at the beginning very excited about how the new reward system works. If you were rewarded earlier still depending on the league so we are now rather rewarded by playing and winning. Not only the design of the treasure chests changed, also the content :). The value of the content of the treasure chests increases depending on the amount of ranking points.
Ende der ersten Session mit dem neuen Belohnungssystem und ich war dabei ;) Ein sehr emotionales auf und ab in den letzten Wochen. Nun war ich schon zum Beginn sehr gespannt wie das neue Belohnungssystem funktioniert. Wurde man früher noch je nach Liga belohnt so wir man nun eher durch das spielen und gewinnen belohnt. Nicht nur das Design der Schatzkisten änderte sich, auch der Inhalt :). Der Wert des Inhaltes der Schatzkisten steigert sich je nach Höhe der Ranking Punkte.

So how did I proceed strategically? - I tried to fight my way up quickly with the points at the beginning of the session, so that I end up in the silver league and thus the content of the treasure chests is more valuable. This only took a few days and I was collecting chests as a reward for the end of the session. Through daily focus, I earned the daily reward chests. Those were depending on where often I played and also won ;) around 3 to sometimes even 7 crates a day. Only once I came with my energy rate far below the recommended 75%. So I tried daily the energy rate not to fall below 75% z. Automatically :) I collected treasure chests that I can open at the end of the session.
Wie bin ich nun strategisch vorgegangen? - Ich habe versucht mich zu Beginn der Session schnell mit den Punkten nach oben zu kämpfen, damit ich in der Silber Liga lande und somit der Inhalt der Schatzkisten wertvoller ist. Das hat erst ein paar Tage gedauert und ich sammelte Kisten als Belohnung für das Ende der Session. Durch den täglichen Fokus erspielte ich mir die täglichen Belohnung Kisten. Die waren je nachdem wo oft ich spielte und auch gewann ;) um die 3 bis manchmal sogar 7 Kisten am Tag. Nur einmal bin ich mit meiner Energierate weit unter die empfohlenen 75 % gekommen. So habe ich versucht täglich die Energie Rate nicht unter 75 % z unterschreiten. Ganz automatisch :) sammelte ich so beim gewinnen mir Schatzkisten die ich zum Ende der Session öffnen kann.

Already in the first half of the session I had collected over 15 treasure chests for the end of the session. This is the number I usually got with the old reward system. Now it's just exciting what the contents of the chests are.
Schon in der ersten Hälfte der Session hatte ich über 15 Schatzkisten für das Ende der Session gesammelt. Das ist die Anzahl die ich in der Regel mit dem alten Belohnungssystem erhalten habe. Jetzt ist nur noch spannend was den so der Inhalt der Kisten ist.
3 hours to go until session change

3 hours before the end of the session it looked like this: The night before I had completely forgotten to update my focus during the day. When I updated it was clear to me that I would not get this daily focus in this session, so I get already in the next session 3 boxes as a daily reward. Now it was clear if I stay like this and in 3 hours the session is finished then I can open 33 boxes. With 1372 rating points I was in the silver league. With 84% energy rate I could still dare a few games. I fight ...
... a short time later ...

After some defeats and also victories I decided to end this session with an energy rate of 71,53 %. Now I get 5 boxes for my daily focus in the new session and get 35 boxes for this session. Now it will be exciting what kind of treasures are in there. A little annoyed with myself I am now but, because I came under 75% energy rate, but I now gladly accept so because now compared to the previous reward system I may clearly open more boxes :)
Noch 3 Stunden bis Session wechsel
3 Stunden noch vor Ende der Session sah es bei mir so aus: Am Abend zuvor hatte ich tagsüber völlig vergessen meinen Focus zu aktualisieren. Als ich aktualisierte war dann für mich klar das ich diesen täglichen Focus nicht mehr in dieser Session bekamen würde also bekomme ich schon in der nächsten Session 3 Kisten als tägliche Belohnung. Nun war klar wenn ich so bleibe und in 3 Stunden die Session beendet ist dann kann ich 33 Kisten öffnen. Mit 1372 Rating Punkte war ich in der Silber Liga. Mit 84 % Energie Rate könnte ich noch ein paar Spielchen wagen. Ich kämpfe …
… kurze Zeit später …
Nach einigen Niederlagen und auch Siegen habe ich nun mit einer Energie Rate von 71,53 % entschlossen diese Session so zu beenden. Nun erhalte ich in der neuen Session 5 Kisten für meinen täglichen Fokus und bekomme für diese Session 35 Kisten. Jetzt wird spannend was da so alles für Schätze drin sind. Ein wenig verärgert über mich selbst bin ich jetzt doch, da ich unter 75 % Energie Rate gekommen bin, aber das nehme ich nun gerne so hin da nun im Vergleich zum früheren Belohnungssystem ich eindeutig mehr Kisten öffnen darf :)

I can recommend Splinterlands from my experience with a clear conscience. Especially the new reward system is interesting! Just have a look, I would be happy if you use my referral link for it.
Ich kann euch Splinterlands aus meiner Erfahrung mit gutem Gewissen empfehlen. Gerade das neue Belohnungssystem ist interessant! Schaut doch einfach mal rein, ich würde mich freuen wenn ihr meinen Empfehlungslink dafür benutzt.
You can also read my post on tumblr.
Meinen Beitrag kannst du auch auf tumblr lesen.
A great day for you and maybe we meet on the battlefield, see you soon your Sabsel
Einen super Tag für euch und vielleicht trifft man sich ja mal auf dem Schlachtfeld, bis bald eure Sabsel
---
---