SplinterSheet - RELEASE
How it could looks like...
Wie es aussehen könnte...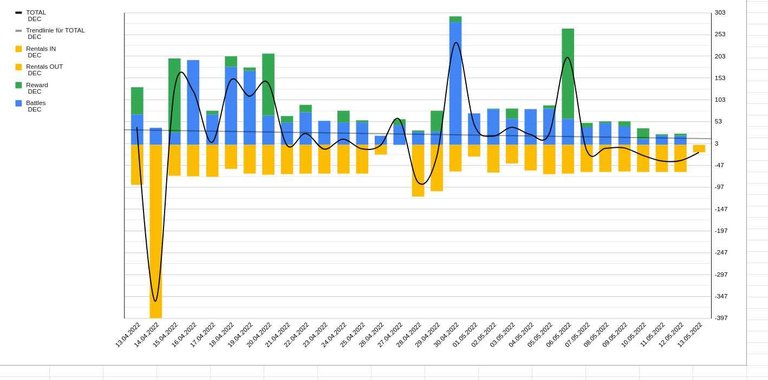 Deutsch

English

SplinterSheet ist endlich auf dem Google Marketplace veröffentlicht und einsatzbereit. Ich habe eine Reihe von Informationen geschrieben, zu finden unter www.splintersheet.store, wie das Tool funktioniert und welche Berechtigungen benötigt werden.

Im ersten "Release" Post möchte ich euch eine bebilderte Installationsanleitung mitgeben. Ich werde auch auf verschiedene Berechtigungen eingehen, die das Tool benötigt, um zu funktionieren.
SplinterSheet is finally released on Google Marketplace and ready to go. I've written a bunch of information, found at www.splintersheet.store, on how the tool works and what permissions are needed.

In the first "release" post I would like to give you an illustrated installation guide. I'll also go into various permissions that the tool needs in order to work.
Um das Tool überhaupt nutzen zu können, benötigst du ein Google-Konto mit Google Drive
(Google Konto anlegen)
To use the tool at all you need a Google account with Google Drive
(Create google account)
Logge dich bei Google Drive ein und erstelle ein neues Tabellenblatt
Login to Google Drive and create a new spreadsheet
Seach for addon via
Extensions-> Add-ons -> Get add-ons


Type in SplinterSheet


Press Install


Read terms of service and privacy policy at www.splintersheet.store
Press continue


Choose the google account you want to use.
HINT: If you have security concerns use a new, empty google account


By clicking allow SplinterSheet gets following scopes granted:
- First scope is for managing data within the sheet, SplinterSheet is activated
- Second is for getting data from Splinterlands API
- Third is for running unattended with a trigger
- Forth is for setting correct timezone (Update 1.01)


After installation you are able to use SplinterSheet via Add-ons


Additional - prove that SplinterSheet is only activated for the current spreadsheet
Manage Addons


Go to options


Get sure that Use in this document is checked
(If you want SplinterSheet for all Spreadsheets simply uncheck it)

Deutsch

English

Für die nächsten Schritte habe ich ein kleines Video aufgenommen und auf Youtube gestellt. Dieses findet ihr unter https://www.youtube.com/watch?v=v8vU_BK9bJg
Dieses Video ist von einer noch nicht veröffentlichen Version und beinhaltet noch die alte Authentifizierungsmethode. Diese könnt ihr einfach überspringen.
Am besten startet ihr ab Minute 0:55.
For the next steps I recorded a small video and put it on Youtube. You can find this at https://www.youtube.com/watch?v=v8vU_BK9bJg
This video is from an unreleased version and still includes the old authentication method. You can simply skip these.
It's best to start from minute 0:55.
Ich hoffe das Tool kann euch etwas helfen, den Überblick auch über mehrere Tage zu behalten. Schreibt doch in die Kommentare wie ihr es findet, ob ihr es nutzt/ nutzen wollt oder ob euch ein Feature einfällt was auf jeden fall noch rein muss.
I hope the tool can help you to keep track of things over several days. Write in the comments what you think of it, whether you use it/want to use it or whether you can think of a feature that definitely needs to be added.
Um mal einen kleinen Einblick in meine Auswertung zu zeigen, stelle ich hier meine aktuellen Daten als Diagramm zur Verfügunt.
In order to show a little insight into my evaluation, I present my current data as a diagram here.
DiagramData


CustomDiagram with these data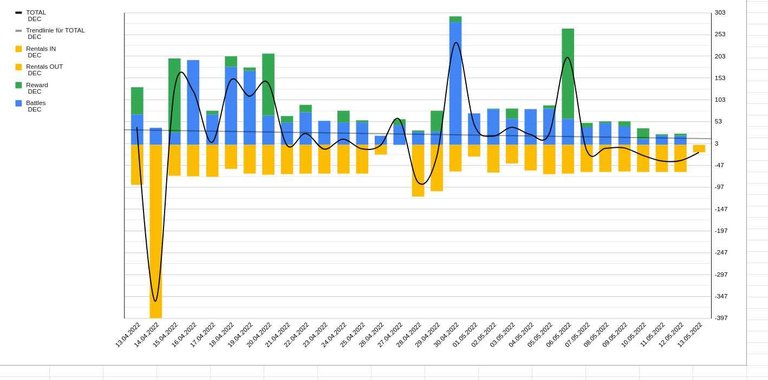 My aim is to have DEC a little grow in order to maximize card power from rewards. It looks good for me.
PS: Topic security
SplinterSheet only requires access to spreadsheets it is enabled on in order to operate.
SplinterSheet uses the spreadsheet's ID and name for error logging, managing data and the
current user's temporary anonymous key for analytics.
SplinterSheet does not store, use, share, or access any other data related to your Google account.
SplinterSheets accesses to following API for Splinterlands via FetchURL
"https://api.splinterlands.com/",
"https://api.splinterlands.io/",
"https://api2.splinterlands.com/"
SplinterSheet is restricted to only get data from these sites via manifest entry.
These data is processed in order to store within a sheet. It will not be stored, use, share to any other sheet. SplinterSheet is official released at google store. So it is checked by google.
---
---