My Splinterlands Battle: Weak Magic
On this #Splinterlands Battle with the Weak Magic Rule, I used the Water Splinter led by Kelya Frendul, featuring Scavo Hireling and Venari Wavesmith.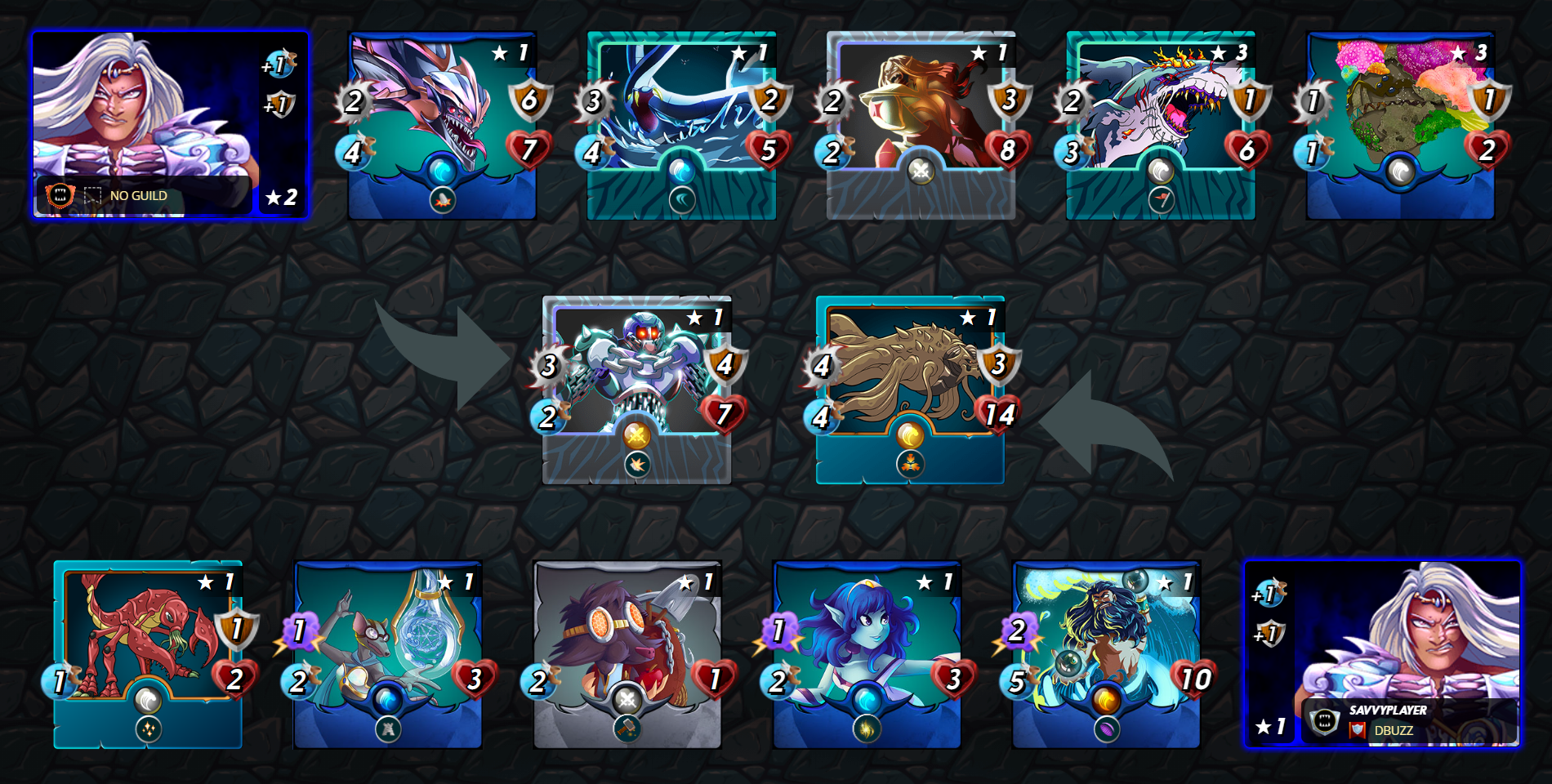 Battle Replay: https://splinterlands.com/?p=battle&id=sl_88997b8d2e1673866fa964f5bae414f9
(I put the "Battle Replay" on the middle of my post as well as its bottom, so that others who just want to watch the Battle Replay without reading the rest of my post about strategy can easily find the link to the Battle.)
My strategy
I used the Rare Water Summoner Kelya Frendul for the additional 1 Armor which will get hit first by the Magic attacks of the opponent's Monsters. The +1 Speed bonus is also a good buff.
I used the Rare Water Monster Venari Wavesmith which has the Protect Ability that gives additional 2 Armor to all friendly Monsters. That gives additional protection against opponent's Magic attacks.
I used the Common Neutral Monster Scavo Hireling to repair the additional 3 Armor granted by both Kelya Frendul and Venari Wavesmith.
I still placed the Crustacean King to heal my Tank which is The Kraken (with 3 Base Armor and 3 Boosted Armor from buffs for a total of 6 Armor) just in case its Armor is not enough.
I used the River Nymph which has the Cleanse Ability that clears debuffs (especially Slowed, Poisoned, Diseased, and Shattered).
Further analysis
I assumed on this Battle that the opponent thought that the Battle had any Rule that allows Melee Monsters to attack from any position (such as the Super Sneak, Melee Mayhem, or Equal Opportunity Rules).
If the Battle Rule allowed Monsters to attack from any position, there is a chance that my The Kraken will get defeated on the second or third Round.
Battle Replay: https://splinterlands.com/?p=battle&id=sl_88997b8d2e1673866fa964f5bae414f9
---
---