Exploring the Chaos: Core Fire Commons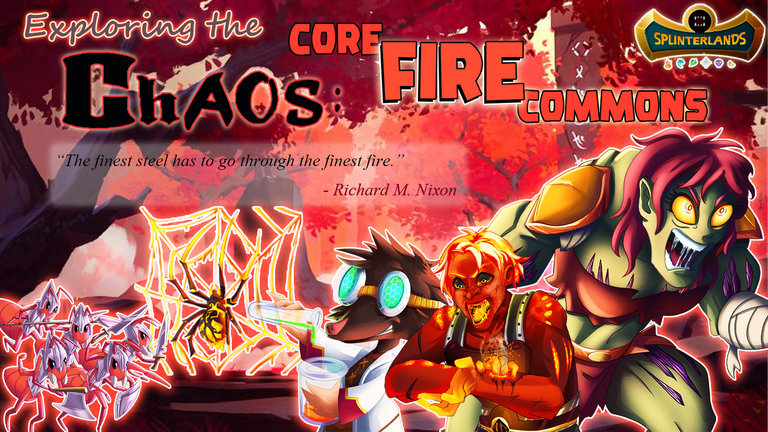 "The finest steel has to go through the finest fire."


- Richard M. Nixon
Introduction
---
Hi! @saydie here playing Splinterlands everyday!
This is Exploring the Chaos where I take a look on Chaos Legion cards including their subsets such as Riftwatchers and the Reward cards, as they brought new abilities and strategies that changes how the game was played.
So finally, I was able to catch up with all the subsets, rewards and promo cards that Chaos Legion has brought to the game. So now, for the topic of my post I will go through the Core Chaos Legion Cards. There's too many of them so I would tackle them one element at a time with their varying rarities starting with the common cards of the Fire Element.

Common Fire Cards
---
| Edition | Chaos Legion |
| --- | --- |
| Mana Cost | 1 |
| Element | Fire |
| Rarity | Common |
| Card Type | Melee |
| Abilities | Shatter |
| RF Burn Value | 5 |
| GF Burn Value | 125 |
---
Card Stats
| Stats | Cards Printed |
| --- | --- |
| | |
Shatter removes all the armor of the target when Radiated Scorcher attacks them.

Edition
Chaos Legion
Mana Cost
3
Element
Fire
Rarity
Common
Card Type
Range
Abilities
Snipe
Snare
Poison
RF Burn Value
5
GF Burn Value
125
---
| Stats | Cards Printed |
| --- | --- |
| | |
Snipe allows Lava Spider to attack the nearest non- melee monster.

Snare removes the Flying ability of the target.

Poison afflicts Poison to the target when attacked by Lava Spider.

Edition
Chaos Legion
Mana Cost
5
Element
Fire
Rarity
Common
Card Type
Melee
Abilities
Reach
Enrage
RF Burn Value
5
GF Burn Value
125
---
| Stats | Cards Printed |
| --- | --- |
| | |
Radiated Brute can attack even at the second position because of the Snare ability.

Enrage will increase the speed and melee damage of Radiated Brute when it received damage.

Edition
Chaos Legion
Mana Cost
2
Element
Fire
Rarity
Common
Card Type
Default
Abilities
Cleanse
Slow
Headwinds
RF Burn Value
5
GF Burn Value
125
---
| Stats | Cards printed |
| --- | --- |
| | |
Cleanse removes all the negative status effect from the target.

Slow reduces the speed of all opponent monsters as long as Scavo Chemist remains on play.

Headwinds reduces the range damage of all monsters.

Edition
Chaos Legion
Mana Cost
4
Element
Fire
Rarity
Common
Card Type
Melee
Abilities
Shield
Scavenger
RF Burn Value
5
GF Burn Value
125
---
| Stats | Cards Printed |
| --- | --- |
| | |
Shield reduces melee and range damage towards Antoid Platoon when attacked.

Scavenger gives Antoid Platoon an increase on health whenever a monster was defeated.


Note:
Print rates of the card was taken by the time of writing this post and is subject to change depending on when you check on it. Source: Peakmonsters, Splintercards

Common Fire Cards In Action
---
Battle 1: Radiated Scorcher and Scavo Chemist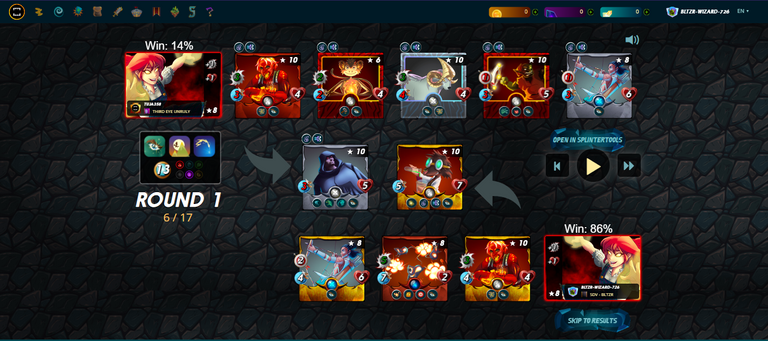 This battle only has 13 mana cap with the rule sets Equal Opportunity, Lost Legendaries and Weak Magic so with the exception of legendary monsters, the rest of the cards can be used and monsters have the Opportunity ability. Since the mana cap was low, there are only very few monsters that can be added and with it, I choose to place Scavo Chemist as my main tank since although this card has no damage, it has the Slow which reduces the speed of all my opponent monsters as well as Headwinds that would reduce the range damage of the opponent. It also has huge health for a low mana tank that only cost 2 mana.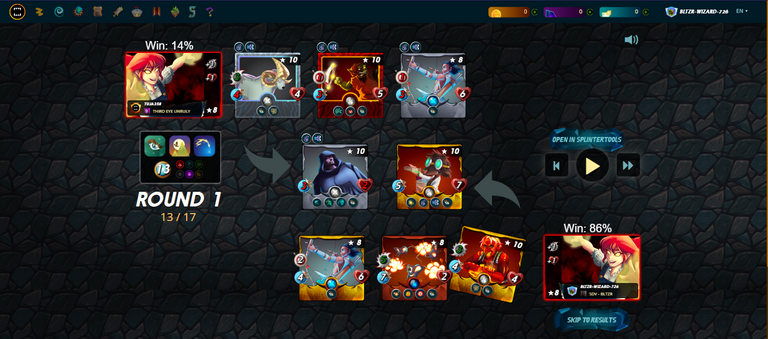 Meanwhile, although Radiated Scorcher only has 4 health at max level it could have a very decent damage and speed and with the rule set at play, it can attack at any position. Because the speed of the opponent were reduced, it has allowed Radiated Scorcher to defeat Chaos Agent during round 1 and Xenith Archer by the end of the battle.
---
Battle 2: Lava Spider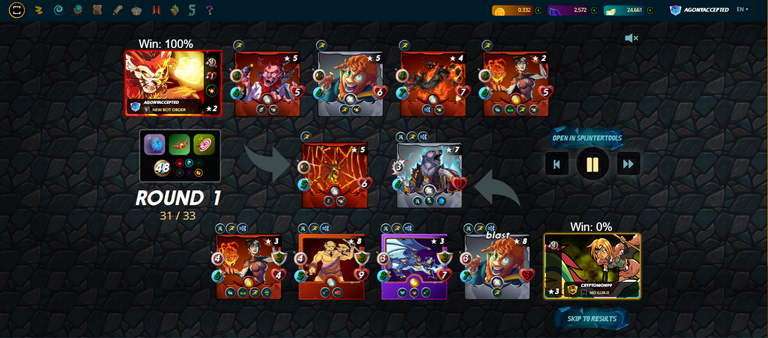 For the 2nd battle, we have 48 mana cap with Lost Magic where magic monsters cannot be used but we also have Close Range where range monsters can attack at first position and Aim True that guarantees the attack will hit the target. I positioned lava Spider at the 2nd position since though boosted by my summoner and it got lesser damage compared to my other range monsters but for 3 mana, it has decent health and can still attack with the rule set in play, allowing it to defeat Arkemis the Bear and deal 2 damage through Blast to Supply Runner during the first round.
---
Battle 3: Antoid Platoon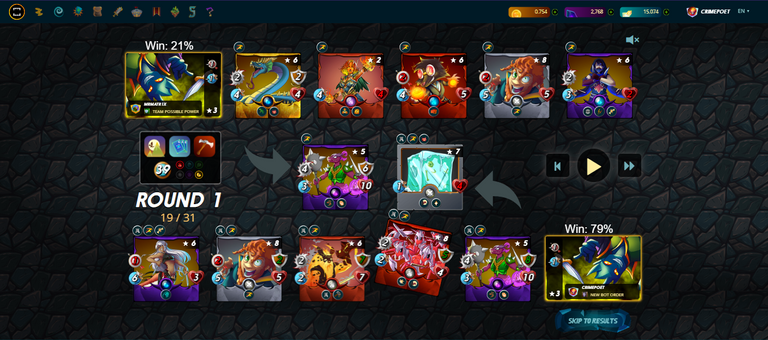 For this battle, the rule sets available are Lost Legendaries where legendary monsters cannot be used, Evens Stevens that limits monsters to only those with even mana but at the same time, it also has Melee Mayhem which gives melee monsters to attack at any position. Because of this, even at third position Antoid Platoon and still attack where in it deals 2 damage on Idri Fyre and on round 3, it was even able to defeat Twilight Basilisk. Since it got Shield it only received half the damage from melee and range attacks so when the redemption from Idri Fyre hit, only Antoid Platton did not take damage. At the end of the round, Antoid Platoon has a total of 13 health as it gets 1 health for each the monsters that got defeated thanks to the Scavenger ability.

Final Thoughts
---
And with that my review for the core Chaos Legion common cards of the Fire Element has ended. It's a shame that I was not able to use Radiated Scorcher since it can be a powerful card when Enrage got activated but aside from that, my most commonly used Fire commons was Antoid Platton and surprisingly, Scavo Chemist even if it does not have an attack as the Headwinds and Slow can be really helpful during matches where speed determines the victor.

To read previous articles, just click on the image of the article that you want to read.
---
The battle links provided comes from my personal accounts and from the scholar account that I am using from Balthazar Guild.
All the image that I edited here belongs to Splinterlands.
Card abilities from Splintercards
Thank you for reading my post. If you're interested to play Splinterlands, you can join by clicking the images below and follow me on Twitter and 3Speak for timely Splinterlands updates.
---
---