A review of the first half of January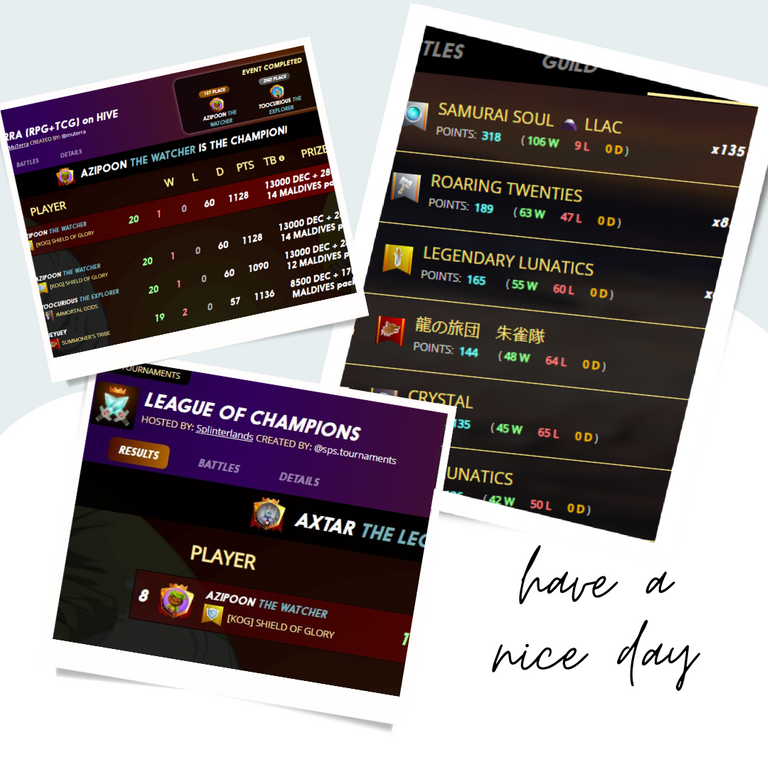 Best of 8 in the Champion Wild tournament!
Best of 4 in the Champion Modern tournament!
And a win in the Muttera tournament, a tournament for the fiercest players!
It was a pretty spectacular and progressive season for azipoon...
But then, at the very end, he lost a lot of ranked matches and dropped down to Champion III, and that was the end of it.
It was a frustrating end to the season.
However, my earnings were the highest ever, 5542 SPS!
Last time it was 3514 SPS, so we earned 2000 SPS more!!!
I didn't run schnapoon much, but I did get 3rd place in the Silver Wild, earning 540 SPS!
I ran LB in the last 2 hours and just barely made it into the top 10, with a rate run of about 600 all the way up.
My earnings were about 1000 SPS.
However, I was busy getting sponsors this time, so I had no choice.
I was able to get solid results so I can keep playing this game.
It has been a very fruitful season for schnapoon.
And chutzpah, I rented Champion Modern's card assets for the last two days of play.

チャンピオンワイルドのトーナメントでベスト8!
チャンピオンモダンのトーナメントでベスト4!!
そして猛者が集まるMutteraのトーナメントで優勝!!!
azipoonにとってかなり華やかで進歩を感じるシーズンだった・・・
と思いきや、最後の最後、ランクマッチで負けまくってチャンピオンⅢまで落ちてしまい、そのまま終了。
最後に悔しい思いをしてしまった。
しかし収益は過去最高で、5542SPS!
前回が3514SPSだったので、2000SPSも多く獲得出来た!!
schnapoonはあまり稼働させなかったが、シルバーワイルドで3位になり540SPS獲得できた!
ぼくはLBを最後の2時間でレートを600くらい一気に駆け上り、ギリギリトップ10にランクイン。
収益は1000SPSくらいだ。
しかし、今回はスポンサー獲得で忙しかったから仕方ない。
しっかり成果を出せたのでこのゲームが続けられる。
schnapoonにとってこれ以上ない実りあるシーズンだった。
そしてちゃっかり最後の2日間だけ、チャンピオンモダンのアセットを借りてプレイしていた。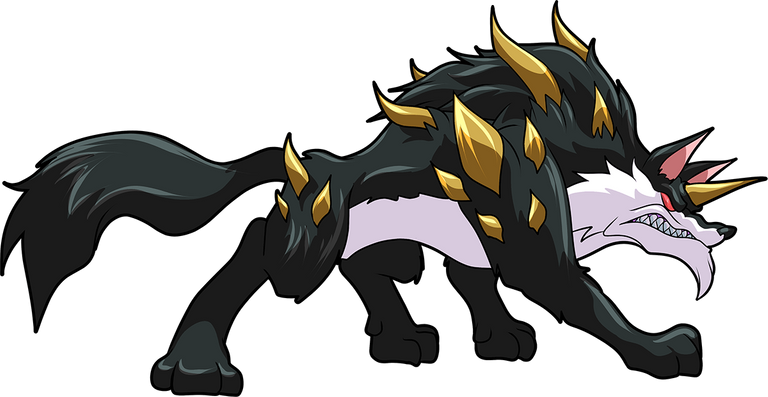 Here's my personal opinion.
First, let me say something that may offend you.
In Muttera's tournaments, it seems that the only way to receive rewards is to chat with the other players on Discord.
I would watch as people posted screenshots of their results screens in the exchange, and I would always see the words "AZIPOON THE WATCHER IS THE CHAMPION" and I would be delighted.
It goes something like this.

ここからは個人的な意見を言う。
最初に言っておくが、気分を害す可能性がある。
MutteraのトーナメントではDiscordでチャットのやり取りをしないと報酬が受け取れないシステムになっているようだった。
ぼくはそのやりとりでみんなが自分のリザルト画面のスクリーンショットを載せているのを眺めて、必ず「AZIPOON THE WATCHER IS THE CHAMPION」の文字が目に入るから悦に浸っていた。
こんな感じだ。

In the course of this exchange, I found a bit of a tussle between players.
One player was berating a higher ranked player who was playing on multiple accounts.
He even mentions individuals and only accuses them of doing so.
I have multiple accounts too!
And I'm the winner!
Why didn't they tell me?
Are you afraid to tell me because azircon is behind it?
Or are you going to tell me that scholars don't have a problem with it?
What's the difference between renting and entering a tournament with multiple accounts and renting an account directly?
Surely this is a story that can be looked at in many ways.
There is no blanket approval or disapproval of multiple accounts.
In my case, I play for a living.
It's only natural that I try to maximize my earnings with my skills and time.
Strong players are really strong.
To be honest, I don't know how much time and money it takes to win.
I learned that the hard way in the Champion League.
If you are frustrated, you have to improve your skills.
Don't escape from it by doubting the WIN trade without any proof, or because of multiple accounts.
BUBKE is so strong that I am in the top 4 or better in most of the Champion and Gold tournaments.
I think there are and will be players who quit because this situation is boring.
And while multiple accounts are not banned, it is not necessarily a really good thing for the community.
In fact, the most popular social game in Japan, Uma Musume, bans multiple accounts.
If they are found out, they will be banned.
Maybe Splinterlands is just not big enough to ban yet and should really be banned.
That said, I can understand why you'd want to complain about multiple accounts.
If I match myself, it's like I'm in a win-win trade.
You also have to understand that I want to maximize my earnings as a scholar.
I have a life.
But more than that, I want to report good results to azircon, who cares about me, and make them happy.
And I play with the awareness that I am a professional gamer.
So, I don't dismiss people's playstyle, and see it as a barrier to overcome.
I have a narrow perspective. I am still young in my thinking.
So I'd like to hear your opinions on multiple accounts and why you think so.

そのやりとりの中でプレイヤー同士のちょっとした揉め事を見つけた。
とあるプレイヤーが複数アカウントでプレイすることを非難していたんだ。
しかも個人的にメンションしてその個人だけを非難していたんだ。
ぼくも複数アカウントだぞ!!
しかも優勝したのはぼくだ!!!
なんでぼくに言わないんだ?
azirconがバックについているから怖くて言えないのか?
それともスカラーは別だなんて言うのか?
レンタルして複数のアカウントでトーナメントに出るのと何が違うんだ。
確かにこれは色んな見方のできる話だ。
一概に複数のアカウントを肯定できるものでもないし、否定できるものでもない。
ぼくの場合、生活を懸けてプレイしている。
自分の技術と時間を使って最大の収益を得ようとするのは当然のことだ。
強いプレイヤーは本当に強いよ。
正直、いくら時間やお金を掛ければ勝てるようになるか分からない。
チャンピオンリーグでぼくはそれを嫌というほど思い知った。
悔しかったら実力をつけるしかない。
それを複数アカウントだからとか、証拠もないのにWINトレードを疑うことに逃げてはいけない。
BUBKEが強すぎてチャンピオンやゴールドのトーナメントはほとんどベスト4以上にいる。
この状況がつまらなくて辞めてしまうプレイヤーはいると思うし、これからも現れるだろう。
そして複数のアカウントは禁止されていないが、コミュニティにとって本当にいいことであるとも限らない。
実際、日本で一番人気のあるソシャゲ、「ウマ娘」は複数のアカウント禁止だ。
バレたらBANされるらしい。
Splinterlandsはまだ禁止にできる規模ではないだけで本当は禁止にした方がいいのかもしれない。
だからこそ、複数のアカウントに文句を言いたくなる気持ちはわかるよ。
自分自身がマッチングしたらWINトレードしているみたいになるしね。
ぼくはスカラーとして収益を最大化させたいと思うのも理解してほしい。
生活があるんだ。
でもそれ以上に、ぼくを気にかけてくれるazirconにいい結果を報告して喜んでもらいたい。
そしてぼくはプロゲーマーだという意識でプレイしている。
だからどんな理由があれ、ぼくは人のプレイスタイルを否定しないし、倒すべき壁として見ている。
私は視野が狭い。まだまだ考えも幼い。
だからあなた方の複数アカウントに対する意見とそう思う理由を聞かせてほしい。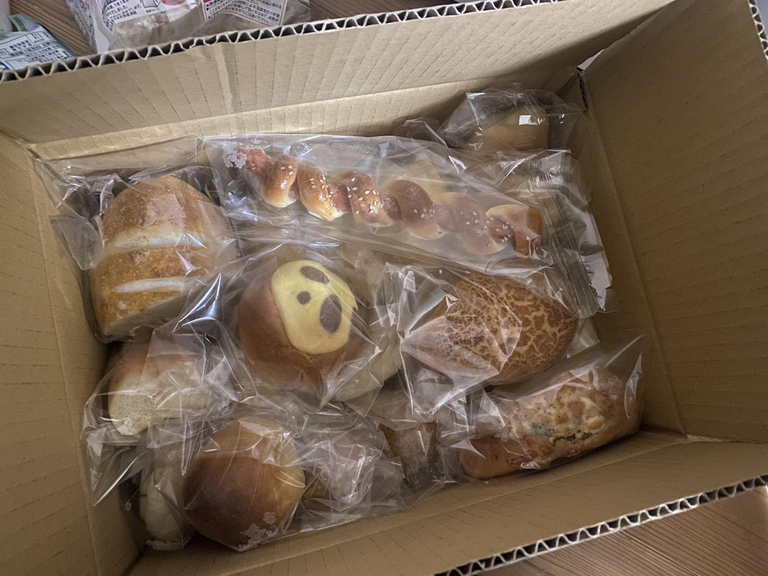 This is the bread my mother sent me because she was worried about me.
Thank you, but I can't eat this much....
これは母がぼくのことが心配で送ってくれたパン。
ありがたいけど、こんなに食べれないよ。。。
Sponsored by LLAC
[LLAC HP]
https://llac.fun/official/
[LLAC Opensea]
https://opensea.io/ja/collection/live-like-a-cat-nekonoyouniikiru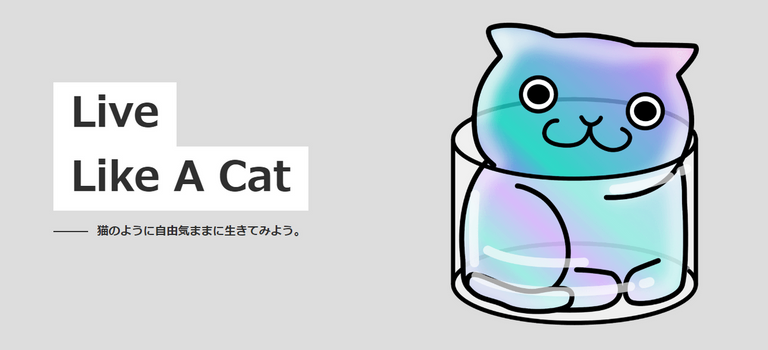 ---
---