Review of the second half of January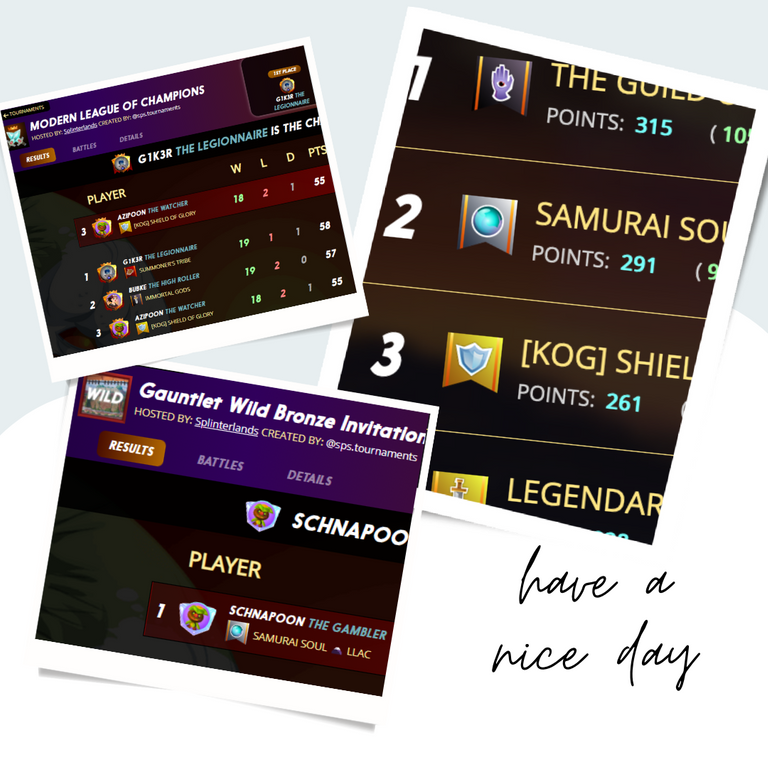 So much has happened in January.
Today the new reward ban is lifted! And all rewards no longer appear until now.
The number of rules has increased and a new environment has started.
Especially with the Fog of War rules, Opportunity no longer works!
January earnings were 2,588 SPS for schnapoon in tournaments and 2,311 SPS for guild and ranked matches.
The total was 4,899 SPS.(1 month)
It was a very good season for the Bronze League, winning two official Bronze League tournaments and placing third once.
Of course, Silver was not bad. It was so-so, I got 3rd place once and the rest were about 10th place.
LB was a close second for Silver Wild.
There were long stretches of time where I was only matched with people who didn't rate higher, whether it was a bug or not. I hope it will be improved.
Modern went to Champion for 4 days.
In my first tier 4 guild match I was able to get 2nd place.
I think SamuraiSoul is now in 6th-8th place out of all guilds.
We beat SoG at that time, but they weren't the best team.
I know because I belong to SoG in azipoon, SS has not overtaken SoG yet.
And azipoon's earnings were 4,419 SPS for the tournament and 3,792 SPS for the guild matches and ranked matches.
The total was 8,211 SPS.(only in the second half of January)
We finished 10th in the official Champion Wild tournament and a whopping 3rd in the Modern!
That's going moderately well. Somehow I was also ranked 4th in the Gold Modern. I was lucky.
LB placed just barely enough to get 20,000 DEC.
I was not aiming for a higher rank because of the new reward for ECR, but I am getting more and more confident and will start aiming for a higher rank from this month.
I want to do something about some of the members forgetting about the guild competition.
Everyone's efforts are wasted.
I'm sure everyone will be working hard in ranked matches in February to get the new rewards.
Looking forward to it!

1月も色々あったね。
今日で新リワード解禁!そして今までリワードは全て出現しなくなった。
ルールも増えたし、新たな環境スタート。
とくにFog of Warルールでオポチュニティも機能しなくなるのは要注意だ!
一月の収益はschnapoonがトーナメントで2,588SPS、ギルド戦とランクマッチは2,311SPS。
合計4,899SPSだった。(1か月分)
ブロンズリーグの公式トーナメントで2回優勝、1回3位に入賞してブロンズリーグの調子がとてもいいシーズンだった。
もちろんシルバーを悪くはない。まぁまぁだったね。1回3位を獲って、残りは10位くらいだった。
LBはシルバーワイルドが惜しくも2位。
バグなのかレートが上がらない人としかマッチしない時間が長く続いていた。改善してほしい。
モダンは4日間チャンピオンに行った。
ギルド戦初のTier4では2位になれた。
今SamuraiSoulは全ギルド中6位~8位に位置していると思う。
この時はSoGに勝ったが、彼らはベストメンバーではなかったんだ。
azipoonでSoGに所属しているから知っている。SSはまだSoGを抜いていない。
そしてazipoonの収益はトーナメントで4,419SPS、ギルド戦とランクマッチは3,792SPS。
合計8,211SPSだった。(1月後半のみ)
チャンピオンワイルドの公式トーナメントで10位、モダンでなんと3位になることができた!
中々順調だ。ゴールドモダンでもなぜか4位にランクイン。運がよかった。
LBはギリギリ20000DECが手に入る順位。
新リワードのためにECRを意識してあまり高い順位を狙っていなかったが、段々自信がついてきたので今月からもっと高い順位を狙いに行くつもりだ。
ギルド戦を忘れてしまうメンバーがいるのを何とかしたいね。
みんなの努力が無駄になってしまう。
2月は新リワード獲得のためみんなランクマッチを頑張るだろう。
楽しみだ!
Sponsored by LLAC
[LLAC HP]
https://llac.fun/official/
[LLAC Opensea]
https://opensea.io/ja/collection/live-like-a-cat-nekonoyouniikiru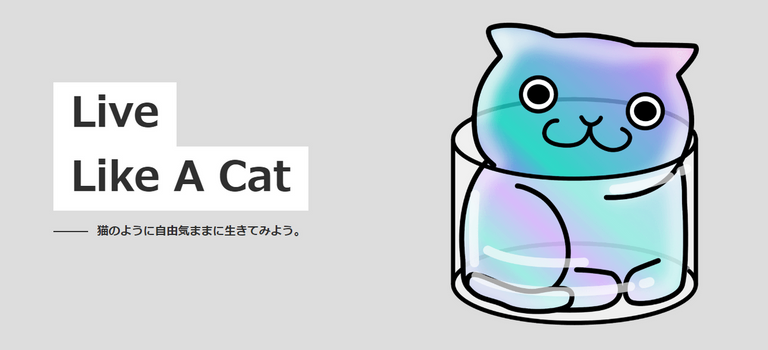 ---
---