Social Media Challenge - River Hellondale (DE/ENG)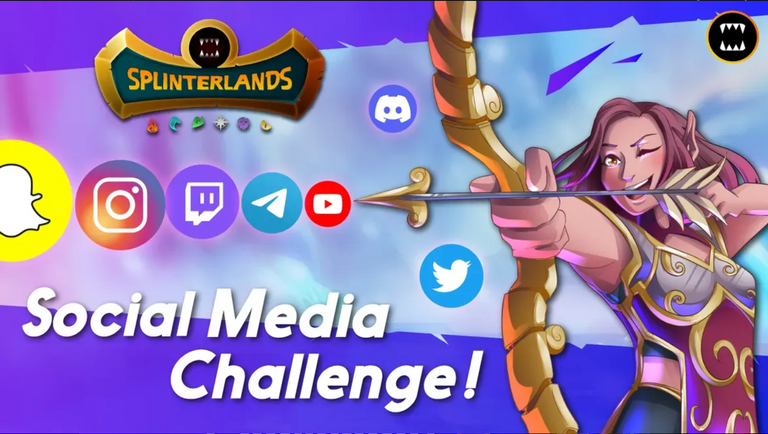 Neue Woche, neue
Social Media Challenge
. In dieser Woche werden wir im Element Wasser bleiben und uns eine weitere Karte genauer anschauen. Diese Woche geht es um River Hellondale. Wir schauen uns seine Stats sowie seine performance im Kampf an.
New week, new
social media challenge
. This week we're going to stay in the element of water and take a closer look at another map. This week it's all about River Hellondale. We'll take a look at his stats as well as his performance in battle.

1. Stats

River Hellondale ist eine legendäre Karte aus der Chaos Legion Edition. Er gehört zum Element Wasser. Auf Level 1 besitzt er 2 Magie Attacken, 2 Geschwindigkeit, 1 Rüstung, 4 Leben und kostet 7 Mana. Zudem kommt noch die Fähigkeit "Resurrect". "Resurrect" bedeutet, dass ein Monster der eigenen Seite, wenn es stirbt, mit 1 Lebenspunkt wieder zum Leben erweckt wird. Diese Fähigkeit kann nur einmal pro Kampf ausgelöst werden. Diese Fähigkeit macht ihn für mich persönlich sehr interessant und kann in manchen Situationen durchaus spielentscheidend sein.

Ich besitze River Hellondale auf Level 2. Hier ändern sich seine Stats nicht im vergleich zu Level 1, jedoch bekommt er "Inspire" als Fähigkeit hinzu. "Inspire" gibt allen eigenen Monstern +1 Nahkampfangriff.
River Hellondale is a legendary card from Chaos Legion Edition. It belongs to the element of water. At level 1 it has 2 magic attacks, 2 speed, 1 armor, 4 life and costs 7 mana. In addition, it comes with the "Resurrect" ability. "Resurrect" means that when a friendly monster dies, it is brought back to life with 1 life point. This ability can only be triggered once per battle. This ability makes it very interesting for me personally and can definitely be game-changing in some situations.



I own River Hellondale at level 2, here his stats don't change compared to level 1, but he gets "Inspire" added as an ability. "Inspire" gives +1 melee attack to all your monsters.

2. Ruleset

"Melee Mayhem" und "Silenced Summoners" sind die beiden aktiven Rulesets für diesen Kampf. "Melee Mayhem" bedeutet, dass Nahkampf-Monster von jeder Position aus angreifen können. "Silenced Summoners" bedeutet, dass Beschwörer keine Stärkungszauber oder Schwächungszauber geben oder Fähigkeiten gewähren/verwenden. Das Mana Cap liegt bei 58 und alle Elemente bis auf Leben dürfen für den Kampf ausgewählt werden.
Wenn du mehr über die unterschiedlichen Rulesets erfahren möchtest, dann solltest du dir den Blog von
@zephid83
anschauen.
"Melee Mayhem" and "Silenced Summoners" are the two active rulesets for this battle. "Melee Mayhem" means that melee monsters can attack from any position. "Silenced Summoners" means that summoners do not give buffs, debuffs, or grant/use abilities. The mana cap is 58 and all elements except life may be selected for combat.
If you want to learn more about the different rulesets, then you should check out the blog from
@zephid83
.

3. My Team
Wie schon in der Intro erwähnt, bleiben wir wieder beim Element Wasser. Als Summoner kommt dafür nur Kelya Frendul in fragen. Ich hätte hier auch einen anderen Summoner nehmen können der weniger Mana kostet, jedoch hätte dieser Summoner nicht das maximale Level und ich könnte somit einige Karten nicht auf ihren aktuellen Level spielen. Auch wenn der Summoner keinen Vorteil fürs Team hat, spiele ich dennoch mit Kelya Frendul. Das restliche Team ist wie folgt aufgestellt:


As mentioned in the intro, we'll stick to the element of water again. As a Summoner only Kelya Frendul comes into question. I could have chosen another summoner that costs less mana, but this summoner would not have the maximum level and I would not be able to play some cards at their current level. Even though the Summoner has no advantage for the team, I still play with Kelya Frendul. The rest of the team is set up as follows:




1. Diemonshark
2. Baakjira
3. Legionnaire Alvar
4. River Hellondale
5. Desintegrator
6. Coastal Sentry



4. My Strategy
"Melee Mayhem" spielt mir bei diesem Kampf voll in die Karten. Dadurch kann die Fähigkeit "Inspire" sehr gut zum Einsatz kommen. Silenced Summoner ist zwar ärgerlich, spielt aber für die weitere Auswahl des Teams keine Rolle.

Starten wir also mit Diemonshark auf der ersten Position. Er ist ein sehr guter Tank, kann einiges Einstecken und ist selbst sehr angriffsstark mit seinen 4 Melee Attacken. Auf Postition zwei wird Bakjira an den Start gehen. Sie gibt dem gesamten Team +1 Leben und kann sich selbst nach jeder Runde heilen.

Da Melee von überall angreifen kann ist es wichtig dem Gegner einen Debuff auf Melee Attacken zu geben. Deswegen spielt Legionnaire Alvar auf der dritten Position. Der Star der Woche spielt auf Position 4.

Weiter geht es mit Disintegrator auf Position 5. Er gibt dem Gegner einen weiteren Melee Debuff. Zu Guter letzt spielt Coastal Sentry auf der letzten Position. Sie ist extrem stark durch ihren doppelten Angriff. Somit macht sie jede Runde 10 Melee Schade, was extrem gut ist.

Ich hoffe, dass der Gegner sein Team ebenfalls mit vielen Melee Monstern aufstellt und somit gleich einen doppelten Debuff kassiert. Um das herauszufinden müssen wir den Kampf starten. Das Team ist bereit, es kann also los gehen.
"Melee Mayhem" plays right into my hands in this fight. This allows the ability "Inspire" to be used very well. Silenced Summoner is annoying, but it doesn't matter for the further selection of the team.

So let's start with Diemonshark in the first position. He is a very good tank, can take a lot of punishment and is very strong with his 4 Melee attacks. On position two Bakjira will start. She gives +1 life to the whole team and can heal herself after every round.


Since Melee can attack from everywhere it is important to give the opponent a debuff on Melee attacks. That's why Legionnaire Alvar plays on the third position. The star of the week plays on position 4.

Disintegrator continues at position 5, giving the opponent another melee debuff. Last but not least, Coastal Sentry plays at the last position. It is extremely strong because of its double attack. So she makes 10 Melee Shame every turn, which is extremely good.


I hope that the opponent sets up his team with a lot of Melee monsters as well, so he gets a double debuff right away. To find out, we need to start the fight. The team is ready, so we're good to go.

5. The Battle
Der Kampf wurde im modern Format in der Diamond III Liga ausgetragen. Der Gegner hat sich ebenfalls für das Element Wasser entschieden. Jedoch spielt er das Element in Kombination mit den Drachen.


The fight was held in the modern format in the Diamond III league. The opponent has also chosen the element of water. However, he plays the element in combination with the dragons.



Round 1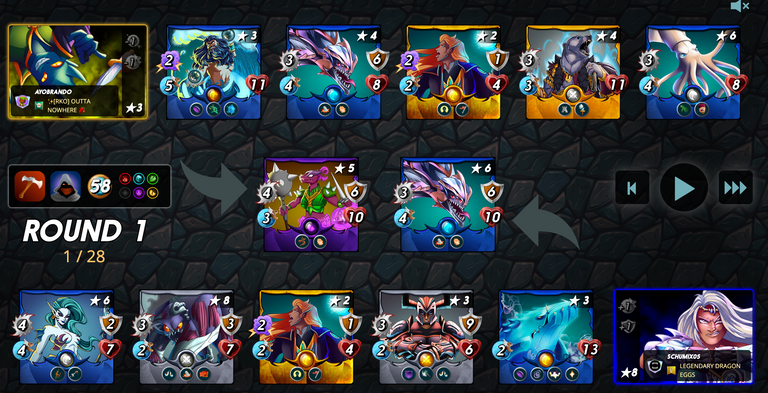 Round 2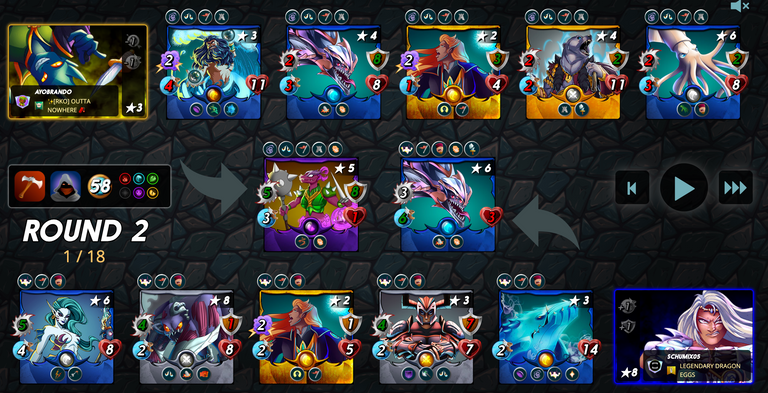 Round 3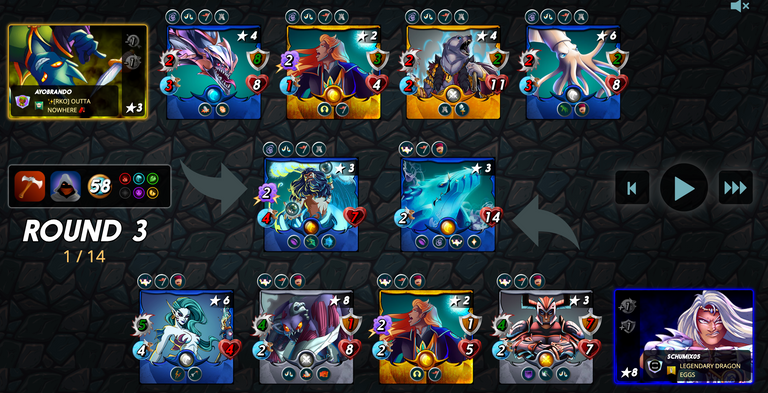 Round 4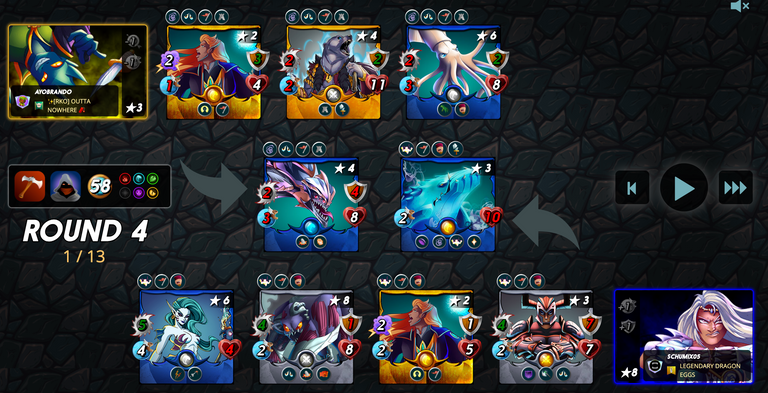 Round 5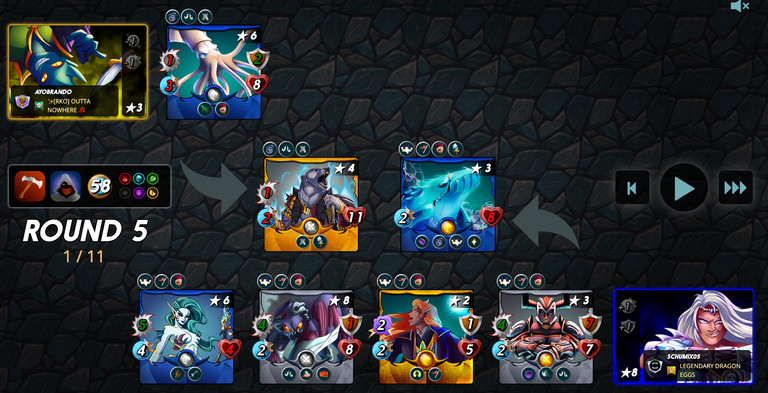 6. Battle Result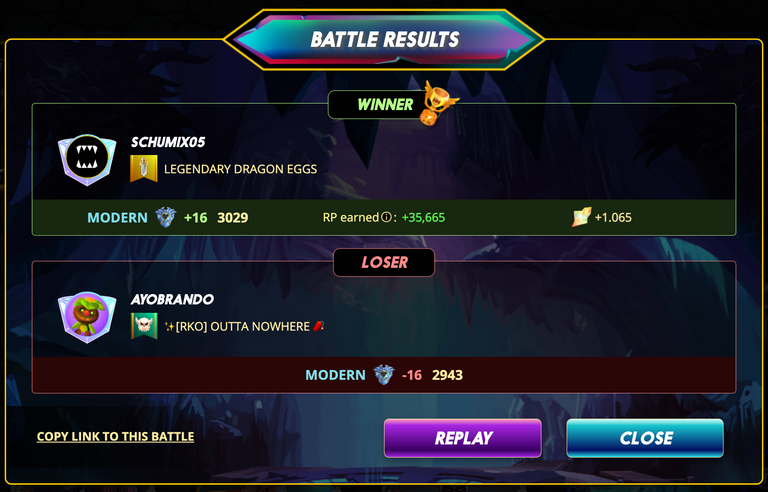 7. Conclusion
Es war ein sehr guter Kampf den ich nach 5 Runden für mich entscheiden konnte. Mein Team hat sehr gut zusammengearbeitet und jeder hat seinen Beitrag zum Sieg geleistet. River Hellondale hat ebenfalls sehr gut im Kampf performed. Dadurch, dass der Gegner ebenfalls mit ihm gespielt hat, wurden sowohl die Fähigkeiten als auch der Angriffsbonus etwas neutralisiert, da beide Teams mit ihm gespielt haben.
It was a very good fight which I could decide for myself after 5 rounds. My team worked very well together and everyone contributed to the victory. River Hellondale also performed very well in the fight. Due to the fact that the opponent also played with him, both the skills and the attack bonus were somewhat neutralized, since both teams played with him.

8. Battle Link
Hier
kannst du den gesamten Kampf sehen.
Here
you can see the entire battle.

9. Last Words
🙏🙏🙏 Danke für deine Interesse und dass du dir die Zeit genommen hast meinen Beitrag zu lesen. Bis zum nächsten Mal bei der "social media challenge".
Wenn du Splinterlands noch nicht spielst und es gerne ausprobieren möchtest, dann kannst du gerne diesen
Link
benutzen. Für dich ändert sich dabei nichts, und mir würdest du damit etwas helfen.
🙏🙏🙏 Thank you for your time and for reading this post. Stay tuned for the next social media challenge.
If you are not playing Splinterlands and you want to try it, i would be happy if you would use this
referal link
. It wouldn't change anything for you but it would help me.
---
Disclaimer:
Alle Bilder gehören Splinterlands.
All pictures belong to Splinterlands.
---
---