Watercolor on ordinary paper / Splinterlands Art Contest Week 216 / Runemancer Florre / Eng- Esp
Splinterlands Art Contest Week 216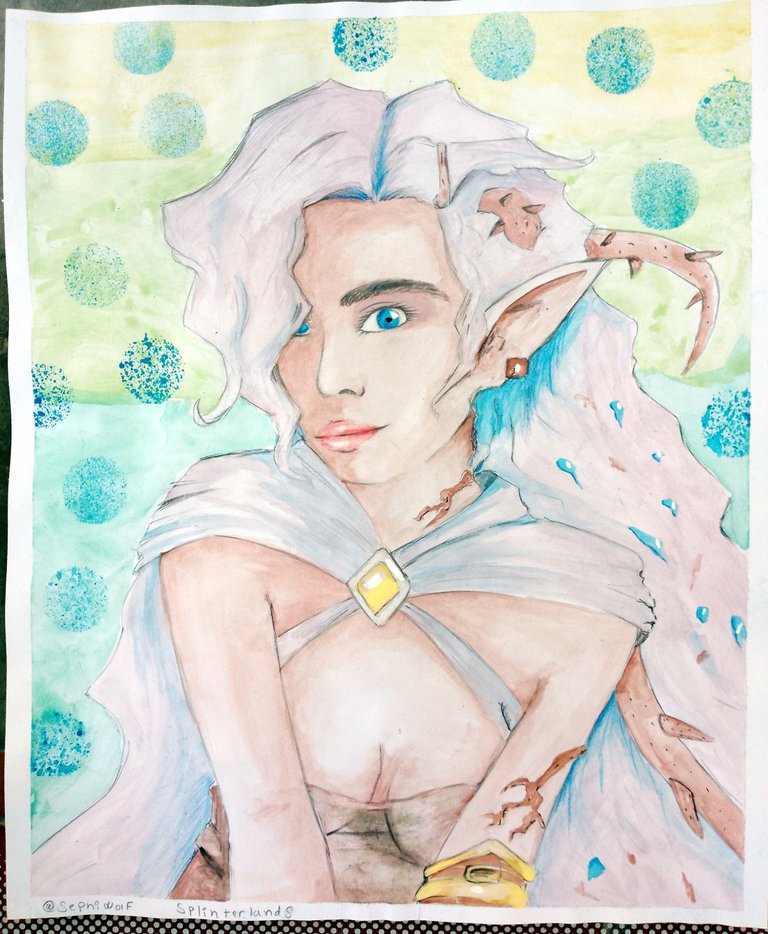 English
Greetings my dear readers, I hope you are very well. This week my presentation is completely different from the previous ones, a painting on a 34X28 CM canvas, watercolor tablet, pencil and paints.
For which I was inspired by the character Runemancer Florre from splinerlands.
It was a good opportunity to experiment with new materials and learn new possibilities.
Without further ado, let's get started!
Español
Saludos mis Apreciados lectores, espero estén muy bien. Esta semana mi presentación es completamente diferente a las anteriores, una pintura sobre un lienzo de 34X28 CM, pastilla de acuarela, lápiz y pinturas.
Para las cuales me inspire en el personaje Runemancer Florre de splinerlands.
Fue una buena oportunidad para experimentar con materiales nuevos y aprender nuevas posibilidades.
Sin más que decir empecemos!

Reference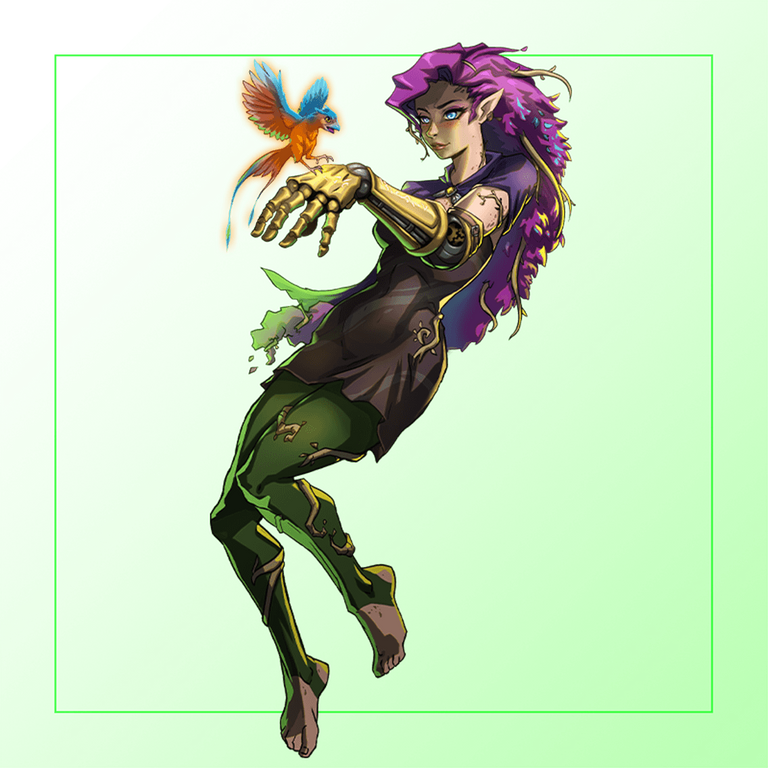 First steps
Before we start let's see my new drawing blog, it was really not very expensive, about $1.20 dollars, it has somewhat large sheets for my taste, so it will be a challenge to adapt, it has two types of sheets
it has two different types of sheets, thick and thin.
Antes de iniciar veamos mi nuevo blog de dibujo, realmente no fue muy costoso, un aproximado de 1.20 $ dólares, tiene hojas algo grandes para mi gusto, por lo que será un reto adaptarme, tiene dos tipos de hojas
diferentes intercaladas entre gruesa y delgada.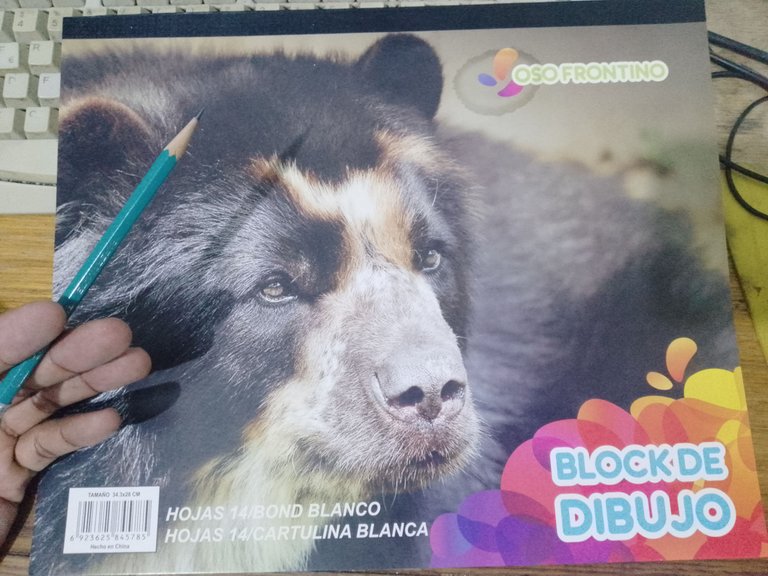 Normally, I usually rest my canvases on glass, I like it very much, because it is a flat surface without defects that affect the drawing. In this opportunity I didn't have one of that size, but after a search I was able to find one that served my purpose.
After attaching the paper in its place I create the first strokes with 3H pencil, the paper of this blog allows to erase the graphite without much effort, it is really what I liked the most of these sheets.
Normalmente, suelo apoyar mis lienzos sobre vidrio, me gusta mucho, pues es una superficie plana y sin defectos que afecten el dibujo. En esta oportunidad no tenía uno de ese tamaño, pero después de una búsqueda pude encontrar uno que me sirviera para mi propósito.
Después de acoplar el papel en su lugar voy creando los primeros trazos con lapiz 3H, el papel de este blog permite borrar el grafito sin mucho esfuerzo, realmente es lo que más me gusto de estas hojas.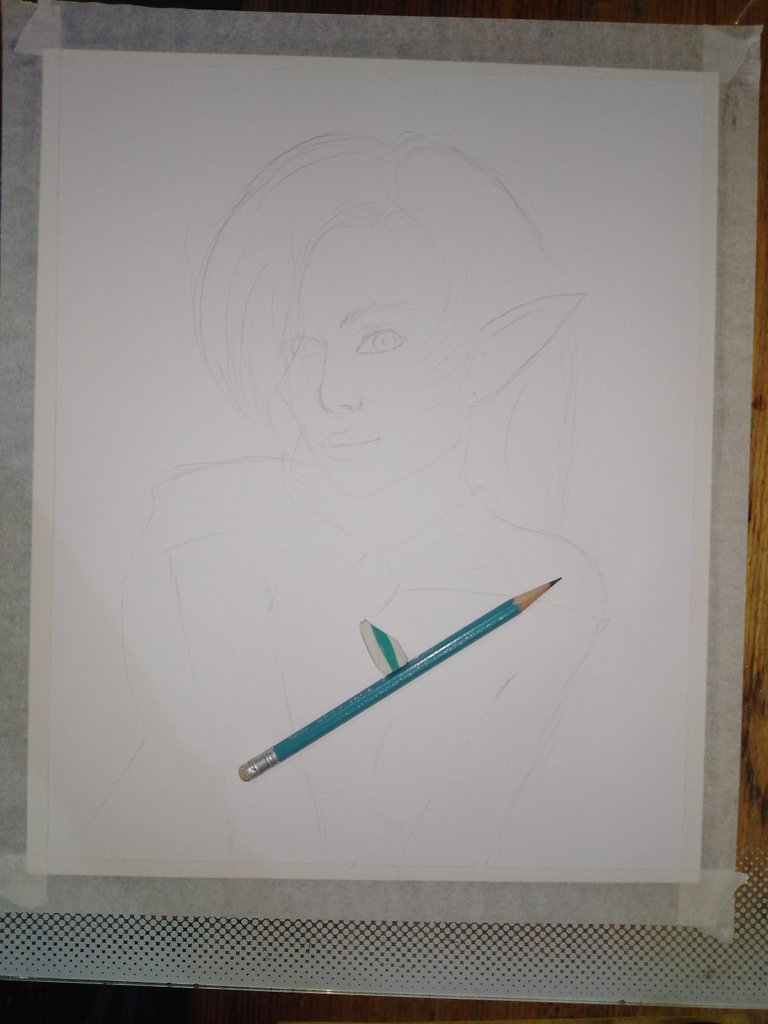 The 3H pencil is very good to make this type of sketch, I erase the parts that I will not use or modify, to clean I use a goose feather as a brush, the reason for this is to avoid blowing with the mouth or remove with the hand and thus not to stain the canvas.
You can see the graphite accumulated over time in the pen, that's why it has that color.
El lápiz 3H es muy bueno para hacer este tipo de boceto, voy borrando las partes que no usaré o modifico, para limpiar uso una pluma de ganso a modo de cepillo, el motivo de esto es evitar soplar con la boca o retirar con la mano y así no manchar el lienzo.
Se puede apreciar el grafito acumulado con el tiempo en la pluma, por eso tiene ese color.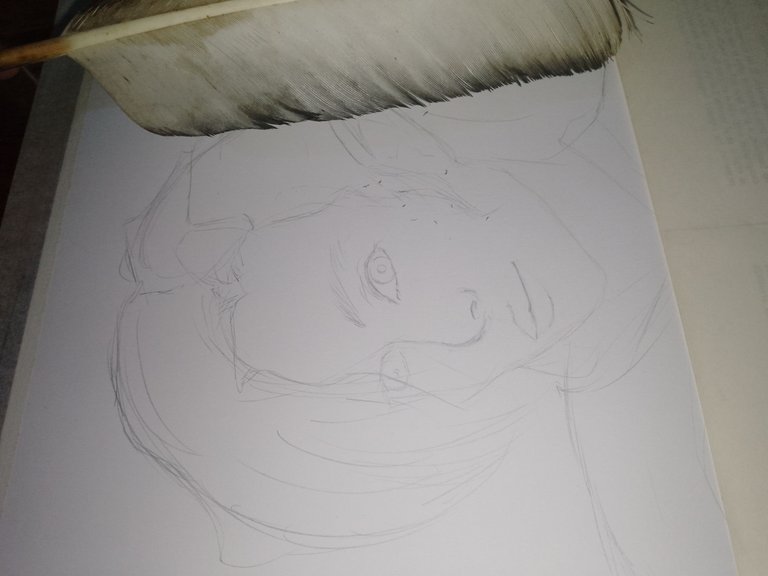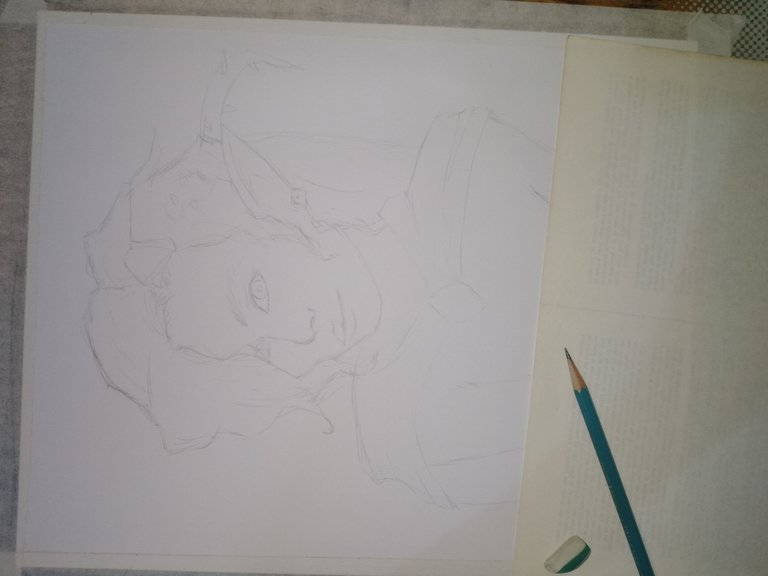 After finishing the sketch with 3h pencil it is the turn to give more detail and highlight the sketch with a graphite pencil B
Después de terminar el boceto con lápiz 3h es el turno de dar más detalle y resaltar el boceto con un lápiz de grafito B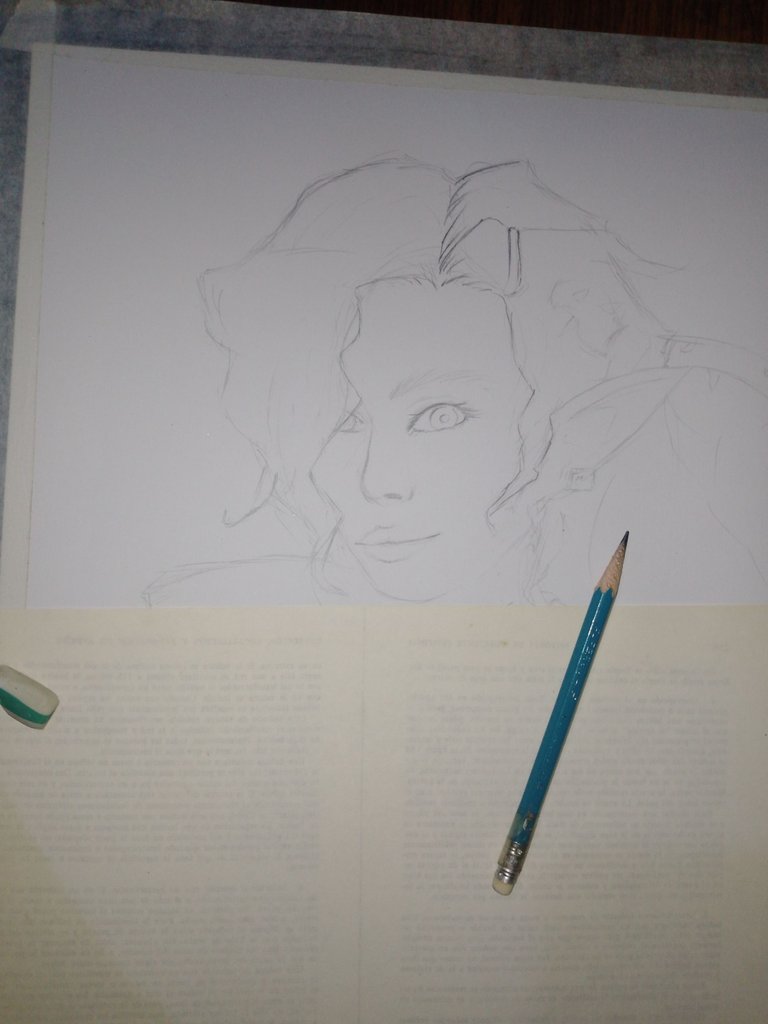 Thanks to the graphite pencil B now the sketch is much more visible, I am adding more details.
Gracias al lapiz de grafito B ahora el boceto es mucho mas visible, voy agregando mas detalles.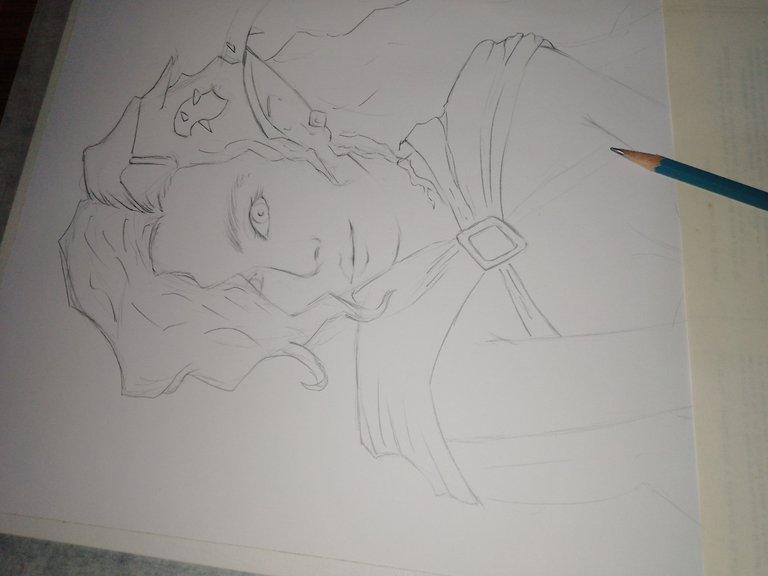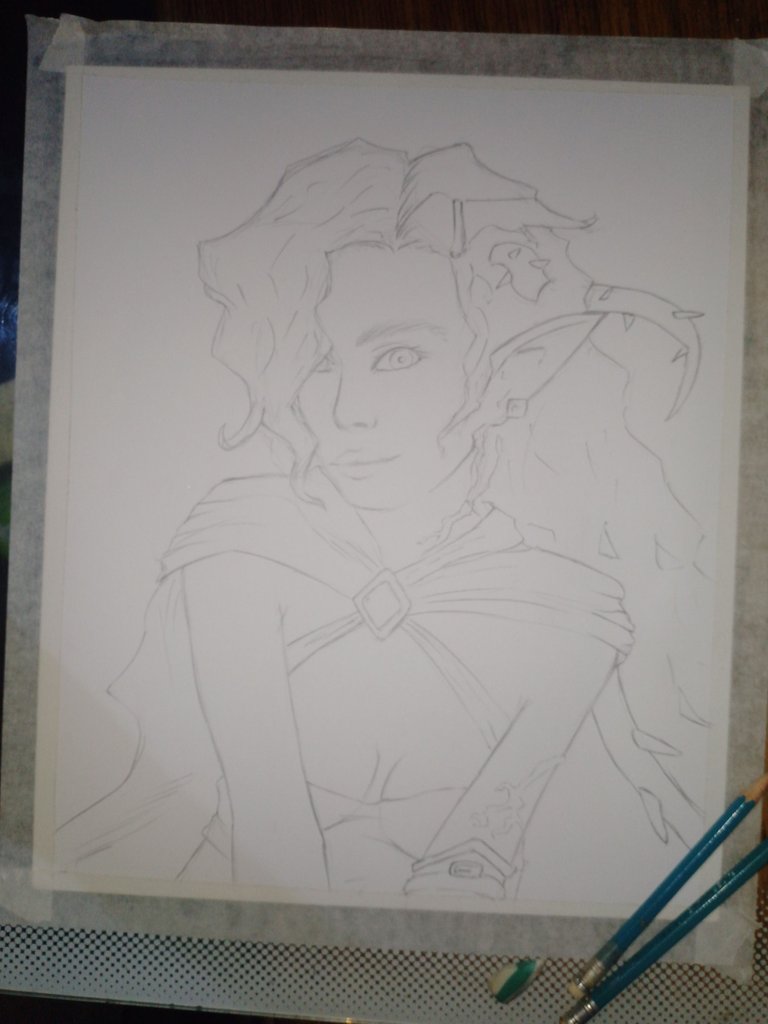 Color
For the color we will use watercolor tablets, I know, I know this paper is not the most ideal for this type of painting, but I used it before and the result can be interesting.
Para el color usaremos pastillas de acuarela, lo se, lo se esté papel no es el más ideal para este tipo de pintura, pero anteriormente lo usé y el resultado puede ser interesante.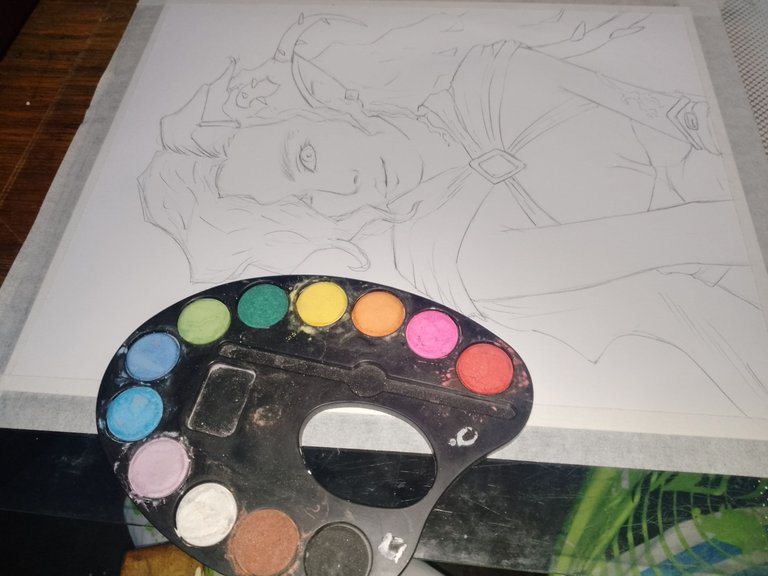 I apply a layer of watercolor paint and let it dry before continuing, for this I used the largest brush I have, number 16.
Aplico una capa de pintura acuarela y dejo secar antes de continuar, para ello usé el pincel más grande que tengo número 16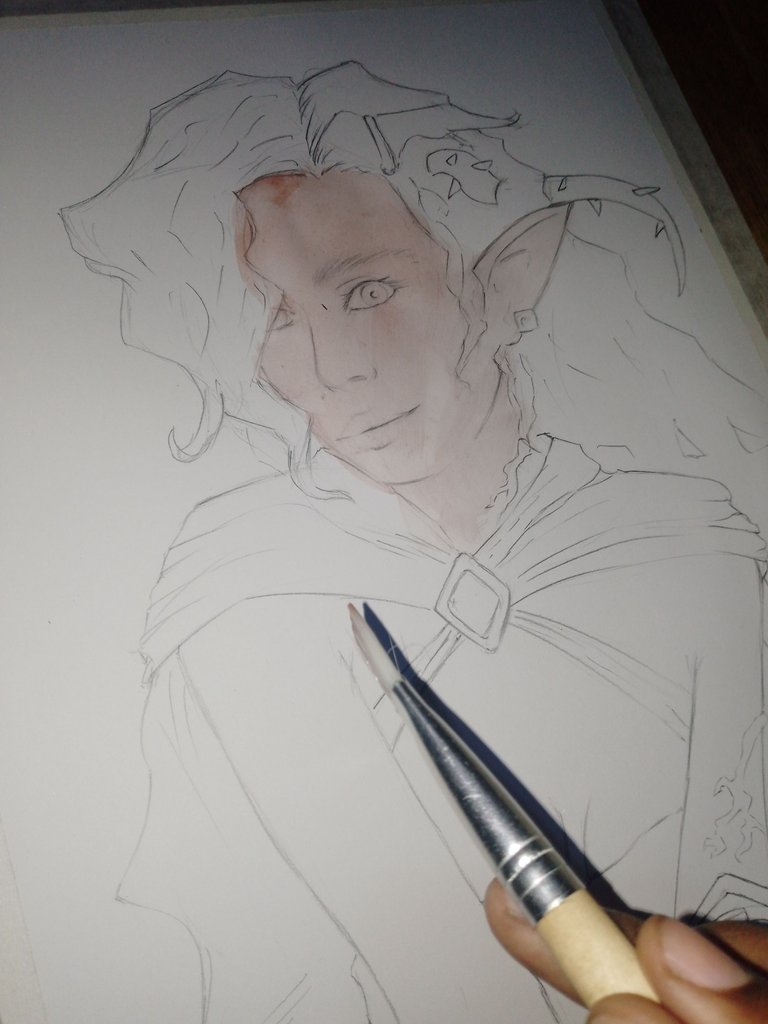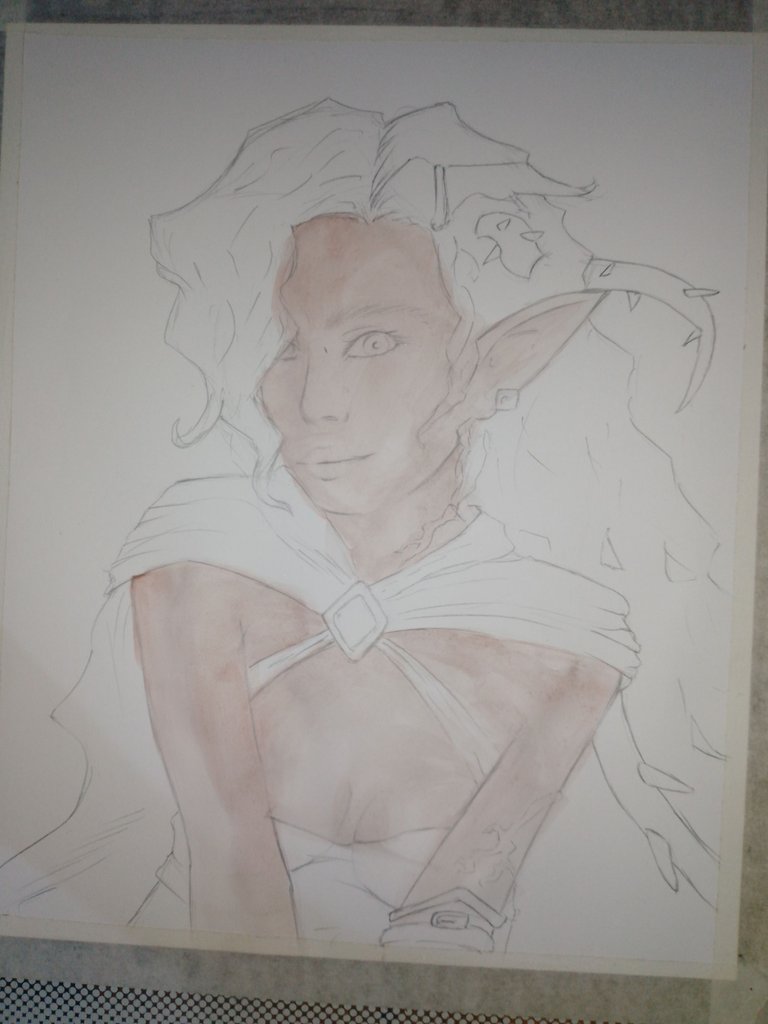 I'm not sure what name this type of brush has, but I really like it, its shape allows you to make details like shadows, to get a darker shade I make sure to use a smaller amount of water and more pigment.
No estoy seguro del nombre que tiene este tipo de pincel, pero me gusta muchísimo, su forma permite hacer detalles como las sombras, para conseguir un tono más oscuro me aseguro de usar una menor cantidad de agua y más pigmento.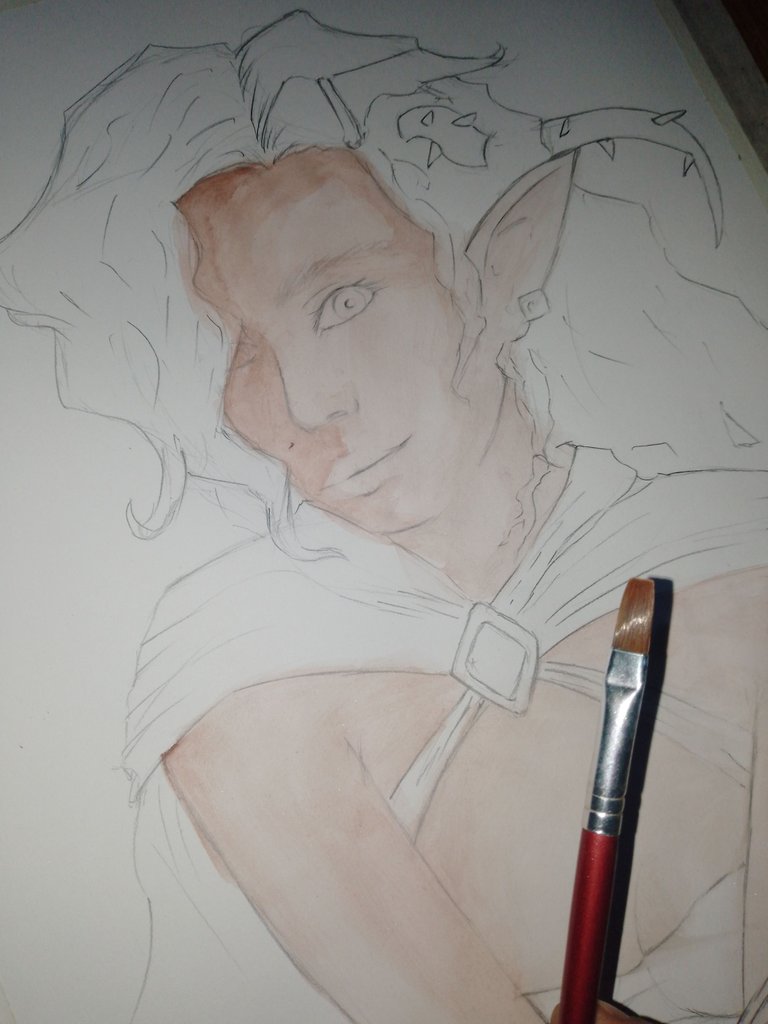 A curious thing is that this paper allows you to remove the pigment almost completely with an eraser, this is very useful when I want to get shiny or completely colorless areas.
Algo curioso este papel permite remover el pigmento casi en su totalidad con un borrador, esto es muy útil cuando quiero conseguir brillos o zonas completamente sin color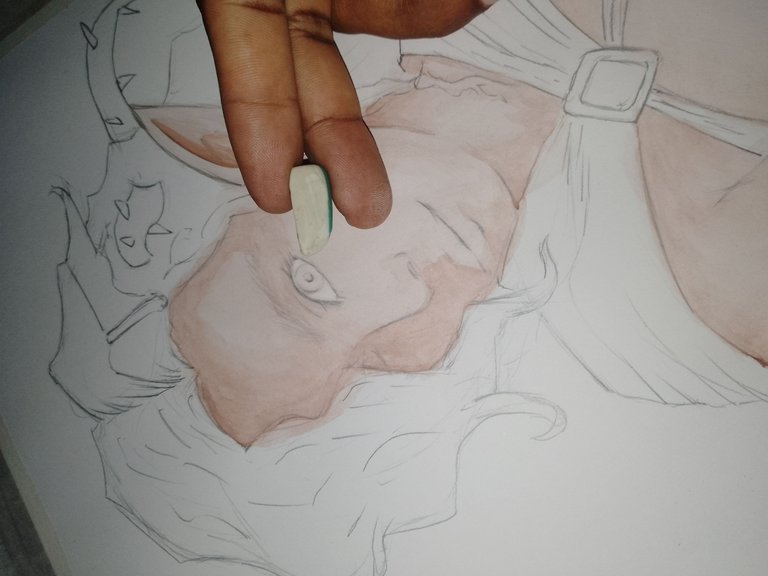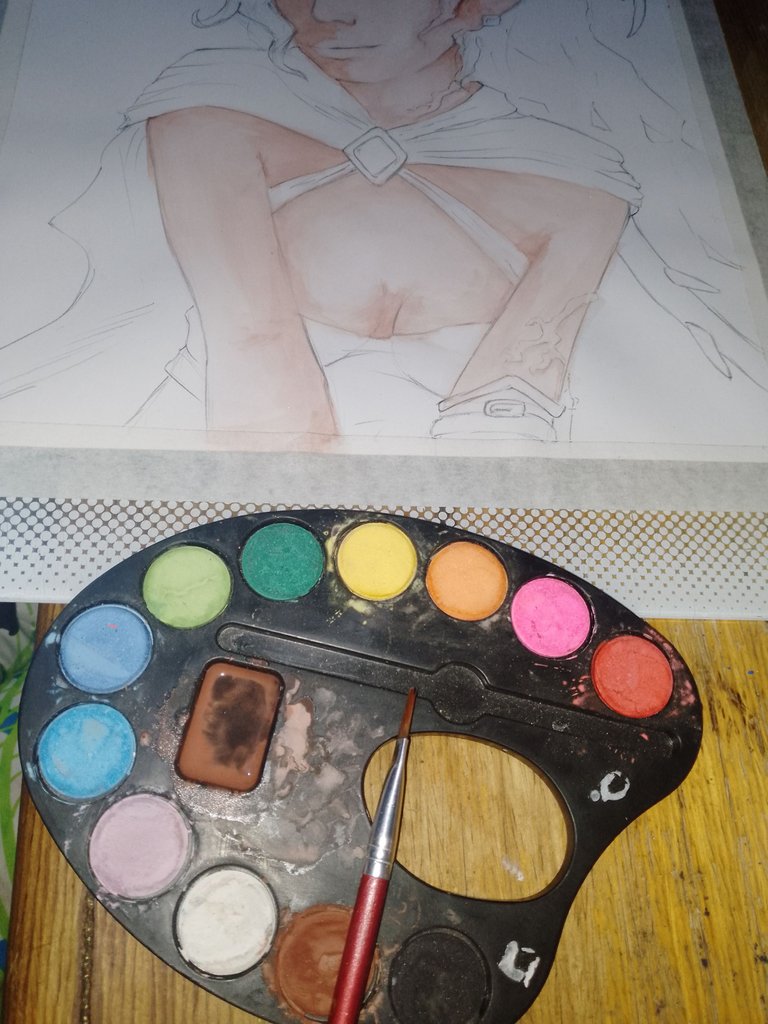 When finishing the skin I must clean the palette where the water is deposited, this is to avoid contaminating with other colors.
Al terminar la piel debo limpiar la paleta donde se deposita el agua, esto es para evitar contaminar con otros colores.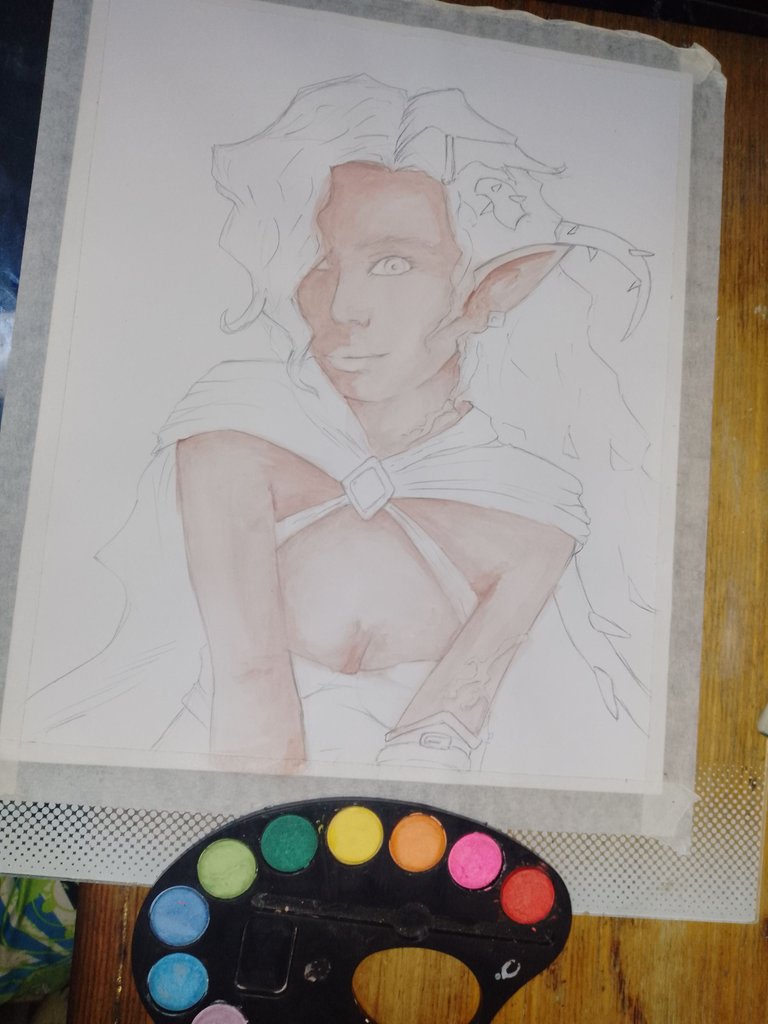 Now with the brush and the clean palette we choose the color for the hair, the process is similar to that of the skin.
Ahora con el pincel y la paleta limpia elegimos el color para el cabello, el proceso es similar al de la piel.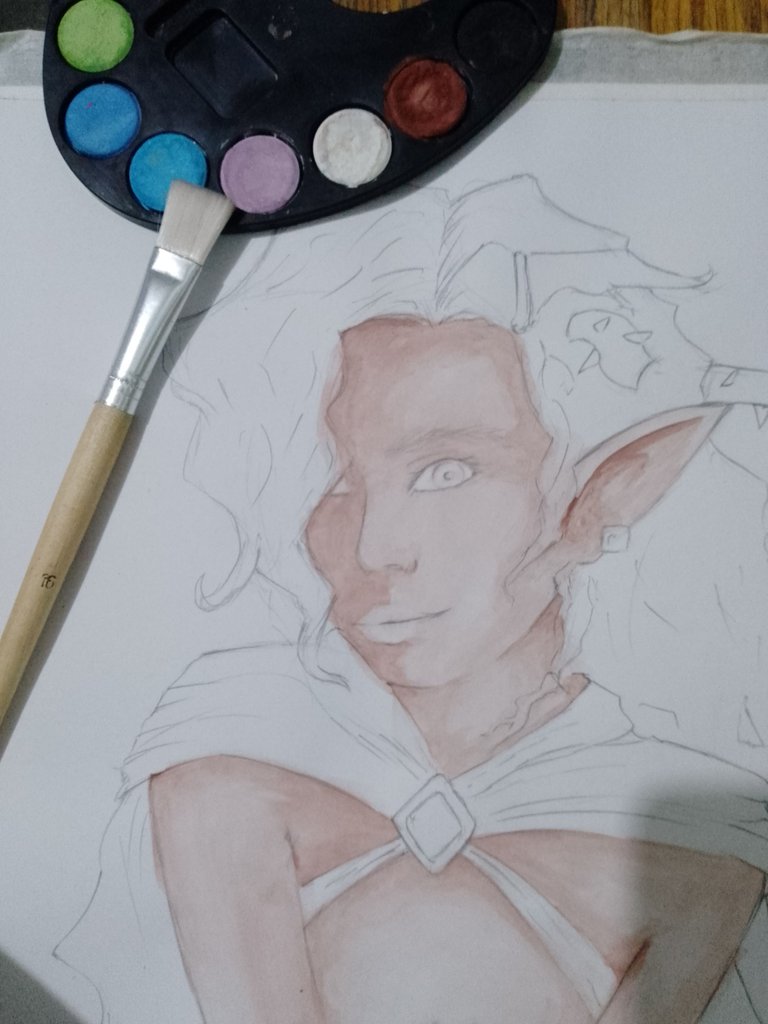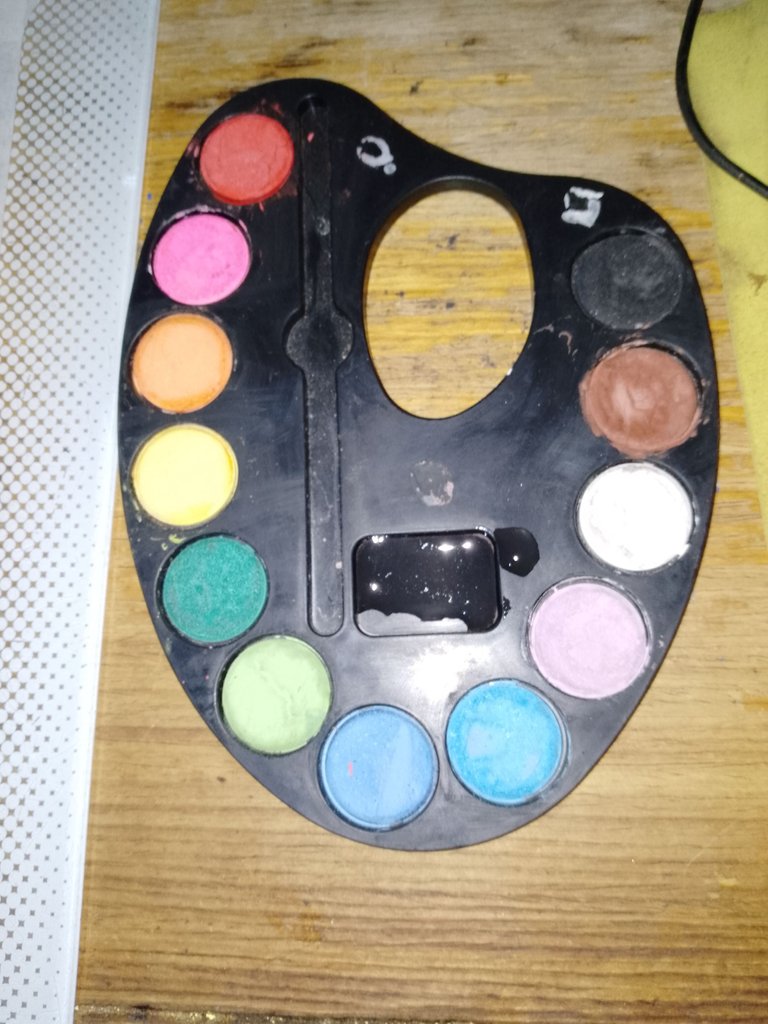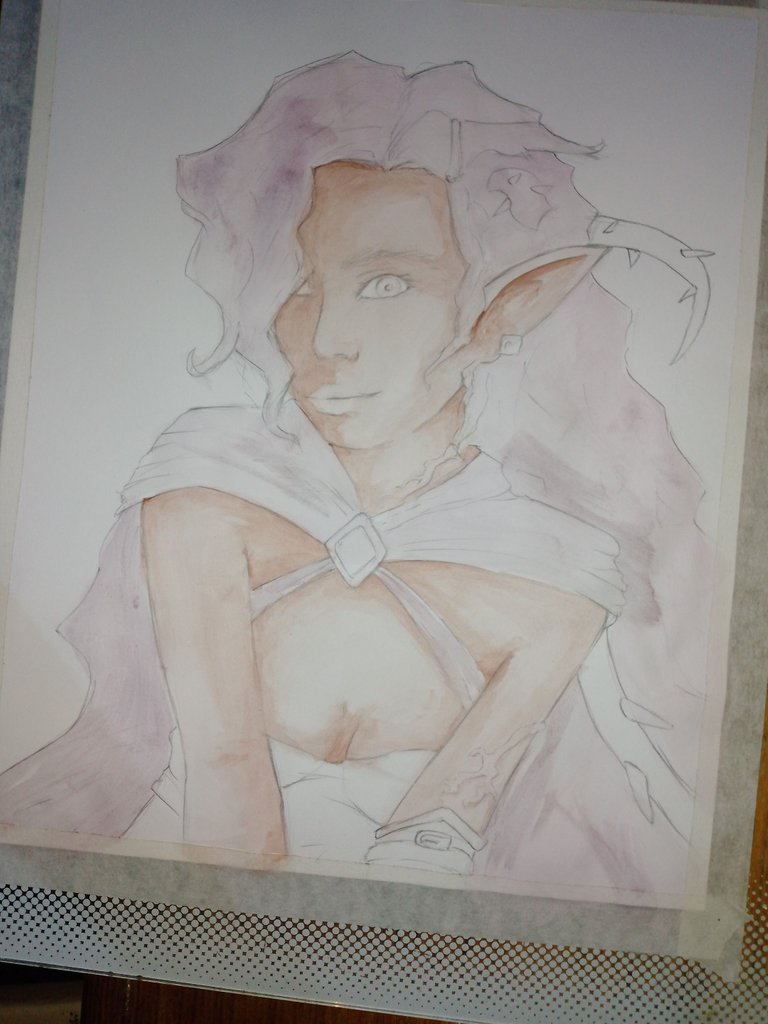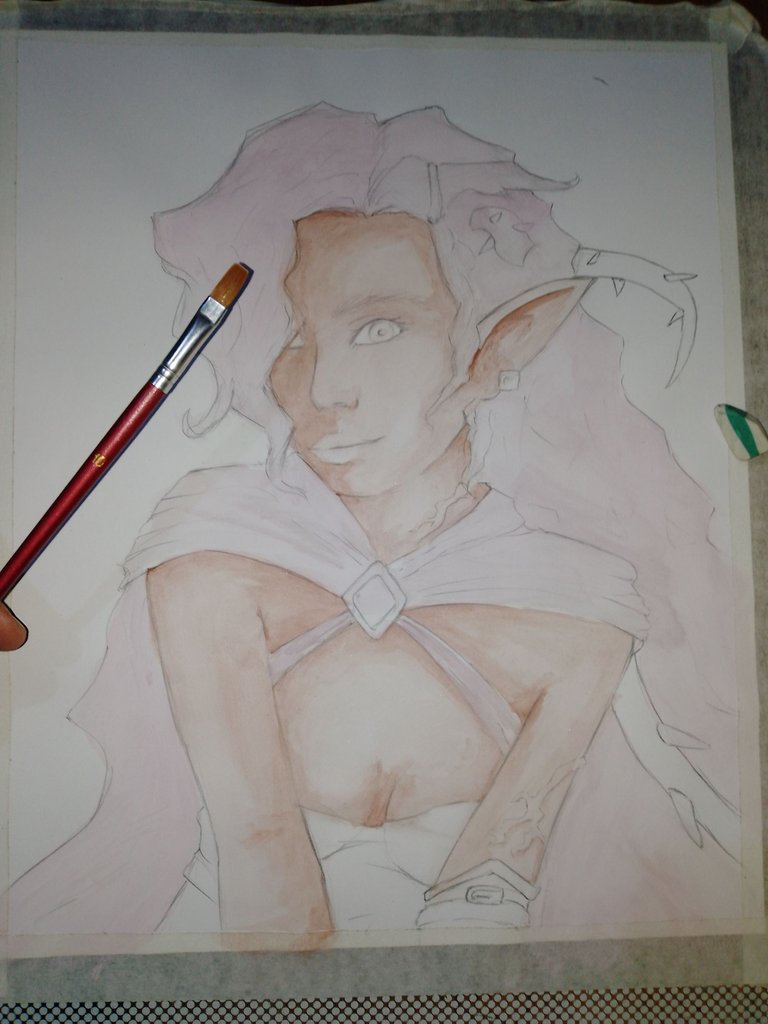 For the shadows of the hair I used a dark blue tone, after drying with the eraser I go over some shines.
Para las sombras del cabello usé un tono azul oscuro, luego de secar con el borrador voy repasando algunos brillos.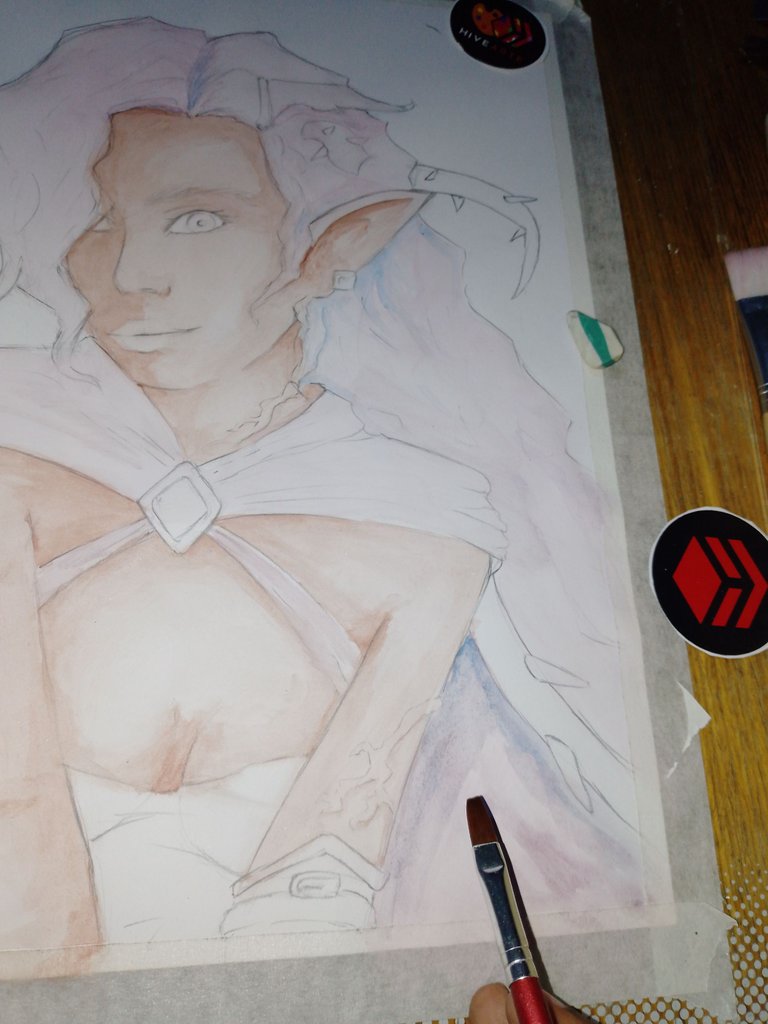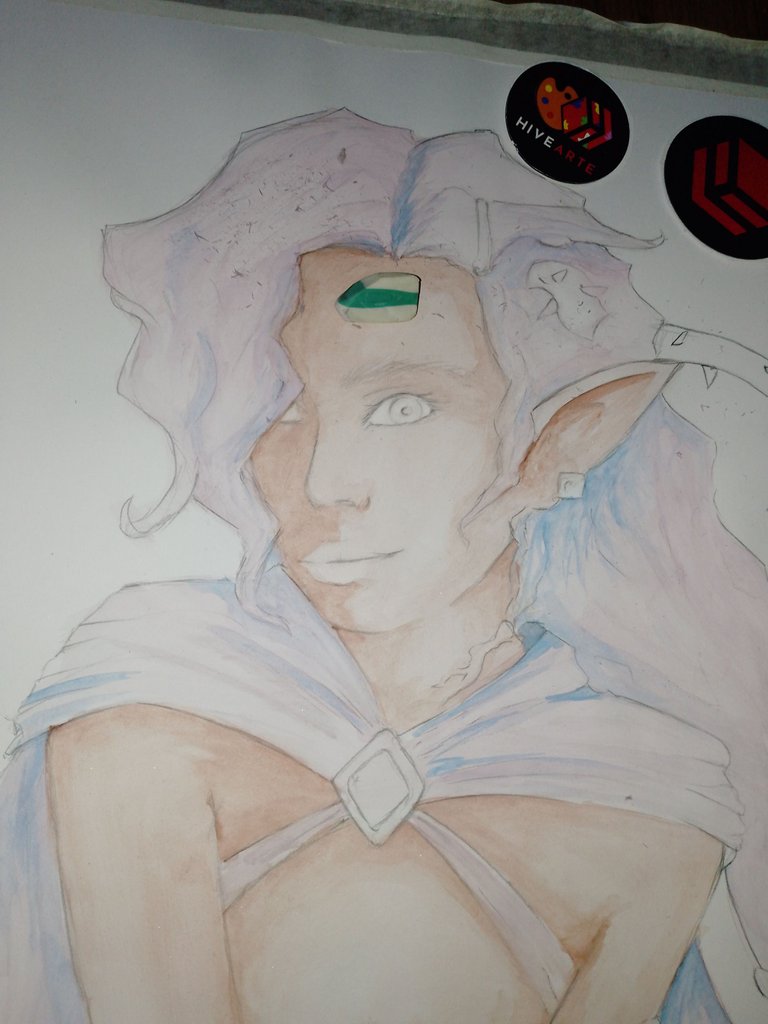 my faithful brush number 10, with it we apply more details and some lines.
mi fiel pincel numero 10, con el aplicamos mas detalles y algunas lineas.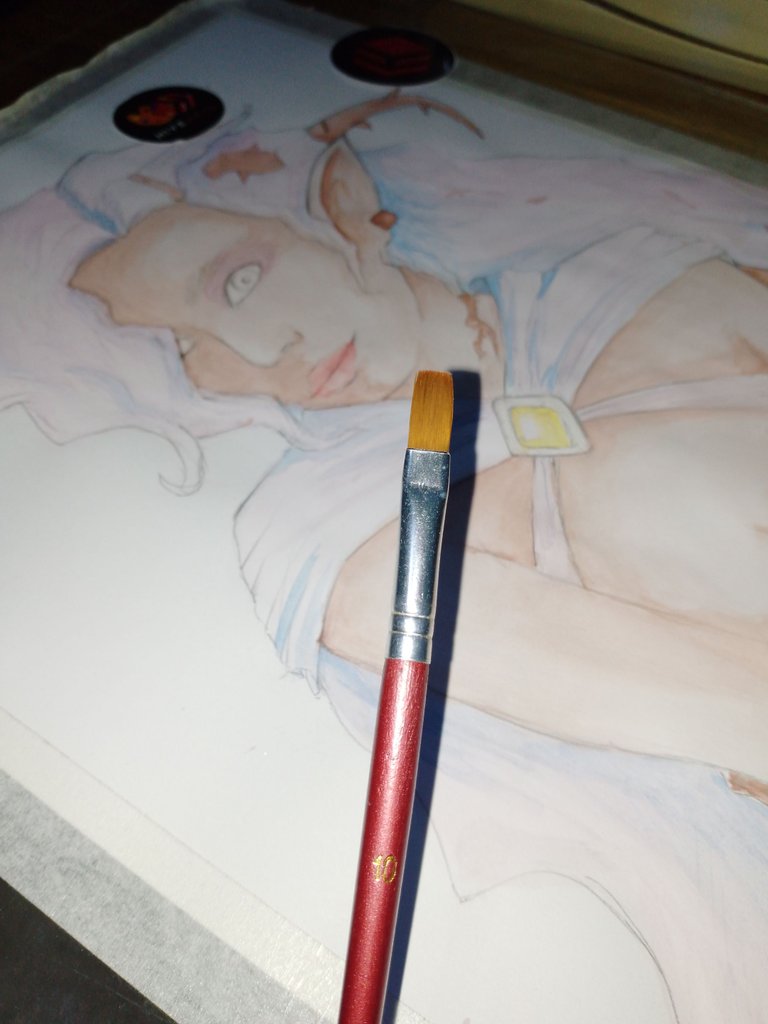 After finishing with the whole body of the character and adding more details this is the result, now we can move on to the background of the canvas.
Al terminar con todo el cuerpo del personaje y agregar más detalles este es el resultado, ahora podemos pasar al fondo del lienzo.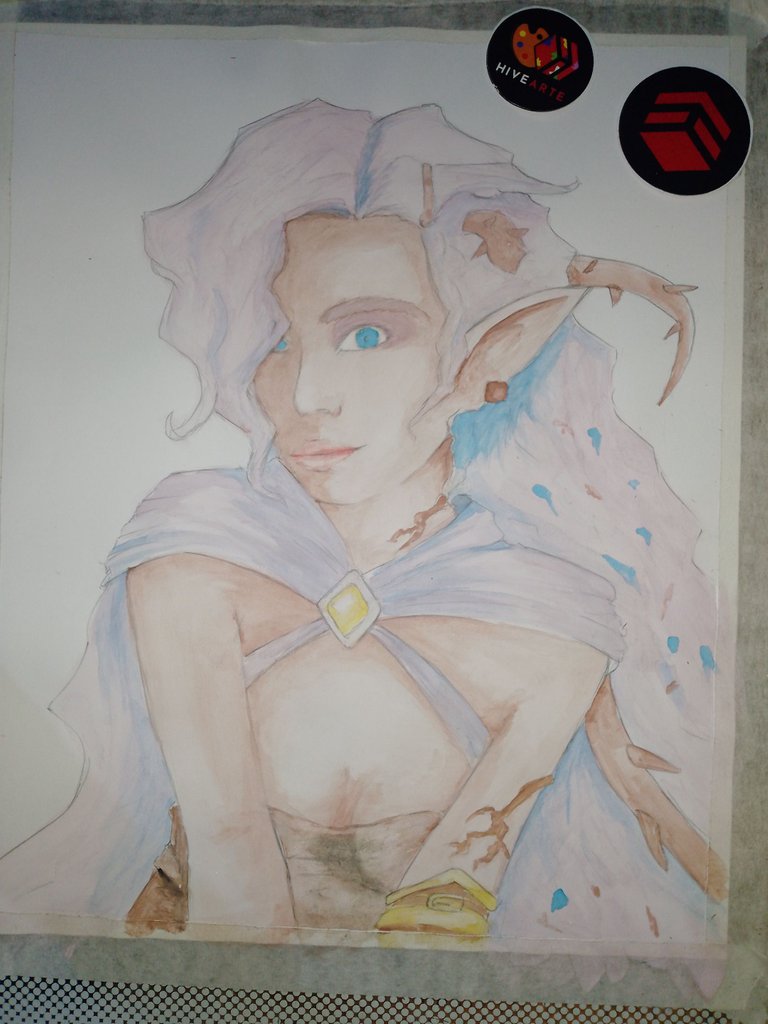 For the background I will use the color opposite to the purple tones in the chromatic circle, that would be the green tones.
We will apply them with a round brush with long strands of number 12.
Para el fondo usaré el color opuesto a los tonos púrpuras en el círculo cromático, ese sería los tonos en verde.
Los aplicaremos con un pincel redondo de hebras largas del número 12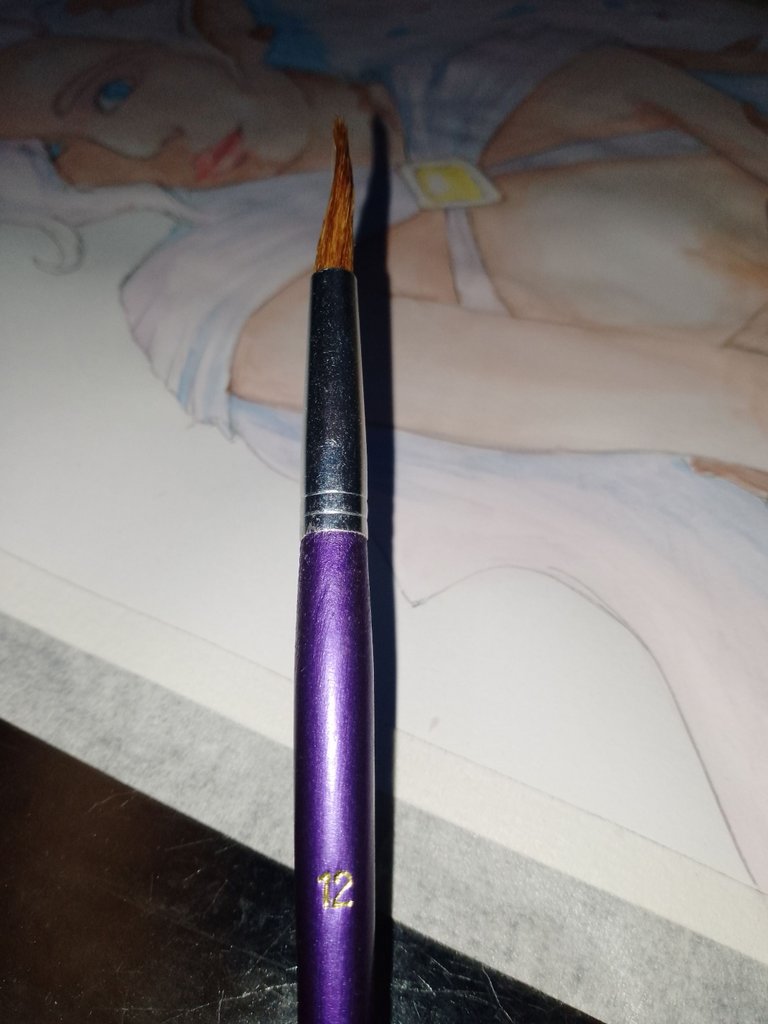 It's time to highlight the lines and some shadows, for this I will use a pencil number 3B and a gamma blue pencil color "it's the last one I have left".
Es momento de resaltar las líneas y algunas sombras, para esto usaré un lapiz del número 3B y un lapiz de color azul gamma color "es el último que me queda".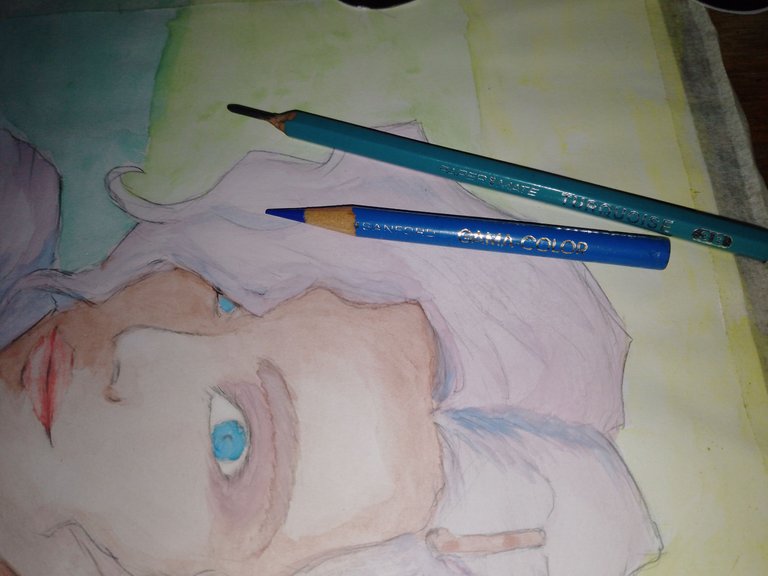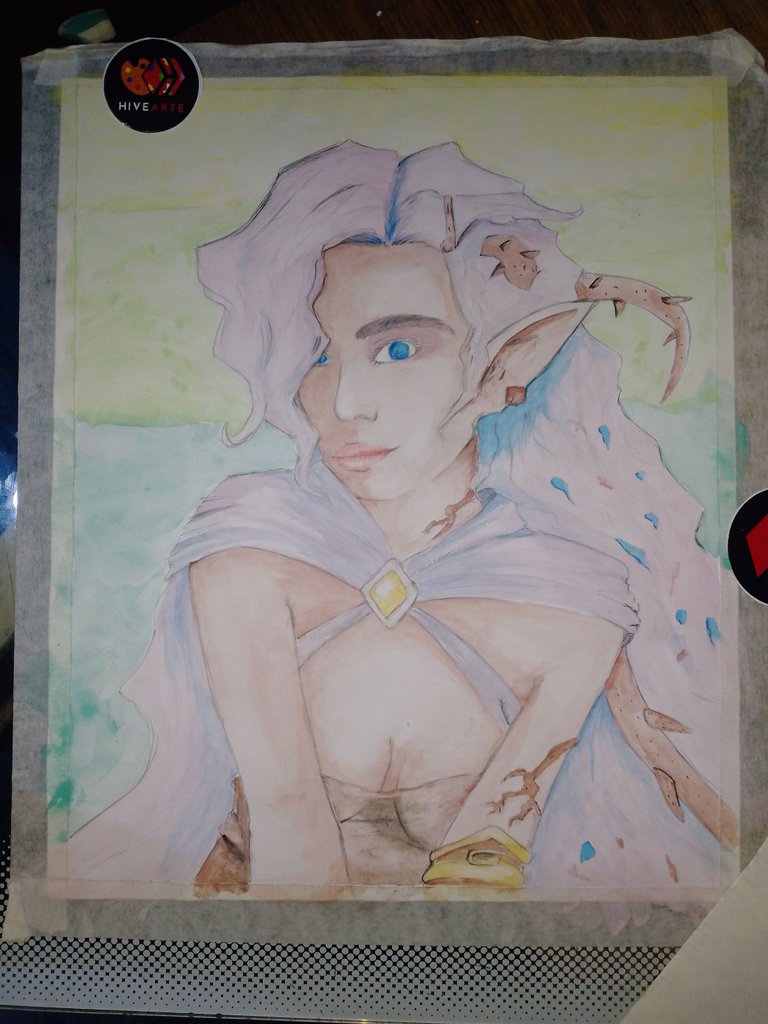 Time to apply more details with paint, I will use a round brush number 000.
Momento de aplicar más detalles con pintura, usaré un pincel redondo de número 000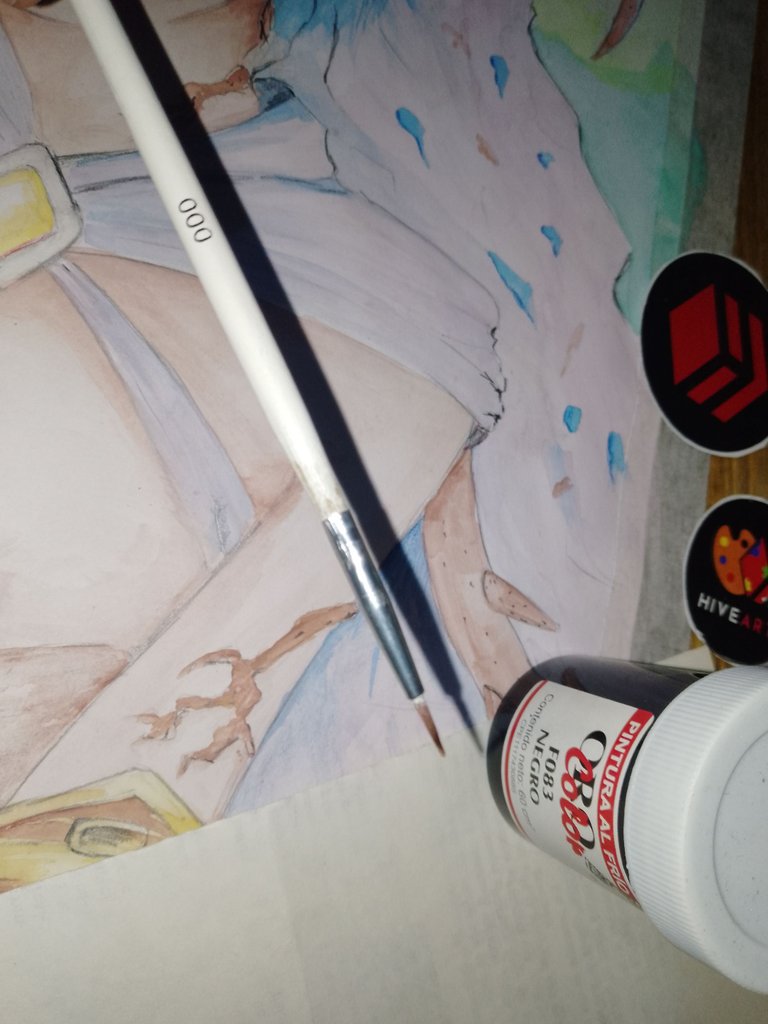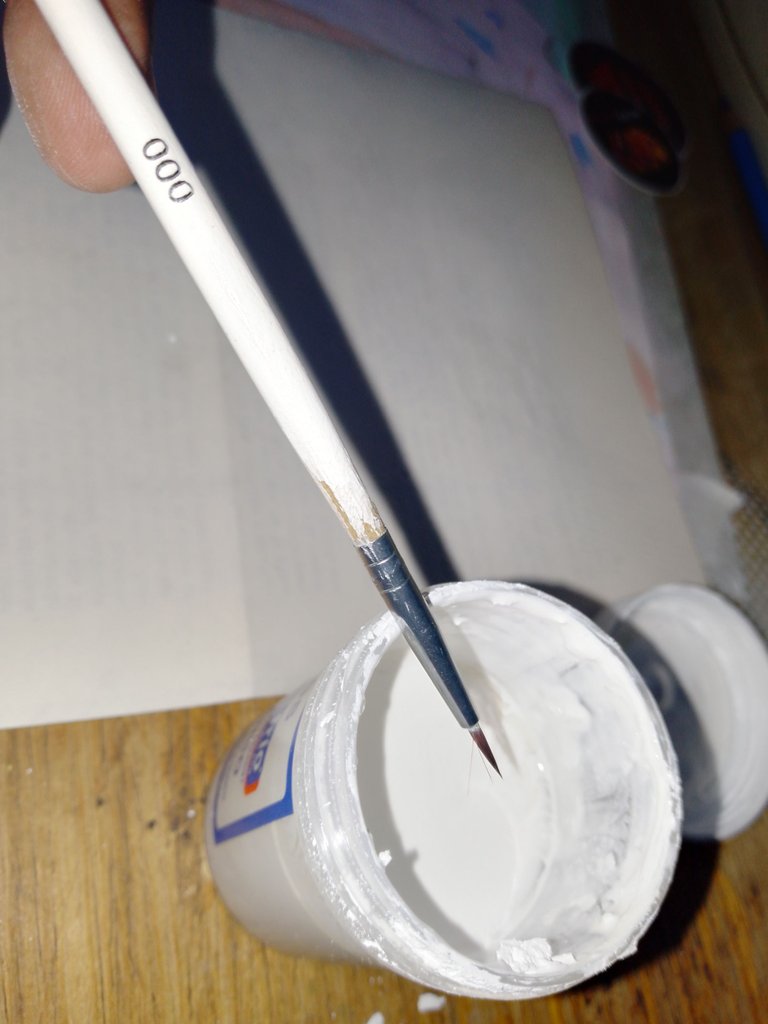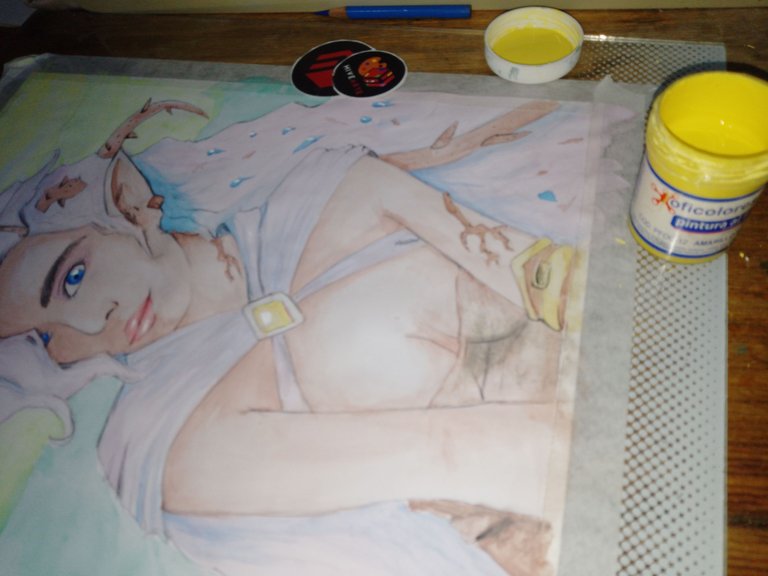 A small additional detail for the background are these spheres, which I made with paint sprinkles and a small stencil improvised with paper.
Un pequeño detalle adicional para el fondo, son estas esferas las cuales realice con chispeado de pintura y una pequeña plantilla improvisada con papel.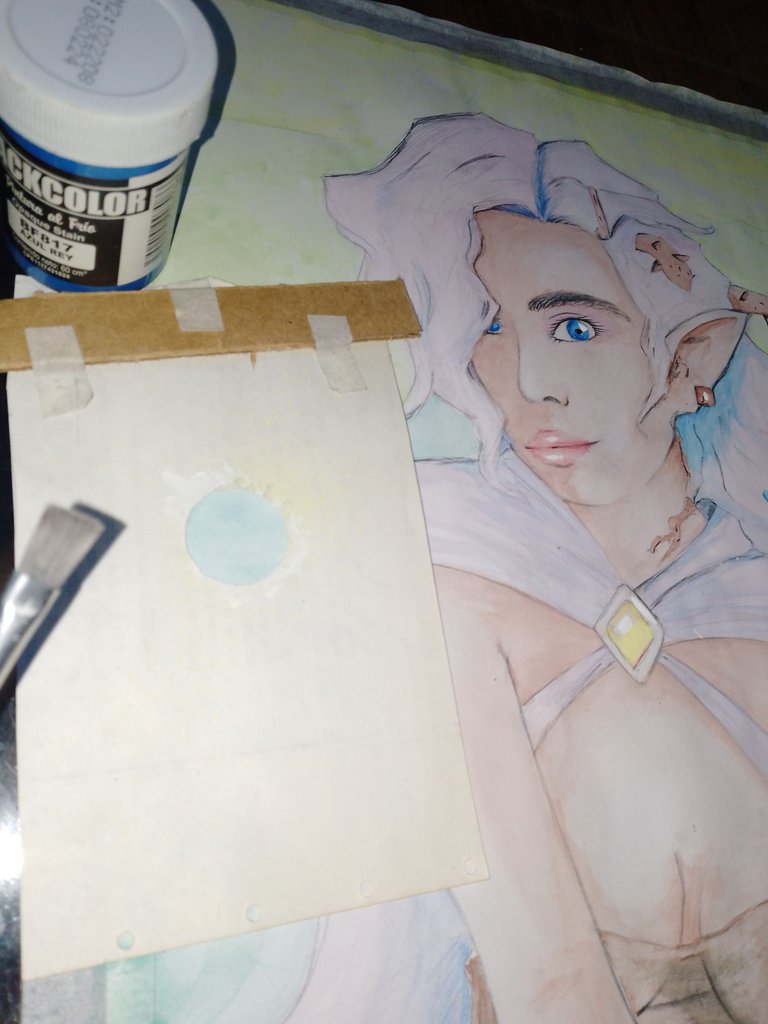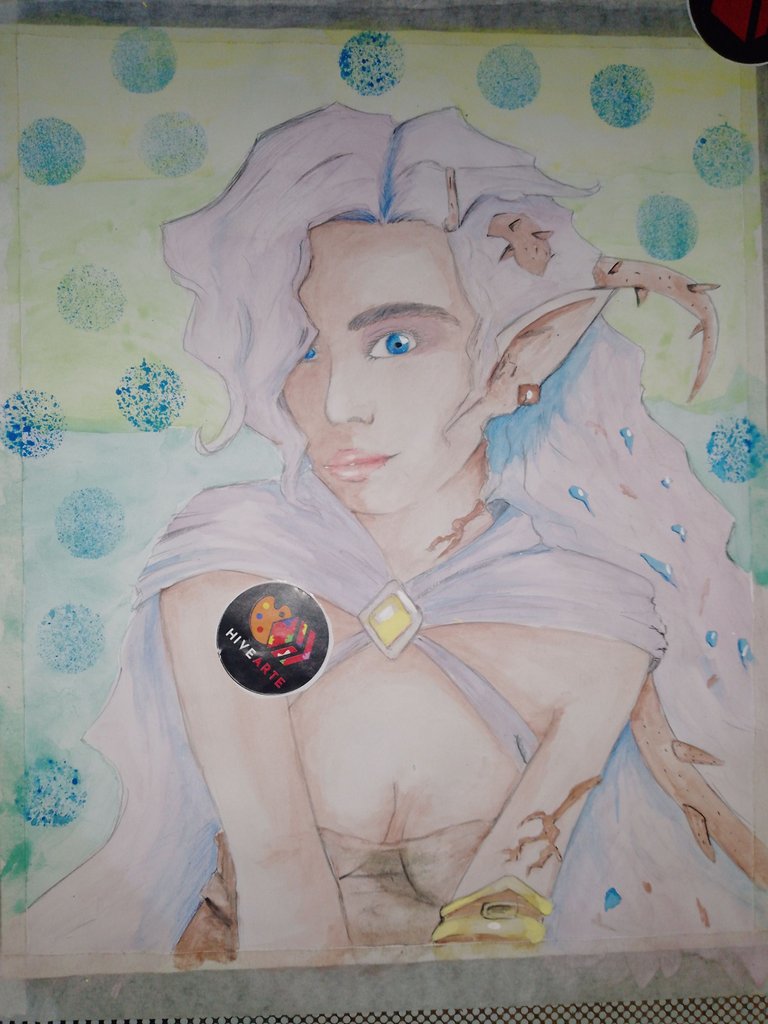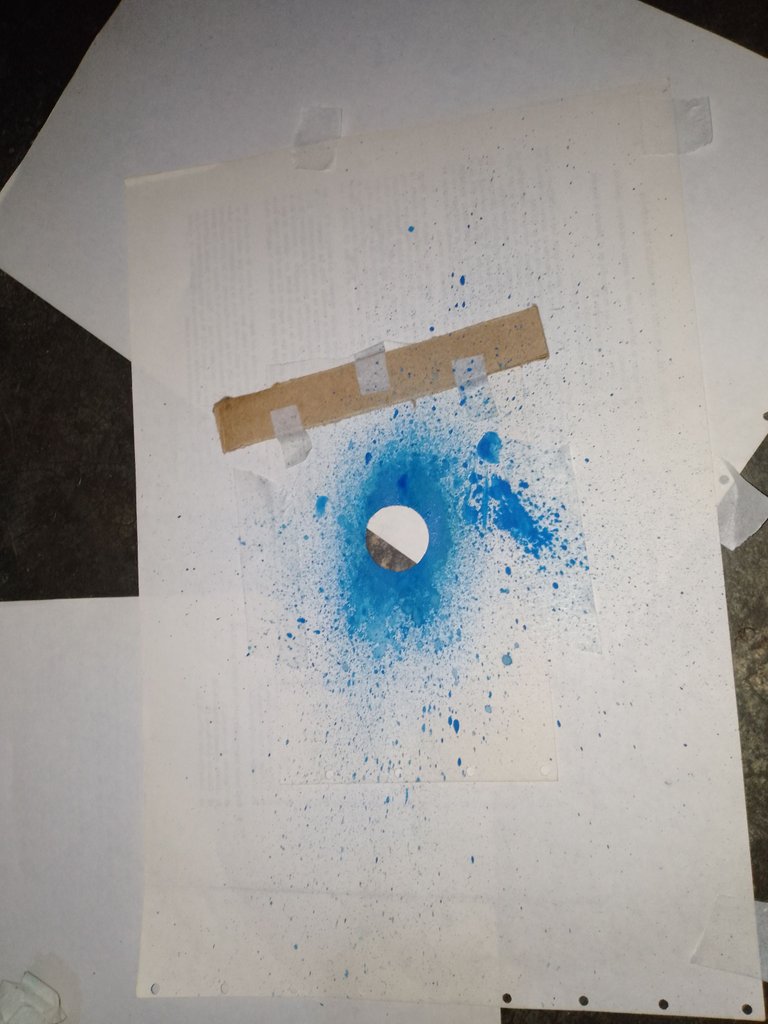 After correcting several more details we can say that this is the final result friends.
Después de corregir varios detalles más se puede decir que este es el resultado final amigos.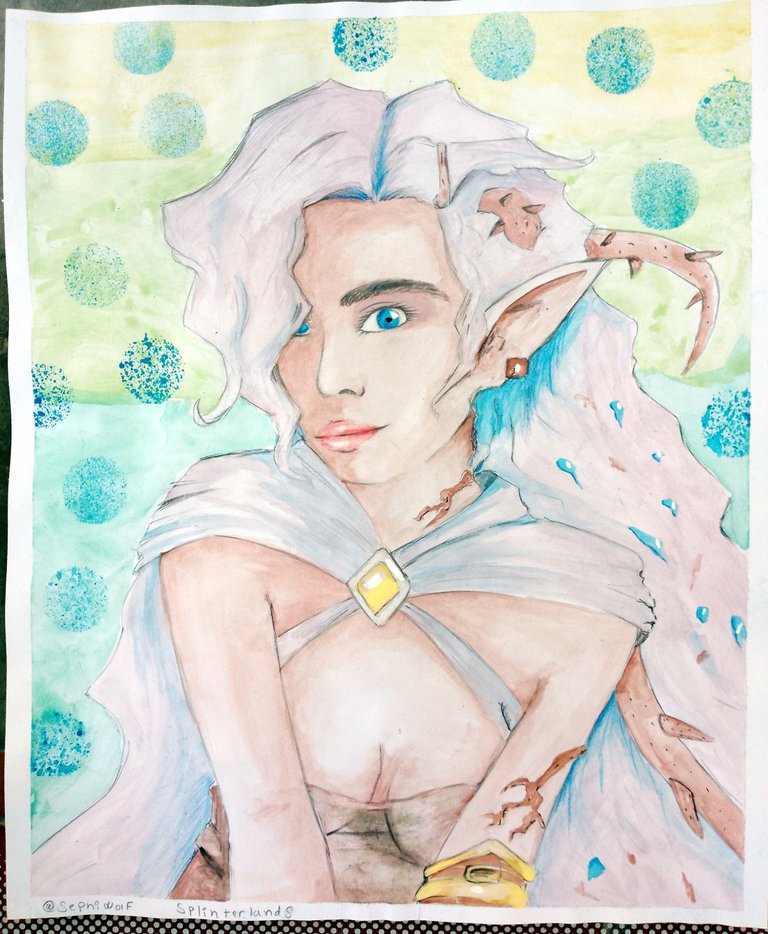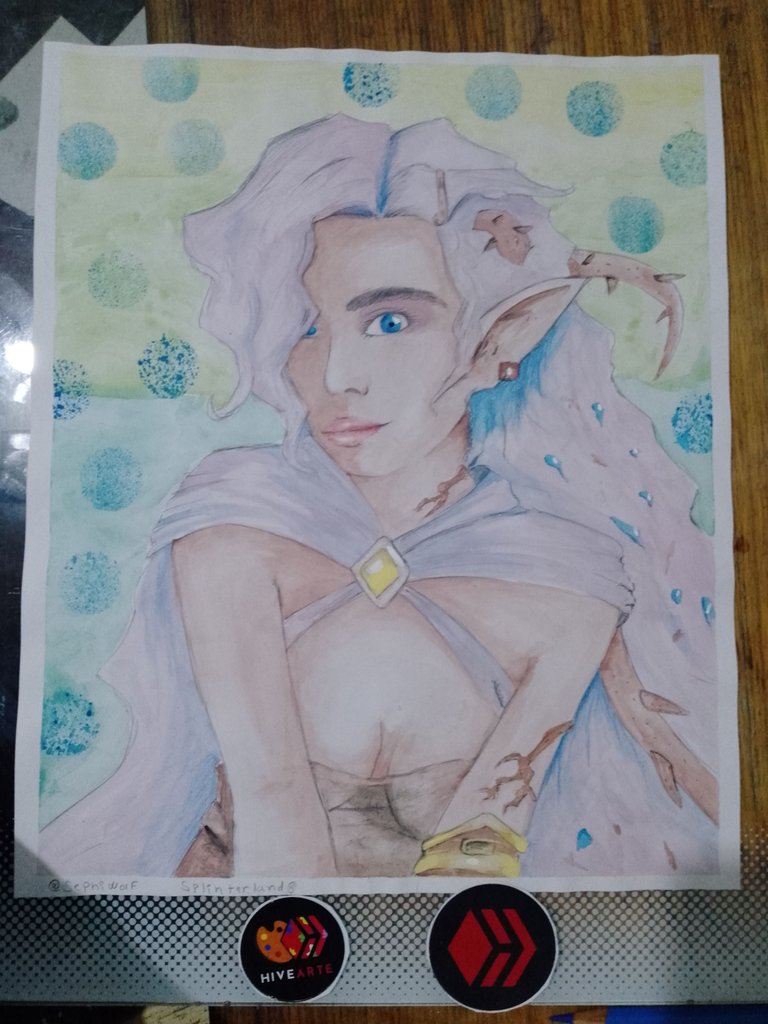 Take several pictures with different light sources.
Tome varias fotos con diferentes fuentes de luz.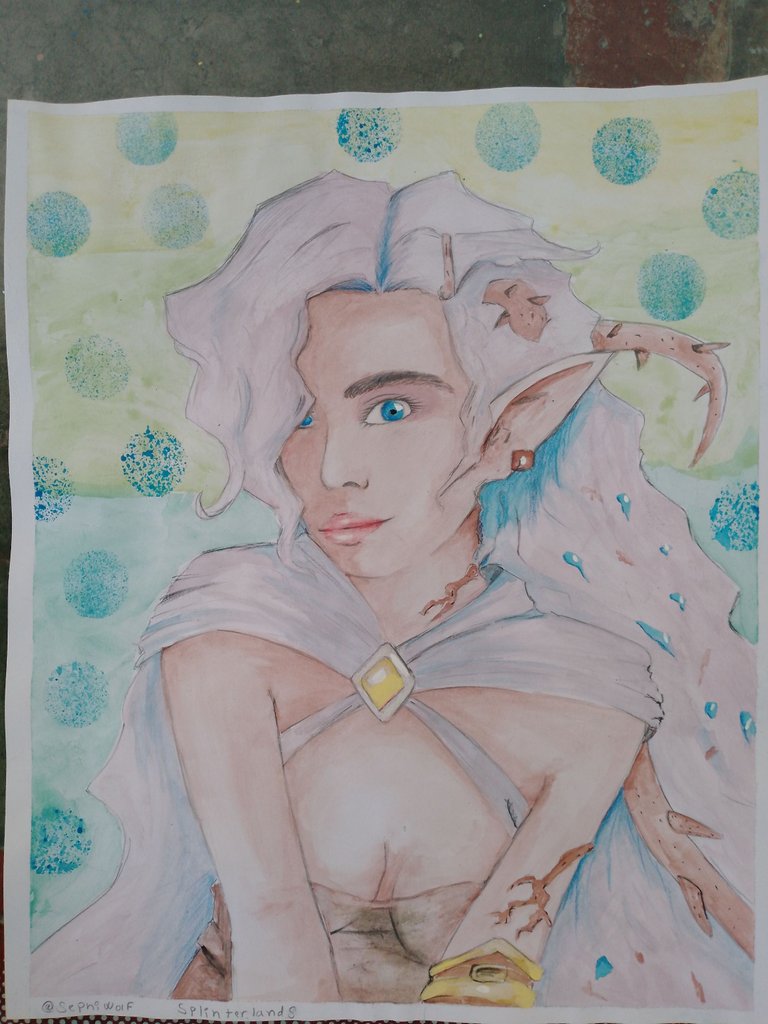 If you don't play splinterlands yet you can join here!
Si aún no juegas splinterlands puedes unirte aquí!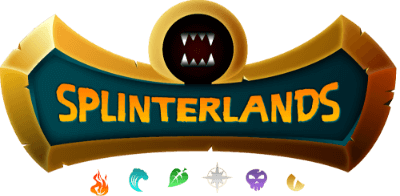 ---
---