Technical Analysis of HIVE/USDT (A Trader's Perspective)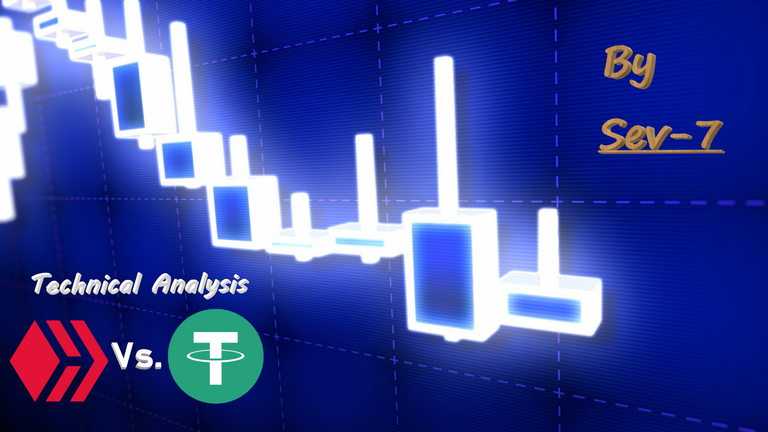 Foreword
Hello everyone, I hope you're all doing well. I am a Forex trader who sometimes trades cryptos on the weekends. I analyze the financial markets using Smart Money Concepts, taught mostly by ICT and WWA. In this post I will be offering my purely Technical Analysis on the HIVE/USDT Cryptocurrency Pair and I will be focusing on the Weekly and Daily Timeframes.

Overall Bias
As of today (2021/09/22), I am very much bullish on HIVE and I do think it has huge potential BUT, looking at the chart, I see certain things that are a little bit concerning which I will be covering in detail.

Weekly Timeframe Perspective
On this Timeframe, we can see price making higher highs and higher lows, which are characteristics of a bullish market. But if you look closely, you will see that price breached above the high of 2020 which formed at 0.9202 but never closed above. We only see Wicks, which tells us that every time price tried to go higher than 0.92, there was a huge sell off!
This is a bit concerning because every time price breaches this level, Buy Stop Orders resting above are triggered. If we are in an accumulation phase then there's nothing to worry about, however, if "price" is seeking for liquidity then sweeping Long term high invalidates our bullish bias. Why? Simply because when price is seeking liquidity in a buy program, short term lows will be swept and new highs will be formed with a candle close above previous highs(Preferably).
Since HIVE is relatively new, it's safe to assume that this is potentially an accumulation.
Take a look at the images below for more information: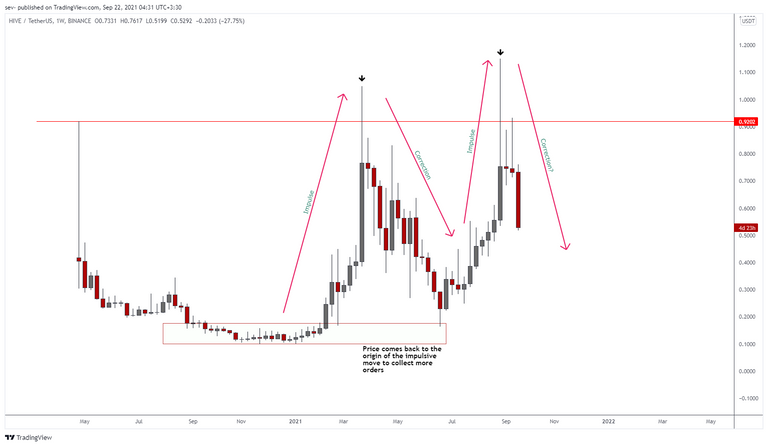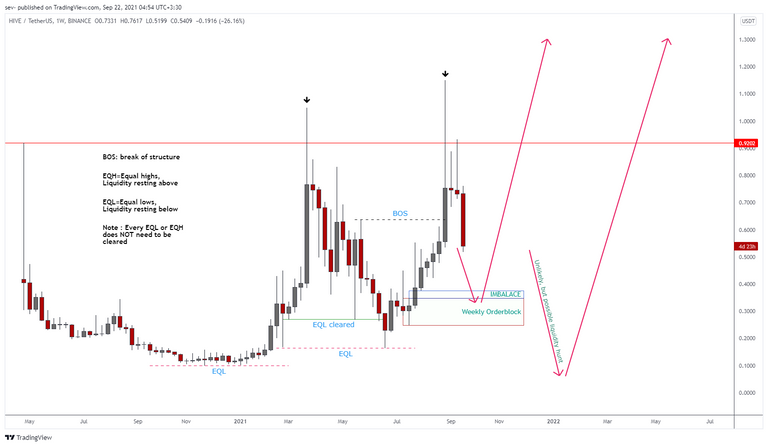 Higher price targets are not accurate, they are simply an indication of price making potential new highs.

Daily Timeframe Perspective
On the Daily Timeframe the story is a little bit different , and we have two potential buy scenarios that can play out:
As of this moment we can see that the daily candle which opened a few hours ago, breached a short term low and left behind a wick. It is still way to early to consider that wick as a run of liquidity and I need to see a candle close as confirmation. Nevertheless it looks good.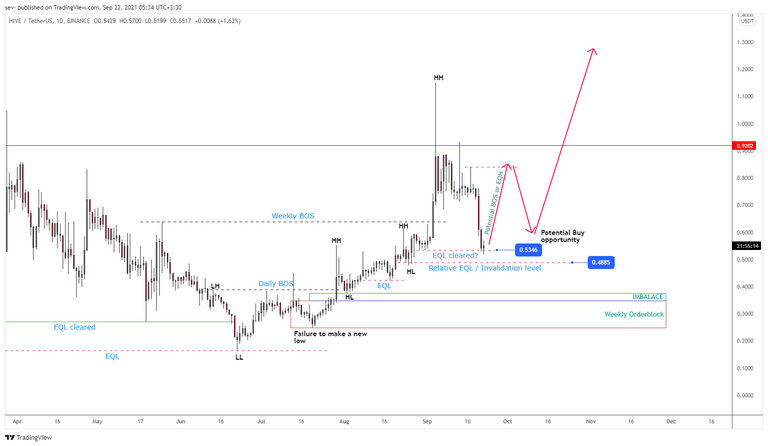 If the level at 0.53 doesn't hold and price goes below 0.48 to accumulate more orders and take out liquidity, I will be looking for potential buys at our Weekly Orderblock.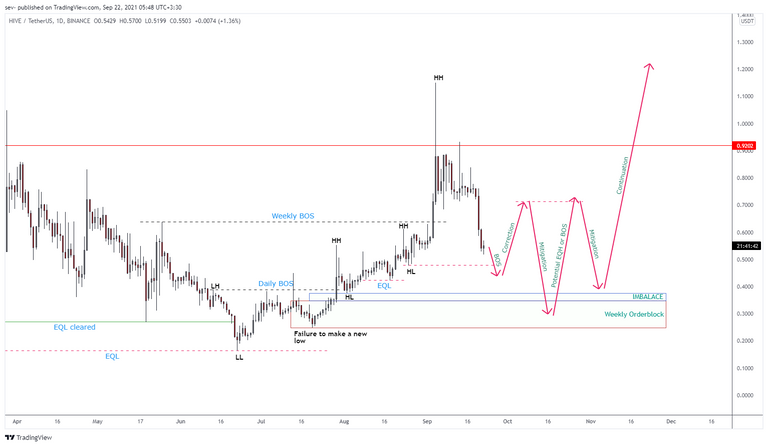 Epilogue
In conclusion HIVE is bullish from a long term and technical perspective like most of the cryptocurrencies out there. Furthermore, As I've been using HIVE and most of its platforms/dApps for a while now, I can certainly say that it has huge potential.
Of course, any analysis can be wrong. That's why a trader must act accordingly when he/she is proven wrong and use proper risk management based on the probability of his/her analysis. Being right or wrong is not important in this business, what's important is how much you lose when you're wrong and how much you gain when you're right. Your wins should always outweigh your losses.

PLEASE READ!👇
Disclaimer: All the information shared in this post is meant for educational purposes only! It is NOT intended as financial advice of any kind. Please be Careful With Your Money. Only invest in what you fully understand and DO NOT invest based on other's opinions. Only invest what you can afford to lose.
Dear reader, I hope you enjoyed this post. If you have any questions or observations please let me know in the comment section below. As this is my first trading related post, I would really appreciate any feedback.
---
---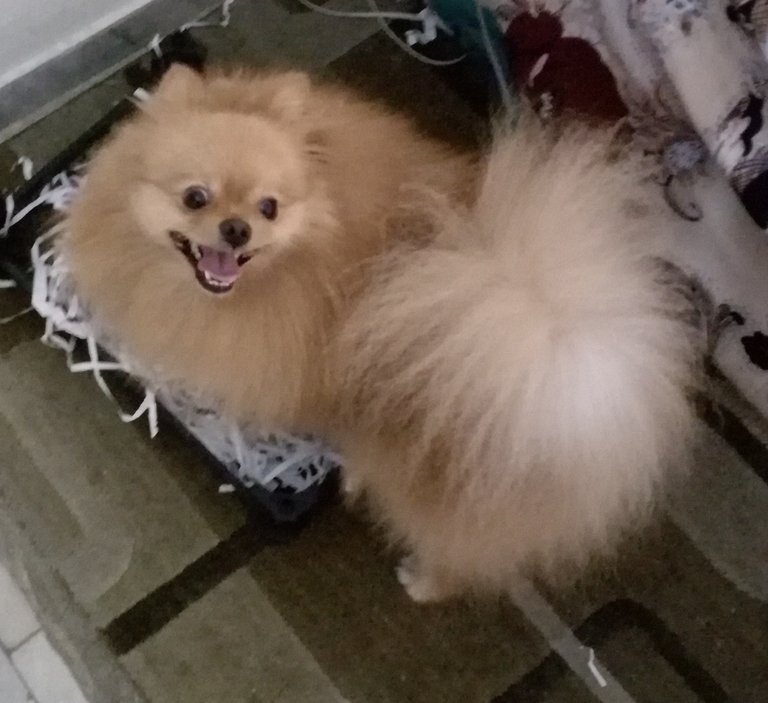 Now take a look at this picture of my little boy, hope it made you smile 🤗
He's a 5 yo Pomeranian and his name is Chili.
---
---
Happy Trading
📉The📊End📈
---
---