📬 "7050-Talks" - Vol 1. No.3: S.I.C. #1 Splinterlands Brawl Position 📬

🏆

S.I.C. Guild comes in #1 Brawl Position

🏆


When going to compete in the Splinterlands Guild Brawls it is important to remember:
The Fray positions hold the various difficulties of Novice, Bronze, Silver, & Gold leagues which also have different cardset rules which determine the type of cards a guild member may use.

For example if a player wants to battle in "Fray 6" then they must be aware of the rules "Bronze league cards of the Alpha/Beta sets only"


Consistancy with good communication and participation is one of the keys to Brawl success.

Without organizing placements amongst each other there would be alot of confusion and that tends to leave frays empty or filled by players sometimes not able to compete efficiently due to the level of the fray itself in comparison to the decks they have prepared for battle




Guilds that spend the time to become familiar with each others cards and potential and that can create order amongst that chaos using tools such as discord to help organize, should be able to grow and develope good core teams that are able to become competitive in the Splinterlands Guild Brawls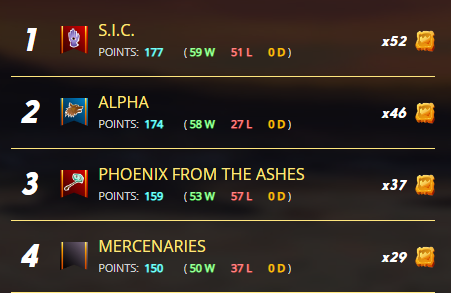 S.I.C. Brawl Accomplishment with Photo:
The entire S.I.C. Guild has worked hard to place in the #1 Tier 2 Brawl Position this week!
@bossmojic was able to work through a their fray and place as a top guild brawl leader with 9 wins and 0 Losses to claim their SPS reward! 🏆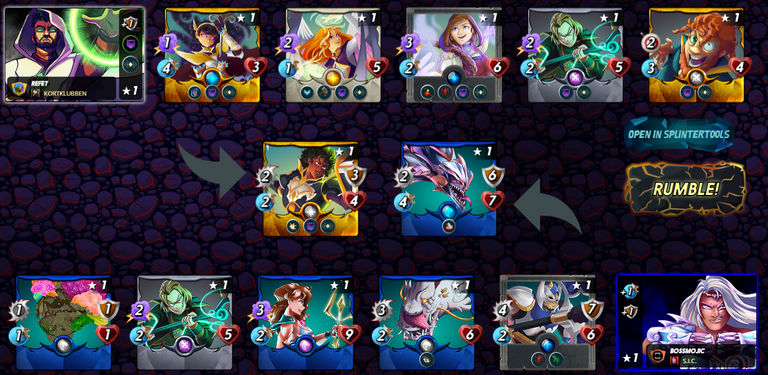 It was an incredibly close brawl with Aplha Guild coming in 2nd and Phoenix from the Ashes coming in 3rd.
We are all excited with the progress and with over 500 Crowns saved up we are on track to compete in the Tier 3 Brawls soon.
---

---

Want more SPS rewards and opportunity to farm merrits for the Gladius cases and other goodies?
Well then...
S.I.C. is recruiting for our last few Brawl Fray Positions to be filled
We currently compete in tier 2 Brawl Tournaments.


Wanted Fray Positions:
⚔️Bronze League; Aplha / Beta
⚔️Gold Foil Silver league; Both Wild and U.D.CL
⚔️Gold League; U.D.CL


Guild Requirements:
⚡️ The Ability to Communicate on Discord
⚡️ Must be Reliable in Scheduled Brawl Events
⚡️ Be an Investor Holding in Game Assets
⚡️ Function as a Team performing related duties


S.I.C. Benefits:
⚡️ Lvl 5 Hall / LvL 3 Arena / Lvl 4 Barracks / Lvl 3 Shop
⚡️ Reliable & experienced team to play and build with
⚡️ Regular brawls with good Merit Payouts
⚡️ Community Discord.


Membership Fees:
⚡️ A Seasonal Contribution of 5 SPS

So if You are looking for Brawling opportunities while earning your fair share of the rewards then don't wait and join us now.

⚡️ Go to https://discord.gg/JnxaR7krDW and follow the prescribed instructions.

If you do not yet play, be sure to click the ticket below to start your journey into the

Splinterlands

Also if you are looking for more content be sure to check out @valchiz's page or use the link provided below to go right to one of their recent posts. 🔻


https://peakd.com/hive-190212/@valchiz/sic-guild-brawl-update-or

---
---