SPLINTERLANDS® SHARE YOUR BATTLE: DRAGONS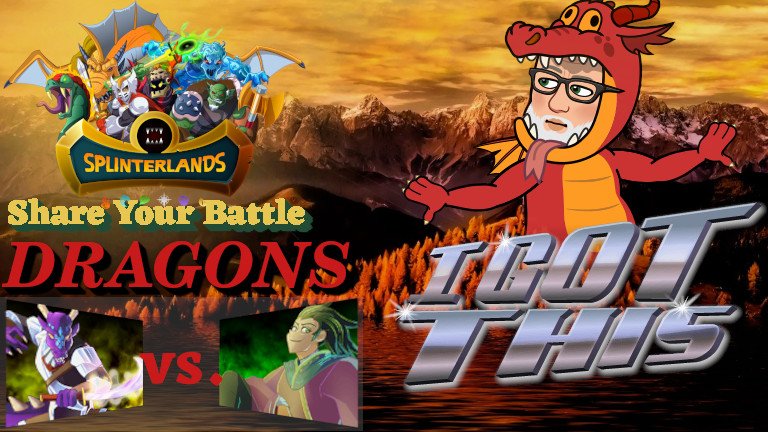 Image Art owned and open-sourced by Splinterlands.io
The Dragon Splinter of Draykh-Nahka is the home of the Dragon people. Also known as the united Gloridax, the people and Dragons of this Splinter will stop at nothing to protect the Fire Blood. The Gloridax are themselves ruled by rigid bureaucracy, and they attempt to rule the Splinterlands through a web of power, treachery, and financial control.   

---
---
This week's battle challenge was tailored for me! My focus yesterday was the Dragon Splinter, so I had plenty of battles to choose from. The battle I will be sharing is a low mana battle (14 Mana) where I used the EPIC KRETCH TALLEVOR as the Monster Summoner. At one point I owned this card, I can not remember the level, but I must have sold it. As is said: Hindsight is twenty twenty!


Therefore; I rented an Untamed Level 6 (six) Kretch Tallevor from the [PeakMonsters Market](peakmonsters. com) at the reasonable price of 27.822 DEC for one day. This ensured me that he would have the power to summon my monsters at their optimal abilities. He does not give any abilities to the summoned monsters, nor does he have any demoralizing influence on the abilities of the opposing team. No buffs or debuffs, but he has low mana so this will work!
---
THE BATTLEFIELD SPOT REPORT (RULESET)
The rules of this particular skirmish (battle) allow any Splinter to participate, except the LIFE SPLINTER.
The total card cost (mana) is a maximum of 14

Both teams are unprotected and will have no armor of any kind even if their summoner can provide it.

Both teams receive the enraged ability. This ability increases the attack and speed of both opponents.
MONSTER ORDER OF BATTLE
We already know who our Team Summoner is thus; let us now take a look at the battling monsters I selected and why.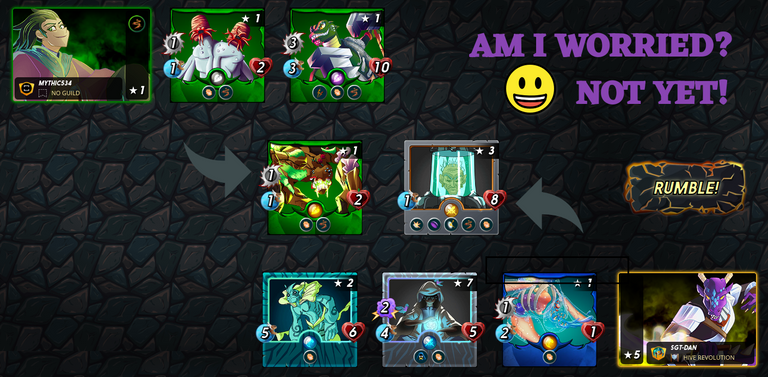 The Good Guys (My Team)
Tank Monster:   Legendary Lord Arianthus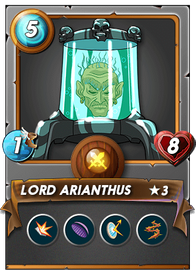 Image Art owned and open-sourced by Splinterlands.io
My Primary (Tank) Monster (the monster on point), as you can see in the screenshot above was Lord Arianthus at Level 3. I call this the Low Mana Multipurpose Card. Given that I only had 14 Mana available and was not sure if my opponent's tactics; I needed a Tank Monster that could counter a variety of attack methods by my opponent.


I also rented this card from the Peakmonsters Rental Market.


Defense (Rebuffs)
Since Lord Arianthus has a Shield, he can reduce the damage of possible melee and ranged attacks from the opposing team. The voidability curtails the effects of a potential magic attack.


Offense
Lord Arianthus can not initiate any type of offensive attack. He only responds to the enemy in kind except for ranged attacks. A very passive-aggressive fellow is Lord Arianthus! My kind of guy!


Using his magic reflect skill, Lord Arianthus can return sorcery at a reduced rate. Being equipped with thorns, he can return 2 (two) damage to a melee attacker.


This fellow is like a person that takes a grenade thrown at him and throws it back! As I previously mentioned though; he does not have any type of response for archers (ranged attackers). Damn archers!


Support Monster:   Legendary Torrent Fiend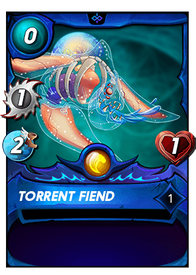 Image Art owned and open-sourced by Splinterlands.io
Second, in our lineup is the Torrent Fiend (Level 1). Like Lord Arianthus this card is a Legendary, but I own this card! Purchased him early on and I am glad I did.


Torrent Fiend is very useful in a low mana battle. Mana's cost is zero (0), he is a perfect fit!


Offense
He has 1 hit melee each round. He will not be able to attack until he is in the first position replacing the tank monster. The battlefield has provided him with enrage, but one life will not make a difference in his performance. When hit he dies.


If the timing is right when my tank monster dies, he may get a lick in. Since no monsters will have armor, his attack will take 1 life from the enemy if he does not miss.


Defense
Torrent Fiend's defense is more for the team than for himself. With his small amount of life, he can draw possible enemy opportunities and snipe attacks away from the tank monster. He will do the same for my one other support monster. His defense gives them time to attack my opponent.


Poor little Torrent Fiend! At a higher level, he could have been a contender!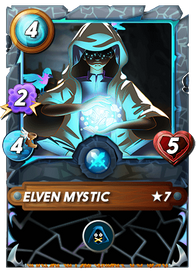 Image Art owned and open-sourced by Splinterlands.io
Support Monster:   Rare Elven Mystic
Elven Mystic is another card that I rented. This Elf from Anumün is a force to be reckoned with! I chose her for her offensive and defensive prowess. Also for four (4) mana, she is a good fit for this low mana battle.


Offense
At level seven (7), Elvin Mystic is fast! She has a speed of four (4) and hopefully will throw her magic before the enemy knows what is going on! Her magic attack level is two (2) which can still do some damage if the targeted enemy has voidability.


Defense
Once again, Elvin Mystic's speed comes into play. Slower opposing melee or ranged enemies may miss her. She also has the silence skill which will reduce the power of enemy magic attacks.


Combining Elvin Mystic's abilities with Lord Arianathus' void will decrease the opposing team's magic offense. She has five (5) health which could keep her alive for at least a couple of rounds hopefully!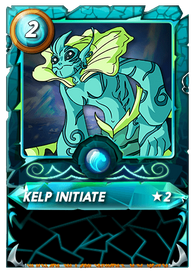 Image Art owned and open-sourced by Splinterlands.io
Support Monster:   Rare Kelp Initiate
Kelp Initiate is owned by me and not a rental. Having a mana cost of two (2) mana, it is a perfect sacrifice card to guard the rear flank of my team. I did not know if my opponent would have a sneak monster in his deck, so better safe than sorry.
Offense
No offensive capabilities at all. Best used in the front or back as a delaying unit.


Defense
Takes hits to protect other team cards.


Splinterlands' Challenges
Are you a fan of the Splinterlands® game? Maybe you like...
       Sharing your battle tactics
       Creating unique art based on the game
       Using your influence as a gamer on social media platforms
Splinterlands® has all sorts of contests and challenges!


You can earn HIVE as well as second-layer tokens (e.g.; SPT, PGM, ONEUP, BATTLE, PIMP, BEE, PKM) by sharing your content and enthusiasm! Have a look at the Official Splinterlands® Blog! There are loads of opportunities every week!
---
Thank you ever so much for stopping by and having a look at what the Old Sarge is up to these days. Remember if you need help I am just a Discord Direct Message away!


If you have not started playing the Splinterlands® Game, why not join now?


Splinterlands is free to try, but I warn you. This game has been known to become addicting!


Have a look at these other projects on the HIVE Blockchain. They are great and I fully endorse each one!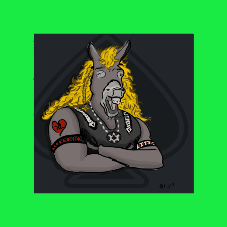 Logos are the property of the companies/projects/initiatives below and are used by permission of the creators.
GIF IMAGE created by @sgt-dan with GIMP Open Source Software
LUCKSACKS.COM | PYPT | SBT | RISINGSTARGAME.COM | SPLINTERLANDS
Blessings and Groovy Vibes Today and Everyday!
---
---