Is Renting Worth it? Check Out My Splinterlands Season Rewards in Silver Rank 2!
** Hey guys! It's shadow346 again- Guild Master of Illusions of the Grave on Splinterlands.** I keep seeing a bunch of questions made by newer people asking about renting creatures and whether or not it is worth it to rent to rank up for a season. I wanted to show the novice/bronze members what silver rewards look like so that they can decide for themselves.
Good? Bad? You Decide!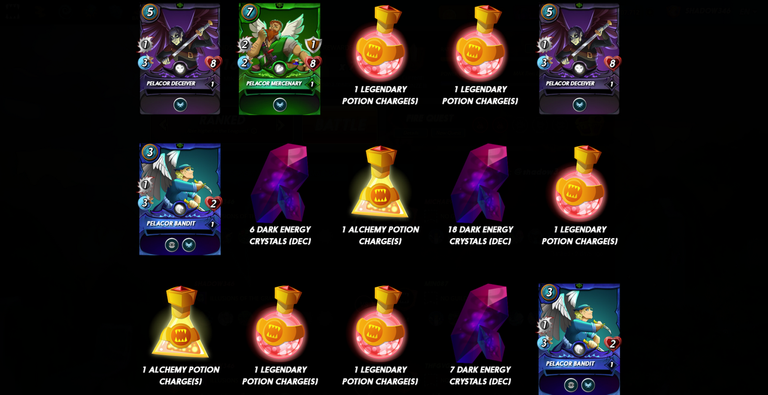 Here are my season rewards for this past season. As you can see- I did end up getting about 5 common cards from the 15 chests that I opened. Commons aren't worth a ton of collection power. However, you can level your common cards if you receive duplicates. Receiving commons is definitely not a loss in my book because every card adds up.
I also received quite a few potions as expected. Some people complain about potions because they want to see cards. It's understandable because most new players really want to rank up their collection power and FAST. But potions are totally fine with me! They can be used to increase your odds of legendaries and gold foils when opening packs. The new packs are here so potions are super useful if you are planning on buying packs. It's Chaos Legion season guys! I will be joining the hype and opening 20+ Chaos Legion packs so I need all the potions that I can get. I will be making another post about what I receive when I do open them. Take a look when it is posted to figure out your own opening odds!
From the chests, I also received some dark energy crystals as my prize. Once you get to silver, you don't get credits in your chests AT ALL! Your credit drops become DEC drops.
My boyfriend received two duplicate rares (the lava launcher) and a couple of commons while opening 15 chests at silver rank 2. It really is all random. You may open a ton of chests and only receive commons like I did- but a card is a card though! I've played for 3 seasons now and have gotten to silver 2 each time, but I have not gotten a legendary YET! I am not completely sure but it is possible that you can only get legendaries from chests when you reach gold tier or higher. Let me know if that is true or not! I hope this gave you guys a picture of what to expect from silver tier. Maybe it also made your renting decisions easier.
As a side note- my guild is recruiting. We require 200 DEC donations every season due at the end of the season. If you are interested in joining, feel free to comment below and send us an invite. I am always making Splinterlands tutorials and blog posts for anyone who asks questions.
Newbies are also welcome to use my referral code to join the game: https://splinterlands.com?ref=shadow346
---
---