Liquid SPS Falls Below 90 Million, Yet Price Remains Below $1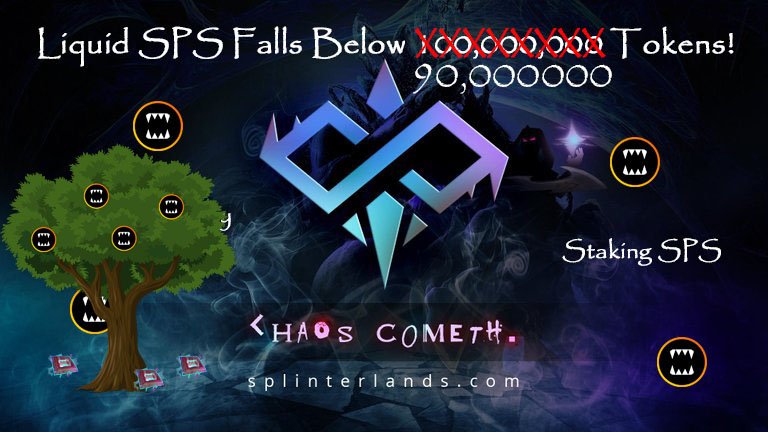 Liquid SPS tokens fell below 100,000,000 in circulation shortly before the Chaos Legion VOUCHER airdrop began just a few days ago. Now, another 10,000,000 SPS tokens have been staked, yet one thing I expected still hasn't happened. Why hasn't the price of SPS risen above its current $0.75 USD?
I'll be honest, I'm stumped. More and more SPS is getting staked and SPS is the most cost-effective method of paying for Chaos Legion packs in the pre-sale and yet the price has actually fallen slightly! Either this is a great steal of a price before the real runup begins when pre-sale buyers are scrambling to acquire enough SPS to get their 10% discount, or there's enough liquid SPS holders selling their tokens that the price stays stuck down here below $1.
---
My Strategy
My current Chaos Legion VOUCHER/SPS strategy is to start an unstaking of my SPS so that I am getting 25% of my stake back in liquid form each week to take advantage of selling into any spikes in SPS pricing. However, this strategy seems to be questionable now since there has been no price spike yet and the profits from selling VOUCHERs would mean I should keep all my SPS staked.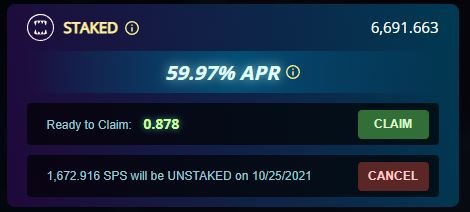 Thankfully, this strategy allows me the flexibility to cancel my unstaking and let it ride through the end of the VOUCHER airdrop, or if SPS prices start to spike, I'll have liquid SPS on the way to take advantage of it. You'll also notice that the staking APR has also now dropped below 60%.
If there is one thing I've learned with @Splinterlands, it's that you need to stay nimble in order to take advantage of these opportunities when they present themselves!
---
Today's Featured Battle
I'm having a lot of fun with the magic reflect ability of the Owster Rotwell summoner. This card is extremely underrated as it can absolutely destroy an enemy that is relying on magic attack.
Watch as the magic reflect gives my opponent a taste of his own medicine!

---
Brawls Are Ending Today!
Don't forget to enter your frays today as brawls are ending in less than 12 hours from the publication of this post! The @Hive.Pizza guilds are gearing up for another day of destruction with PIZZA 1 The Stuffed Crust defending their #1 place finish last time and PIZZA 2 The Deep Dish still working on cracking the top 3.
---
---