$54,240+ To Be #1 on Splinterlands Chaos Legion Leaderboard

The price of Splinterlands new VOUCHER tokens has been higher than almost anyone could have anticipated since their launch a week ago. In order to acquire VOUCHER tokens you must either receive them in an airdrop from your staked SPS or buy them on the Hive-Engine or Tribaldex marketplace. In order to acquire a pre-sale Chaos Legion pack, you must obtain a VOUCHER and pay $4 for the pack itself (or $3.60 if paying with SPS).
Chaos Legion Pre-Sale Leaderboard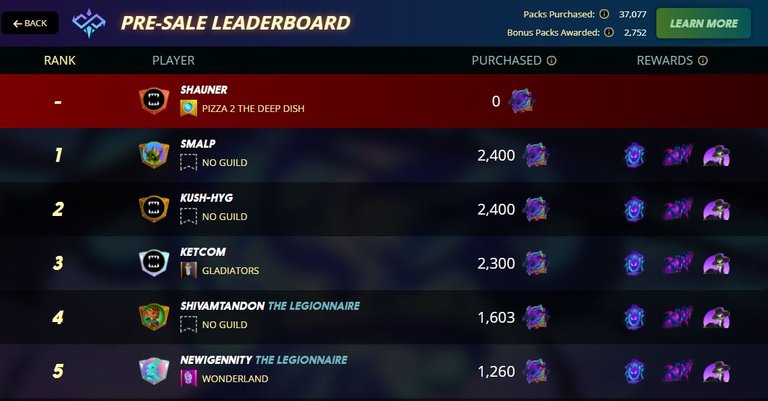 The top two ranking accounts for acquiring pre-sale Chaos Legion packs currently hold 2,400 packs each. Some of the perks for holding 2,400 pre-sale packs include:
1. Design your own Legendary Summoner.
2. 2x The Legionnaire Title - equal to 200,000 SPS airdrop points.
3. Guaranteed to receive at least 46 Regular Foil and 2 Gold Foil Special Promo Cards.
---
Who Knew VOUCHERs Would Sell For So Much!?
Since nobody (that I know of at least) expected these VOUCHERs to sell for $19-20 on the market, let's take a look at what it costs to be #1 on the Chaos Legion leaderboard right now. Remember, we still have three weeks to go and I expect the top of the leaderboard to get even more competitive.
Even if someone has enough SPS staked to get airdropped a full 2,400 VOUCHER tokens, by retaining those tokens you have an opportunity cost of $19-20 each since that is what you could sell them for on Hive-Engine. So that is a cost and let's round down and assume $19 per VOUCHER. Plus, if you're smart, you'll use SPS to buy your pre-sale packs to get the 10% discount and thus pay $3.60 for each pack. $19 x 2400 = $45,600 and $3.60 x 2400 = $8,640. Add those up and you get $54,240 USD.
---
Is It Going to Be Worth It?
Is it worth over $54,000 to get the three benefits listed above? Only time will tell since we don't know what the stats of the special promo cards will be. And, can you even put a price tag on being able to design your own Legendary Summoner? That's pretty epic.
The only thing we can really put a price tag on is The Legionnaire title and based on the 100,000 SPS airdrop points that each title will provide, that benefit is worth a little under $3,000 each (provided the price of SPS and your share of the SPS reward pool stays constant, but I expect it to fall over time as more SPS is released into the market).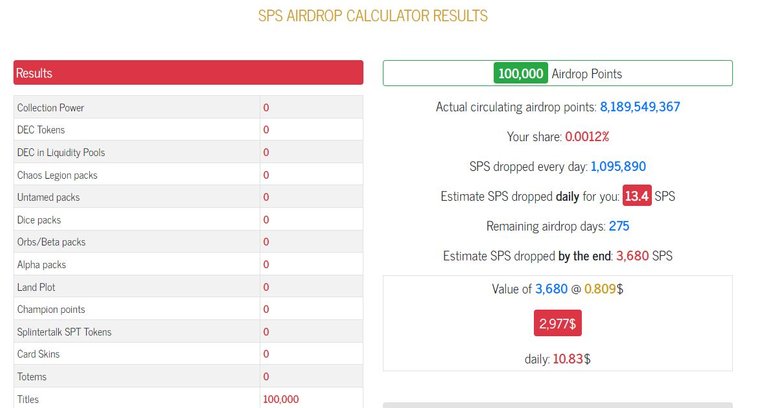 ---
Any guesses on how many Chaos Legion packs it will take to be #1 on the leaderboard by the time the pre-sale is concluded? I'm guessing 5,000+.
---
---