My Weekly Challenge Using Magi Of Chaos


---
Introduction
---
Hi everybody,
My name is @shawnnft and I'm here to share my very first weekly challenge blog post for the Share Your Battle Challenge. The card featured this week is Magic of Chaos. It's a 6 mana neutral card that is strong in magic teams like Alric / Obsidian and rulesets like keep your distance and back to basics. It's also a good card that can be used in any team if you need that extra magic damage.



The Battle & Discussing My Lineup
I played this battle on my alt @shawn22 in the silver league. The battle link can be found here. In the image below, my team is on the top and the opponent's team is on the bottom.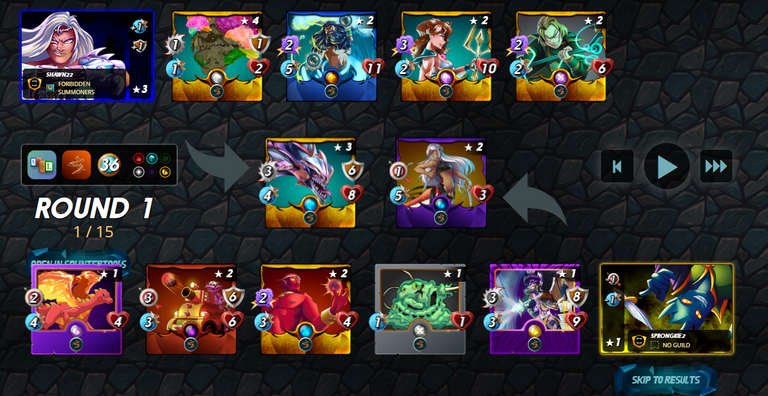 As you can see from the image above, the battle had the briar patch and back to basics with a 36 mana cap. Only Fire, Water, Life and Dragon elements were allowed. Based on these rulesets, I chose to play Water because they have strong magic damage monsters with high health which is strong in back to basics. I chose to play Diemonshark in the first position since it has a decent amount of hp and good armor to defend from ranged and the thorns. It's 8 mana and a commonly used tank for the first position for most water lineups. I chose Hardy Stonefish in the second slot as cannon fodder; it's only purpose is to observe some hits from the opponent. In the third position to fifth position, I placed my magic monsters which is the core monsters to the damage in my lineup. I placed Djinn Oshannus in the third slot because it had the highest hp among the magic monsters and high speed to possibly dodge some ranged attacks. It's main purpose was to tank longer for my other magic monsters to damage. I placed Nerissa Tridawn in the fourth position since it had the second highest health among the magic monsters. Finally, I placed the featured card Magi Of Chaos in the final position since it had the least amount of hp among the magic monsters.
Looking at my opponents line up, it was most likely a bot. I didn't make sense to me why they would place their range monster in the first position as it cannot attack. In my opinion their lineup was not that great, maybe the bots haven't adapted yet to the new briar patch ruleset.


Did My Strategy Work? & Would I try differently next time?
Since I was victorious in the battle, Yes I feel like my strategy worked. I really liked my team but if I was to try something different next time, maybe I would consider splitting Nerissa Tridawn into a few more magic monsters and I would use Alric summoner instead as it gives +1 magic damage to all monsters. Only reason I didn't use it was because I didn't rent it so you got to play with what you have because not every player will have every single card in the game available to them.


Do I Like Magi Of Chaos? Why Or Why Not?
To answer this, ya I like Magi of Chaos. I almost have a Magi of Chaos on each of my accounts because it's just that good. I like Magi of Chaos because I love playing magic teams as it's quite straightforward to play without requiring much thinking. I also like how it's neutral card so you can use it with any element as long as there isn't the taking sides ruleset.

---
The End
If you made it here, thank you so much for reading all the way to the end. In my blog posts before, I did talk about consistently blogging which I have failed to do so. I will try my best to at least blog and share my weekly challenge every week. If you are interested in trying Splinterlands please use this link here. If you did use this link, let me know in the comment section, I will do my best to help whether that be delegating you cards, sending you cards and teaching you how to play. Once again, thank you so much.
---
---