[ENG/PT-BR] Crazy Shift Battles: Risking is Accurate!
Você pode conferir a postagem em PT-BR!
---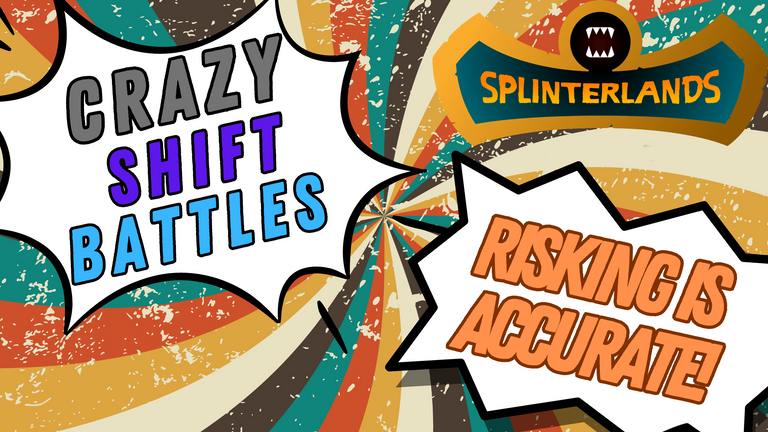 Some battles won't be easy and we won't always have the necessary options available with which we'd like to play, so improvisation is what we're left with and we have to pull a solution out of the hat if we want to try to win the match.
With this, I will present to you the dynamics of how a battle was, with one of the elements that I play the least and a risky team composition, but which in the end worked out. This shows that no matter how adverse the situation, experience and willpower in wanting to win can speak louder in these difficult times.
When faced with the following rules, I already imagined how hard this battle would be, as incredible as it may seem, I don't usually play with life elements, much less with dragons.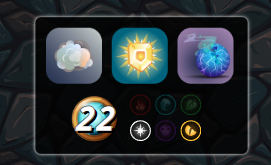 So just with these elements, I even thought about giving up before starting, but that wouldn't be right, if you're going to lose, it's fighting, right? With SNEAK and OPPORTUNITY disabled and only physical attacks, something could be done to take advantage of these painful rules.
So, I went all-in or out by selecting the great white lion (or is it a tiger?) of the life element, which allows us to select a GLADIUS unit to play in ranked matches. And now? What would such a risky team be?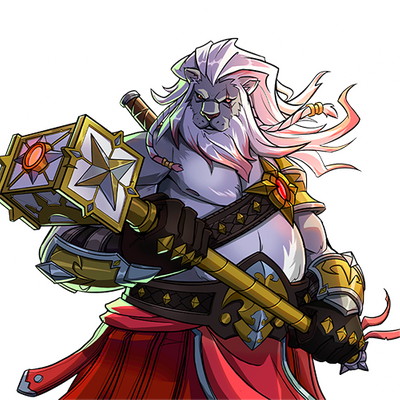 I played around some points: without the abilities that focus on the last units and the one that seeks those with the lowest health at the moment, I could use some strong archer in the attack or that would help in the support without worrying too much, since he would not be hit easily.
As there would also be no magic damage, I needed a unit that had speed and/or high armor to hold the physical damage that would be predominant in this battle and even better if she was a gladiator, so with that I realized that I could compose a very exotic team.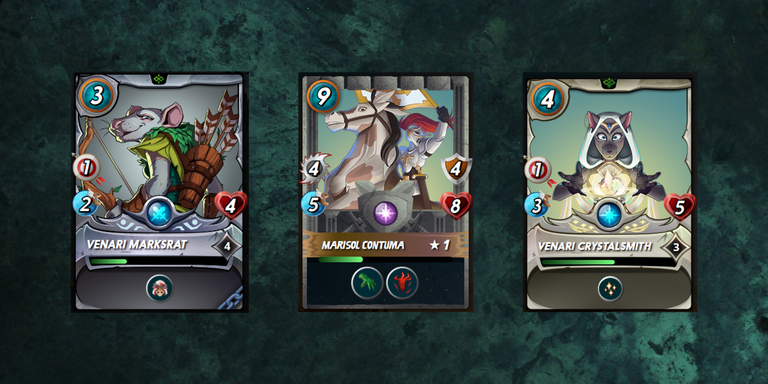 VENARI MARKSRAT > I put it in the first position solely because of its MARTYR skill, as the important thing was to bonus the second position unit with +1 in all its stats.
MARISOL CONTUMA > Everything she needed for this battle, with high attributes, being able to attack from second position and with her BLOODLUST, each kill would make her stronger, the die was cast !
VENARI CRYSTALSMITH > As I said, without worrying about the SNEAK skill, she could stay in last position comfortably, so her goal was to heal MARISOL, as soon as she took the top spot.
---
My team and the opponent's team are represented in the image below. There was a good chance that my strategy would not work, as the opponent put a lot of damage on the table, but as I said at the beginning of this post, this composition madness worked.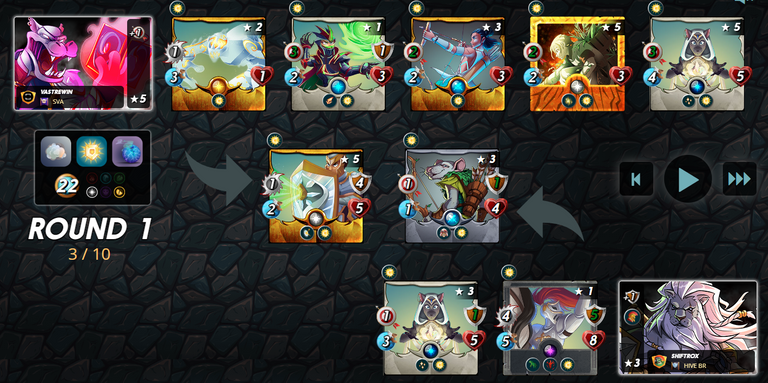 At the end of the first round, MARKSRAT held all the damage, also taking advantage of having the divine shield that we can say that safely held a first damage. Here I could see that the strategy would work, after all, the buff would occur, leaving my MARISOL with exactly 5 attack points, which was necessary to defeat the opponent's first unit.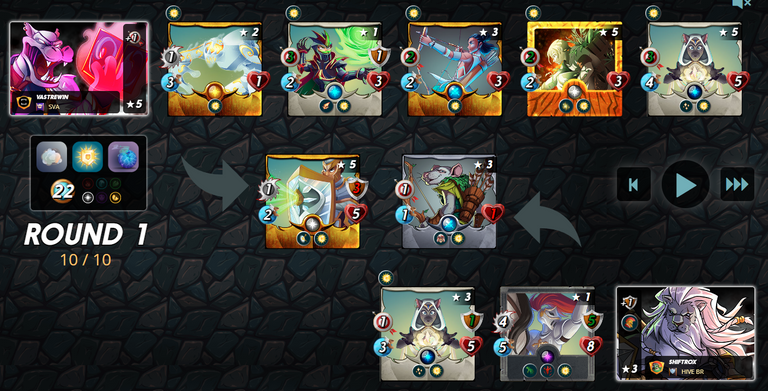 Things began to fall into place, after receiving the buff and with his opponent in the first position without any defense, even with full life, it only took one attack from MARISOL, to start the snowball in his attributes. With CRYSTALSMITH performing its cure, it would be difficult for her to be defeated.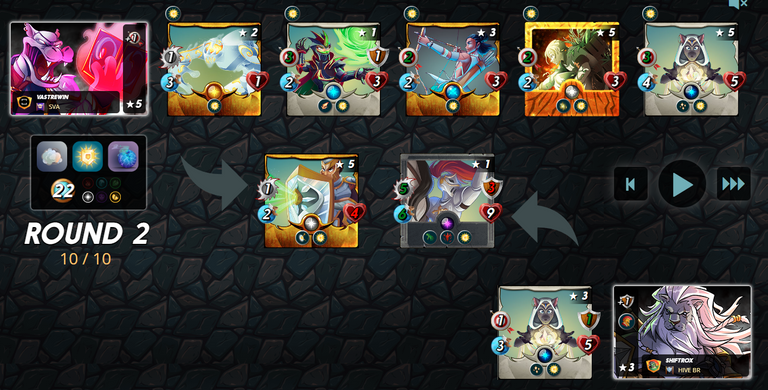 I won't be too repetitive, but now, after the first kill, MARISOL was already quite strong, with your support taking away the divine shield and healing her when necessary, everything was on track for a victory. My only fear was that somehow my opponent's PORTAL SPINNER would drop my CRYSTALSMITH, but it didn't.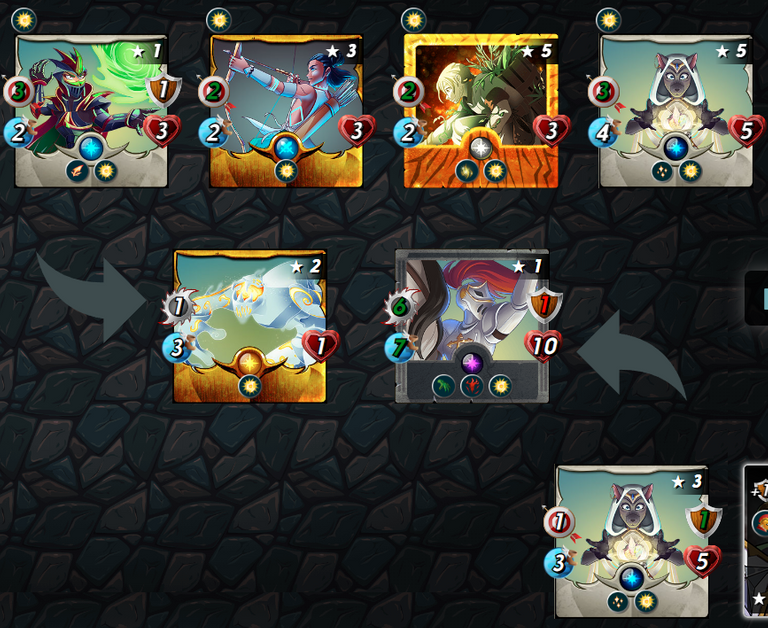 With such high speed, my opponent couldn't land the attacks and even if he did, my unit was practically unstoppable. So it was only a matter of time to victory!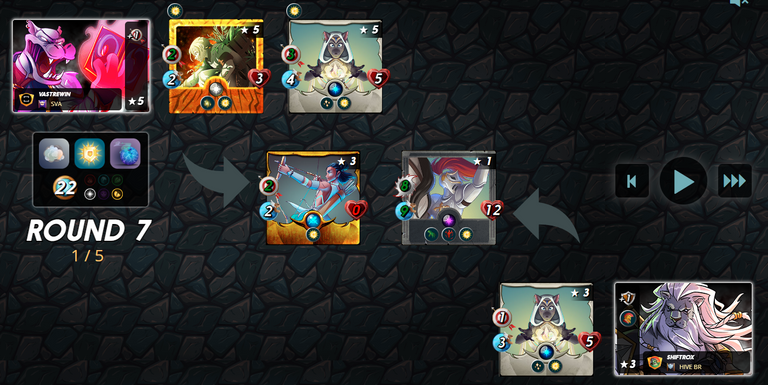 Arriving at the end of the ninth round, MARISOL showed that she should be respected, getting insane attributes, my opponent didn't have much to do to fight such power. Of course it was all pretty risky, but that's necessary sometimes and as we could see, it worked.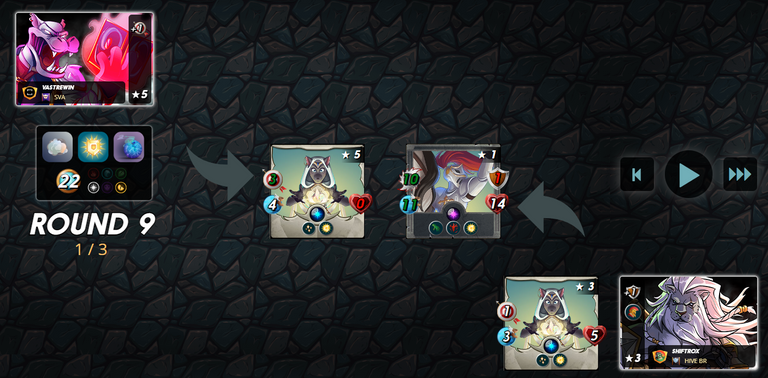 The replay with all the details can be seen HERE.
---
I really didn't believe that it would work, I don't have a very high experience with the life element and my cards aren't even that strong, but, in the moment of demand, we have to be calm to think a little and choose a team, even if it is an all or nothing, and thus try to win the victory.
I was happy to win, because victories like that, with something you don't play very well, show that we can win and that everything we learn in the daily battles, will serve at some point to get us out of a complicated situation.
Thank you all so much and see you next time!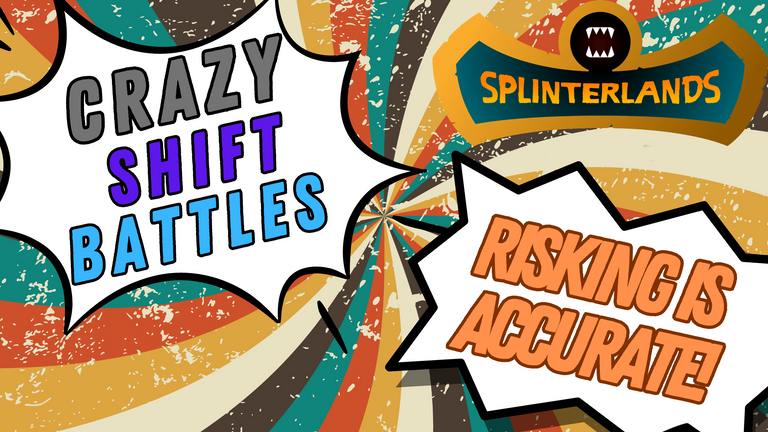 Algumas batalhas não serão fáceis e nem sempre teremos disponíveis as opções necessárias com as quais gostaríamos de jogar, então o improviso é o que nos resta e temos que tirar uma solução da cartola se quisermos tentar vencer a partida.
Com isso, apresentarei para vocês a dinâmica de como foi uma batalha, com um dos elementos que menos jogo e uma composição de equipe arriscada, mas que no fim das contas deu certo. Isso mostra que por mais adversa que seja a situação, a experiência e a força de vontade em querer vencer, podem falar mais alto nestes momentos complicados.
Ao me deparar com as seguintes regras, já imaginei a dureza em que seria essa batalha, por mais incrível que pareça, não costumo jogar de elemento vida e muito menos de dragão.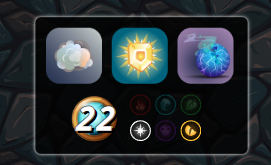 Então apenas com estes elementos, pensei até mesmo em desistir antes de começar, mas isso não seria o certo, se for para perder que seja lutando não é? Com as habilidades SNEAK e OPPORTUNITY desativadas e apenas ataques físicos, algo poderia ser feito para se aproveitar destas regras tão penosas.
Sendo assim, fui para o tudo ou não selecionando o grande leão (ou seria um tigre?) branco, do elemento vida, que nos permite selecionar uma unidade GLADIUS para jogar em partidas ranqueadas. E agora? O que seria essa equipe tão arriscada?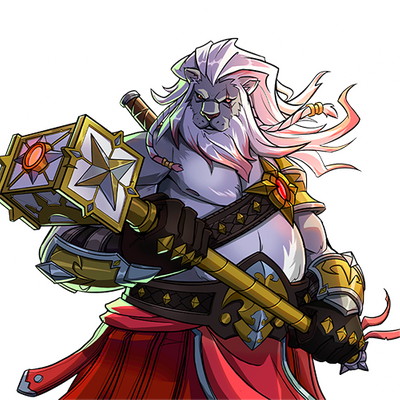 Joguei em volta de alguns pontos: sem as habilidades que focam as últimas unidades e a que busca aquelas com a menor vida no momento, poderia utilizar algum arqueiro forte no ataque ou que ajudasse no suporte sem me preocupar muito, já que ele não seria atingindo facilmente.
Como também não haveria dano mágico, precisava de uma unidade que tivesse velocidade e/ou armadura alta para segurar o dano físico que seria predominante nesta batalha e melhor ainda se ela fosse uma gladiadora, então com isso percebi que poderia compor uma equipe bem exótica.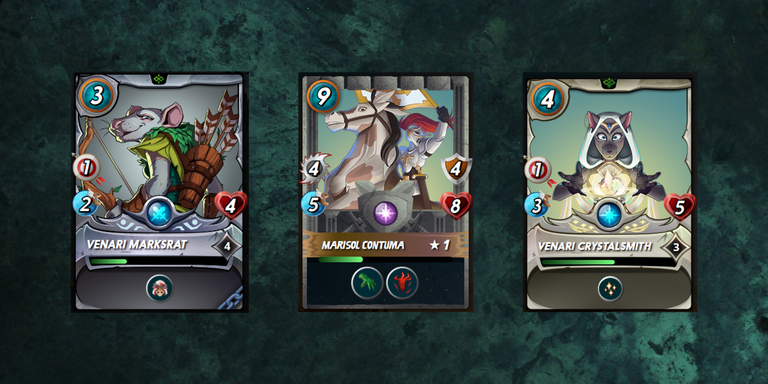 VENARI MARKSRAT > Coloquei na primeira posição unicamente por conta de sua habilidade MARTYR, pois o importante era bonificar a unidade da segunda posição com +1 em todos os seus status.
MARISOL CONTUMA > Tudo o que precisava para essa batalha, com atributos elevados, podendo atacar da segunda posição e com a sua BLOODLUST, cada abate iria deixá-la mais forte, a sorte estava lançada!
VENARI CRYSTALSMITH > Como havia dito, sem me preocupar com a habilidade SNEAK, ela poderia ficar na última posição tranquilamente, assim, seu objetivo era curar MARISOL, assim que ela assumisse a primeira posição.
---
A minha equipe e a do adversário estão representadas na imagem abaixo. Havia uma boa chance da minha estratégia não dar certo, pois o adversário colocou muito dano na mesa, mas como disse no início dessa postagem, essa loucura de composição deu certo.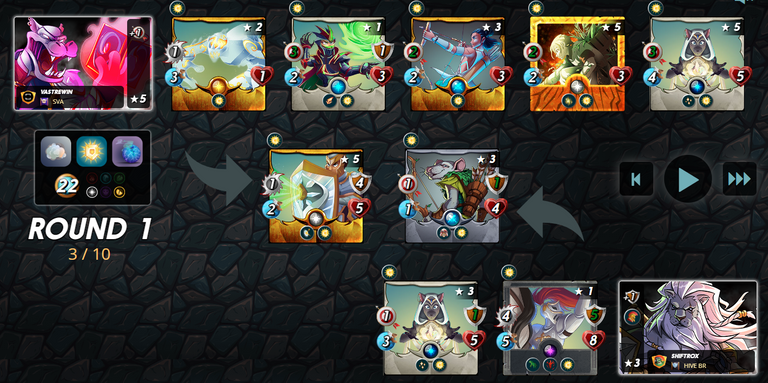 Ao final da primeira rodada, MARKSRAT segurou todo o dano, aproveitando também que tinha o escudo divino que podemos dizer que segurou com segurança um primeiro dano. Aqui pude perceber que a estratégia iria dar certo, afinal, o buff iria ocorrer, deixando minha MARISOL com exatos 5 pontos de ataque, o que era preciso para derrotar a primeira unidade do adversário.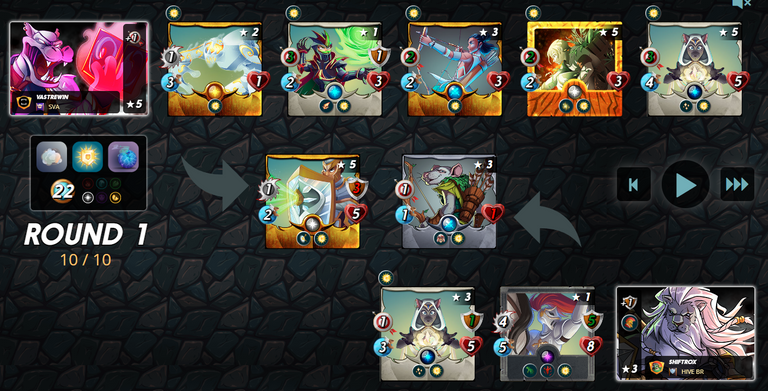 As coisas começaram a se encaixar, após receber o buff e com o seu adversário da primeira posição sem qualquer defesa, mesmo com a vida cheia, bastava apenas um ataque da MARISOL, para começar a bola de neve em seus atributos. Com a CRYSTALSMITH, realizando a sua cura, seria complicado ela ser derrotada.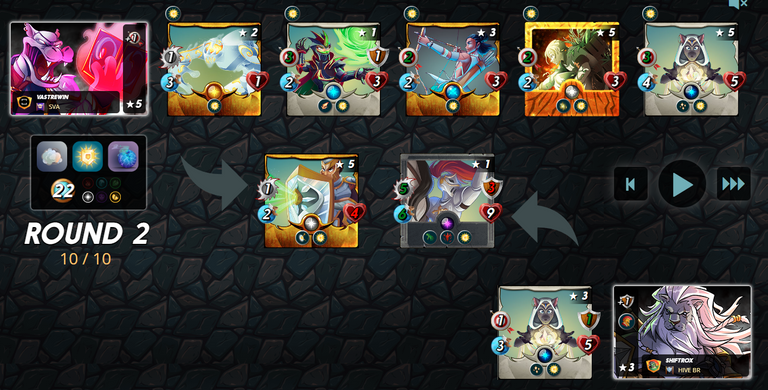 Não serei muito repetitivo, mas agora, após o primeiro abate, MARISOL já estava bem forte, com o seu suporte retirando o escudo divino e curando ela quando necessário, tudo estava encaminhado para uma vitória. Meu único medo era de que, de alguma forma, o PORTAL SPINNER do meu adversário derrubasse a minha CRYSTALSMITH, mas isso não aconteceu.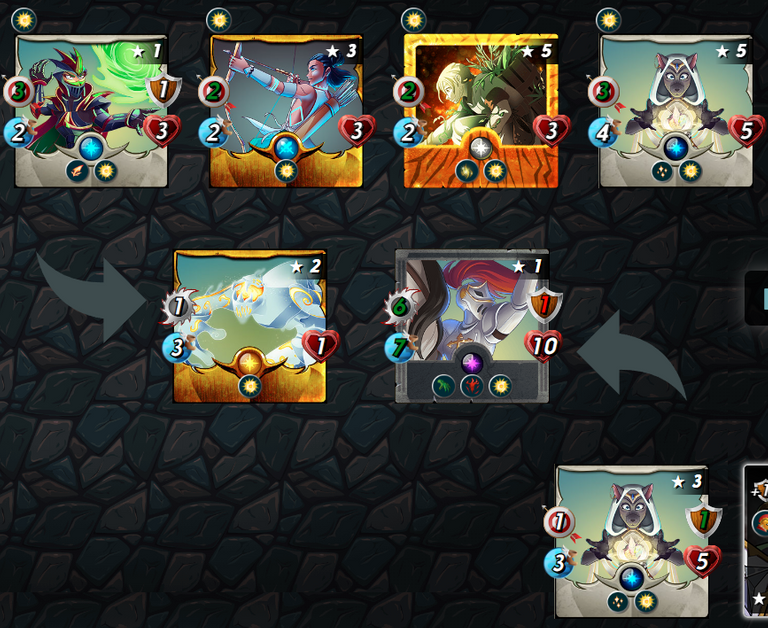 Com uma velocidade tão alta, meu adversário não conseguia acertar os ataques e mesmo que conseguisse, estava praticamente imparável a minha unidade. Sendo assim, era apenas uma questão de tempo a vitória!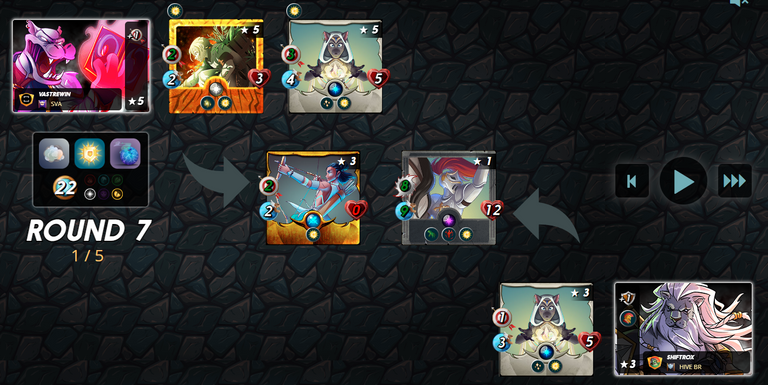 Chegando ao final da nona rodada, MARISOL mostrou que deve ser respeitada, ficando com atributos insanos, o meu adversário não teve muito o que fazer para combater tamanho poder. Claro que foi tudo bem arriscado, mas isso é necessário às vezes e como pudemos ver, funcionou.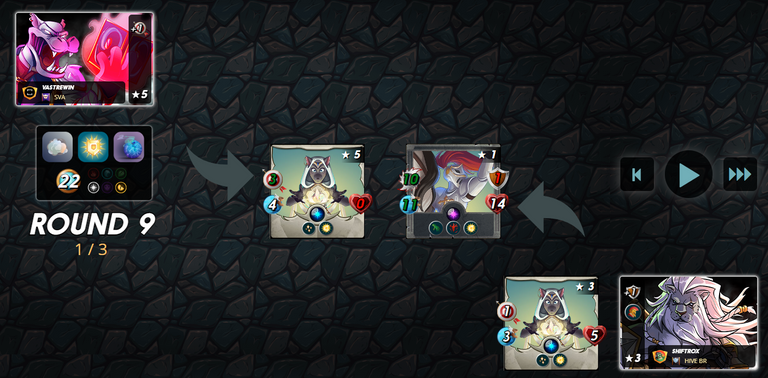 O replay com todos os detalhes pode ser visto AQUI.
---
Realmente não acreditei muito que daria certo, não tenho uma experiência muito elevada com o elemento vida e minhas cartas nem estão tão fortes assim, mas, no momento de exigência, temos que ter calma para pensar um pouco e escolher um time, mesmo que seja um tudo ou nada, e assim tentar conquistar a vitória.
Fiquei feliz em ganhar, pois vitórias assim, com algo que você não joga muito bem, mostram que podemos sim vencer e que tudo o que aprendemos nas batalhas diárias, irá servir em algum momento para nos tirar de uma situação complicada.
Muito obrigado a todos e até a próxima!
Let's have fun! Join me at Splinterlands!
Follow me on Twitter.

Delegate your HP to the hive-br.voter account and earn Hive daily!
🔹 Follow our Curation Trail and don't miss voting! 🔹
Image Credit: Banners created by me in Canva.
---
---