[ENG/PT-BR] Crazy Shift Battles: ISGALD VORST Owning!
Você pode conferir a postagem em PT-BR!
---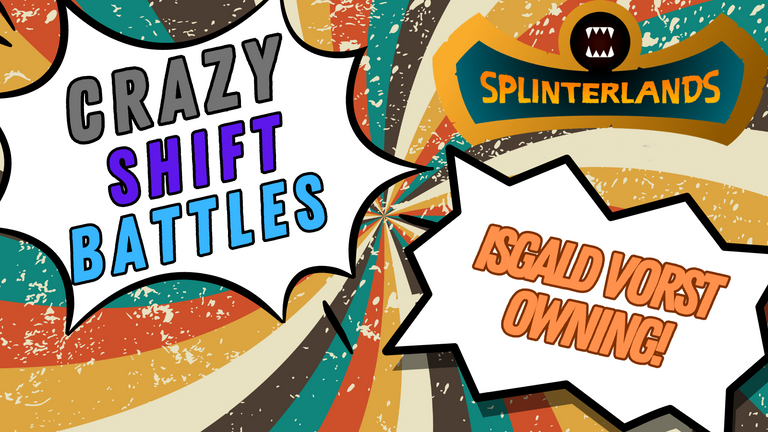 Since the proposal and implementation of the implementation that removes bots from modern ranked arrived, I can say that Splinterlands has really changed. Although I keep losing to many players with very unusual compositions and theoretically perfect teams for each situation, I believe that the game has become a little more fun and that I actually face real players in many moments.
Of course, I'm not here for assumptions and other things, today's goal is to share a replay of a very interesting match, highlighting a card that I use quite often and that I'm really enjoying. The league I'm in is silver 2 and yes, I plummeted and I can't even explain what happened, it just goes downhill.
The featured card is ISGALD VORST.

I have it at level 3, with great attributes and well-crafted skills (see below), this card is sensational in the silver league and specifically, when we manage to play a game where we can't have armor, it becomes extremely dangerous and lethal.
| Icon | Description |
| --- | --- |
| | Bloodlust: Monsters with this ability gain +1 to all their stats on every kill performed. |
| Icon | Description |
| --- | --- |
| | Opportunity: Monsters with this Ability can attack from any position and will target the enemy monster with the lowest health, from first to last opposing position. |
So from the moment you guarantee that there is no armor, for example, the battle rule UNPROTECTED and putting this card on the field to take advantage of that, we can end up creating a big snowball in its attributes with each kill.
I've been using it whenever I have enough mana to create a good strategy that makes things easier and because it's a 5 mana cost card, it's usually easy to fit it into battles and surprise opponents. Its cost benefit is incredible in my opinion.
To show this in a practical way, we will follow some points of the example battle.
Starting with the battle rules, we had AIM TRUE and the aforementioned UNPROTECTED, with this, all attacks would hit and there would be no armor to protect the units in the field.
With 42 mana and fire and water elements active, it was time to assemble the team.

---
My opponent chose a very peculiar team, because I confess that some cards there are not routine in battles, but that's ok, with a team focused mostly on physical attack, there would be no problem taking chances with that, after all, all attacks would hit.
My team was basically a water element pattern, with DIEMONSHARK as the tank, FLYING SQUID as my second tank, DEEPLURKER being the hunter along with ISGALD VORST, SUPPLY RUNNER to boost the team with 1 point in speed and MERDHAMPIR lastly as a card that gains life and removes the opponent's maximum life, thus helping the others cards to finish them.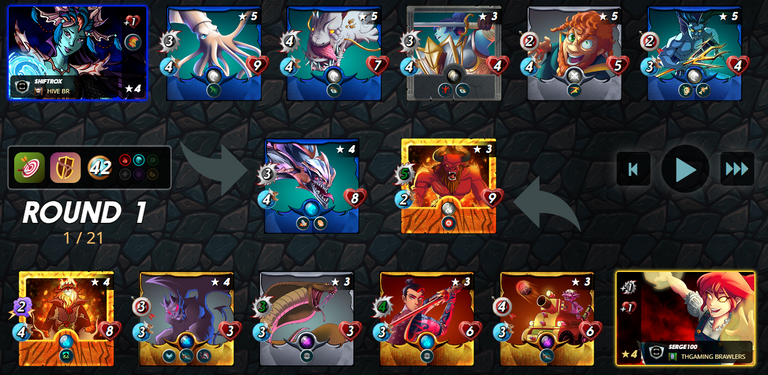 Here was the first point of attention that I should have checked before starting the battle, I almost lost everything by placing ISGALD VORST in the middle position of the team, despite being the most protected position, I didn't listen to the fact that my opponent could come with a unit that also had OPPORTUNITY and with that, for having the lowest health in sequence of positions, he would be the focus of an opponent with that ability.
Luckily that didn't happen, so at least at this point, everything was OK.
The first wave of actions were my team's attacks, as shown in the image below, the opposing tank started taking 2 attacks, while the first opposing unit would already be defeated, as said, without armor to protect and with little life, the monsters with the skill OPPORTUNITY would perform a good hunt, always looking for opponents with lower health and still unprotected.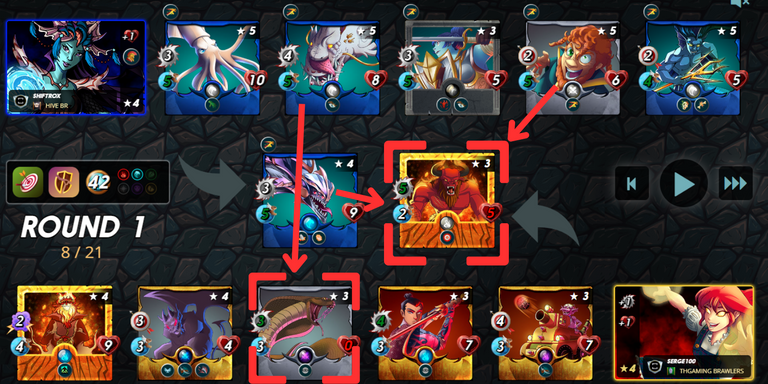 By continuing in the same round, FLYING SQUID attacked the opposing tank leaving him with little life and with that the completion of ISGALD VORST guaranteed the first wave of improvement in his attributes, giving the kick initial snowball in the accumulation of improvements.
The composition of the team so far was perfect and in full synergy.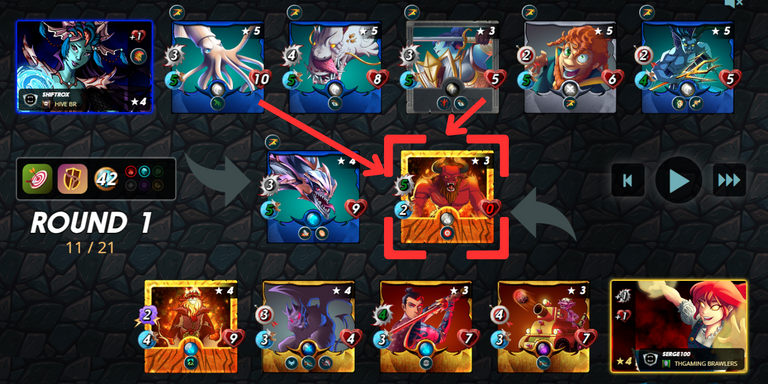 Taking advantage of the fact that it was now the fastest monster in the game, at the beginning of the second round ISGALD VORST managed to perform another kill, again adding +1 to all its attributes, already becoming a practically unstoppable unit in view that there were no mechanisms that could hold it.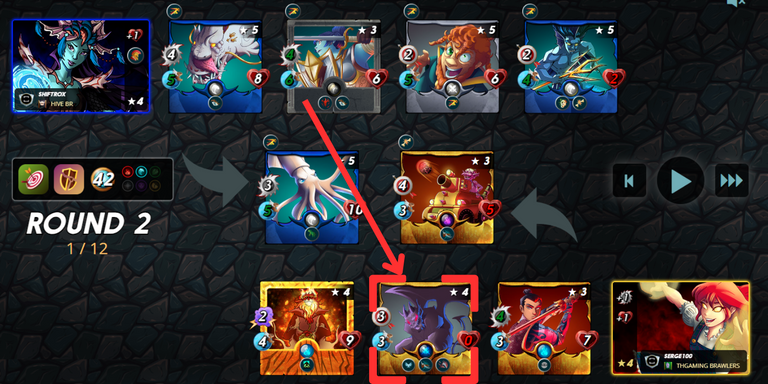 Not only that, one more opposing unit would fall, with only two remaining on the field, victory was already on the way and so, there would be nothing my opponent could do.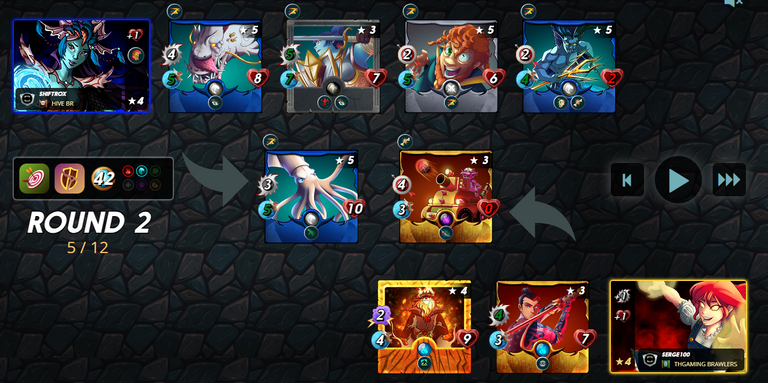 Again, another attack and kill from ISGALD VORST, this being the monster in the first position of the opposing team. We can see how dangerous it is when we have a card with BLOODLUST on the field and that the chances of winning with it only performing one kill is already huge, now imagine with three as was the case now, nothing could stop this machine!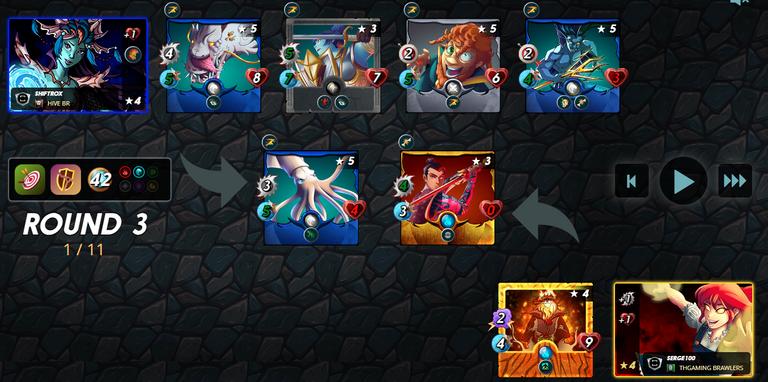 As there was only one card left, accelerating the process, at the beginning of round 4, one more kill for ISGALD VORST and finally, the end of the battle. Clearly the card unbalanced the whole match, although the rest of the team was pretty strong too, but, we could see how we can create a monster when everything goes according to plan.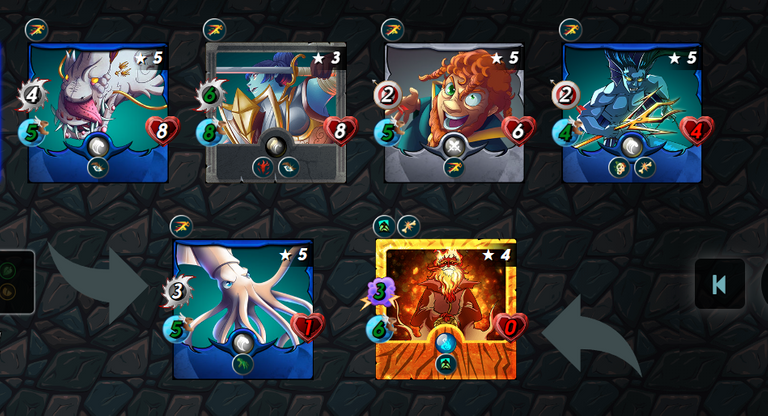 The replay with all the details can be seen HERE!
---
Finally, I can say that the ISGALD VORST card has given me good victories, even when we don't have the battle rule UNPROTECTED, there are other ways to help weaken opponent monsters and thus let him perform the kills.
After this process, becoming very strong due to the improvements in its attributes, it is difficult to stop any card that has so much offensive capacity, in addition to another ability that helps it to hunt monsters with lower health.
Therefore, I highly recommend its use whenever possible, because at least for me, in the silver league it has been very pleasant to put it on the field, taking advantage of its entire set of attributes and abilities and taking it to the limit that the level of the cards at the silver level it is not so high, he has a huge advantage over his opponents.
Thank you all so much and see you next time!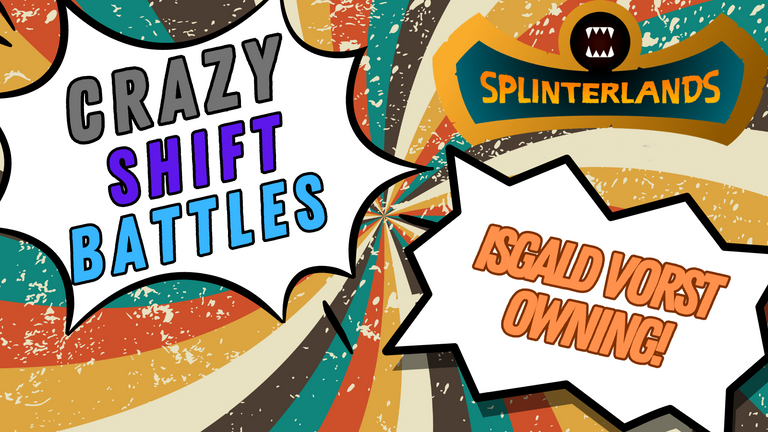 Desde que a proposta e aplicação da implementação que retira os bots da ranqueada moderna chegou, posso dizer que o Splinterlands mudou realmente. Apesar de que continuo perdendo para muitos jogadores com composições bem inusitadas e times teoricamente perfeitos para cada situação, acredito que o jogo tenha se tornando um pouco mais divertido e que realmente em muitos momentos enfrento jogadores reais.
Claro que não estou aqui para suposições e demais coisas, o objetivo de hoje é compartilhar um replay de uma partida bem interessante, dando destaque para uma carta que utilizo com certa frequência e que estou gostando muito. A liga que estou é a prata 2 e sim, despenquei e nem sei explicar o que aconteceu, apenas cai ladeira abaixo.
A carta em destaque é a ISGALD VORST.

Possuo ela no nível 3, com ótimos atributos e habilidades bem elaboradas (ver abaixo), essa carta é sensacional na liga prata e especificamente, quando conseguimos realizar uma partida onde não podemos ter armadura, ela se torna extremamente perigosa e letal.
| Ícone | Descrição |
| --- | --- |
| | Bloodlust: Monstros com essa habilidade ganham +1 em todas os seus atributos a cada abate realizado. |
| Ícone | Descrição |
| --- | --- |
| | Opportunity: Monstros com essa habilidade podem atacar de qualquer posição e terão como alvo o monstro inimigo com menor vida, no sentido da primeira para a última posição adversária. |
Então a partir do momento que você garante que não existe armadura, como, por exemplo, a regra de batalha UNPROTECTED e colocando essa carta em campo para aproveitar disso, podemos acabar criando uma grande bola de neve em seus atributos a cada abate.
Tenho utilizado ela sempre que tenho mana suficiente para criar uma boa estratégia que facilite as coisas e por ser uma carta com custo 5 de mana, geralmente é fácil encaixar ela nas batalhas e surpreender os adversários. Seu custo beneficio é incrível na minha opinião.
Para mostrar isso de forma prática, acompanharemos alguns pontos da batalha de exemplo.
Começando pelas regras da batalha, tínhamos AIM TRUE e a já mencionada UNPROTECTED, com isso, todos os ataques iriam acertar e não haveria armadura para proteger as unidades em campo.
Com 42 de mana e os elementos fogo e água ativos, era hora de montar o time.

---
Meu adversário escalou um time bem peculiar, pois confesso que algumas cartas ali não são rotineiras nas batalhas, mas tudo bem, com uma equipe focada na maioria no ataque físico, não haveria problema arriscar com isso, afinal, todos os ataques iriam acertar.
Minha equipe foi basicamente um padrão do elemento água, com DIEMONSHARK como tanque, FLYING SQUID como meu segundo tanque, DEEPLURKER sendo o caçador juntamente com ISGALD VORST, SUPPLY RUNNER para bonificar a equipe com 1 ponto em velocidade e MERDHAMPIR por último como uma carta que ganha vida e retira a vida máxima do oponente, ajudando assim as outras cartas a conseguirem finalizar elas.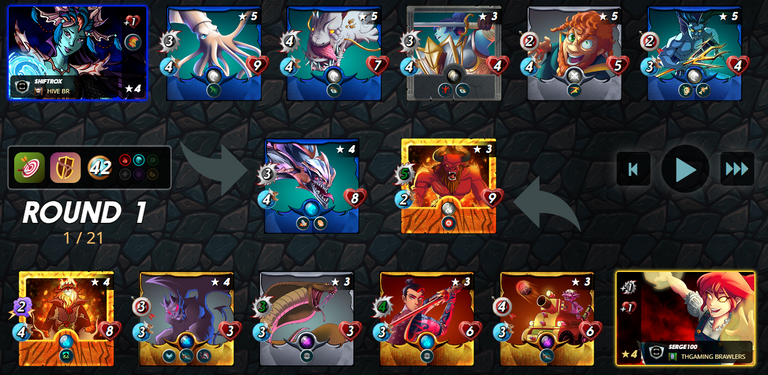 Aqui ficou o primeiro ponto de atenção que deveria ter verificado antes de começar a batalha, quase coloquei tudo a perder ao colocar ISGALD VORST na posição mediana da equipe, apesar de ser a posição mais protegida, não me atendei ao fato de que meu adversário poderia vir com uma unidade que possuísse também OPPORTUNITY e com isso, por ter a menor vida na sequência das posições, ele seria o foco de um adversário com essa habilidade.
Por sorte isso não ocorreu, então pelo menos neste ponto, tudo estava OK.
A primeira leva de ações foram os ataques do meu time, como mostrado na imagem abaixo, o tanque adversário começou levando 2 ataques, enquanto a primeira unidade adversária já seria derrotada, como dito, sem armadura para proteger e com pouca vida, os monstros com a habilidade OPPORTUNITY iriam efetuar uma boa caçada, buscando sempre os adversários com menor vida e ainda desprotegidos.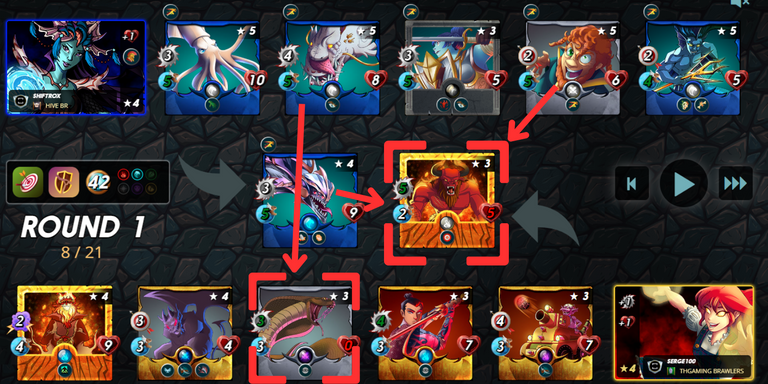 Ao continuar na mesma rodada, FLYING SQUID atacou o tanque adversário deixando ele com pouca vida e com isso a finalização de ISGALD VORST garantiu a primeira leva de melhoria nos seus atributos, dando o pontapé inicial na bola de neve de acúmulo de melhorias.
A composição do time até o momento estava perfeita e em total sinergia.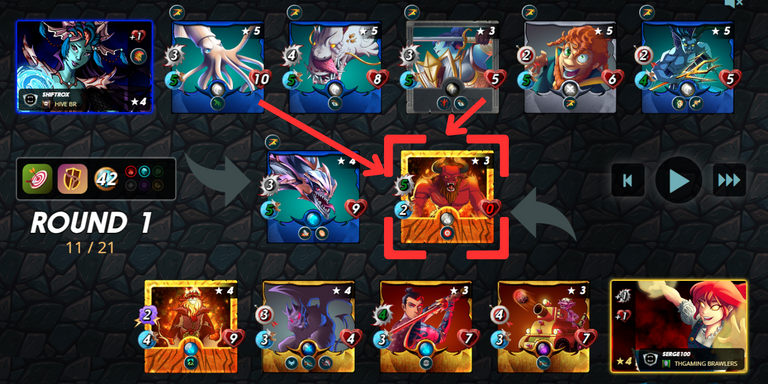 Tirando vantagem que agora era o monstro mais rápido da partida, no início da segunda rodada ISGALD VORST conseguiu realizar mais um abate, somando novamente +1 a todos os seus atributos, já se tornando uma unidade praticamente imparável em vista que não haviam mecanismos que pudessem segurá-lo.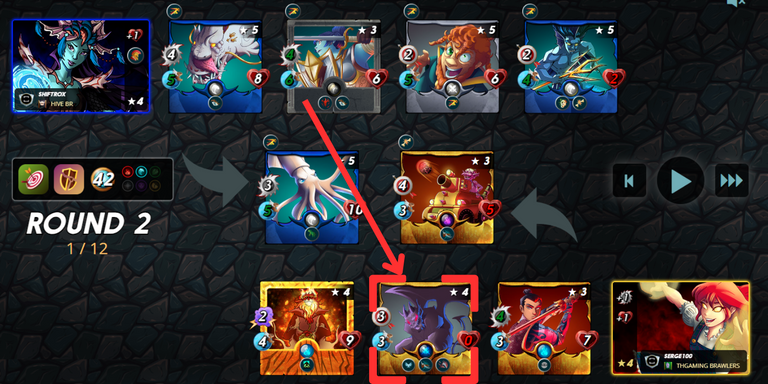 Não somente isso, mais uma unidade adversária iria cair, sobrando apenas duas em campo a vitória já estava no caminho e assim, não haveria o que meu adversário pudesse fazer.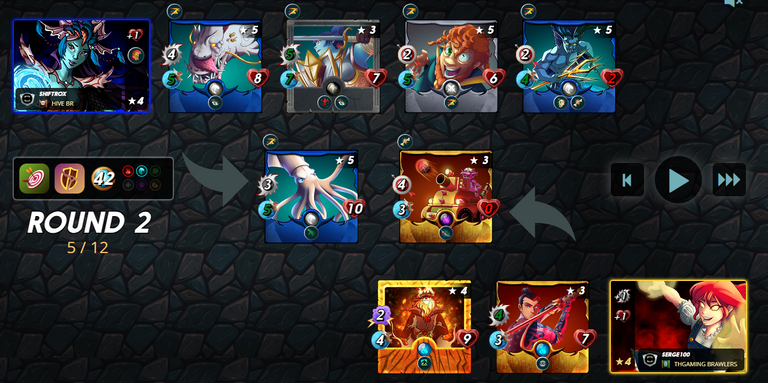 Novamente, mais um ataque e abate de ISGALD VORST, sendo este o monstro da primeira posição da equipe adversária. Podemos notar como é perigoso quando temos uma carta com BLOODLUST em campo e que as chances de ganharmos com ela realizando apenas um abate já são enormes, agora imagine com três como foi o caso agora, nada poderia parar essa máquina!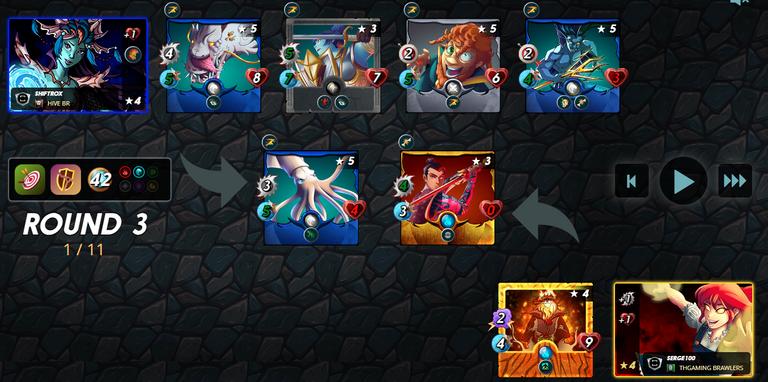 Como sobrou apenas uma carta, acelerando o processo, ao começo da rodada 4, mais um abate para ISGALD VORST e finalmente, fim de batalha. Nitidamente a carta desequilibrou toda a partida, apesar de que o restante do time estava bem forte também, mas, pudemos ver como podemos criar um monstro quando tudo acontece conforme o planejado.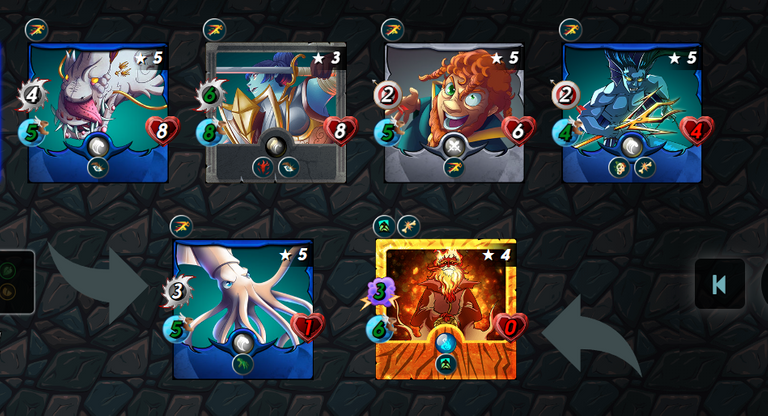 O replay com todos os detalhes pode ser visto AQUI!
---
Por fim, posso dizer que a carta ISGALD VORST tem me dado boas vitórias, mesmo quando não temos a regra de batalha UNPROTECTED, existem outras formas de ajudar a enfraquecer os monstros adversários e assim, deixar com que ele realize os abates.
Após este processo, ficando bem forte por conta das melhorias em seus atributos, fica complicado parar qualquer carta que tenha tanta capacidade ofensiva, além de outra habilidade que o ajude a caçar os monstros com menor vida.
Sendo assim, recomendo muito a sua utilização sempre que possível, pois pelo menos para mim, na liga prata tem sido bem agradável colocá-lo em campo, aproveitando de todo o seu conjunto de atributos e habilidades e levando ao limite que o nível das cartas no nível prata não é tão alto, ele tem uma grande vantagem sobre seus oponentes.
Muito obrigado a todos e até a próxima!
Let's have fun! Join me at Splinterlands
Follow me on Twitter

Delegate your HP to the hive-br.voter account and earn Hive daily!
🔹 Follow our Curation Trail and don't miss voting! 🔹
Image Credit: Banners created by me in Canva
---
---