[ENG/PT-BR] Finally, Kelya Frendul at level 5!
Você pode conferir a postagem em PT-BR!
---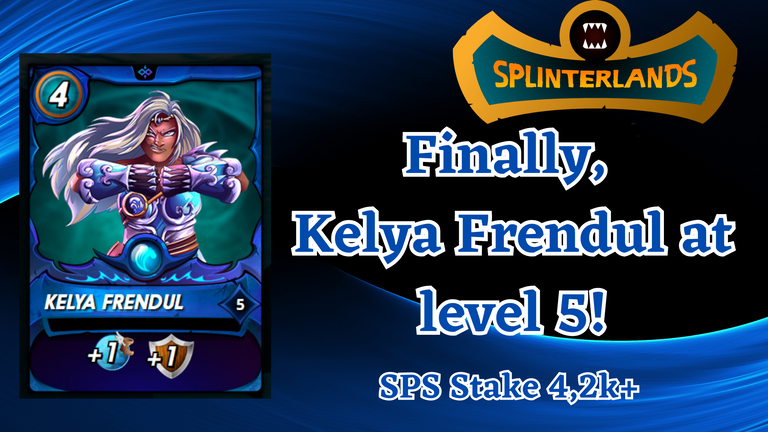 A Simple Introduction…
It's been 2 to 3 months since I stopped investing in Splinterlands cards to improve my collection, with the last seasons being the hardest and most complicated I've faced so far, I decided to take this break.
With the wave of bots that increased ridiculously high, winning games was becoming increasingly rare, showing once again to everyone that the "Machine X Man" relationship is something that we should calmly review , already alluding to artificial intelligence that arrived with everything to stay and become something routine in our lives.
So, a general feeling, many members and players started to review what they want for their future in correlation with Splinterlands and for me it was no different.

My goal was to stay in the gold league and have the cards upgraded to keep me at these levels, starting from G3 and ending up in G1. Until then it was just joy, but plans change and that's what happened.

Despite the fact that "Card Power" will no longer dictate the league rewards process, but the SPS, it seems (and from what I understand) CP will become somewhat obsolete. At the moment my SPS stake would return me 100% rewards only on silver 3 and for this tier, my cards match the maximum return of rewards (if that doesn't change too).
After this short summary, even so, I decided to do something that I wanted to do for a long time, but ended up stopping, which was to put the water summoner KELYA FRENDUL, at least at level 5 and that's exactly what I decided to do.
As we can see, these are my Chaos Legion summoners, already showing that I bought the necessary units to level them up.

So, making the investment of $17 in HBD, I bought credits and using Peakmonsters, I bought the 12 units that were missing (there was already one with 3 combined) to reach 15 and thus go up to level 5!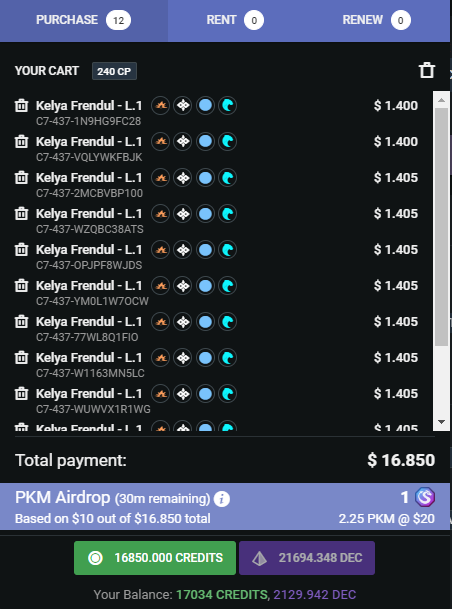 Just to reinforce, showing my purchase history, they only have records for this round I just made. I remember that when I was investing heavily, I was even losing myself in these lines. Good times.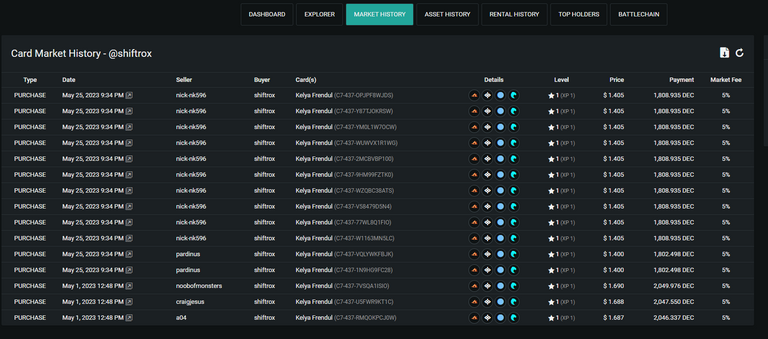 Why level up KELYA FRENDUL if technically my league that will give the most return will be P3 after the SPS stake implementation? Because I always considered her the best rare summoner of the Chaos Legion edition and with the image below we can prove it.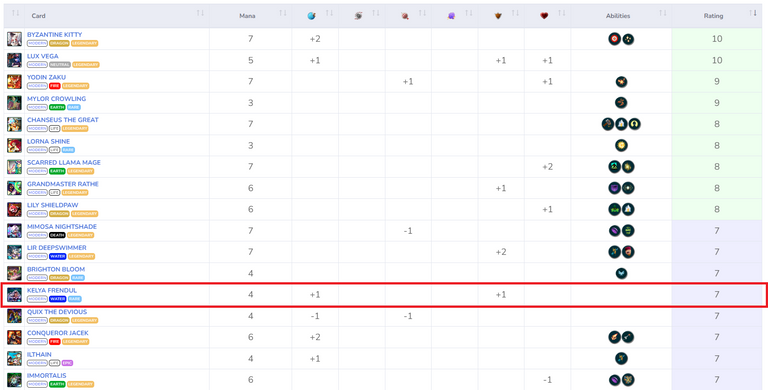 Source
So for the future, if you decide to stop playing, I believe it will be a good card to rent and thus get passive income. That is why this desire to invest precisely in it.
With its level 5 and an estimated value of $40, we're ready to start leveling up the monster cards and creating that ranked mess! I hope to have good results with this investment.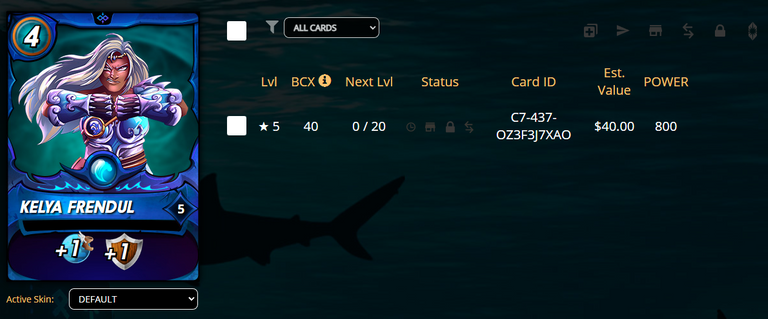 Finally, I managed to surpass the number of 4.2k of SPS in stake, reaching an approximate value of $87.45 and I am very happy with that. Apparently I'm managing to quickly increase my stake, with an approximate average of 100 SPS per week.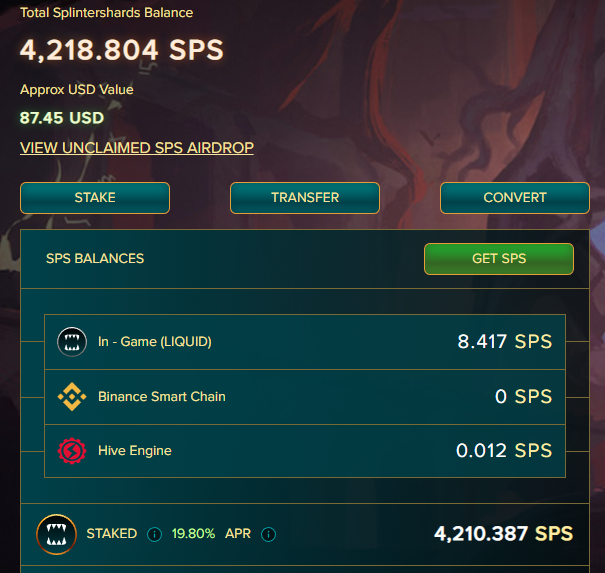 I will try to write down these values with more effort, but I believe that my growth is at least this value per week and I can only thank the HiveBR guild and its members who do their best in battles and this helps a lot at the end of each Brawl.
I'm moving forward, believing in better days and my next goals are to increase my SPS stake and start focusing on raising the common and rare water cards to the ceiling of summoner level 5. I hope to have more news for you soon!
Thank you all for your attention!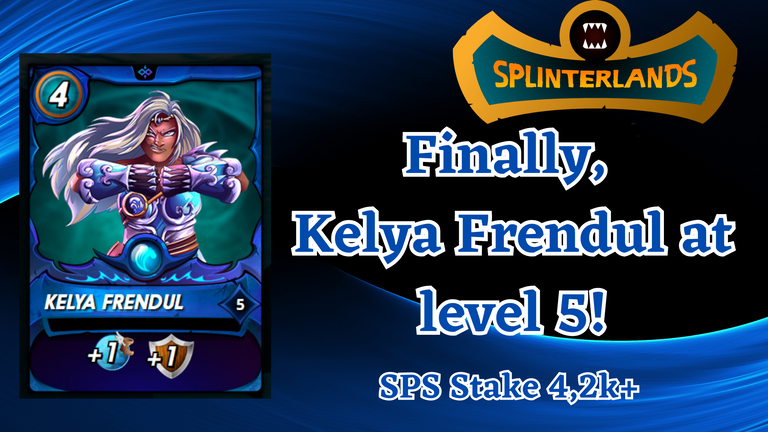 Uma Simples Introdução…
Faz uns 2 a 3 meses que parei de realizar investimentos nas cartas do Splinterlands para melhorar a minha coleção, com as últimas temporadas sendo as mais difíceis e complicadas que enfrentei até o momento, decidi fazer essa pausa.
Com a onda de bots que aumentou de forma ridiculamente alta, ganhar partidas foi se tornando cada vez mais raro, mostrando mais uma vez para todos, que a relação "Máquina X Homem" é algo que devemos rever com calma, já fazendo uma alusão a inteligência artificial que chegou com tudo para ficar e se tornar algo rotineiro na nossa vida.
Sendo assim, um sentimento geral, muitas membros e jogadores começaram a rever o que desejam para o seu futuro em correlação com o Splinterlands e para mim não foi diferente.

Meu objetivo era me manter na liga ouro e ter as cartas upadas para me manter nestes níveis, começando da G3 e ficando ao final na G1. Até aí era só alegria, mas, planos mudam e foi o que aconteceu.

Apesar de que "Card Power" não ditará mais o processo de recompensas das ligas e sim o SPS, ao que tudo indica (e pelo que entendi) CP vai se tornar algo obsoleto. No momento, meu stake de SPS me retornaria 100% de recompensas apenas na prata 3 e para este nível, minhas cartas correspondem com o máximo de retorno das recompensas (se isso não mudar também).
Depois deste pequeno resumo, mesmo assim, decidi fazer algo que queria realizar a um bom tempo, mas acabei parando, que era colocar a invocadora de água KELYA FRENDUL, pelo menos no nível 5 e foi exatamente isso que decidi fazer.
Como podemos observar, estes são os meus invocadores da Chaos Legion, já mostrando ali que comprei as unidades necessárias para subir o seu nível.

Então, realizando o investimento de $17 em HBD, comprei créditos e com isso utilizando o Peakmonsters, comprei as 12 unidades que faltavam (já havia uma com 3 combinadas) para chegar em 15 e assim subir par ao nível 5!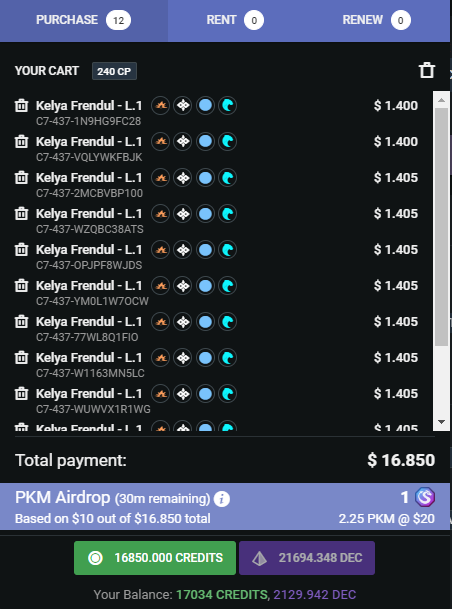 Apenas para reforçar, mostrando o meu histórico de compras, têm registros apenas para essa rodada que acabei de realizar. Lembro que quando estava investindo pesado, estava até me perdendo nestas linhas. Bons tempos.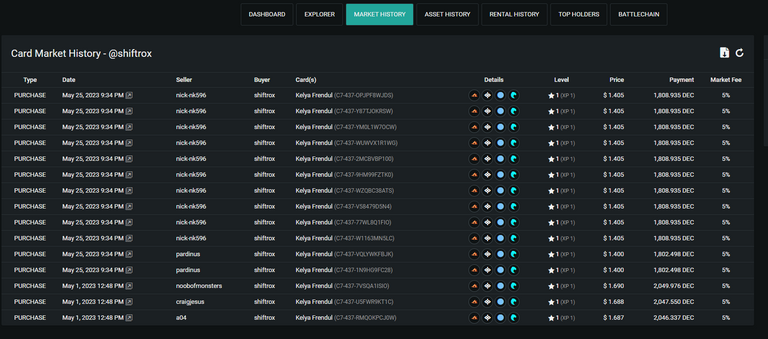 Por que subir o nível da KELYA FRENDUL se tecnicamente minha liga que irá dar mais retorno será a P3 após a implementação do stake SPS? Porque sempre considerei ela o melhor invocador raro da edição Chaos Legion e com a imagem abaixo podemos comprovar isso.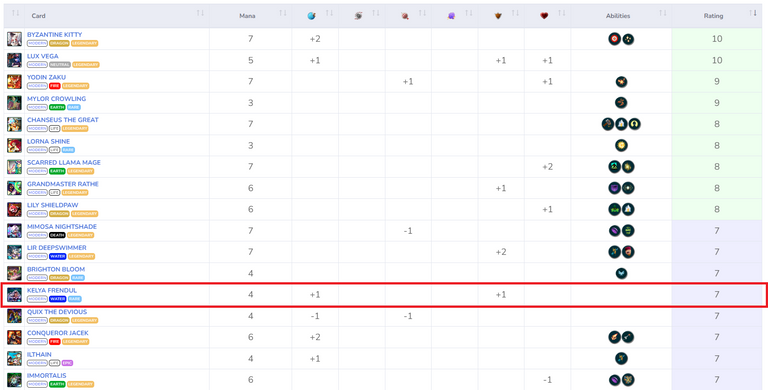 Fonte
Então para o futuro, caso decida parar de jogar, acredito que será uma boa carta para colocar para alugar e assim conseguir uma renda passiva. Por isso este desejo de investir justamente nela.
Com o seu nível 5 e um valor estimado de $40, estamos prontos para começar a subir o nível das cartas de monstros e criar aquela bagunça na ranqueada! Espero ter bons frutos com este investimento.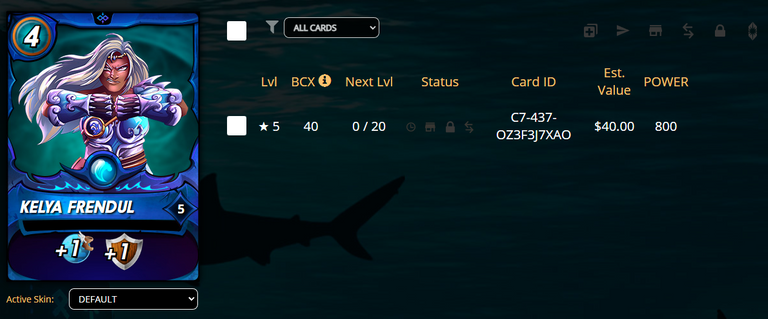 Para finalizar consegui ultrapassar o número de 4,2k de SPS em stake, chegando em um valor aproximado de $87,45 e estou bem contente com isso. Aparentemente estou conseguindo subir rápido o meu stake, com uma média aproximada de 100 SPS por semana.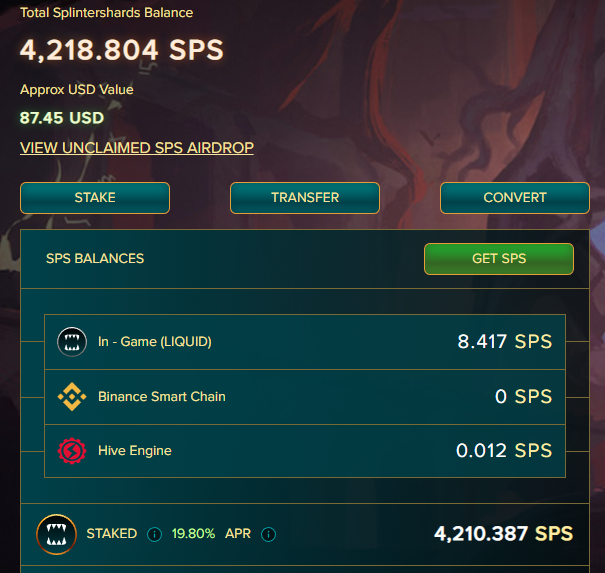 Tentarei anotar com mais esforço esses valores, mas, acredito que meu crescimento está de pelo menos esse valor por semana e só posso agradecer a guilda HiveBR e seus membros que fazem o seu melhor nas batalhas e isso ajuda bastante ao final de cada Brawl.
Sigo em frente, acreditando em dias melhores e meus próximos objetivos são aumentar o meu stake de SPS e começar a focar em subir as cartas comuns e raras de água para o teto da invocadora nível 5. Espero em breve ter mais novidades para vocês!
Obrigado a todos pela atenção!
Let's have fun! Join me at Splinterlands
Follow me on Twitter

Delegate your HP to the hive-br.voter account and earn Hive daily!
🔹 Follow our Curation Trail and don't miss voting! 🔹
Image Credit: Banners created by me in Canva.
---
---