[ENG/PT-BR] How not to play Splinterlands: Return Fire!
Você pode conferir a postagem em PT-BR!
---
Glory to the Splinterlands! Bravery and Determination!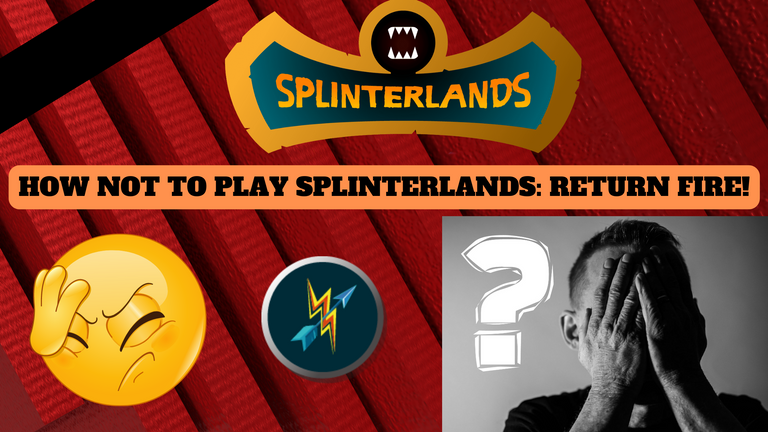 Many times, in our daily lives, in which we struggle to improve our ranking in the league, we end up forgetting to pay attention to the rules of battle and with that, we can be seriously harmed by our lack of attention.
I would like to share with you, a battle that I performed and in which I won, but I admit that not essentially because of my skill or the collection of cards, it ended up that my opponent helped a lot, precisely because he did not pay attention to the rules and with This contributed to my victory!
Let's analyze the following scenario, which was what I came across, what would be your ideal team formation idea for this situation?

First, the two rules:
---

Fire & Regret: All units on the battlefield gain the RETURN FIRE ability and with that, ranged attack-type monsters receive 2 points of return damage if hit your opponent. So we can already imagine that using this type of attack in battle will not be a good idea, after all, when our monsters hit, they will receive damage back.
---

Melee Mayhem: With this rule, monsters with the melee attack type can attack from any position, so I figured it would be a good idea to go with the fire element and its attack bonus for creatures of this type or the water element, which has good monsters and a speed and armor gain.
---
So with the fire and water elements available, the question was purely, who to choose? Well, in the end I ended up choosing the fire element, because of an insane little card that is one of my favorites: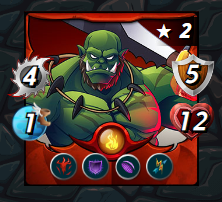 Himself! GRUM FLAMEBLADE, because of its BLOODLUST ability that could be activated if any ranged attack unit hits it and the return damage kills that unit, this kill counts as a trigger for the his BLOODLUST, so he would have one more chance to make him big in the part!
Of course, taking advantage of the rules presented, I selected a team composed of 5 melee attack units to receive the attack bonus and the only one who escaped the rule was DJINN INFERNI, because I like his skill GIANT KILLER that deals double damage against opponents that cost 10 or more mana.
Now, let's speed up to show the main point of the post, the team line-up!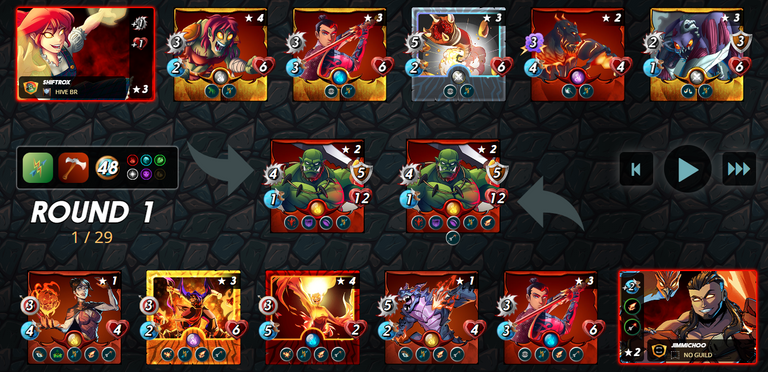 It is already possible to notice that the battle was hot, with both participants choosing the fire element! I will not go into the details of why each unit was selected, as our main point is another, precisely the lineup of the opposing team.
Note that he brought three units with a ranged attack and with that, a great chance of being defeated, as he would be punished due to the return damage for these units, not that the match was easy, but it was an extremely dangerous move, or maybe it was just a lack of attention, anyway, there was one more aggravating factor in this whole story!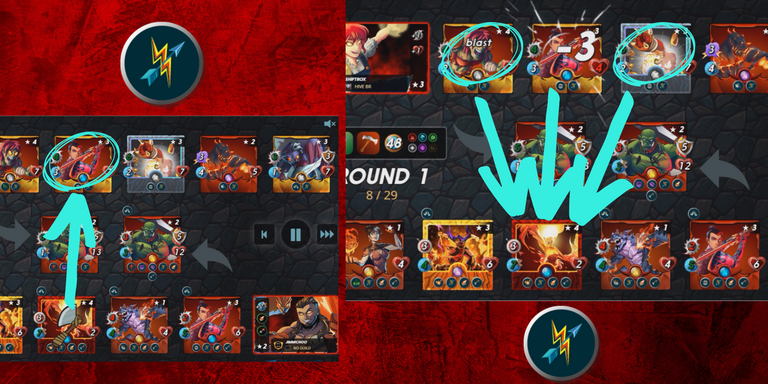 The image already speaks for itself, doesn't it? 2 monsters with ranged attack and BLAST ability, PYROMANCER and FIRE ELEMENTAL, have been cast and will receive damage not only from the main target, but everyone who takes damage from BLAST too! So, going back to the image, FIRE ELEMENTAL was defeated receiving 2 points of return damage.
In the case of the PYROMANCER who has more life, when attacking with his 3 attack points, he receives 2 return from the main target and 1 damage twice, on account of the adjacent monsters. So, starting with 6 life points, at the end of his attack, he has only 2 life points!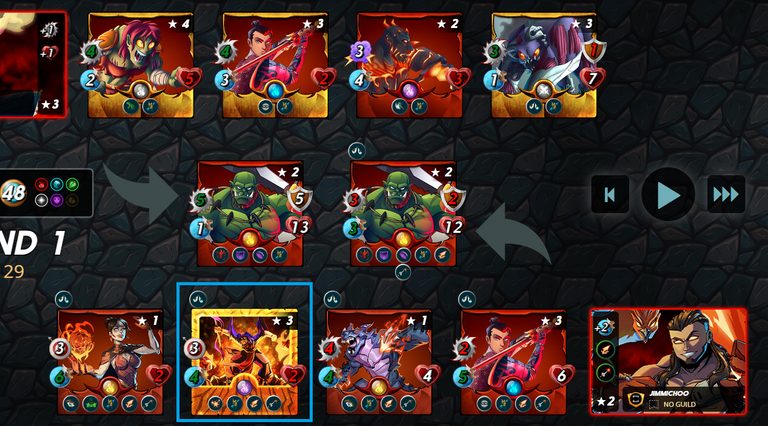 As I said, I conquered the victory in this battle that was very fierce and because of that, I'll leave the replay and the emotion for you to check HERE.
I highly recommend checking out the replay to get a better idea of how our actions and choices can help or hurt a lot in a battle. I'm pretty sure that if there wasn't the damage return for ranged attacks, I would have lost the duel, luckily for me, my opponent made this mistake which helped in my victory.
That is all! Thank you all and until the next post!

Glórias ao Splinterlands! Bravura e Determinação!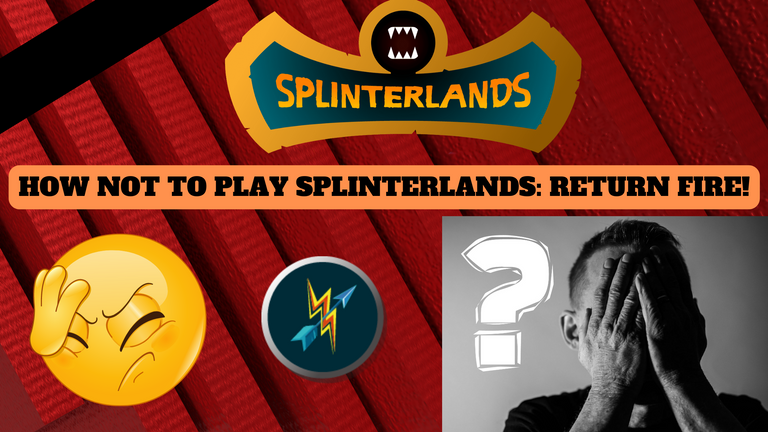 Muitas vezes, no nosso cotidiano, no qual lutamos para melhorar a nossa classificação na liga, acabamos esquecendo de prestar atenção nas regras de batalha e com isso, podemos ser bem prejudicados por nossa falta de atenção.
Gostaria de compartilhar com vocês, uma batalha que realizei e na qual obtive a vitória, mas, admito que não essencialmente por conta da minha habilidade ou pela coleção de cartas, acabou que meu adversário ajudou bastante, por justamente não prestar atenção nas regras e com isso, colaborou para a minha vitória!
Vamos analisar o seguinte cenário, que foi com o que me deparei, qual seria a sua ideia de formação de equipe ideal para está situação?

Primeiro, as duas regras:
---

Fire & Regret: Todas as unidades no campo de batalha, ganham a habilidade RETURN FIRE e com isso, os monstros com o tipo de ataque a distância, recebem 2 pontos de dano de retorno, caso acertem o seu adversário. Então já imaginamos que utilizar esse tipo de ataque na batalha não será uma boa ideia, afinal, nossos monstros ao acertar, irão receber um dano de volta.
---

Melee Mayhem: Com essa regra, os monstros com o tipo de ataque corpo a corpo podem atacar de qualquer posição, então já imaginei que seria uma boa ir com o elemento fogo e seu bônus de ataque para as criaturas deste tipo ou o elemento água, que possui bons monstros e um ganho de velocidade e armadura.
---
Então com os elementos fogo e água disponíveis, a questão era puramente, quem escolher? Bem, no final das contas acabei escolhendo o elemento fogo, por conta de uma cartinha insana que é uma das que mais gosto: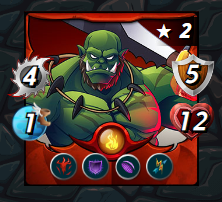 Ele mesmo! GRUM FLAMEBLADE, por conta de sua habilidade BLOODLUST que poderia ser ativada caso alguma unidade de ataque a distância o acertasse e o dano de retorno abatesse essa unidade, este abate conta como ativador para a sua BLOODLUST, sendo assim, teria uma chance a mais para deixar ele grande na parte!
Claro que aproveitando das regras apresentadas, selecionei uma equipe composta por 5 unidades de ataque corpo a corpo para receber o bônus de ataque e o único que fugiu da regra foi DJINN INFERNI, pois gosto da sua habilidade GIANT KILLER que causa o dobro de dano contra adversários que custam 10 ou mais de mana.
Agora, aceleremos para mostrar o ponto principal da postagem, a escalação das equipes!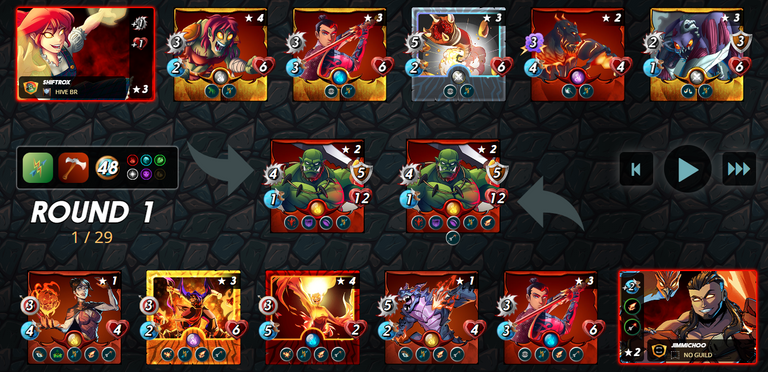 Já é possível notar que a batalha foi quente, com os dois participantes escolhendo o elemento fogo! Não entrarei nos detalhes do porquê de cada unidade selecionada, pois nosso ponto principal é outro, justamente a escalação do time adversário.
Notem que ele trouxe três unidades com ataque a distância e com isso, uma grande chance de ser derrotado, pois ele seria punido por conta do dano de retorno para essas unidades, não que a partida tenha sido fácil, mas foi uma jogada extremamente perigosa, ou talvez tenha sido apenas falta de atenção, de qualquer jeito, ainda houve mais um agravante nessa historia toda!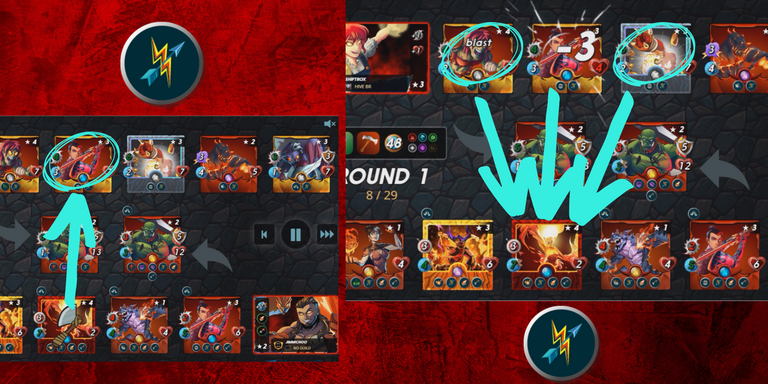 A imagem já fala por si só não é? Foram escalados 2 monstros com ataque a distância e a habilidade BLAST, o PYROMANCER e FIRE ELEMENTAL e irão receber o dano não apenas de quem foi o alvo principal, mas de todos os que recebem o dano do BLAST também! Sendo assim, voltando a imagem, FIRE ELEMENTAL foi derrotada recebendo 2 pontos de dano de retorno.
No caso do PYROMANCER que tem mais vida, ao atacar com seus 3 pontos de ataque, ele recebe 2 de retorno do alvo principal e 1 de dano duas vezes, por conta dos monstros adjacentes. Sendo assim, começando com 6 pontos de vida, ao fim do seu ataque, ele fica com apenas 2 pontos de vida!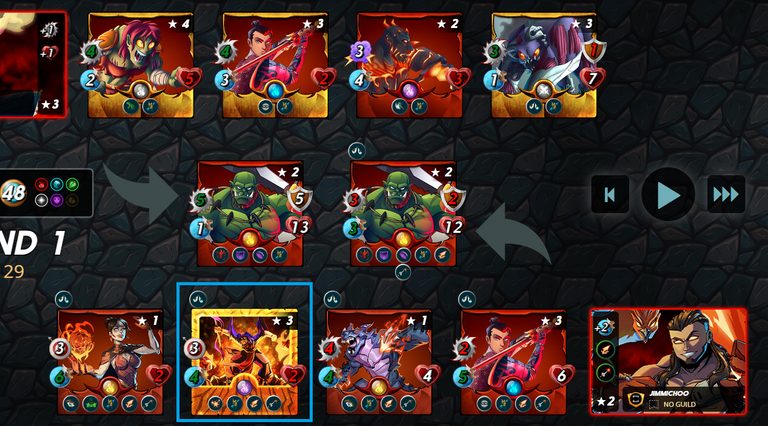 Como disse, conquistei a vitória nesta batalha que foi bem acirrada e por conta disso, deixarei replay e a emoção para vocês conferirem AQUI.
Recomendo muito que confiram o replay para ter uma noção maior de como nossas ações e escolhas podem ajudar ou prejudicar bastante em uma batalha. Tenho quase certeza de que se não houvesse o retorno de dano para os ataques a distância, teria perdido o duelo, felizmente para mim, meu oponente cometeu este equivoco que ajudou na minha vitória.
Isso é tudo! Obrigado a todos e até a próxima postagem!
---
🎮 Referral Links 🎮
---

🔹 #HiveBR Curation Trail 🔹


Image Credit: Banners created by me in Canva.
---
---