[ENG/PT-BR] I'm still here! Summary of my routine with Splinterlands.
Você pode conferir a postagem em PT-BR!
---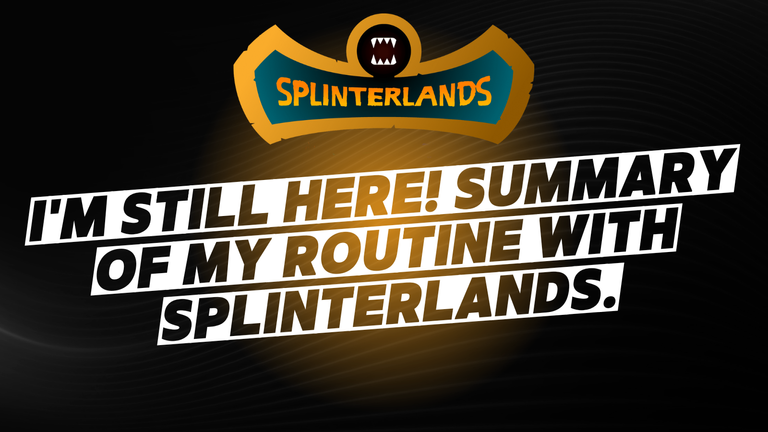 After a while without writing anything related to Splinterlands, I decided to create a summary of what I've been up to and what my goals are for the future, although the latest updates like the removal of bots from the modern mode have had an interesting effect, apparently the faith deposited by players in Splinter doesn't seem to be the greatest, but even so, I'm still playing and believing in better days.
The first thing I would like to comment is that I decided to take a break from posting about Splinterlands, not because I gave up on the game completely, but I ended up getting into another project that I really liked and that's where I stayed. So kind of the biggest reason was lack of time, although I really want to try to write at least once a week some content related to Splinterlands.
---
Now, yes, let's go…
About helper bots and extensions.
The big change I felt after all this time playing was that somehow the modern mode became more competitive and challenging for me. Although I have many doubts about what was done in relation to the bot bus in this mode, suspicion always falls when a losing streak of 5 or more games begins to happen.
Then I ask myself: is it really that all bots were banned? Do the extensions (browser or Discord) that help players still work? Is there any other way that malicious people are circumventing some rule or validation?
Of course, I could just be playing really badly, because sometimes I don't even think much about which team to pick and just try to put together a standard team. For the benefit of the doubt, I prefer to believe that everything is fine and that I'm losing because the other player actually played better.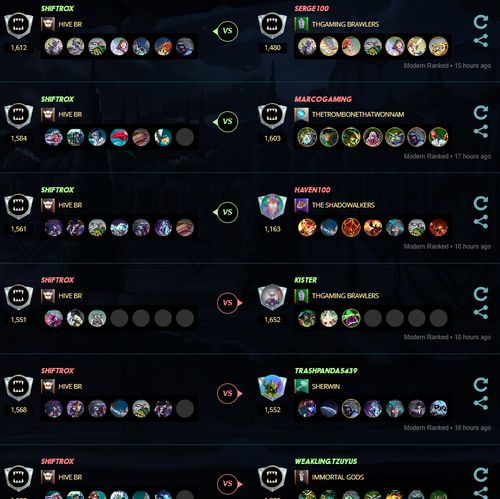 An example of my last games
Anyway, this topic is already recurring and I know how annoying it is to just complain about the same thing every time, so I really want this to be the last time I talk about this publicly, although personally I still think there are some ways to help that has made some players have more advantage than others, an advantage that goes beyond just insane and stronger cards in terms of level. Anyway, matter closed.
---
About investments for Splinterlands.
I remain reluctant to invest heavily in Splinterlands again, I know this could be something that will penalize me a lot in the future, but that's what's on my mind at the moment. I've been making investments focused on Hive itself, aiming to increase my HP and so, to be honest, I haven't invested in any Hive games.
Despite this, I keep playing almost every day, I just can't play due to lack of time or when something unforeseen happens. I've been increasing my SPS in stake naturally, with battles and general rewards, I haven't been renting cards except for Brawl and that's it.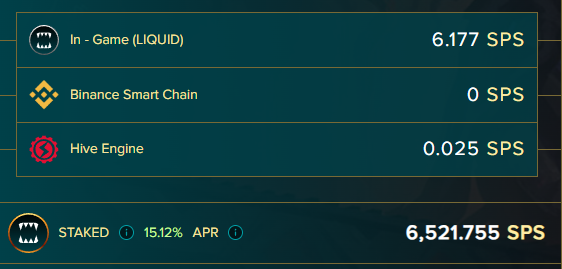 My own stake is at 6,521.755 and as I said, I don't buy the same, I just win naturally. I know I should take better advantage of the moment to increase this number, but I'm in the phase of taking it very slowly with everything related to Splinterlands again.
My Chaos Legion edition cards are almost all at the maximum level that the silver league allows, so I don't see the need to increase their level even further, since the gold league is further away (I'll explain in the next topic), of course, that would be nice to keep leveling everyone up, but it's not a priority of mine right now.
---
About the league and battles.
I said in the first topic that the battles have become more challenging and, therefore, there have been a few seasons now where I simply can't get out of the silver league so easily, reaching gold league 3 only in the last few days of the season.
I believe this is due to the fact that when the SPS stake came into play to determine the amount of points earned through battles and that now everyone could move up a league if they reached the necessary number of points, the value of the cards fell, making it easier to access many players to powerful cards that previously had a very high value.

I haven't looked anywhere to get data on this, but since SPS staking came into force, I noticed in battles an insane increase in the use of legendary summoners and many strong cards in terms of their level and rarer cards and little seen in the modern way.
Another point that can also influence is the calibration of the players' level, since many must have left modern mode and gone to wild mode with their bots, the players who stayed could be of much higher levels and like the same ones now there are few to face, it ends up happening that I with 1200 points of classification face a player with 1800 points.
The way is to be patient and not freak out, trying to improve with each match to seek victory.
---
These are some points about my Splinterlands routine. I continue playing in a more relaxed way, without worrying too much about whether I'm winning or losing and focusing on helping my teammates in Brawls, doing whatever I can to win and leave our guild in a good ranking.
I hope to bring you more news soon!
Many thanks to everyone who donated a little of their time to read. See you next time guys!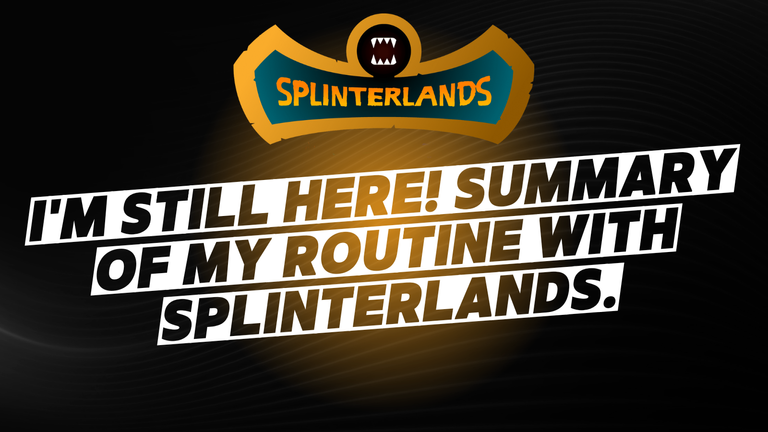 Depois de um tempo sem escrever nada relacionado com o Splinterlands, decidi criar um resumo do que tenho feito e de quais são os meus objetivos para o futuro, apesar das últimas atualizações como a remoção dos bots do modo moderno terem surtido um efeito interessante, aparentemente a fé depositada pelos jogadores no Splinter não parecer ser a das maiores, mas, mesmo assim, ainda sigo jogando e acreditando em dias melhores.
A primeira coisa que gostaria de comentar é que decidi dar uma pausa nas postagens sobre o Splinterlands, não porque desisti totalmente do jogo, mas, acabei entrando em outro projeto que gostei bastante e por ali fiquei. Então meio que o motivo maior foi por falta de tempo mesmo, apesar de que quero muito tentar escrever pelo menos uma vez por semana algum conteúdo relacionado ao Splinterlands.
---
Agora, sim, vamos lá…
Sobre os bots e extensões de ajuda.
A grande mudança que senti depois desse tempo todo jogando, foi que de alguma forma o modo moderno ficou mais competitivo e desafiador para mim. Ainda que tenha muitas dúvidas sobre o que foi feito em relação ao barramento de bots neste modo, sempre recai a suspeita quando começa a acontecer uma sequência de derrotas de 5 ou mais partidas.
Aí eu me pergunto: será mesmo que todos os bots foram banidos? As extensões (navegador ou Discord) que auxiliam os jogadores ainda funcionam? Existiria alguma outra forma de pessoas mal intencionadas estarem burlando alguma regra ou validação?
Claro que posso apenas estar jogando mal mesmo, pois às vezes nem penso muito sobre qual time escalar e apenas tento montar um time padrão. No benefício da dúvida, prefiro acreditar que está tudo bem e que estou perdendo é porque o outro jogador realmente jogou melhor.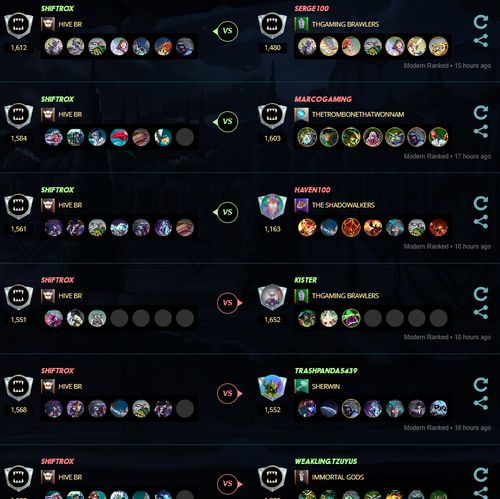 Um exemplo das minhas últimas partidas
Enfim, esse assunto já é recorrente e sei como é chato ficar apenas reclamando sobre o mesmo toda santa vez, então quero realmente que essa seja a última vez em que falo sobre isso publicamente, apesar de que pessoalmente ainda acho que existam algumas formas de ajuda que tem feito alguns jogadores terem mais vantagem do que outros, vantagem essa que vai além de apenas cartas insanas e mais fortes em questão de nível. De qualquer maneira, assunto encerrado.
---
Sobre os investimentos para o Splinterlands.
Continuo relutante a voltar a investir pesado no Splinterlands, sei que isso pode ser algo que vai me penalizar bastante no futuro, mas isso é o que está na minha mente no momento. Tenho feito investimentos focados em relação à própria Hive mesmo, visando aumentar o meu HP e por isso, para ser sincero, não tenho feito investimento em nenhum jogo da Hive.
Apesar disso, sigo jogando quase todo dia, só não consigo jogar por falta de tempo ou quando algum imprevisto acontece. Tenho aumentado meu SPS em stake naturalmente, com as batalhas e recompensas gerais, não tenho alugado cartas a não ser para o Brawl e bem é isso.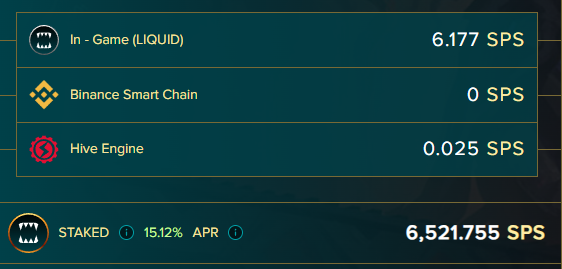 Meu stake próprio está em 6.521,755 e como dito, não compro o mesmo, ganhando apenas naturalmente. Sei que deveria aproveitar melhor o momento para crescer esse número, mas, estou na fase de ir bem devagar com tudo novamente relacionado ao Splinterlands.
Minhas cartas da edição Chaos Legion estão quase todas no nível máximo que a liga prata permite, então não vejo a necessidade de subir mais ainda o seu nível, já que a liga ouro ficou mais distante (explico no próximo tópico), claro, que seria bom continuar subindo o nível de todas, mas não é uma prioridade minha no momento.
---
Sobre a liga e batalhas.
Havia dito no primeiro tópico que as batalhas ficaram mais desafiadoras e, portanto, já têm algumas temporadas que simplesmente não consigo mais sair da liga prata tão facilmente, chegando na liga ouro 3 apenas nos últimos dias de temporada.
Acredito que isso se deve ao fato de que quando entrou o stake de SPS para determinar a quantidade de pontos ganho por batalhas e que agora todos poderiam subir de liga caso chegassem aos números de pontos necessários, o valor das cartas caiu, facilitando o acesso de muitos jogadores a cartas poderosas que antes tinham um valor muito alto.

Não olhei em nenhum lugar para pegar dados sobre isso, mas, desde que entrou em vigor o stake de SPS, percebi nas batalhas o aumento insano de utilização de invocadores lendários e de muitas cartas fortes na questão de seu nível e de cartas mais raras e pouco vistas no modo moderno.
Outro ponto que pode também influenciar, é a calibragem do nível dos jogadores, já que muitos devem ter saído do modo moderno e ido para o modo selvagem com seus bots, os jogadores que ficaram podem ser de níveis bem mais altos e como os mesmos agora são poucos para se enfrentar, acaba acontecendo que eu com 1200 pontos de classificação enfrentar um jogador com 1800 pontos.
O jeito é ter paciência e não surtar, tentando melhorar a cada partida para buscar a vitória.
---
Esses são alguns pontos sobre a minha rotina no Splinterlands. Continuo jogando de uma forma mais tranquila, sem me preocupar muito se estou ganhando ou perdendo e focando em ajudar meus companheiros nas Brawls, fazendo o que for possível para ganhar e deixar nossa guilda em uma boa classificação.
Espero trazer mais novidades em breve!
Muito obrigado a todos que doaram um pouco do seu tempo para ler. Até a próxima pessoal!
Let's have fun! Join me at Splinterlands
Follow me on Twitter

Delegate your HP to the hive-br.voter account and earn Hive daily!
🔹 Follow our Curation Trail and don't miss voting! 🔹
Image Credit: Banners created by me in Canva
---
---