[ENG/PT-BR] I reached gold league 3 and improvements on four rare cards.

Você pode conferir a postagem em PT-BR!
---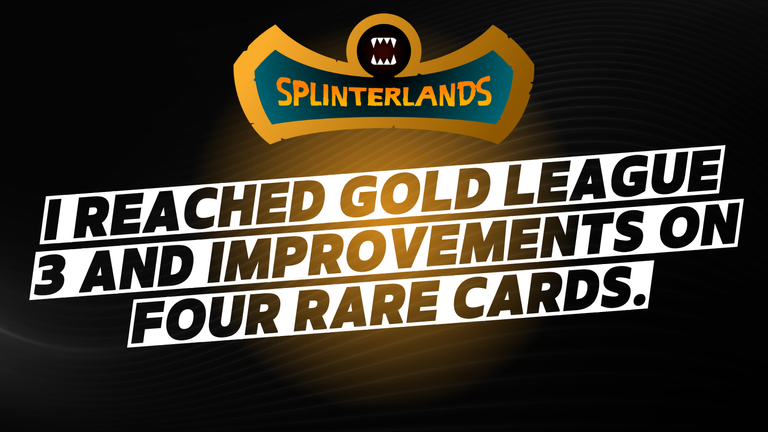 Despite being missing from the Splinterlands scene, as said in my last (few) posts, I'm trying hard to bring you news at least once a week about what I'm doing in relation to my career and improving my cards.
Now that the general scenario has changed for me, reaching gold league 3 has once again become a great challenge, a feat that I was previously able to accomplish when I usually had about 5 or 6 days left, but which is now taking me longer. So it was exactly yesterday that I managed to reach this league and as usual, much stronger opponents started to appear.
Now, I'm doing well, I managed to achieve some victories that have left me in gold 3, but at any moment a sequence of defeats could come and with that I could return to silver 1.

The season chests that I get are very few at the moment, last season I got 30 of them, this time I don't know if I'll be able to reach the same number or more, but in any case the season itself wasn't bad.
Below we can check out her summary: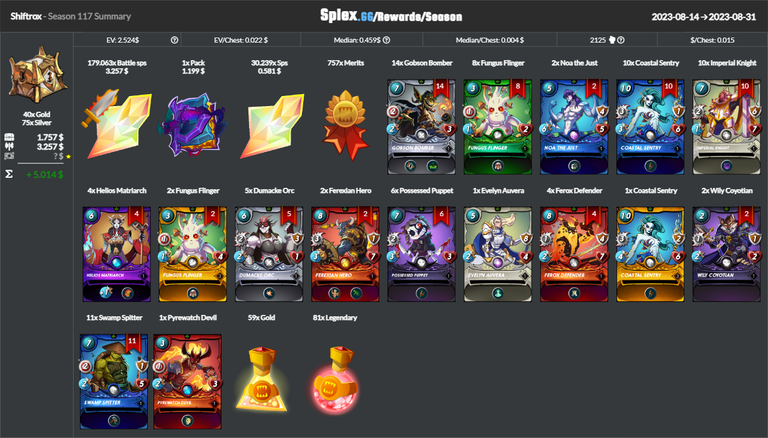 My staked SPS has also increased a little since my last post on September 7th, going from 6,521.755 to 6,604.628, which shows that I am gradually improving in this regard, which consequently improves the points gained and the amount of chests that I can conquer.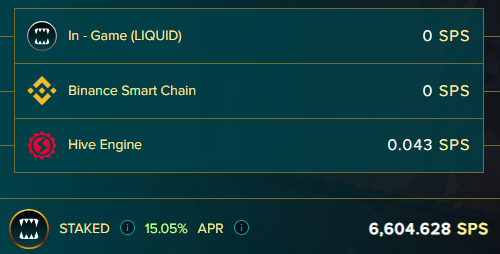 The battles have a great return on SPS and the brawls help a lot to win a very considerable amount of tokens, at the moment my goal is to always stake. For now I decided not to participate in tournaments, but soon I want to return to them with full force.
After this brief summary, let's get to the point: the card improvement that I finally carried out after months of not investing in Splinterlands. The selected monsters are those of the water element, Chaos Legion edition and rare rarity:

As we can see, they are all at level 4, although my standard water element summoner KELYA FRENDUL is at level 5, which allows rare cards to also be used at level 5 when reaching the gold league. For the silver league, everything is OK and they are already at their level cap ceiling.
So, I decided to improve them all at once, to avoid penalties and increase my chances of winning when I reach the gold league.
Using Peakmonsters, I already got all the necessary cards and the total value to increase your levels will be $6,280, which made me happy, because I honestly thought I would spend a lot more, After all, the water element, in my opinion, has always been the most powerful in this edition and current meta, which greatly enhances your cards.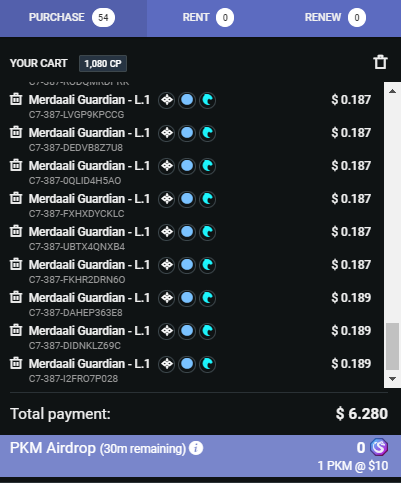 I decided to use $7 to buy credits and thus make the purchase and finally level them all up to level 5: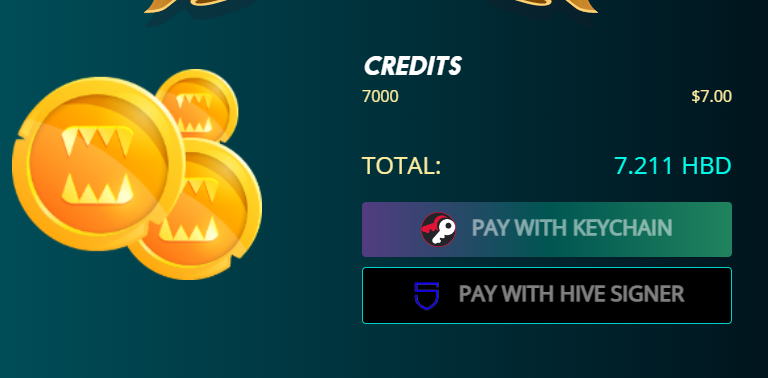 After the entire process, here they are stronger and more powerful to help me in the arduous battles of the gold level, a level at which they can be used more efficiently.

---
The cards themselves are very powerful whether for attack or support, starting with one of the best tanks we have in my opinion: DIEMONSHARK, using Splinterguide, we can see that its best efficiency is in the silver league with 8.5/10 points, while for gold it drops to 7.6/10, assuming it is at the league's limit level which is 6, so the more level can rise better for me in battles.
In its improvement, it increased +1 life point, which could be the difference between winning and losing, making it more durable in battle, I believe that the chances of victory also become greater.

Source
Being a weapon of mass destruction, your TRAMPLE can destroy several units on the opposing team, as in the example when we have the battle rule STAMPEDE, below, I leave a link to two battles in which he simply sent the entire opposing team back to base:
---
The second card, ANGELIC MANDARIN is a card that serves as great support due to its ability TRIAGE, which helps a lot to heal your teammates from the entire rear, great, for example, in battles where we can only use monsters with ranged attacks or with SNEAK on all melee monsters, so we can put a powerful unit in the last position and focus on its healing.
Once you reach level 5, you gain +1 to your attack, which makes you much more efficient in battle, after all, how many times have we lost a match because of 1 missing damage? It could be exactly this damage that has just been improved.

Source
Its efficiency between the silver and gold league doesn't change much, despite dropping 0.2 for the gold league, I consider ANGELIC MANDARIN a card that can make a difference on the battlefield.
---
The third card, MERDAALI GUARDIAN is another heavyweight and we can see how its efficiency takes a leap from the silver to the gold league. I particularly found support absurd when you can recover your team's life and shield, where we can combine with other cards and create a team with plenty of support and the ability to extend the battle over several turns.
Of course, it must be observed, if the rules and what elements we will fight against, to create a more support-oriented team, in any case, this card alone will provide great help to the tank with healing and the rest of the team with shield.

Source
At this level, despite losing 1 point in your life, gaining the ability REPAIR makes it an additional option for helping your team to become more durable in battle, so this leads us to put together a strategy in which it is possible to keep her alive for as long as possible, recovering her teammates, while they do damage to the opposing team.
---
Finally, RIVER NYMPH, another card that can help a lot in support, gaining +1 life point, its modification is not that significant in my opinion, but, in different situations, it can also be the difference between helping the team or being defeated faster.
In battles with rules like NOXIOUS FUMES, it can remove the negative attribute of the monster in the first position or those in If there is any ability that causes return damage, your ability AMPLIFY can make a big difference, knowing how to protect it well, we can make opponents receive high damage in return.

Source
Its low grades in relation to the silver and gold alloy, I believe is due to its use, which would be specific for some battles, as mentioned above. In normal and routine battles, I believe it doesn't work very well, so it becomes more of a technical card than for battles in general.
In conclusion, I am, to a certain extent, very happy with this update to my cards, despite having spent a long time without improving any of them and being in the silver league most of the time, I think it was super worthwhile to make this evolution.
My idea now is to try to raise the rest of the cards I still have to silver level, as I have many epics and legendary ones that are not yet at the maximum possible for this league, so my main objective now is to get these cards to the level ceiling. silver.
I hope to bring you more news soon!
Thank you very much to everyone who donated a little of their time to read. See you next time folks!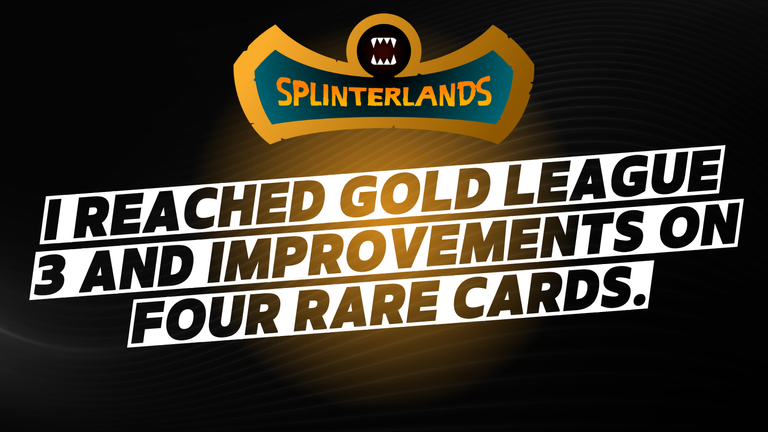 Apesar de estar sumido do cenário de Splinterlands, como dito nas minhas últimas (poucas) postagens, estou me esforçando para trazer novidades pelo menos uma vez por semana, sobre o que faço em relação a minha carreira e a melhoria das minhas cartas.
Agora que o cenário geral mudou para mim, chegar na liga ouro 3 voltou a ser um grande desafio, feito que antes estava conseguindo realizar quando geralmente faltavam uns 5 ou 6 dias, mas que agora estou levando mais tempo. Então foi exatamente ontem que consegui alcançar essa liga e como de costume, adversários bem mais fortes começaram a aparecer.
Agora, estou indo até bem, consegui conquistar algumas vitórias que tem me deixado no ouro 3, mas a qualquer instante pode vir uma sequência de derrotas e com isso posso voltar para a prata 1.

Os baús de temporada que conquisto por enquanto estão bem poucos, na última temporada consegui 30 deles, neste agora, não sei se irei conseguir chegar ao mesmo número ou maior, mas de qualquer forma a temporada em si não foi ruim.
Abaixo podemos conferir como foi o resumo dela: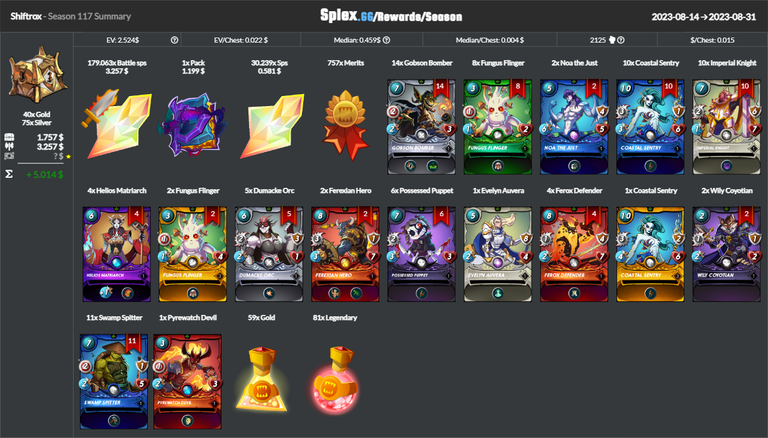 Meu SPS em stake aumentou um pouco também desde a minha última postagem no dia 7 de setembro, saindo de 6.521,755 para 6.604,628 o que mostra que gradualmente estou evoluindo nesse quesito, o que consequentemente vai melhorando o ganho de pontos e a quantidade de baús que consigo conquistar.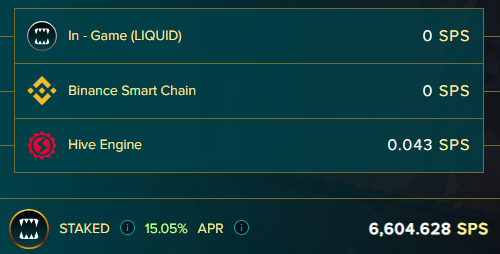 As batalhas estão com um ótimo retorno de SPS e as brawls ajudam bastante a conquistar um valor bem considerável de tokens, no momento meu objetivo é ir sempre fazendo stake. Por enquanto decidi não participar de torneios, mas em breve quero voltar com força total neles.
Depois desse breve resumo, vamos ao que interessa: a melhoria de cartas que finalmente realizei após meses sem investir no Splinterlands. Os monstros selecionados são os do elemento água, edição Chaos Legion e raridade rara:

Como podemos observar, estão todas no nível 4, apesar da minha invocadora padrão do elemento água KELYA FRENDUL estar no nível 5, o que permite que cartas raras possam ser utilizadas também no nível 5 ao chegar na liga ouro. Para a liga prata, está tudo OK e já estão em seu teto de limite de nível.
Então, decidi melhorar elas todas de uma vez, para evitar penalidades e aumentar minhas chances de vitória quando chego na liga ouro.
Utilizando o Peakmonsters, já peguei todas as cartas necessárias e o valor total para subir seus níveis será de $6,280 o que me deixou até feliz, porque sinceramente achei que iria gastar bem mais, afinal, o elemento água na minha opinião sempre foi o mais poderoso dessa edição e meta atual, o que valoriza e muito suas cartas.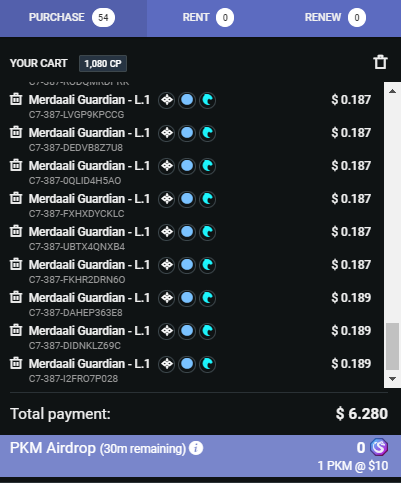 Decidi utilizar $7 para comprar créditos e assim efetuar a compra delas e assim finalmente subir o nível de todas para o nível 5: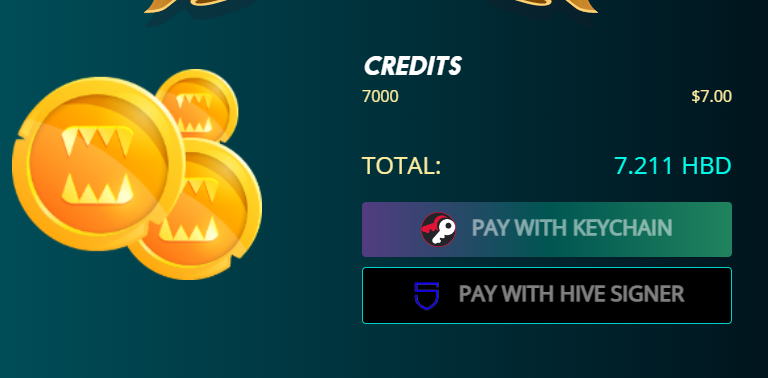 Após todo o processo, aqui estão elas mais fortes e poderosas para me auxiliar nas árduas batalhas do nível ouro, nível este em que elas poderão ser utilizadas com mais eficiência.

---
As cartas em si são bem poderosas seja para o ataque ou para o suporte, começando por um dos melhores tanques que temos na minha opinião: DIEMONSHARK, utilizando o Splinterguide, podemos notar que sua melhor eficiência é na liga prata com 8,5/10 pontos, enquanto para o ouro cai para 7,6/10, isso imaginando estar no nível limite da liga que é 6, então quanto mais nível conseguir subir melhor para mim nas batalhas.
Na sua melhoria, aumentou +1 ponto de vida, o que pode ser a diferença entre ganhar e perder, fazendo com que se torne mais durável em batalha, acredito que as possibilidades de vitória também se tornem maiores.

Fonte
Sendo uma arma de destruição em massa, seu TRAMPLE pode arrasar várias unidades do time adversário, como no exemplo quando temos a regra de batalha STAMPEDE, abaixo, deixo o link de duas batalhas em que ele simplesmente mandou para a base todo a equipe adversária:
---
A segunda carta, ANGELIC MANDARIN é uma carta que entra como sendo um ótimo suporte por conta de sua habilidade TRIAGE, que ajuda bastante a curar seus companheiros de equipe da retaguarda inteira, ótimo, por exemplo, em batalhas onde apenas podemos utilizar monstros com ataque a distância ou com SNEAK em todos os monstros de ataque corpo a corpo, com isso podemos colocar uma unidade poderosa na última posição e focar em sua cura.
Chegando ao nível 5, ganha +1 em seu ataque, o que o torna muito mais eficiente em batalha, afinal, quantas vezes perdemos uma partida por conta de 1 de dano que ficou faltando? Pode ser exatamente esse dano que acabou de ser melhorado.

Fonte
Sua eficiência entre a liga prata e ouro não muda muito, apesar de cair 0,2 para a liga ouro, considero ANGELIC MANDARIN uma carta que pode fazer a diferença no campo de batalha.
---
A terceira carta, MERDAALI GUARDIAN é outro suporte de peso e podemos observar como sua eficiência dá um salto da liga prata para a ouro. Eu particularmente achei um absurdo de suporte no momento em que você consegue recuperar vida e escudo da sua equipe, onde podemos combinar com outras cartas e criar uma equipe com bastante suporte e capacidade de estender a batalha por vários turnos.
Claro que deve ser observado, se as regras e contra quais elementos lutaremos, para criar uma equipe mais voltada para o suporte, de qualquer forma, somente essa carta já proverá uma grande ajuda para o tanque com cura e o restante da equipe com escudo.

Fonte
Neste nível, apesar de perder 1 ponto em sua vida, ganhar a habilidade REPAIR a torna uma opção a mais para auxiliar o seu time a ficar mais durável perante a batalha, então isso nos leva a ter que montar uma estratégia na qual seja possivel manter ela viva o maior tempo possível, recuperando seus companheiros, enquanto eles fazem o estrago no time adversário.
---
Por fim, RIVER NYMPH, mais uma carta que pode ajudar bastante no suporte, ganhando +1 ponto em vida, a sua modificação não é tão expressiva na minha opinião, mas, em situações distintas, pode também ser a diferença entre auxiliar a equipe ou ser derrotada mais rápida.
Em batalhas com as regras como NOXIOUS FUMES, ela pode retirar o atributo negativo do monstro na primeira posição ou aquelas em que existe alguma habilidade que causa dano de retorno, sua habilidade AMPLIFY pode fazer uma grande diferença, sabendo proteger bem ela, podemos fazer com que os adversários recebem um dano alto de retorno.

Fonte
Suas notas baixas em relação à liga prata e ouro, acredito ser por sua utilização, que seria especifica para algumas batalhas, como citei acima. Em batalhas normais e rotineiras, acredito que ela não entra muito bem, por isso, se torna mais uma carta técnica do que propriamente dita para as batalhas em geral.
Finalizando, estou até certo ponto bem feliz com essa atualização nas minhas cartas, apesar de ter ficado um bom tempo sem melhorar nenhuma delas e de estar a maioria do tempo na liga prata, acho que foi super valido realizar essa evolução.
A minha ideia agora é tentar subir o restante das cartas que ainda tenho para o nível prata, pois tenho muitas épicas e lendárias que ainda não estão no máximo possíveis para essa liga, então meu objetivo principal agora é chegar essas cartas para o teto do nível prata.
Espero trazer mais novidades para vocês em breve!
Muito obrigado a todos que doaram um pouco do seu tempo para ler. Até a próxima pessoal!
Let's have fun! Join me at Splinterlands
Follow me on Twitter

Delegate your HP to the hive-br.voter account and earn Hive daily!
🔹 Follow our Curation Trail and don't miss voting! 🔹
Image Credit: Banners created by me in Canva
---
---