[ENG/PT-BR] Simple expectations for the future of Splinterlands
Você pode conferir a postagem em PT-BR!
---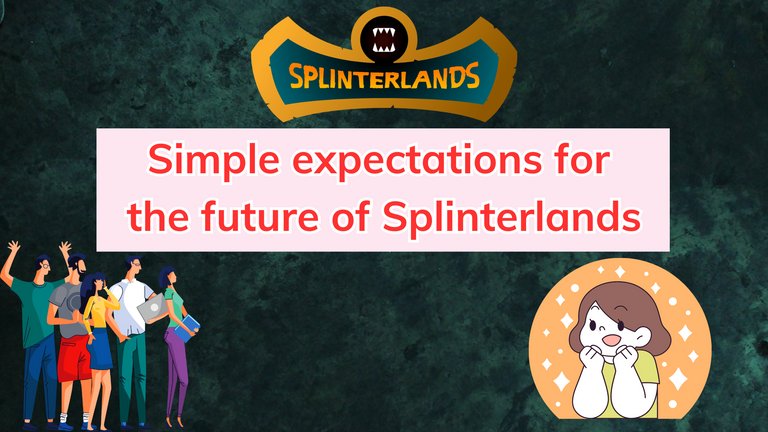 What expectations do we have for Splinterlands in the future? I would like to share with you what I have been feeling and what I think for the future. A lot has changed, others, unfortunately it seems not and so, we keep playing every day and trying not to freak out.
One of the changes that will arrive soon, which is the SPS in stake that will decide the winning percentage in ranked battles, which, for each league, will have a necessary value to get 100% rewards in each battle.
This seems to be a good thing, but for me it brings a little sadness, as I remember each new card won and each battle in search of CP to be able to stay in the gold league 1 in the modern mode, in which 100k of CP was required. After so long, I got there, but now it won't do any good.

It gives a feeling that everything I went through was in vain, although I know it wasn't, maybe that's what they say to be "seize the moment", because we never know what tomorrow will come, what event or change will hit us.
Ahh, that table, every time I see it I get a little depressed, but I hope this update is truly good, that it can take the bots away and make Splinterlands reborn like the phoenix, bigger and better.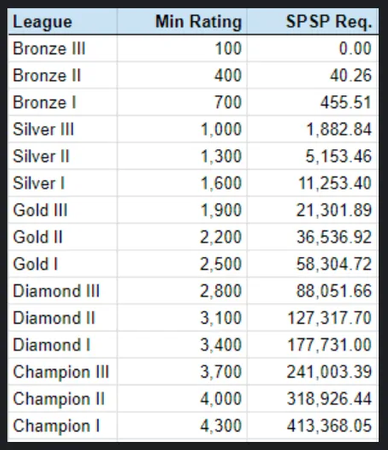 Despite having 4,148,102 stakes in SPS, I'm still far from 5,153.46, missing exactly 1,005,358 tokens in stakes to be able to get 100% of the rewards in silver league 2, which will be my medium-term goal. In this part, the HiveBR guild battles have helped a lot and I believe that I will soon reach this value.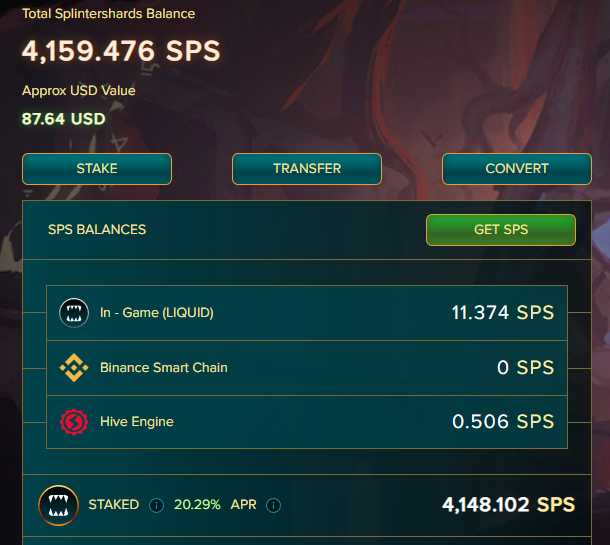 My expectation is that all of this will make it worthwhile, not least because the idea that Splinterlands is more of an investment than a game is becoming clearer and, thus, I understand better that every move I make is crucial to improve. As I said, my goal will be to reach enough stakes for the silver 2 league.
Therefore, another point that I really hope is that the news is implemented more quickly, giving Splinter a more interesting dynamic, that makes players like to come in and play, not just to "win", but if possible, have fun too!
A strong desire is also that marketing actions, somehow bring new players, to revitalize the whole process. The entry of new players would help a lot in moving the market as well as agility to find battles, in addition to more content and more friendships that could be created in the Splinterlands community.
And to you? What are your expectations for the future of Splinterlands?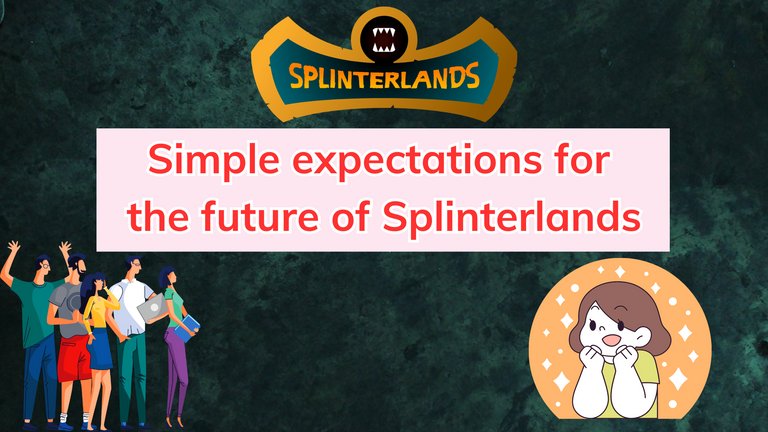 Qual a expectativa que teremos para o Splinterlands no futuro? Gostaria de compartilhar com vocês, o que tenho sentido e o que penso para o futuro. Muita coisa tem mudado, outras, infelizmente parece que não e assim, seguimos cada dia jogando e tentando não surtar.
Uma das mudanças que irá chegar em breve, o qual é o SPS em stake que irá decidir a porcentagem de ganho nas batalhas ranqueadas, que, para cada liga, terá um valor necessário para conseguir 100% de recompensas em cada batalha.
Isso parece ser algo bom, mas, para mim gera um pouco de tristeza, pois lembro de cada nova carta ganhada e cada batalha em busca de CP para conseguir ficar na liga ouro 1 no modo moderno, no qual era necessário 100k de CP. Depois de tanto tempo, cheguei lá, mas, agora não servirá de nada isso.

Dá uma sensação de que tudo o que passei foi em vão, apesar de que sei que não foi, talvez isso seja o que dizem ser "aproveite o momento", pois a gente nunca sabe virá amanhã, qual acontecimento ou mudança irá nos atingir.
Ahh, essa tabela, toda vez que a vejo fico meio depressivo, mas espero que essa atualização seja verdadeiramente boa, que possa levar os bots embora e faça o Splinterlands renascer como a fênix, maior e melhor.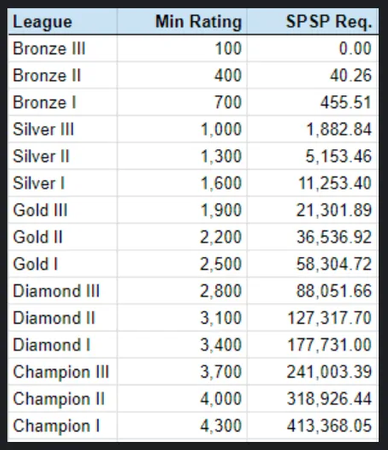 Apesar de ter 4.148,102 de stake em SPS, continuo longe dos 5.153,46, faltando exatos 1.005,358 tokens em stake para poder pegar 100% das recompensas na liga prata 2, no qual será o meu objetivo a médio prazo. Nessa parte, as batalhas da guilda HiveBR tem ajudado bastante e acredito que em breve chegarei neste valor.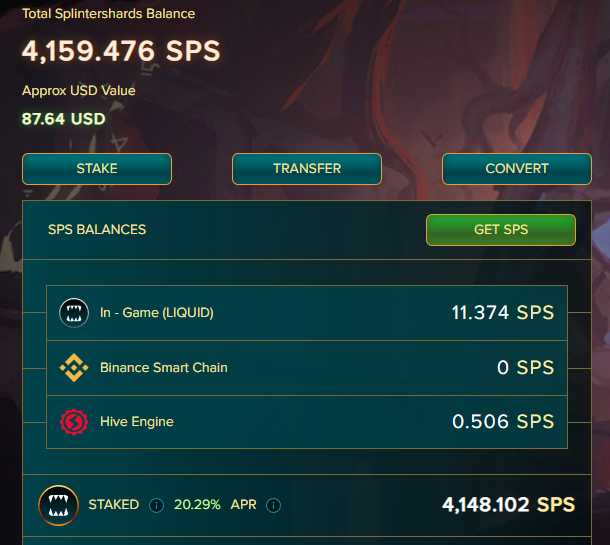 Minha expectativa é que tudo isso faça valer a pena, até porque a ideia de que Splinterlands é mais investimento do que jogo, fica cada vez mais clara e assim, entendo melhor que cada movimento que faço é crucial para melhorar. Como disse, meu objetivo será chegar em stake o suficiente para a liga prata 2.
Sendo assim, outro ponto que espero muito é realmente que as novidades sejam implementadas de forma mais rápida, dando uma dinâmica mais interessante para o Splinter, que faça os jogadores gostarem de entrar e jogar, não apenas para "ganhar", mas se possível, se divertir também!
Um desejo forte também, é que ações de marketing, de alguma forma traga novos jogadores, para revitalizar todo o processo. A entrada de novos jogadores ajudaria e muito em movimentar o mercado como também agilidade para encontrar batalhas, além de mais conteúdo e mais amizades que poderiam ser criadas na comunidade Splinterlands.
E para você? Qual a expectativa em relação ao futuro do Splinterlands?
Let's have fun! Join me at Splinterlands
Follow me on Twitter

Delegate your HP to the hive-br.voter account and earn Hive daily!
🔹 Follow our Curation Trail and don't miss voting! 🔹
Image Credit: Banners created by me in Canva.
---
---