[ENG/PT-BR] Simplicity and efficiency that guarantee a smooth victory!
Você pode conferir a postagem em PT-BR!
---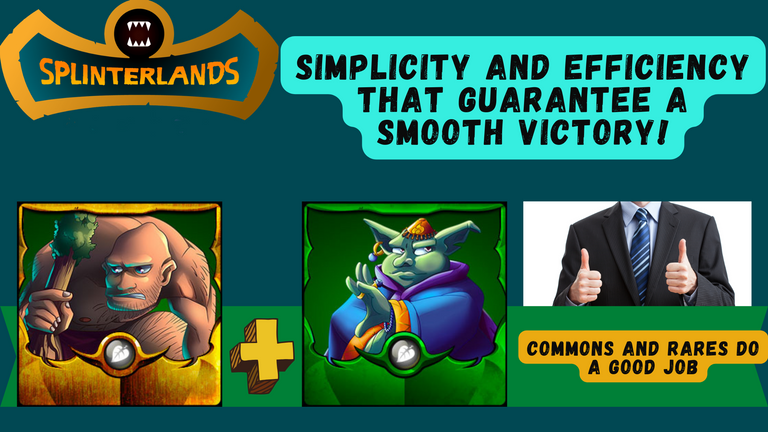 Welcome Splinters!
In today's post, I would like to share a very simple battle, but which shows the importance of knowing how to use the positioning of some cards well and the combination of a low cost tank with a healing support.
Details, but that guaranteed me a victory with a certain tranquility, which we always look for in each battle.

Battle Rules
To begin with, the rules of battles left open many possibilities of teams that we could assemble, but, in the capacity of mana and rarity of the very limited cards. That's because the battle rule "Rise of the Commons", allowed us to use only common and rare cards.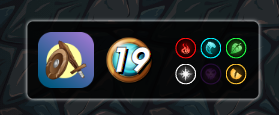 With 19 mana points, we would have a battle with much more "humble" cards, so to speak, which forces us to choose a team with a very strong synergy, to compensate for these limitations.
With practically all the elements enabled, with the exception of the death element, this already led me to choose the Earth element and its magic attack power. Sometimes, just attacking isn't enough, so we need to offer more support to the team or our tank.

The combination
So, if I choose the earth element and we have little mana available and still a limitation on the rarity of the cards, I could try to select many small units, in order to have quantity (a lot of attack spread over many units) and not quality with a strong and safer team.
For some reason, perhaps intuition, I preferred to choose quality over quantity, so with that, I made the combination I most often perform when it comes to this low mana and earth element scenario:
| | |
| --- | --- |
| Hill Giant - Common - Cost 3 | Goblin Psychic - Common - Cost 6 |
Therefore, I would have a good low-cost tank holding damage and also a card with a magic attack boosted by the summoner OBSIDIAN and with the skill TANK HEAL, offering support to my tank.
I believe that many here have already seen this combination and know how surprising it can be.

The battle
So, I set up my team as shown in the image below. You might wonder, why the little MYCELIC MORPHOID in the first place, well, the answer is exactly in the DEEPLURKER opponent.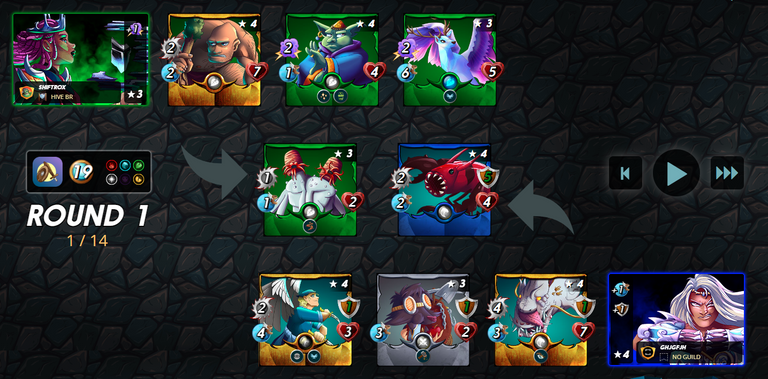 As he has the THORNS ability, his function is to try to take advantage of these 2 damage, focusing on the opponent's tank or on someone who has OPPORTUNITY, as is this example.
HILL GIANT in second, so that it can assume the first position when the time comes.
GOBLIN PSYCHIC, to deal 3 points of damage directly to the opponent's health and to provide the necessary support.
REGAL PERYTON, one of the best earth element cards in my opinion, as it is a unit that has a lot of speed, usually attacking first, with the attack bonus, going to 3 attack points, it becomes a great finisher.
Not to mention his FLYING skill, which helps him dodge attacks, so I left it last to take advantage of some SNEAK, which we saw didn't happen, because the PELACOR BANDIT also has this ability (FLYING) and thus nullifies this advantage over physical attacks.
So, what would be the strategy applied?
The idea here was to hold as much as possible, restoring my tank's life and relying on the cards in the rear to apply the damage, since it had a total of 6 points of magic attack, which would directly hit the units' health, with a great chance to defeat one opponent per round.
---
Round 1
In the first round, as expected, MYCELIC MORPHOID was the first to fall due to DEEPLURKER's focused attack, removing its armor.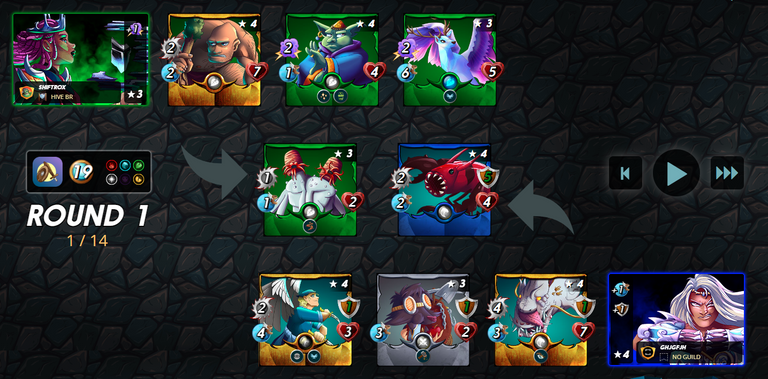 CRUEL SETHROPOD, our lobster with teeth, fell on the opponent's side, just suffering the 6 points of magic attack I mentioned, directly hitting his life, thus, my tank HILL GIANT takes the first position.
Round 2
My opponent also came with a support card, the SCAVO HIRELING, so he could repair the protection of one of his allies per round. If it weren't for that, there was a great chance that the opposing DEEPLURKER would have been defeated in this round.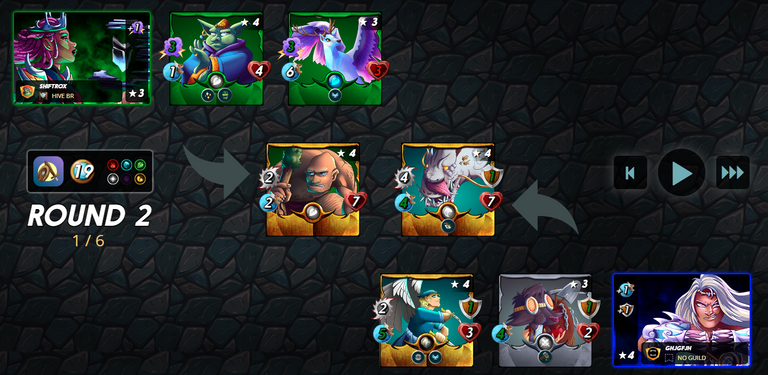 Of course, that didn't happen, but it already led to the defeat of my opponent's strongest card.
Round 3
As we can see, the threshold between life and death has arrived for 2 monsters on the battlefield. REGAL PERYTON attacked first and took the opponent's DEEPLURKER, and was soon knocked down by my opponent's FORCOR.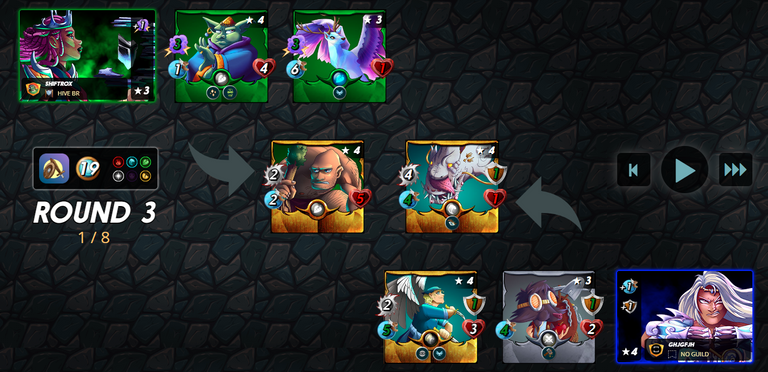 It turns out that at that moment my strategy had already worked, after all, SCAVO HIRELING was the next on the list that would fall, leaving only one unit on the opposing side.
Round 4
Finally, victory assured. Notice how my tank is at full health, always being recovered by my support, who, moreover, was responsible for the last kill.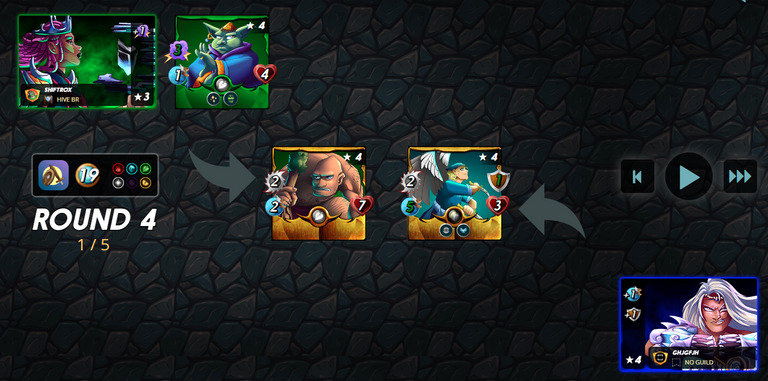 No chances for my opponent, this was the last round.
You can check out the replay with all its details HERE.

Considerations
Simplicity and efficiency were the key to this victory. Obviously, a lot could happen, with so many active elements, but I thought of a strategy that worked and with a little luck, I believe, left my opponent with no chance of winning.
Thank you very much! Until the next post!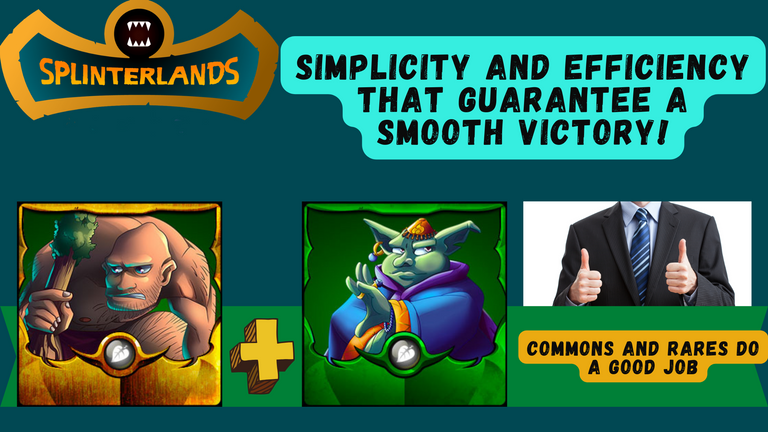 Bem-Vindos Splinters!
Na postagem de hoje, gostaria de compartilhar uma batalha bem simples, mas que mostra a importância de sabermos utilizar bem o posicionamento de algumas cartas e a combinação de um tanque de baixo custo com um suporte de cura.
Detalhes, mas que me garantiram uma vitória com certa tranquilidade, o que sempre buscamos em cada batalha.

Regras da batalha
Para iniciarmos, as regras de batalhas deixavam em aberto muitas possibilidades de times que poderíamos montar, mas, na capacidade de mana e raridade das cartas bem limitadas. Isso porque a regra de batalha "Rise of the Commons", nos permitia utilizar apenas cartas comuns e raras.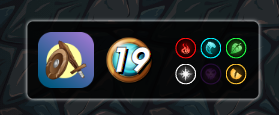 Com 19 pontos de mana, teríamos uma batalha com cartas bem mais "humildes" se assim podemos dizer, o que força a escolhermos uma equipe com uma sinergia bem forte, para compensar essas limitações.
Com praticamente todos os elementos habilitados, com a exceção do elemento morte, isso já me encaminhava para escolher o elemento Terra e seu poder de ataque mágico. Às vezes, apenas atacar não é o suficiente, então precisamos oferecer um suporte maior ao time ou ao nosso tanque.

A Combinação
Então, se escolho o elemento terra e temos pouca mana disponível e ainda uma limitação na raridade das cartas, poderia tentar selecionar muitas unidades pequenas, para assim ter quantidade (muito ataque espalhado por muitas unidades) e não qualidade com uma equipe forte e mais segura.
Por algum motivo, talvez intuição, preferi escolher a qualidade ao invés de quantidade, então com isso, fiz a combinação que mais costumo realizar quando se trata desse cenário de pouca mana e elemento terra:
| | |
| --- | --- |
| Hill Giant - Comum - Custo 3 | Goblin Psychic - Comum - Custo 6 |
Sendo assim, teria um bom tanque de custo baixo segurando o dano e também uma carta com ataque mágico bonificado pela invocadora OBSIDIAN e ainda com a habilidade TANK HEAL, oferecendo suporte ao meu tanque.
Acredito que muitos aqui já viram essa combinação e sabem como ela pode surpreender.

A Batalha
Então, montei a minha equipe da forma como segue a imagem abaixo. Você pode se perguntar, o motivo do pequeno MYCELIC MORPHOID em primeiro lugar, pois bem, a resposta está exatamente no DEEPLURKER adversário.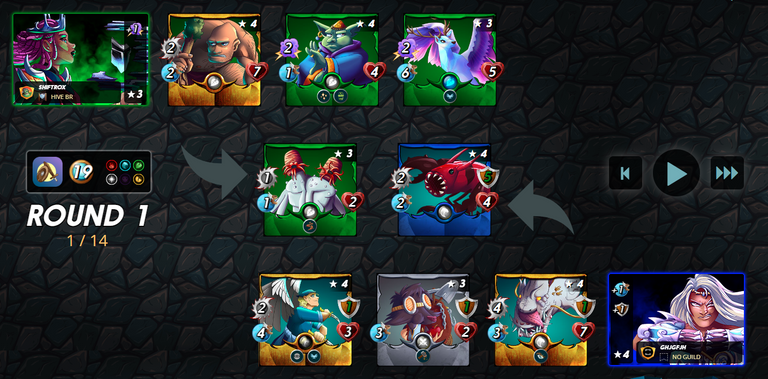 Como ele possui a habilidade THORNS, sua função é tentar aproveitar estes 2 de dano, focando no tanque adversário ou em alguém que tenha OPPORTUNITY, como é este exemplo.
HILL GIANT em segundo, para que assim, assuma a primeira posição quando for o momento.
GOBLIN PSYCHIC, para causar o dano de 3 pontos diretamente na vida do adversário e para oferecer o suporte necessário.
REGAL PERYTON, uma das melhores cartas do elemento terra na minha opinião, pois é uma unidade que possui muita velocidade, geralmente atacando primeiro, com o bônus de ataque, indo a 3 pontos de ataque, se torna uma ótima finalizadora.
Sem contar também a sua habilidade FLYING, que ajuda a desviar dos ataques, por isso, deixei por último para ter vantagem sobre algum SNEAK, o que vimos que não ocorreu, pois o PELACOR BANDIT também possui essa habilidade (FLYING) e assim anula essa vantagem sobre os ataques físicos.
Sendo assim, qual seria a estratégia aplicada?
A ideia aqui era segurar o máximo possível, restaurando a vida do meu tanque e contando com as cartas na retaguarda para aplicar o dano, pois, tinha um total de 6 pontos de ataque mágico, que acertariam diretamente a vida das unidades, com uma grande chance de derrotar um adversário por rodada.
---
Rodada 1
Na primeira rodada, como era de se esperar, MYCELIC MORPHOID foi o primeiro que caiu por conta do ataque focado do DEEPLURKER, retirando sua armadura.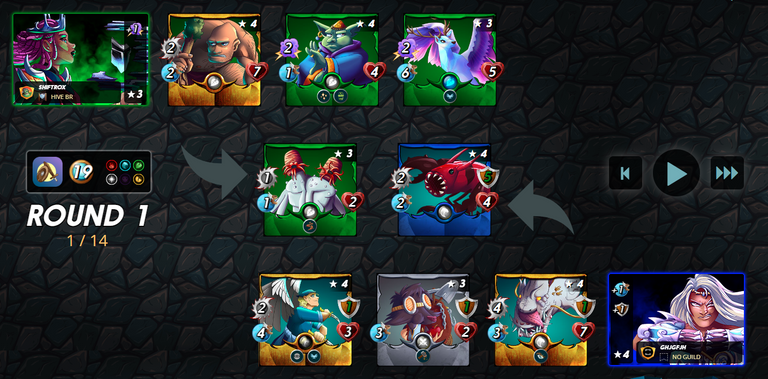 CRUEL SETHROPOD, a nossa lagosta com dentes, caiu pelo lado adversário, justamente sofrendo os 6 pontos de ataque mágico que mencionei, atingindo diretamente a sua vida, assim, o meu tanque HILL GIANT assume a primeira posição.
Rodada 2
Meu oponente também veio com uma carta de suporte, o SCAVO HIRELING, sendo assim, ele conseguia reparar a proteção de um de seus aliados por rodada. Se não fosse isso, tinha uma grande chance do DEEPLURKER adversário ter sido derrotado nessa rodada.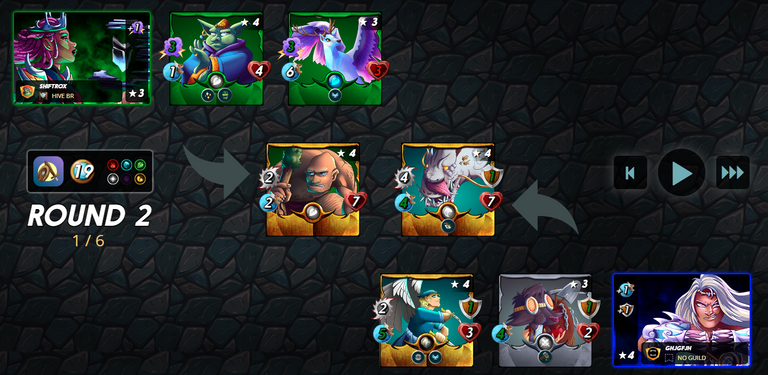 Claro que isso não aconteceu, mas já encaminhou e muito para a derrota da carta mais forte do meu adversário.
Rodada 3
Como podemos observar, o limite entre a vida e a morte chegou para 2 monstros no campo de batalha. REGAL PERYTON atacou primeiro e levou o DEEPLURKER adversário, sendo logo abatido pelo PELACOR do meu oponente.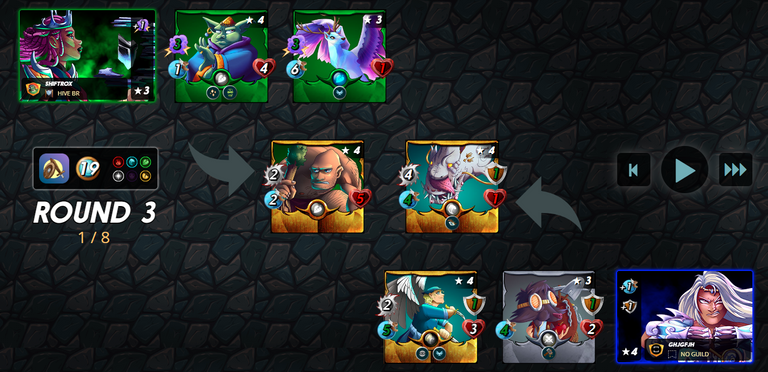 Acontece, que nesse momento a minha estratégia já tinha dado certo, afinal, SCAVO HIRELING era o próximo da lista que iria cair, sobrando apenas uma unidade do lado adversário.
Rodada 4
Por fim, vitória assegurada. Notem como meu tanque está com a vida completa, sempre sendo recuperada pelo meu suporte, que, além disso, foi responsável pelo último abate.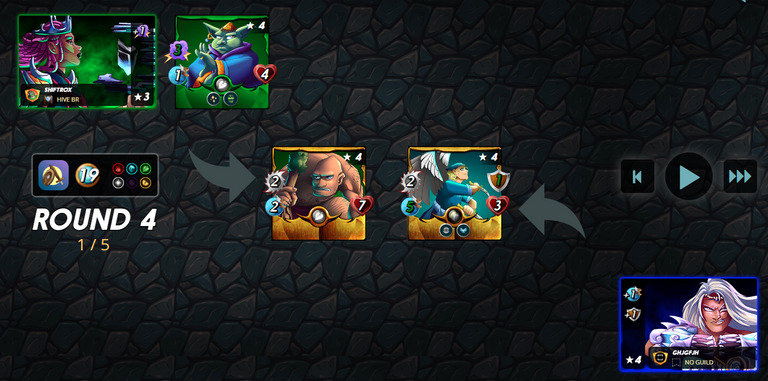 Sem chances para meu adversário, está foi a última rodada.
Você pode conferir o replay com todos os seus detalhes AQUI.

Considerações
Simplicidade e eficiência, foram a chave dessa vitória. Obviamente, muita coisa poderia acontecer, com tantos elementos ativos, mas pensei em uma estratégia que deu certo e com um pouco de sorte, acredito, deixou meu adversário sem chances de conquistar a vitória.
Meu muito obrigado! Até a próxima postagem!
---
🎮 Referral Links 🎮
---

🔹 #HiveBR Curation Trail 🔹


Image Credit: Banners created by me in Canva.
---
---