Splinterlands Art Contest Week 222: Nerissa Tridawn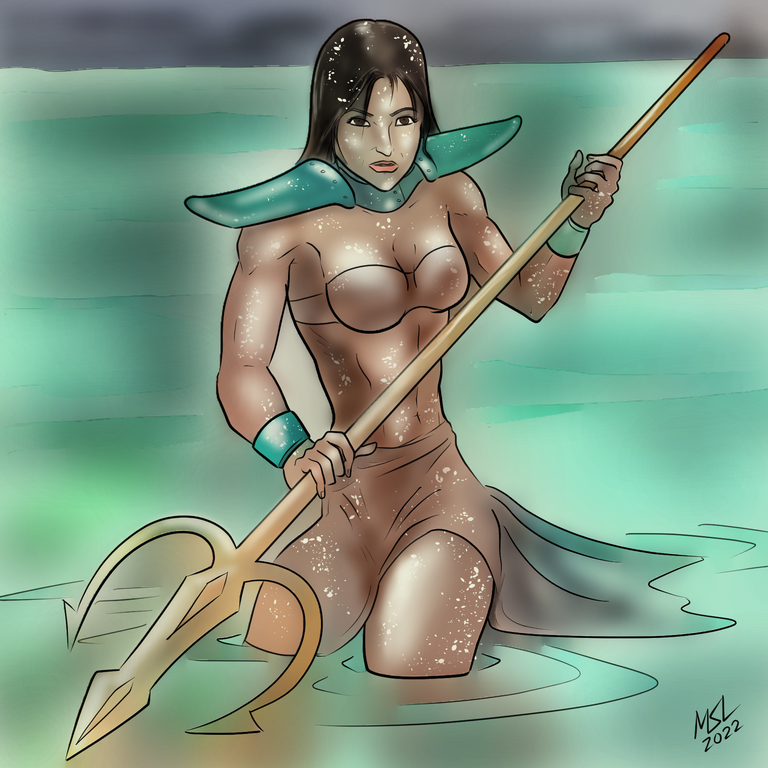 Here is my entry for this week's Splinterlands Art Contest found HERE.
From the Spliterlands Wiki:
Nerissa is a proud warrior of the water. Armed with her enchanted trident, she defends the seas, the rivers, and the lakes. She is well known across coastal villages, and they often call on her for help. She has slain great sea beasts that would otherwise kill everyone in their path. She has rescued sailors from hurricanes, and even warned villages of incoming tsunamis to save lives. Her bravery and brilliance in battle have led to her being called Nerissa the Hurricane.
Nerissa was born and raised by the ocean, and could swim before she could walk. She always felt the sea called to her. And within her it stirred a deep magic. An ancient mana of tides and waves. Nerissa answered the call, and travels between the continents of the Splinterlands.
When settlers and explorers made their way to Praetoria, Nerissa was there to help with every step of the journey. But the blight that gripped the land worried her deeply. Its corruption spread into the waters that she loved so dearly. She often caught herself crossing paths with Igor the Finback and his tribe of Trench Dwellers. Each time she had to pull back or risk all of them attacking her at once.
When Nerissa learned of the deeper plot of the Chaos Legion, she vowed to defend Praetoria and its inhabitants with her life.
Drawn in Clip Studio Paint Pro on a Surface Pro 4. Here is the timelapse video:
---
---