Sharing a Battle Using Retaliate: StoneSplitter Orc
Hello Hivers and Splinterlands gamers!
I bring you another battle! Thank you to the organizers of this fun challenge: @splinterlands and @carrieallen, and those who have been helping in the curation of articles!
You can read about it here.
The Feature Monster: Stonesplitter Orc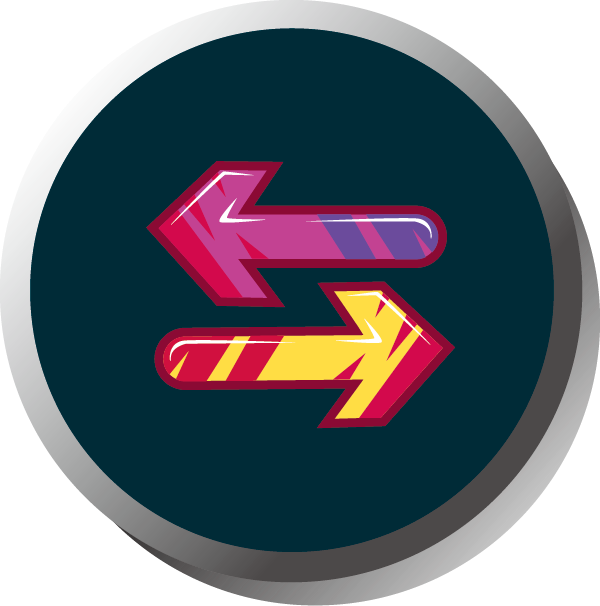 Ability: When hit with a Melee attack, Monsters with Retaliate have a chance (50%) of attacking their attacker.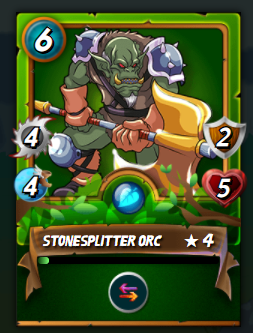 ---
The Ruleset
Mana: 99
Standard: No modifications to the standard rules and game mechanics.
The Strategy
Since this is a Standard, lined up my Monsters as follows: Melee Attacks, Magic, Ranged.
Of the Melees, I started with the feature Monster StoneSplitter, followed by Flesh Golem then Minotaur Warlord as backup tank.
Except for Flesh Golem, all monster have the ability to attack from behind.
The Lineup
Click on the link to watch the battle.
https://splinterlands.com?p=battle&id=bd378be2744fdd619266eb11359b2a8f264b4ffa&ref=silversaver888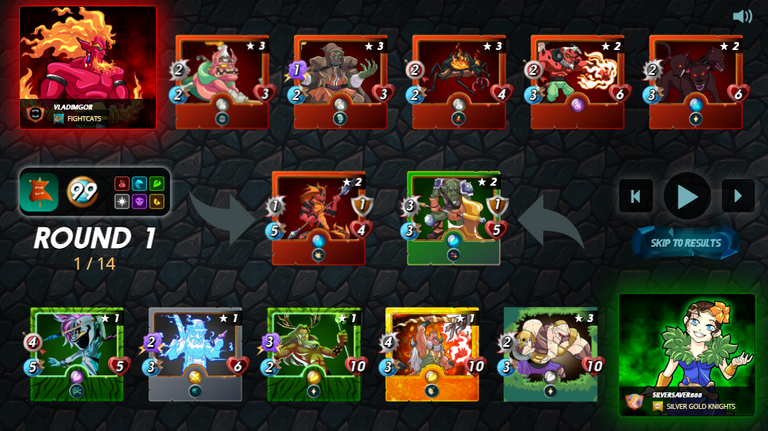 Summoner: Lyanna Natura- All friendly Monster have +1 Health.
1. Stonesplitter Orc, Retaliate: Speed of 3; Melee attack of 3, Armor of 1, Health of 4 +1. When hit with a Melee attack, this Moster has a chance of attacking its attacker.
2. Flesh Golem, Heal: Speed of 3, Melee attack of 2, Health of 9 +1. Restores the Monsters Health at each round.
3. Minotaur Warlord, Magic Reflect: Speed of 3, Melee attack of 4, Health of 9 +1. When hit with Magic Damage, does reduced Magic Damage back to attacker.
4. Kron the Undying, Heal: Speed of 2, Magic attack of 3, Health of 9 +1. Restores the Monsters Health at each round.
5. Spirit Miner, Dodge: Speed of 3, Magic attack of 2, Health of 5 +1. Has an increase chance of evading Melee or Range attacks.
6. Mitica Headhunter, Snare: Speed of 5, Ranged attack of 4, Health of 4 +1. When attacking enemies with Flying abilities, it removes the Flying ability and cannot miss.
The Battle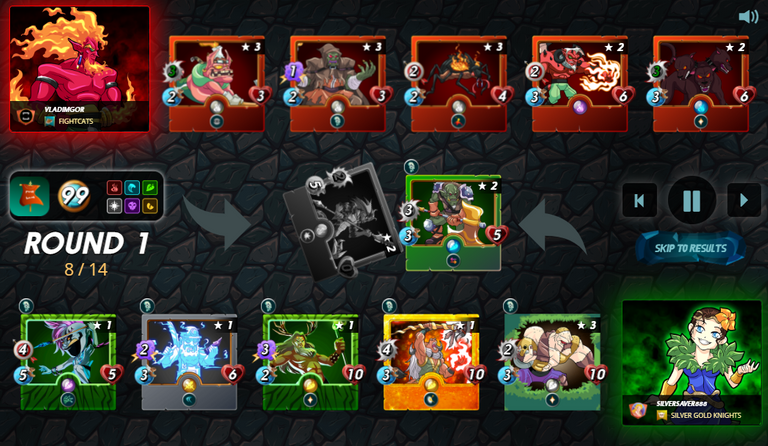 1.My Spirit Miner ruined enemy Serpertine Soldier.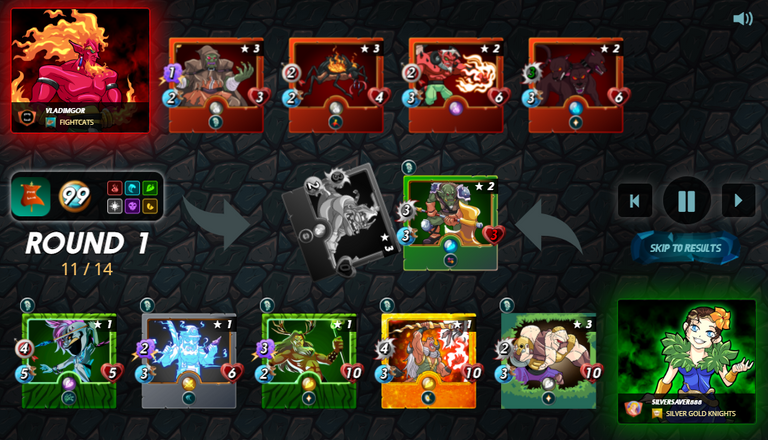 2. Feature Monster Stonesplitter with his retaliate ability slaugthered enemy Kobold Miner.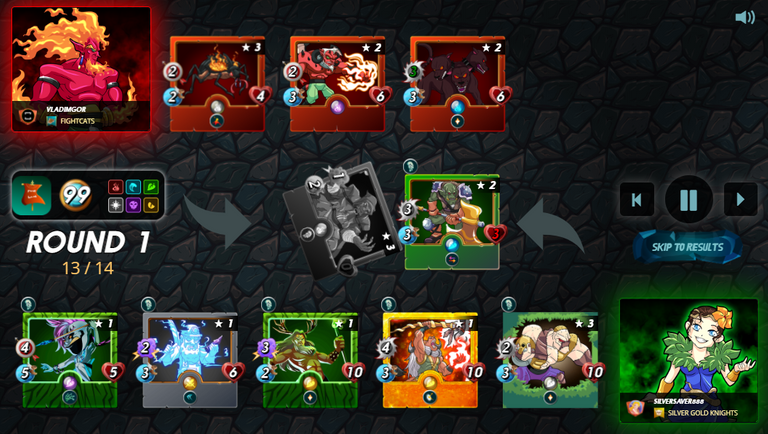 3.Kron the Undying wasted enemy Goblin Shaman..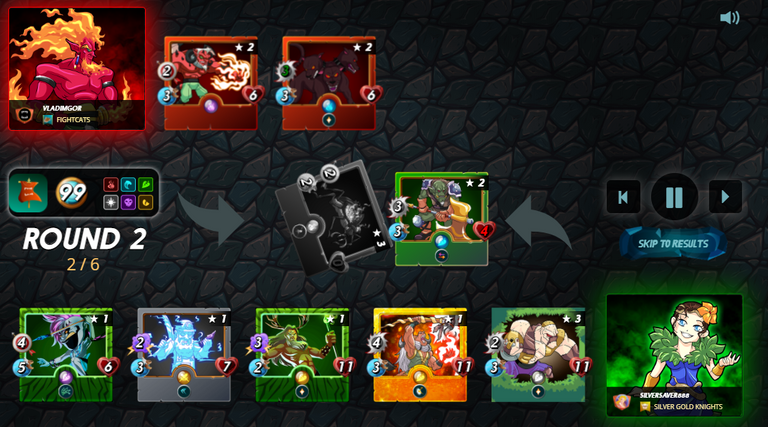 4. Mitica Headhunter eliminated enemy Fire Beetle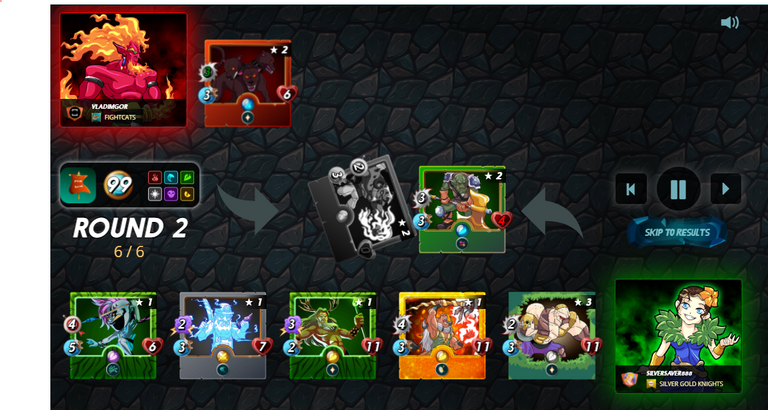 5. Kron the Undying vanquished enemy Fire Demon.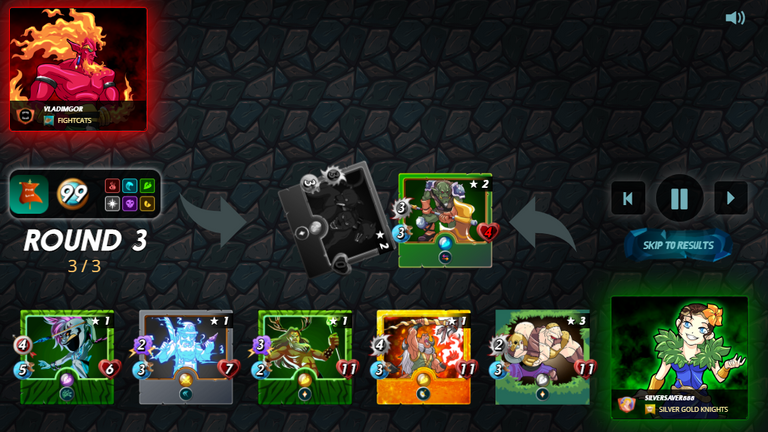 6.Spirit Miner demolished enemy Cerberus for the win!
---
The Battle Result
My strategy worked. I eliminated the enemy at the end of round two, with all of my Monster team intact. And my opponent was 500 points ahead.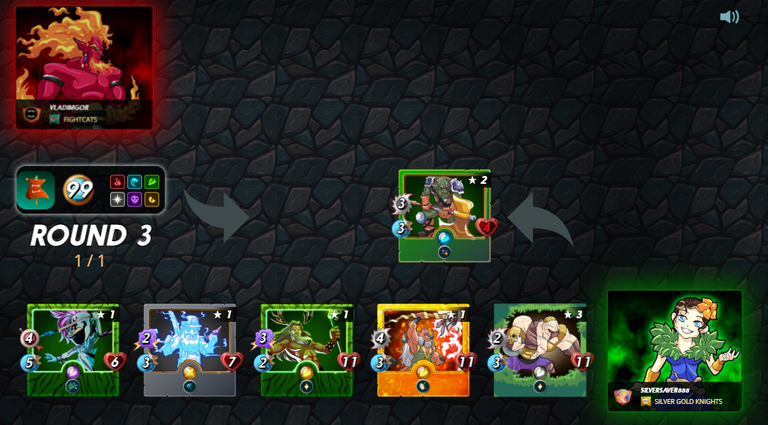 There you have it! Until the next time...
I'll see you in the battlefield!
😍#ilikeitalot!😍
---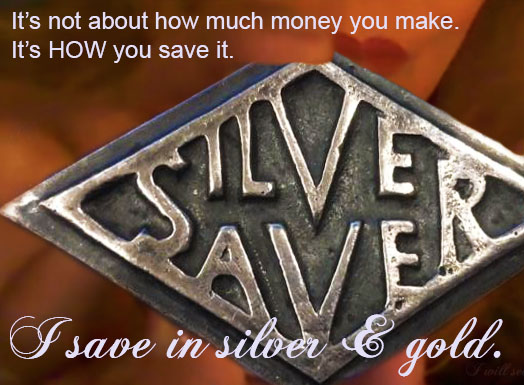 Best Regards,
I am not a financial adviser. This article is not meant to be financial advice. My articles on cryptos and precious metals share my personal opinion, experiences, and general information on cryptos and precious metals.
---
All photos, gif, and video were taken by me with my iPhone6, unless specified.
Thank you for stopping by to view this article.
I post an article daily, and I hope to see you again soon!
Hugs and Kisses 🥰🌺🤙!!!!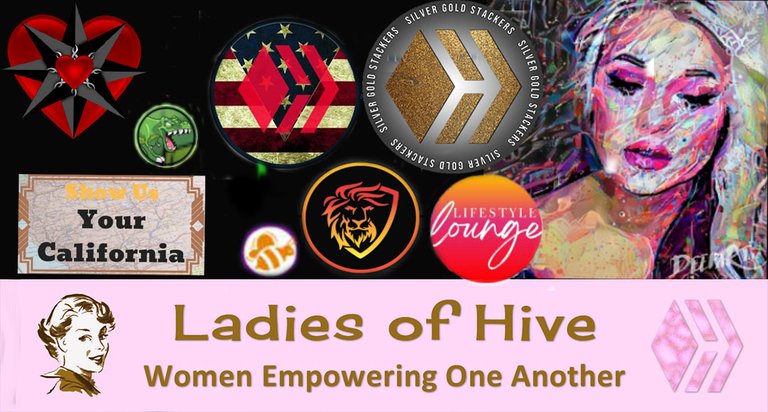 Would you like to support The Ladies of Hive Community?
Consider giving a delegation!
25 HP - 50 HP - 100 HP - 150 HP - 200 HP - 500 HP - 1000 HP - 5000 HP
---

---

---
---