Great Chaos Legion Cards for your Collection: Base Level Card Edition Part 1: Fire / Water / Earth

Hey there Splinters,
After I have shared my obvious passion for Doctor Blight with you yesterday (Doc Blight - overrated or priceless), let us have a more general look on some of the new Chaos Legion cards which you might find worth adding to your collection. Although the Chaos Legion gang seems to be balanced quite well, you might have noticed that not all cards are performing equally strong in combat. Some of them are great to use already on a lower card level and others do not deploy their full potential until they are levelled at least to some extent (hello, Doc Blight 😉).
In this first edition of my review I will focus on level 1 card versions as you might mainly use them in the bronze ranks or as a novice. So, let's directly start with my favourite level 1 fire card in the Chaos Legion campaign:

Tenyii comes with 2 melee attack, 3 speed and 6 health for the cost of 5 mana. He has the Sneak ability. In my view, Tenyii is a great choice for many rulesets. One of his strengths certainly is that he is perfectly matched by the abilities of the new fire summoner, Tarsa, who adds an additional attack and health point to Tenyii's basic stats.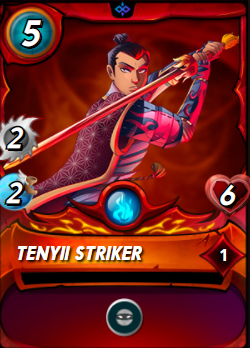 Among the 7 melee Chaos Legion pals which are boosted by Tarsa, I consider Tenyii to be the strongest on level 1. I would also prefer him over Tusk the Wide)1 melee attack, 1 speed, 13 health and the Void ability for 6 mana), specifically as Tenyii's Sneak ability offers you more flexibility in how to use the card: When you try to get the most out of Tarsa's melee buff, you have to keep in mind, that (except with special rulesets applying) your cards should either have the Sneak, Snipe or Opportunity ability to be able to attack from any other than from the first position. In this connection, Tenyii comes just in handy. With a boosted 3 attack he is perfectly suited to get your opponent in the back. And with boosted 7 health points he will survive longer on the board than the other 5 mana cards (Radiated Brute and Djinn Apprentice). All in all, Tenyii is a great choice for showing your opponent the strength of the fire splinter already on a basic card level.
The Merdaali Guardian has a completely different focus than the last card we looked at. The card costs 3 mana, has also 3 speed and health points in its level 1 version and cannot attack. In return it has the Tank Heal ability.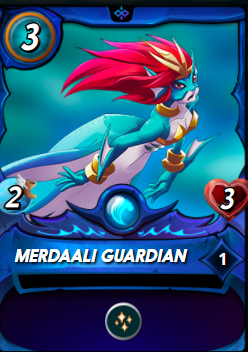 Tank Heal is a strong ability which is basically helpful in any ruleset and no matter what the mana cap in your fight is and the Merdaali Guardian is the only frontline healer among the water cards of the Chaos Legion. With the cost of only 3 mana, the Merdaali Guardian will in many scenarios be used to replenish the ranks of your troops as the supporter needed for mitigating the damage swallowed by your tanks. In general the Merdaali Guardian has some similarities with the Crustacean King from the Beta card edition – a 3 mana water card which also has no attack but the Healing ability already on level 1. The Crustacean King has found its way into many decks, and I would expect the Merdaali Guardian to be its worthy successor.
Yes, you might call me a bit repetitive as I present you another healer: the 6 mana earth splinter card Goblin Psychic, which in its level 1 version comes with 1 speed, 2 magic attack, (only) 3 health and – as already mentioned – the Tank Heal ability.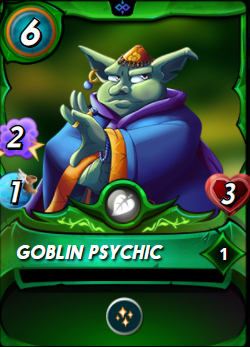 The card in great if you pair him with the new earth summoner Obsidian, allowing the Goblin to deal 3 magic damage per turn. So while from the backline the Goblin spreads death and damnation over his enemies the provides cure to your tank all at the same time. In comparison to the other magic damage cards from the earth splinter, the Goblin already starts with its maximum damage (on level 10 he will still deal 2 damage only) – whereas e.g. Regal Peryton only has developed a third of its maximum magic capability on level 1. Of course, this all comes with the price that you have to guard your Goblin Psychic pretty well – otherwise with its 3 health points only he can become an easy one-hit victim for your opponent. So, try to protect your Goblin and enjoy its firepower and healing capabilities.

Well, Splinters... hope you find this overview useful when about to decide what the next cards for your collection shall be. Excited to see your thoughts on the new fire, water and earth cards - what are your favourites so far?
If you like the content, stay tuned for the second part of the level 1 Chaos Legion card review - then with a focus on the life and death splinters and on neutral and dragon cards.

You have not found your way into the Splinterlands yet and want to start your play to earn journey now? Sign up for free and start playing. Happy if you support me by using my referral code, when signing up: https://splinterlands.com?ref=simsahas
---
---