Great Chaos Legion Cards for your Collection - Silver Leagues Edition, Part 1: Fire / Water / Earth


Hey there Splinters,
Welcome back to our Chaos Legion Card review series. Over the last weeks we had a deeper look into cards which are already great to play in the Novice and Bronze Leagues (if you were too busy celebrating Christmas and could not browse through these recent reviews so far, feel invited to catch up on the readings here: Novice / Bronze League - Part 1: Fire, Water, Earth and Novice and Bronze League - Part 2: Death, Life and Neutral).
Now that the season is more advanced, you might have meanwhile worked your way up from the Bronze to the Silver League - or this might be the next goal on your Splinterlands list. In that case, this blog post is for you: this time the focus is on cards that haven't yet developed their potential at level 1, but are making a big splash when maxed out for the Silver League. As for the Bronze League, we will again start with the Fire, Water and Earth Splinters – and have a closer look on Life, Death and Neutral monsters in the second part.

The Forgotten One is one of my favorite tanks in the Chaos Legion so far. For 9 mana, the epic monster on level 3 comes with 4 melee attack, 2 speed, 5 armor, 9 health points plus the abilities Immunity and Retaliate.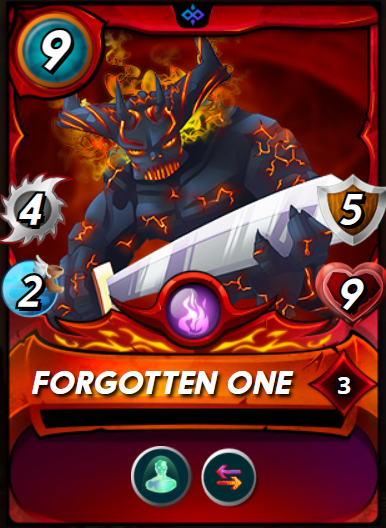 The Retaliate trait that the monster learns at level 3 makes the card a great choice as both first and last position tank. As melee attacker the Forgotten One benefits from Tarsa, the Chaos Legion Fire Summoner, which adds 1 extra attack (and an additional health point). With this buff, the monster can deal trailblazing 5 damage per turn and with its heavy armor it can eat a lot of damage. Even for magic attackers it will take some time to bring the Forgotten One's 10 Health Points down. In addition, the Retaliate ability will deal further damage every time the monster is hit by opponents relying on melee attacks. On top, Immunity is great to counter abilities which are becoming more popular with the Chaos Legion, such as Poison or Affliction (hello again, Doctor Blight). Particularly in a Poison ruleset it can be a great choice to put the Forgotten One in your teams last position: from there it will deal deadly damage to your opponent's Sneak monsters and survive at great health while the other units are poisoned turn by turn.
The Angelic Mandarin is another healer which should be a very helpful addition to your collection. The rare monster at level 4 has 1 ranged attack, 3 speed, 6 health points and the Triage ability at 3 Mana.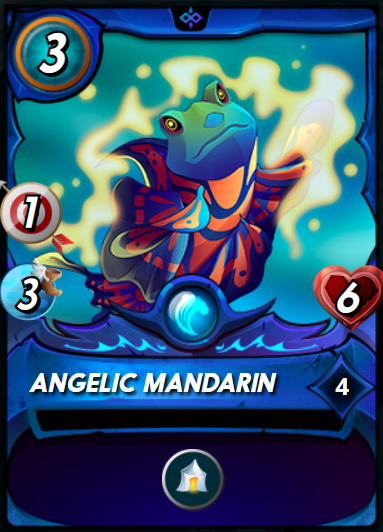 There are basically two thing, which are great about the Angelic Mandarin: first, with 3 Mana only, the card is pretty cheap. It can perfectly – and very effectively be used in battels with low mana cap and for the little league ruleset. Second, and more important, the Triage ability, the card gains on level 4 comes in quite handy in many battles. Too often, your backline monsters are easy prey for your opponent's Sneak, Snipe and Opportunity monsters. Triage helps your backliners to stay longer on the board. Together with summoner Kelya's ability (plus 1 armor and speed) the Angelic Mandarin is a great choice to booster you troops' endurance. The cards does its job best, when combined with some backline tanks – Nerissa Tridawn can be a fine choice in this regard: being constantly healed by the Angelic Mandarin, Nerissa can deal a lot of damage to the enemy from the last position in your team. It shall be noted that the Merdaali Guardian and the Deeplurker are also cards which are great to play in the Silver Leagues. However, both cards gain additional significant advantages only on Gold League Level (Poison, respectively Repair ability). Thus, I decided to put the Angelic Mandarin into the "silver spotlight".
The first Legendary card in our Novice, Bronze and Silver Reviews is the earth monster Queen Mycelia. On Silver League max level 2 the Queen comes with 1 magic attack, 1 speed and 4 health points. For 4 mana she offers the Protect and Amplify abilities.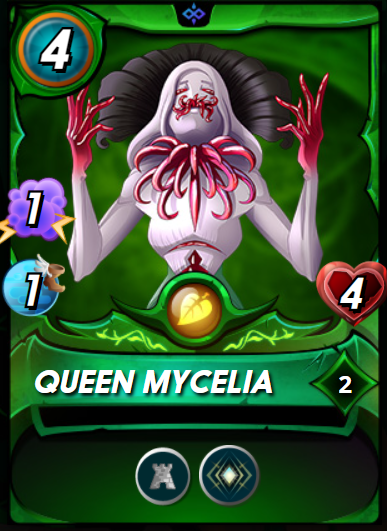 It is for a reason that currently Queen Mycelia is the by far most expensive legendary Chaos Legion card on the market (of course except for the Legendary Summoner and the promo card Doctor Blight). In case of Queen Mycelia, there are so many selling points, it did not quite know where to start…As a magic damage monster, the Queen of course goes perfectly together with the new Earth Summoner Obsidian which gives a plus 1 buff on magic…With a cost of only 4 mana, she can be used also in battles with low mana-cap and in the little league ruleset…With Protect the cards provides two armor to each of your troops on the battlefield…and finally with Amplify the Queen has one of the most interesting new abilities inbuild. All in all, there will only be a few scenarios in which Queen Mycelia will not be in the very heart of your Earth team. I wish you good luck getting your hands on some copies of the Queen – the monster will definitely make a great addition to your collection.

Well, Splinters... as usual I hope you find these insights useful when you consider what the next additions to your collection shall be. Excited to read your thoughts on the new fire, water and earth cards and their use in the Silver Leagues - what are your favourites so far?
If you like the content, stay tuned for the second part of the Chaos Legion Silver Leagues review, bringing great Life, Death and Neutral cards to you.

You have not found your way into the Splinterlands yet and want to start your play to earn journey now? Sign up for free and start playing. Happy if you support me by using my referral code, when signing up: https://splinterlands.com?ref=simsahas
---
---