Great Chaos Legion Cards for your Collection - Silver Leagues Edition, Part 2: Life / Death / Neutral

Hey there Splinters,
Here we are, back again with the second part of our Chaos Legion card review "Silver Leagues Edition". For those of you who have missed out on the first part on fine cards for the Fire, Water and Earth splinters, you can find it here: Great Chaos Legion Cards for your Collection - Silver Leagues Edition, Part 1: Fire / Water / Earth
This second part completes our journey through the Splinterlands with Life, Death and Neutral cards which are great to use in the Silver Leagues. Let's start with the Life splinter…

The Blinding Reflector is a great mini-tank for the cost of only 3 mana. On level 5 – the max level for this common card in the Silver League – the card has already learned the Magic Reflect ability. The cards also comes with the followings stats: 1 melee attack, 2 speed, 4 armor and 5 health points.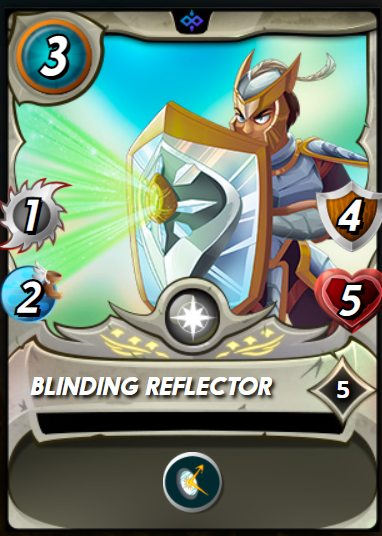 With its heavy armor and reliable health, the card is perfect for fights with a low mana cap. It does not directly benefit from General Sloan, the new Chaos Legion Life summoner who give a plus 1 buff on ranged attacks. However, the Blinding Reflector can be the shield who guards your ranged attack units which gather behind him to deal their deadly damage. With its Magic Reflect ability it is also well equipped to defend against magic attacks.
Frankly speaking, there are not really many good tank units amongst the Chaos Legion monsters from the Life splinter so far – often leaving the buffed ranged attackers easy victims for your opponent. This situation should change with the upcoming legendary airdrop card, Uriel the Purifier – however, Uriel will be pretty expensive, both in terms of DEC and mana. Therefore, and for the time being, the Blinding Reflector will often be a good choice for your Silver League battles.
The Riftwing had already been featured in our Novice / Bronze League edition (see: Great Chaos Legion Cards for your Collection: Base Level Card Edition Part 2: Life / Death / Neutral). However, given his great usability and abilities, the card does also superb in the Silver Leagues. Now on level 5, the common monster has still no (direct) attack. It comes with 4 speed and 6 health points for 4 mana. In addition to its Flying and Scavenger abilities it has now also learned Backfire.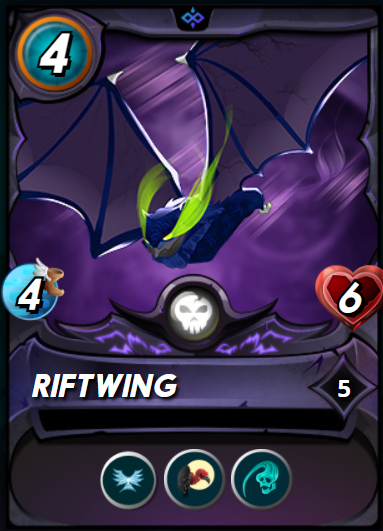 The Riftwing is particular great when your opponent does not make use of magic attacks. With 4 speed plus the Flying ability it has a high chance to dodge attacks. In addition, its new Backfire ability it will deal two damage to your opponent every time it evaded an attack successfully. On top, through its Scavenger ability, its health will grow whenever a monster leaves the board. All this together makes the Riftwing a great tank, second tank or last position tank, who can now not only buy your damage dealers a lot of time to do their work, but has become a deadly force too, thanks to its Backfire ability.
The neutral, rare Xenith Monk is a nice versatile monster that can help you through various battles. The Monk on level 4 has 1 melee attack, 4 speed, 7 health points at 4 Mana and has mastered the Heal ability already on level 2.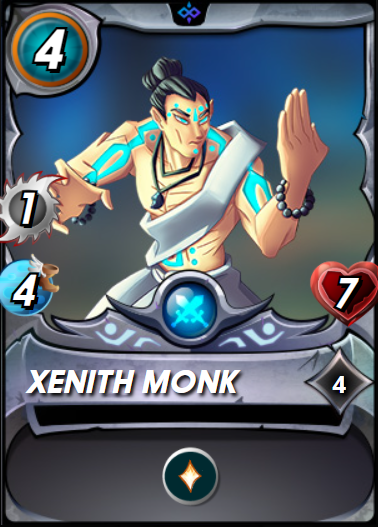 As neutral card, the Monk can be used together with every summoner – this versability always makes neutral cards a good choice for your collection. However, the Monk particularly is great when played together with Fire Summoner Tarsa (plus 1 melee attack and plus 1 health). Also, the combination with Water Summoner Kelya Frendul (plus 1 armor and plus 1 speed) works nicely. The Xenith can be a fine tank in battles with low mana cap or with the little league ruleset applying. Due to its Heal ability it can survive quite long on the battlefield. All in all, the Monk is bit a of the little brother of good old Flesh Golem – the earth monster that find its way in so many decks in the past. I am sure, the Xentih Monk will also be one of the cards, preferred by a lot of players in the future.

Well, Splinters... as usual, I hope you liked this overview and find it helpful when about to decide what the next cards for your collection shall be. What are youre favorite cards for the Silver Leagues so far?
As I meanwhile successfully fought my way together with my Chaos Legion troops through the Golden and Diamond Leagues, I will continue sharing my first impressions and suggestions also for these tiers. So, if you like the content, stay tuned for the third edition of the Chaos Legion card review: Great Cards to help you through the Golden Leagues.

You have not found your way into the Splinterlands yet and want to start your play to earn journey now? Sign up for free and start playing. Happy if you support me by using my referral code, when signing up: https://splinterlands.com?ref=simsahas
---
---